Days after the earthquake in southwestern Haiti on August 14, we shared the story of a little girl whose simple prayers were answered, reminding her and her grandmother of the faithfulness of God to provide through His Church in the midst of incredibly challenging circumstances. Several weeks later we caught up with Soraya and her grandmother, Ana, to hear more of their story…
____
It was just before 8:30 a.m. on Saturday, August 14. Ana was walking down the wide, dusty road toward her front gate. Perhaps she was thinking about chores, or breakfast, or six-year-old Soraya who she had just dropped off at the Compassion centre. She certainly wasn't thinking that, in the next few minutes, their life would change forever. The concrete home she shares with her granddaughter is nestled at the base of two hills and lined by palm trees—the tallest things for miles in sleepy, southwestern Haiti. She reached the gate, took a step forward and the ground began to violently shake.
Before her eyes, a gaping hole appeared in the wall and rubble spilt onto the ground like crumbs. She stumbled backwards. In front of her, the first floor of her home collapsed in on itself like a house made of cards. The air was thick with choking grey dust. Ana clutched her head in her hands. All she could think about was Soraya.
A few miles away at the Compassion centre, the children were gathered inside the church building, chattering like parrots. In seconds, their laughter turned to screams of terror. Tears streamed down Soraya's face. "I felt a strong wind pass by, then the ground started shaking and we all started crying," she says. All she wanted was Ana.
Haiti is no stranger to environmental disasters, but the 7.2 magnitude earthquake that struck the country's southwest seemed particularly cruel. Five years earlier, the same communities were torn apart by Hurricane Matthew. The country is still reeling from a presidential assassination in July. This political turmoil, coupled with severe poverty, gang violence and Tropical Storm Grace—which unleashed 10 inches of rain on the region just 48 hours after the earthquake—created another crisis for the country. An estimated 800,000 people are impacted by the earthquake, 40 per cent of whom are children. Thousands lost homes, livelihoods, and loved ones to the rubble. In the community of Cavaillon, Ana and Soraya are two of those who lost their homes. They escaped with their lives but are now homeless. "When my mom came to pick me up [from the church], I asked her if our house fell down. She said our house collapsed," says Soraya, twisting her hands together as she speaks. Ana is Soraya's grandmother and the only mother she has known. "Thirteen days after Soraya was born, her mother died and left her with me. She has been living with me ever since," says Ana.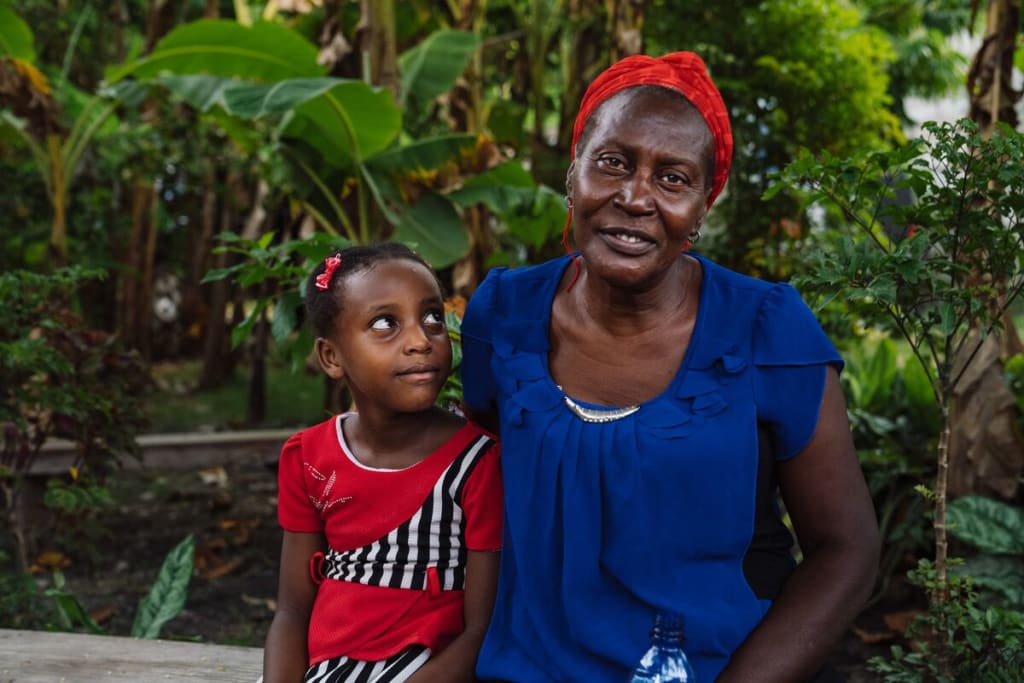 Back at their home, aftershocks were still rippling across the region. It was too dangerous for Ana to retrieve their few belongings from the unstable remains. Her son-in-law arrived with a blue-and-grey camping tent. That night, the thin polyester was no match for the pelting rain. The tent leaked and seeped until Ana and Soraya were wet and miserable. "We started sleeping in it, but the rain kept coming in and we could no longer stay in the tent."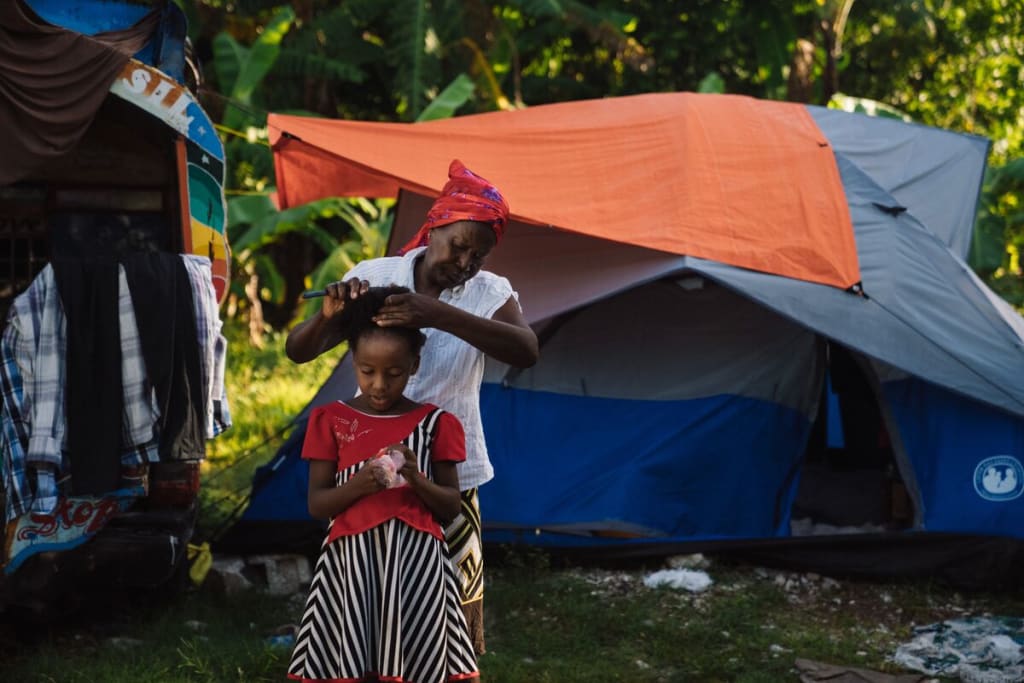 "My pastor came by and told me the church had also been hit," says Ana. "He said we wouldn't be able to stay there but he offered for us to come stay with him, where he provided shelter and as much support as they could." The news was a welcome relief. They wouldn't be forced to sleep on the streets or search for a place at a crowded government-run shelter, where the safety of an elderly woman and a young girl could be at risk. Ana's church partners with Compassion to serve the community's most vulnerable children, including Soraya. She was registered into the Child Sponsorship Program when she was four years old. "They welcomed her in with open arms," says Ana.
In the aftermath of the earthquake, Compassion's church partners in Haiti provided urgent support, including shelter, food, medical care—even Soraya's favourite cereal. In the days after the quake, the little girl flitted about, playing with other children who were also left homeless. "Despite everything that happened with our house, Soraya still keeps finding reasons to smile and not lose hope," says Ana.
Having memorized the faces of those staying at the pastor's shelter, Soraya greets unfamiliar visitors with the words, "Did you come to rebuild my house?" She and Ana yearn to return to their home at the base of the hills. "I would love for our house to be rebuilt so we can go back to how things used to be," says Ana.
Through generous donations, Compassion's church partners are working to provide temporary housing for 12,000 Compassion-assisted children and their families. Looking ahead, they will begin rebuilding what's been lost. The local church partners were with families in the immediate aftermath—providing for urgent needs with resources and food packs like the one that answered Soraya's prayers—and they will remain beside them in the days, months and years to come.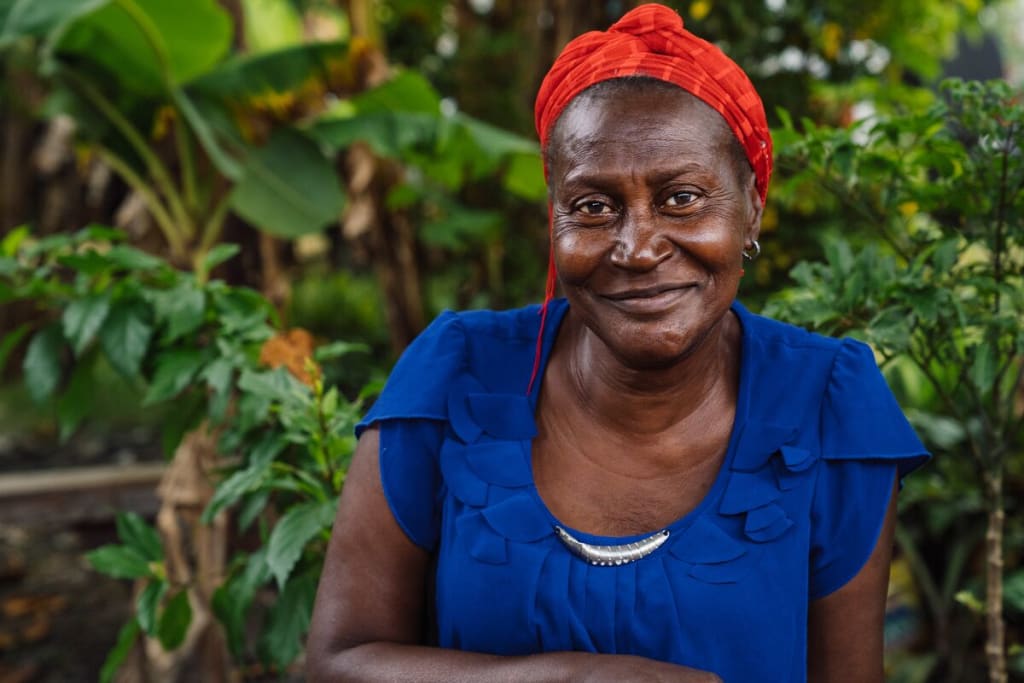 "With Jesus, I have hope," says Ana. "And I feel grateful because my community, Compassion, my church, my pastor, and God are all there to help me."
____
Soraya and Ana lost their home in the earthquake. Their home was one of the 12,000 homes of Compassion-assisted children and their families that were destroyed or significantly damaged in this devastating disaster. It is a great need. Each one of these families have their own story of loss. But, there is great hope. There is hope because the Church can rise up to meet this need and be the faithful presence of Jesus in times of crisis. Compassion Canada has committed an initial $2 million towards Haiti disaster response to rebuild and restore homes that were damaged and destroyed in the earthquake and to provide trauma counselling for children and youth.
"Did you come to rebuild my house?" Soraya asks.
When we partner with Compassion's local church partners in Haiti, we can help them answer yes.
Together, we can rebuild what was lost.
Written by Erick Jura, with Rebekah Malbrecht. Photos by Erick Jura.