I remember how happy I felt when I saw my grandson, baby Deinner, for the first time. Despite the pain, there he was: so innocent, so beautiful, reminding me of God's love. I started to cry when I finally held him in my arms, feeling that mix of deep sadness and happiness.
He was born at seven months of gestation on August 17, 2020, but his mother, my daughter Cindy, passed away a day after.
It's true: your whole life can change in just one moment. One day we were celebrating the joyous news of expecting another grandchild into our family and soon after the whole world was plunged into the middle of a pandemic that has changed our lives forever.
'I felt my world falling apart'
In 2020, just when the COVID-19 virus arrived in our country of Colombia and began causing many people to get sick and die, Cindy had just found out she was pregnant with her third child. She was so happy and excited about this new life, despite some weaknesses that pregnancy caused her. We were in quarantine trying to keep ourselves protected from the virus. Nonetheless, COVID-19 found its way into our home. I was the first one affected. It felt like the flu that got worse as the days passed. I remember the pain in my lungs and the weakness in my legs. I had to visit the hospital and was immediately admitted to the Intensive Care Unit.
My condition became critical. Doctors had to intubate me because I could not breathe. I was in a coma for several weeks and remember being confused when I woke. When I finally was able to call my family, I talked to my mother but noticed that she seemed reluctant to speak to me. When I called my daughter Cindy, her husband answered, saying she was busy, out of the house or visiting someone. There was always a different excuse. I felt heartbroken and alone at the hospital. Some days later, my husband told me that Cindy had been hospitalized because she was not feeling well due to pregnancy. I was worried, but if she was being cared for by doctors, I thought she would be okay.
After being at the hospital for more than two months, I was excited the day I finally received visitors. My heart was full of joy when I saw my pastors and my sister. I had no idea that it was going to be the worst day of my life. I was told the news that no mother should have to hear. My beloved daughter had passed away. As the doctor suspected, she also had COVID-19.
It was unreal for me when the pastor told me that I would not see my Cindy again. When I had left my home to go to the hospital, she was there, alive, and yet now she was gone. I finally understood my mother's silence and Cindy's husband's excuses whenever I asked of her. I felt my world falling apart.
But I remain comforted by the words of courage spoken by Cindy to Fanny, the Compassion centre director where Ian, Cindy's second son is being sponsored, "Never stop serving the Lord," she said.
Joy in the morning
Despite the suffering, good things have been happening. I am so grateful to God for being alive and that I am not alone.
The Compassion centre provided us with food, a twin bed for Cindy's other children and provided me with an oven so I can work by baking and selling bread. Now, Deinner is also a part of another Compassion centre called Tejedores de Sueños (Dream Weavers). I was so happy when they visited us to meet him. The centre staff heard about his story and thought he would need love and care since his mother cannot be here for him. They registered him because they support vulnerable babies as they grow up. This centre will provide psychological support for all Cindy's children since they miss their mother more than they can put into words.
My prayer is that with the centre's support, Deinner will grow up to become an example, as his mother was. An example in his studies, a brave child full of dreams.
My letter to my grandson
My sweet child Deinner,
You are my blessing. I remember how happy I felt when I saw you for the first time. Despite the pain, there you were: so innocent, so beautiful, reminding me of God's love. Let me tell your story, my lovely little grandchild.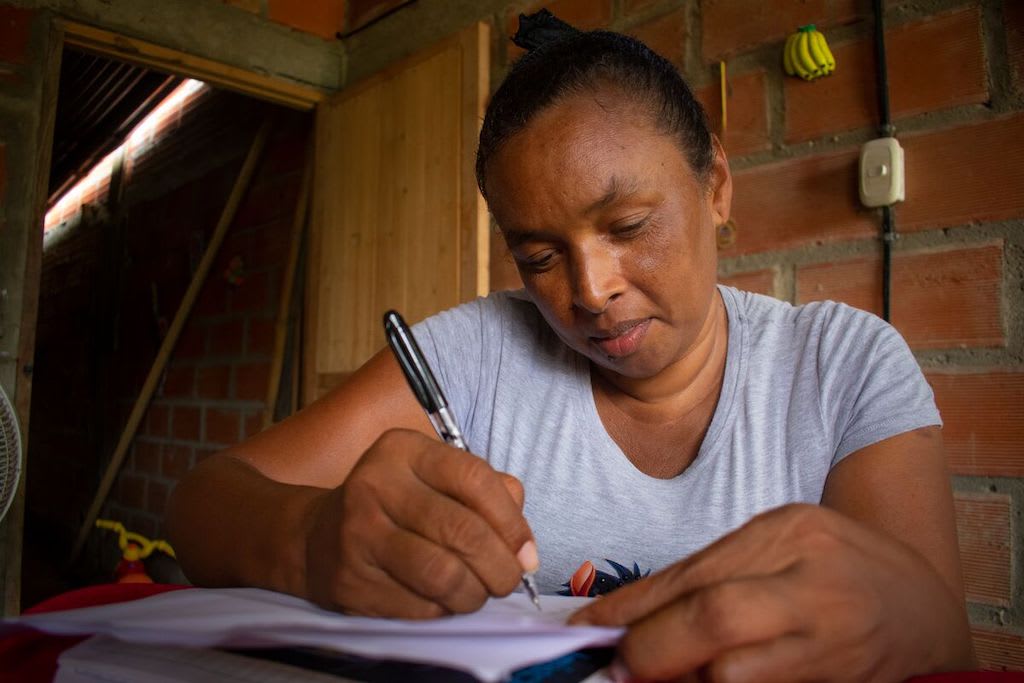 Your mother, Cindy, was smart, kind, and beautiful. She had a family with your father and your siblings Ian and Saidith. After hearing about Jesus, your mother accepted Him as her Saviour. Last year, Cindy realized she was expecting you and was so happy. We were in quarantine, trying to avoid getting the COVID-19 virus. However, it still reached me, and I was hospitalized. Then your mother got sick while she was pregnant with you. She spent days at the hospital, fighting for both of your lives. However, she died after your birth, and I had no opportunity to see her again. It broke my heart.
While you were still in the hospital, your father, the family and Fanny provided all you needed during this time. I had some days to recover at home until you finally arrived home, too. When I saw you, it was like seeing Cindy, as if your mother was at home again. Since then, I have spent my days caring for you, your siblings and my younger children. My health is not entirely okay, the physical and the emotional. But I strive to do my best for you all. I enjoy sitting with you in front of the house to watch the people walk past, and I like to imitate the dog and cat sounds for you. You like to hear praises for the Lord on the radio and put your hands up as if you were praising God. Your grandfather works driving a motorcycle to provide for us. Although your father does not live with you, he loves you and your siblings so much.
The Compassion centre your brother attends supported us with food, a twin bed for your siblings and an oven so I can bake and sell bread. Then, another Compassion centre heard about your story and thought you would need special love and care since your mother cannot be here for you. They registered you because they support vulnerable babies as they grow up. God's blessing and love are upon you, my little one.
I want to thank God for His blessings. Churches and Compassion centres have become our most significant support. The centre's support will allow you to become an example, as your mother was. An example in your studies, a brave child full of dreams. Please, love God and trust Him. That is your mother's legacy. I hope you read this letter being a good man, a Christian that serves the Lord, a professional. I want all the good in the world for you.
God's blessing and love are upon you, my little one. Your siblings are also blessed.
With love,
Your grandmother Bridis
____
You can support families in critical need by giving to Compassion's COVID-19 relief fund.
Photos and field reporting by Lina Marcela Alarcón Molina.