In the Bible, many awaited the coming of the Messiah, but there were those who pressed into fervent faith and prayer until they saw Him.
Such was the story of Simeon, a man who had been told by the Holy Spirit that He would live to see the promised Messiah (Luke 2: 25-27). There was also Anna the prophetess whom the Bible described as never leaving the temple but worshipped night and day, fasting and praying to one day see the promised Redeemer. (Luke 2: 36-38). And on the same day, in the same temple, these two people connected only by their faith, experienced the joy of a dream fulfilled as they both beheld baby Jesus. And they both gave thanks.
This is what the Advent season looks like: that place between hearing the promise and seeing the promise. It's a posture of joyous expectation and blessed assurance that we will see what He has promised.
But even in the season of waiting, so much happens. Even when it is hard to see the good, much good is taking root. So, when our days seem like all we are doing is waiting, the Lord invites us to see the good gifts we may have been missing all along. Soon enough, we begin to see all the ways He's been faithful even during the wait. We begin to see every good gift that God has given us. These gifts are not always in the things we can easily see, so they can be easily missed. They are not always tangible, but they are powerful.
Our new Advent devotional, Every Good Gift, available as both a 5-day version and 28-day version, is an invitation to gather around with eyes open to see the good in a season when we all need it most.
Written by Compassion Canada writers Alyssa Esparaz, Rebekah Malbrecht and Rayo Adegoke, these devotionals invite you to spend your Advent season unwrapping every good gift that comes with Christ—hope, peace, joy and love—through stories from around the world and key verses from the book of James. They will also help you explore how you can give these good gifts to others in meaningful ways this Christmas season.
Our 5-day devotional has over 1000 completions already and counting. If you download the 5-day version today, you too can finish it by Christmas!
How do you find them?
You can access the devotional on desktop or mobile by going to this link for the 5-day devotional or this link for the 28-day devotional.
Or you can find it directly in the App by searching for "Every Good Gift: A 5-Day Advent Devotional" or "Every Good Gift: A 28-Day Advent Devotional." Just look for these images in the Bible App: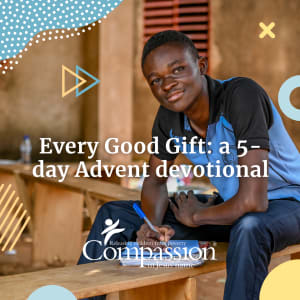 The 5-day version of Every Good Gift: an Advent devotional is also available to download in pdf.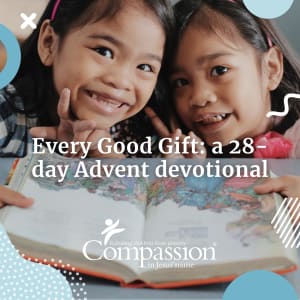 The 28-day version of Every Good Gift: an Advent devotional is also available to download in pdf.
Plan description: Journey through Advent by exploring every good gift that God has given through Scripture and stories from around the world. Walk through the themes of a good life, the good news, good deeds and good gifts found in the book of James. It'll take you on a  journey to experience the good deeds that make the good life. You'll find yourself seeing how everything points to Jesus and how every good gift comes from God alone.
____
Check out all Compassion Canada devotionals currently available on the YouVersion Bible App!