Story and photos by Richard Pouteaux.
From the time I was a little child, I watched the shows on TV that depicted children in need around the world. I realized that even though it might just be one child's life, I could have an influence. Jesus had sown a seed in my heart.
In 2004, I was in college and had a summer job, so I looked into sponsorship. I decided to go with Compassion because it was Christ-centred. I almost sponsored four kids in one shot, because they were so cute, but I decided on two: Rashidi from Tanzania and Hategekimana from Rwanda.
I spent eight years sowing into these boys' lives through sharing the Word, financial support, letters of encouragement, and prayer. I tried to write them whenever I got letters from them, every 3 or 4 months.
From the time I began sponsoring, I dreamt of visiting my sponsored children. So when I was able to meet both my sponsored children last year, after sponsoring them for eight years, it was like meeting long-lost friends. It was like a homecoming, meeting family for the first time.
As I left for the trip, I walked on the prayers of the saints from my home church. I wanted to be a simple witness to people and show them the loving-kindness of God. When we walk in love, God makes the way. I especially saw that as I visited Rashidi's home in Tanzania.
"I'm so excited about what God is doing through Compassion, and I'm grateful just to be a son in His kingdom and a contributor to His eternal purposes."
Rashidi's house was a typical mud home made with sticks. It was fairly large and partitioned off, with several families all living there. I met his mother, whom I called Mama, and she was precious. I gave them gifts I'd brought, and they gave me fabric and a scarf for my mother and me.
I shared Scriptures with them that God had put on my heart, and Rashidi's mom and brother were listening. I knew Rashidi was a Christian, but I didn't know about his family. I asked Mama if she'd ever asked Jesus into her heart, and she said no because they have many problems and difficulties in life and wasn't ready.
The translator helped me explain how Christ came to take our burdens and help us with our difficulties. I asked if that understanding helped her and if she would like to commit her life to Christ. She said yes! I haven't had the opportunity to lead many people to the Lord, so it was amazing.
We went through a prayer of salvation, forgiveness of sins and repentance, and she asked Jesus to come into her life. Afterward, I realized Rashidi's twin brother, Mohammed, was sitting there as well, so I asked him if he would like to receive Jesus, and he said yes too!
I knew that it wasn't me—I was just a guy who was there for one day—but the Lord and His Holy Spirit has been moving all these years to lay the foundation for that moment.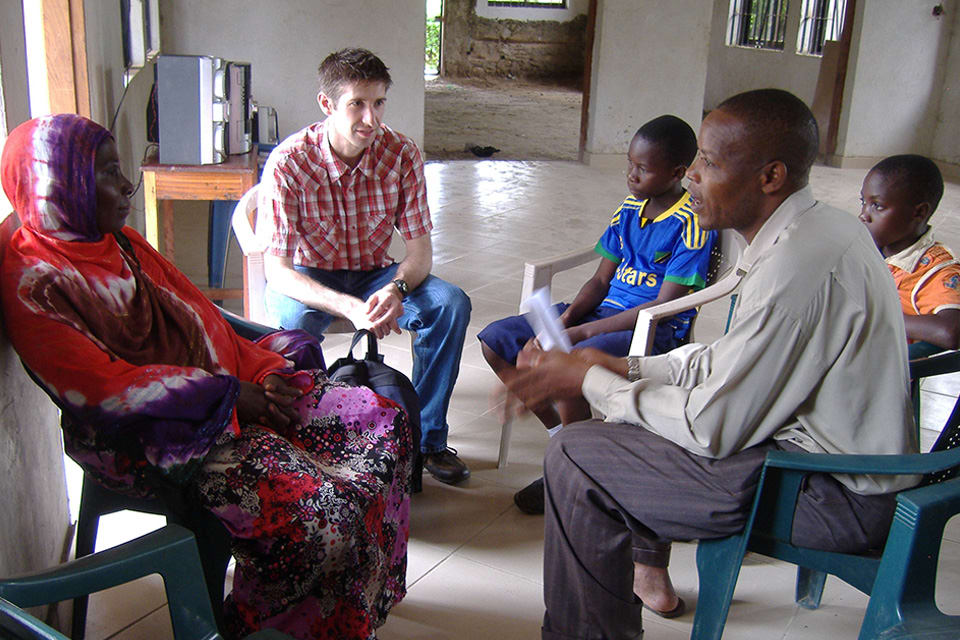 We talked about reading the Bible and praying daily. Before we left, I showed them my family photos, and there were lots of hugs and loving on them.
As we left their home, Mama's father was outside. He is a Muslim, and we had a brief chance to talk with him and some of his friends about faith. He said that he can only believe what he sees, and we discussed John 14:6—"I am the way, the truth, and the life. No one comes to the Father, but by me." As I left, I was comforted as I realized there were new witnesses in his own family who would be a light to him.
We went to the church for lunch and were able to get Mama connected there. The pastor introduced her to a mature lady who could mentor her. The pastor also said he would take Mohammed under his wing.
By this time, Mama's countenance was visibly different. She had a peaceful smile on her face—and I'm not just exaggerating for the sake of a better story.
I'm so excited about what God is doing through Compassion, and I'm grateful just to be a son in His kingdom and a contributor to His eternal purposes. I give all the praise to Jesus, for He answers prayers. He's already done it all for us; the least we can do is give all we have back to Him.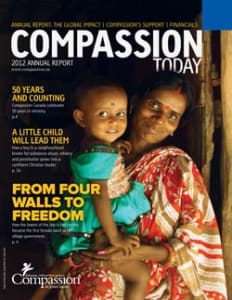 Read this story and more in Compassion's 2012 Annual Report, where you'll learn how your support is helping children around the world develop healthy minds, bodies and relationships while discovering God's love for them in Jesus Christ.
Download the 2012 annual report