As we end this year and usher in a new one, our hearts are filled with excitement and great hope. And if there's anything we have learned during these uncertain times, it's that no matter what we may have faced in the last year or what the days ahead in the new year may bring, prayer is the instrument that anchors our hearts to the infallible truth of God's word. So, as we head into 2022, let's draw nearer to the Father through prayer; engaging in the ministry of supplication so that we can be witnesses to the great things that He is able and willing to do.
So, we hope that as we start the New Year, that you will link arms with us in the place of prayer as we pray for one another and for our brothers and sisters in Christ who have endured great hardship and loss in the last year. We trust that as we all pray together, we will see the mighty hand of God in the new year in ways we have never experienced before.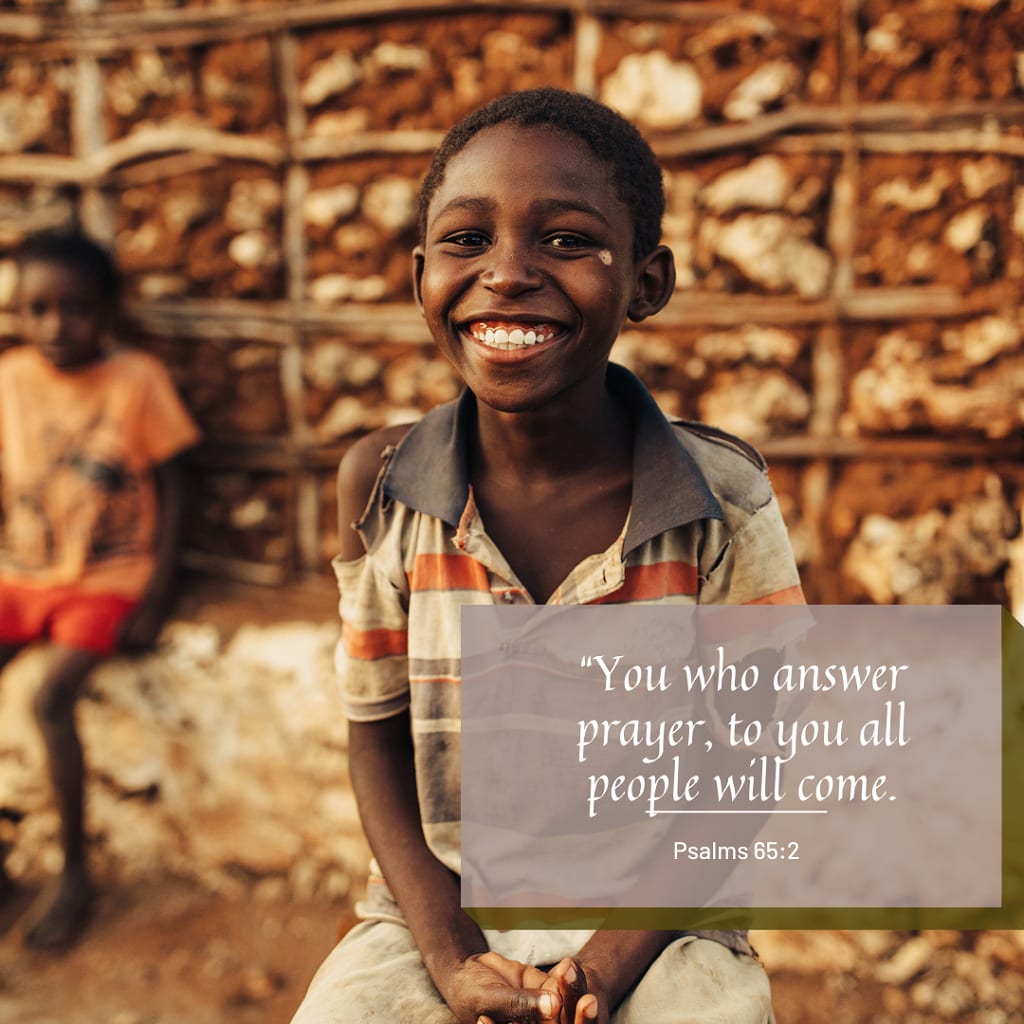 Scriptures to help lead us in prayer
Luke 18:1 – "Then Jesus told his disciples a parable to show them that they should always pray and not give up."
1 Thessalonians 5:16-18 – "Rejoice always, pray without ceasing, in everything give thanks; for this is the will of God in Christ Jesus for you."
James 5:13 – "Is any man afflicted, let him pray."
James 5:16 – "The prayer of a righteous man is powerful and effective."
1 Psalm 4:1 – "Answer me when I call, O God of my righteousness! You have given me relief when I was in distress. Be gracious to me and hear my prayer."
____
Prayer points by region
Prayer requests directly from Compassion's more than 8,000 local church partners in the 25 countries where we work to release children from poverty in Jesus' name.
Southeast Asia
Stand with us in prayer for the vulnerable children who are yet to be reached by the church in Southeast Asia. But first, let us praise God for the ways that the church is responding to the desperate need and bringing light into children's lives. Our prayers are powerful in bringing hope and encouragement to the Church there and to the precious children they serve.
Prayer Points
 Pray for God's light to break into the dark circumstances many children in this region face.
 Pray for the pastors of the churches in this region as they work tirelessly to bring hope to their communities. Pray for wisdom, discernment and resources.
 Pray that God will work miraculously for the children caught in the sex-trade. Pray that He will deliver them from desperate situations or having to make desperate choices.
Prayer
Lord, You are light. We praise You for how You dispel darkness wherever You are. We come to You and ask that You intervene in the lives of children in Southeast Asia who feel hopeless and trapped in dark circumstances. Be their defense and their light. Free them from oppression and bring them into Your love. Be an ever-present help for the Church as they shine Your light into their nations. We ask You to equip them to reach more children so that they will be released from poverty and all that it encompasses, in Jesus name. Amen.
____
South America
Pray for the migrant families in this region, that they would rise above the crippling financial crises caused by the pandemic through the support of Compassion and their local church community. Pray that they would lean into Christ, for hope and strength in these uncertain times. Praise God that the local church has become a light to shine hope in the midst of darkness.
Prayer Points
Pray for the protection of vulnerable children during this pandemic. Many are victims of abuse, living in overcrowded homes with many family members.
Pray for provision of critical supplies and support through church partners who are aiming to meet the most urgent needs of children and their families during this difficult time.
Pray for the salvation of many as they recognize their value as God's beloved children.
Pray for the development of resources in Indigenous tribes' native languages.
Pray for the local church as it works within its cultural settings to meet pressing needs and share the love of Christ with families living in poverty.
Pray for children to recognize the unique ways that they contribute to the Kingdom of God.
Prayer
Lord, thank You for the tenacity of migrant families who are striving, against all odds, to build a better life in this region. We come to You to ask for protection and safety in this foreign land, that they would be warmly welcomed and supported by others in their new communities. We pray that they will run to You to find the peace and security they seek. Grant them opportunities, Lord, to grow closer to You through the outreach of the local church and find everlasting hope in You. Amen.
____
Central America and the Caribbean
Children in this region have had to grow up in the wake of challenging circumstances. This has had a profound impact on them, their parents, families and communities. We continue to pray for them to find their hope in Jesus and the future that He has for them. We pray that every child will grow up with a grounded sense of who they are in Christ and a deep connection to their local church. We pray that every child will know they have value, a voice and a place in God's Kingdom. Let's pray that they come to understand this truth.
Prayer Points
Pray that children in this region will feel a sense of security in Christ despite the recent turbulent circumstances they have faced.
Pray that parents, families and communities surrounding these children will embody resilience and hope to them.
Pray for the local churches as they continue to rebuild the communities around them and provide safe places for children to flourish.
Pray for opportunities for girls in this region to grow in skills and confidence.
Prayer
Lord, show us how to pray for our brothers and sisters in this region. They have endured a lot of hardship and so we ask that you be a shelter and a safe place for the children in this region as they continue to build their lives. We give you praise for the resilience and hope that has developed in this region in the midst of all of the hard circumstances. We ask that you continue to do a good work through the church so that children can grow, learn and develop the good purposes you have for them. Amen.
____
Africa 
We pray for the Church in Africa to continue in strength, hope and wisdom as they shepherd the children in this region. We also pray for deep healing, forgiveness and reconciliation that is still taking place in many countries in this region. We pray specifically for the ongoing trauma counselling that young Rwandans are being offered through Compassion child development centres. We pray for grace, discernment and courage for the staff at the child development centres as they continue to nurture the children in the way of the Lord.
Prayer Points
 Pray for the ongoing trauma counselling for many children in this region.
Pray for the salvation of many children and families in this region.
Pray for healing, forgiveness and reconciliation amongst families and communities in this region.
Pray that God will always be glorified and Christ exalted in the African Church.
Prayer
Lord, we pray that the church in Africa will be filled with Your spirit and power as they continue to shepherd the children and families in this region. We pray that the African children will grow to know who they are in Christ, that they will be filled with the Holy Spirit and that they will move forward with wisdom, power and discernment in all things. We pray for healing and restoration for those who have lost people they love and valuable possessions. We know that Your grace is sufficient to carry them into the New Year and that they will see Your goodness in ways they never have before.
____
We want to thank you for standing with us in prayer as we lift up every need to our Father who hears and answers us. We hope that as you pray for others that He will meet your every need, give you the desires of your heart and meet you in places and ways you never even imagined.
____
Happy New Year from Compassion!
Want to keep praying with us?