One year ago, an earthquake took everything from families in Ecuador—but Compassion's church partners came alongside these families to help them start again.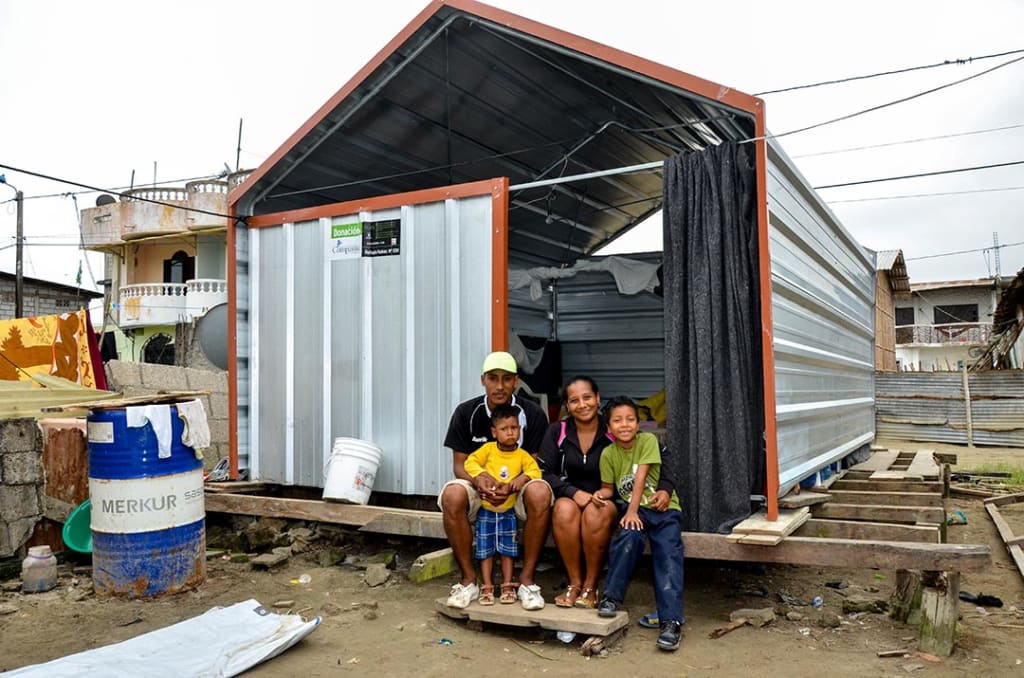 Six-year-old Dastin was sitting at dinner with his family in their small home. Situated on a small island on the coast of Ecuador, their home was a rickety wood structure built on stilts that had taken many beatings from the high tides. It didn't have much in it, but it was home.
As Dastin raised a bite to his mouth, the home started shaking.
"It was horrible," says his mom, Jennifer. "At first it was slow, and then it became strong."
The house collapsed easily, expelling its inhabitants and their few possessions into the mud and seawater. As they struggled in the muck, neighbours pulled them out. Dastin was very brave, encouraging his mom, calling, "Mom, come on, come on!"
When they were all safe, they looked around and realized they had nothing left except for what they were wearing. The earthquake had destroyed their home and all their possessions.
Dastin and his dad looking at the site where their home once stood
On April 16, 2016, a 7.8 magnitude earthquake in Ecuador killed 673 people and dislocated 26,000. Four Compassion children died, and nearly 5,000 Compassion children's homes were either damaged or destroyed. Compassion's church partners immediately sprang into action to seek out and help those who were impacted. But finding them wasn't easy.
The night of the earthquake, Dastin and his family walked to a nearby village and spent the night under the stars. The next day, they traveled to another town, El Salto, where other family had gathered. They lived for several weeks in tents in El Salto.
Meanwhile, Compassion's church partner, Jesus the Nazarene Christian Church, was diligently trying to locate the children from its Compassion program. With everyone scattered and communications down, it was tricky. Everyone had fled the island, and it took one to two months to find all the children scattered in the nearby cities.
Once Dunia, the Compassion centre director, found Dastin's family, she made sure they had everything they needed to meet their most pressing needs, first providing them with food and water.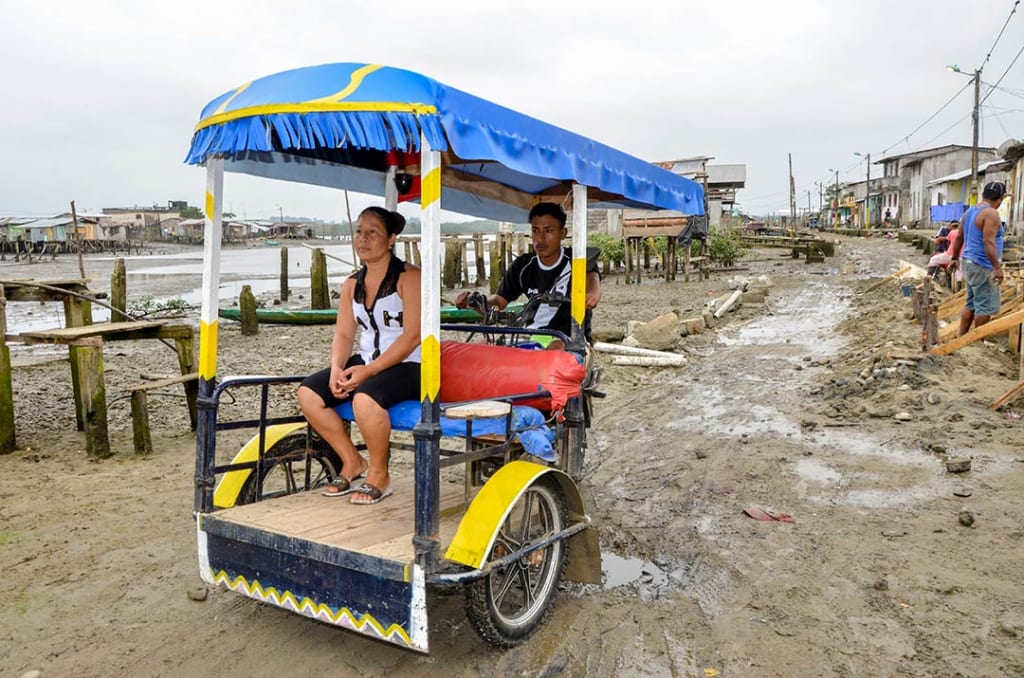 Dastin's dad, Miguel, at work transporting people on his moto-tricycle.
Although Dastin's dad, Miguel, wanted to get back to his work as a moto-tricycle driver, the frame of his bike had been destroyed in the earthquake. So Dunia immediately gave him about $53 so he could fix his moto-tricycle and return to work. Miguel was able to start working and again provide for his family.
Next, Compassion ensured the family had a new shelter to live in. Dastin's grandmother donated a little land in a lower-risk area, and Compassion provided the family with a prefabricated metal shelter that will better withstand the storms of coastal Ecuador.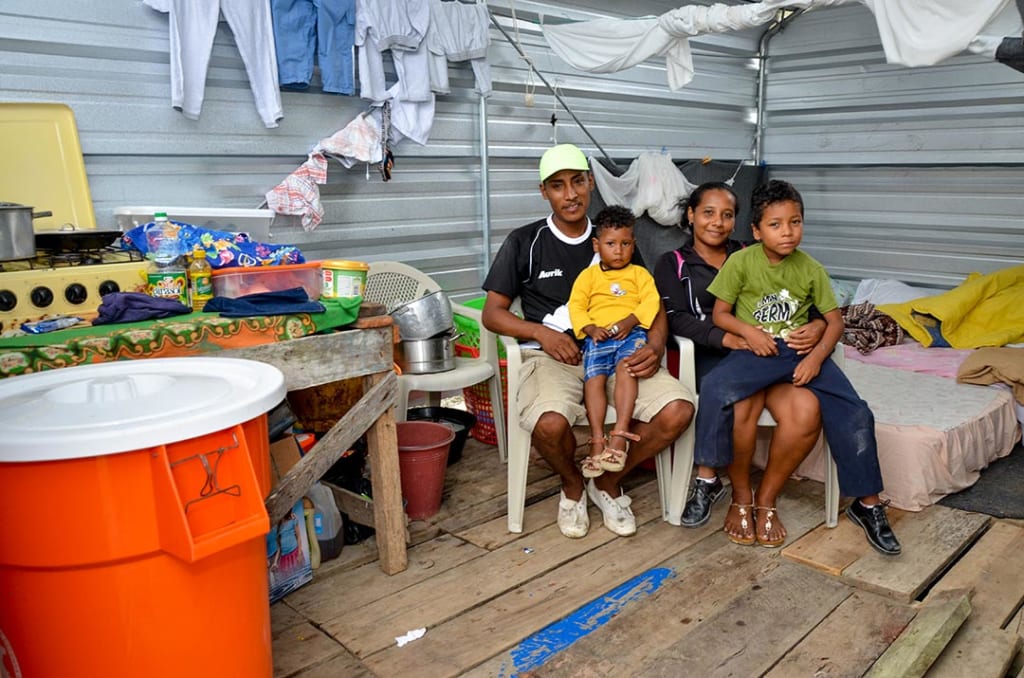 Dastin and his family in their new home
"Thanks to you, my children and I have a place to sleep," says Miguel, almost in tears. "Thanks to the centre, we already have a roof. I do not know how to repay you, but my heart [is thankful] because without this roof, we would still be under a tent."
Now, Dastin's life is going back to normal. He still loves going to the Compassion centre, and he's regained his bright smile.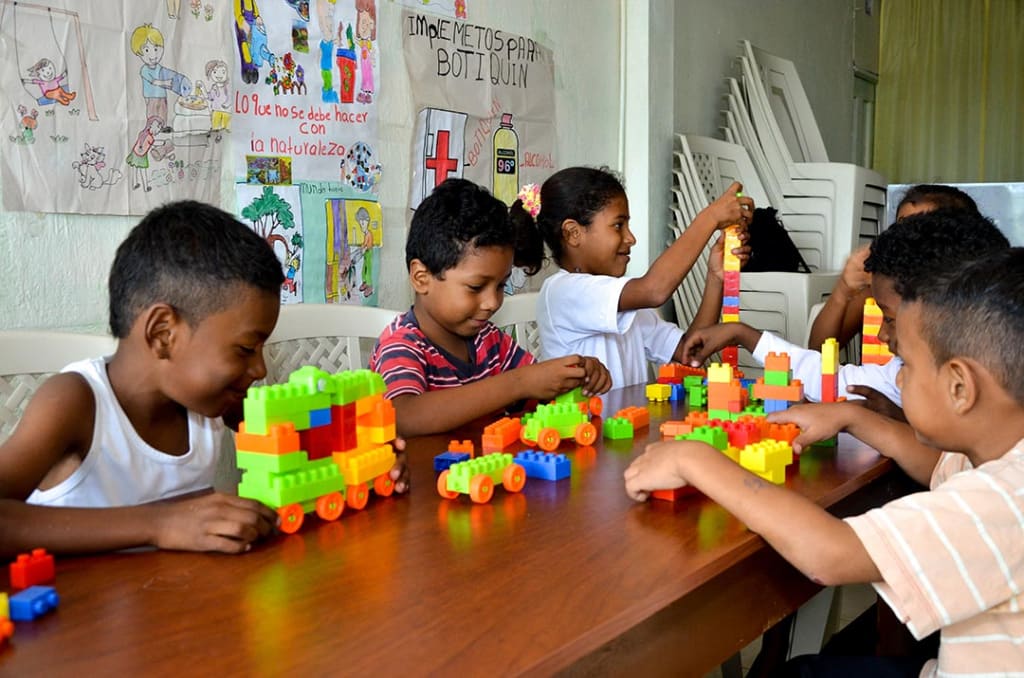 Dastin and his friends at the Compassion centre
"[I thank] the Compassion centre because they help him a lot there," says Jennifer. "Every time my son goes there, he has fun with his other friends and learns more and more, and that's very good."
Thank you to all of our wonderful supporters who helped families like Dastin's. They lost everything, but now they have another start at life!
By Cecilia Yepez, Compassion Ecuador