Two are better than one, because they have a good return for their labor. For if one falls down, his companion can lift him up; but pity the one who falls without another to help him up! (Ecclesiastes 4:9-10)
In a world where division is rife and the love of self is rampant, true friendship is a gift that shouldn't be unsung. Jesus teaches about friendship in the book of John where He describes true friendship as a greater love—a selfless one. "My command is this: that you love one another as I have loved you. Greater love has no one than this, that he lay down his life for his friends. You are My friends if you do what I command you." (John 15:13)
Indeed, a friend bears the burden of another. A friend will stand in the gap and bring comfort to another in times of trouble. Jesus calls us His friends, when we follow His example to lay down our lives for our own friends. He calls us to a greater love.
How we express true friendship may look different in every season. However one thing is certain, it should be characterised by love, kindness, generosity, loyalty and honesty. And as we continue to nurture true friendships in our lives, we are strengthening the Body of Christ and exemplifying unity to the world (John 17:21).
To celebrate this International Day of Friendship, we would like to share stories of twins across Asia who know what it means to be united and inseparable. They share with us what it means for them to be in Compassion's program together and how thankful they are that Compassion's church partners give special consideration to twins so that they don't have to be separated to enjoy the benefits of the program.
A friend that never leaves your side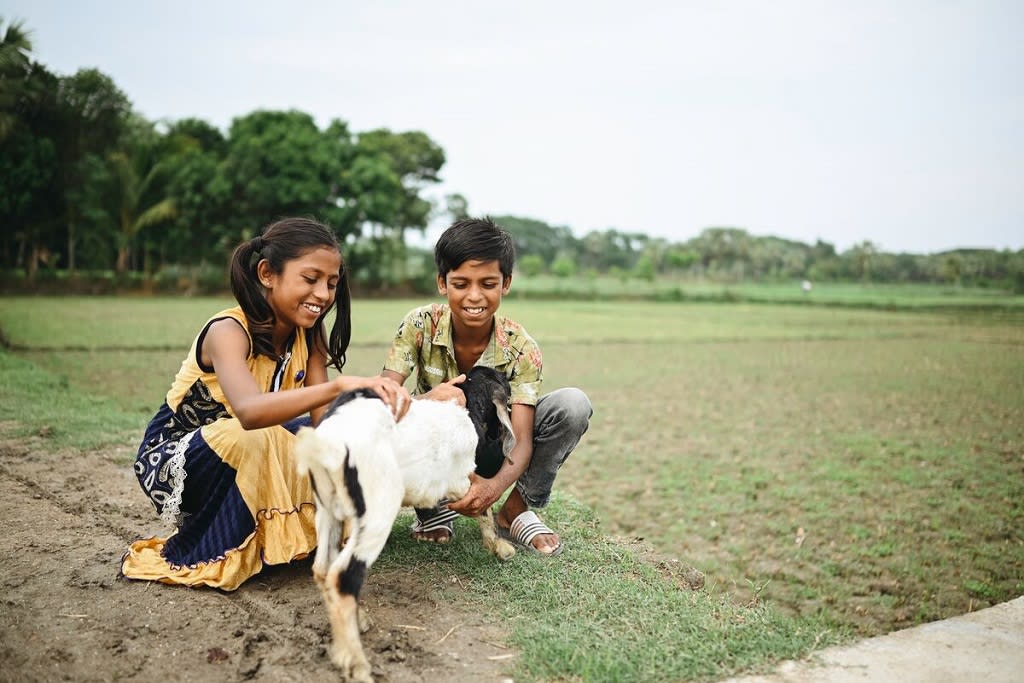 In some parts of the world, giving birth to twins hasn't always been considered a blessing. In a remote province in Bangladesh, where 12-year-old Payel and Piyal were born, having twins is often seen as a curse. So, when Mitu was pregnant with her twins, she couldn't count her blessings. Mitu and her husband, Gopal, knew they would struggle to meet the needs of one child, let alone two.
Gopal works long hours as a farmer in the fields every day, with no guarantee of income. His family relies on the produce of the land where he works. The thought of raising two children was daunting. But when they met their babies face to face, they knew they were a gift.
Payel and Piyal were registered at the local Compassion centre and today, the fraternal twins are happy and healthy, thanks to the regular medical and dental checkups they receive through the program. They attend classes at the centre that continue to prepare them well for school and they also enjoy a safe and fun environment where they play, sing, dance, and develop friendships with other sponsored children. Payel and Piyal are inseparable. Their friendship is a playful and joyful one.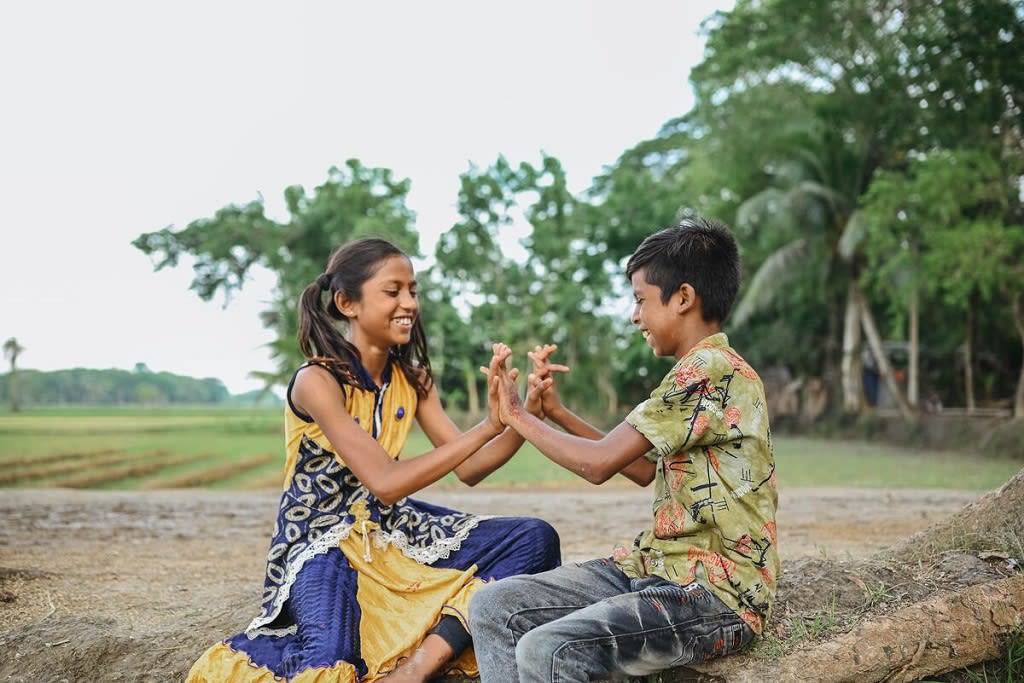 "I cannot give any material wealth to my children," Mitu said. "I am grateful for all the benefits they receive at the centre, most especially the proper nourishment that the program is providing. Not just for one of my children—but for two!"
A friend that sticks close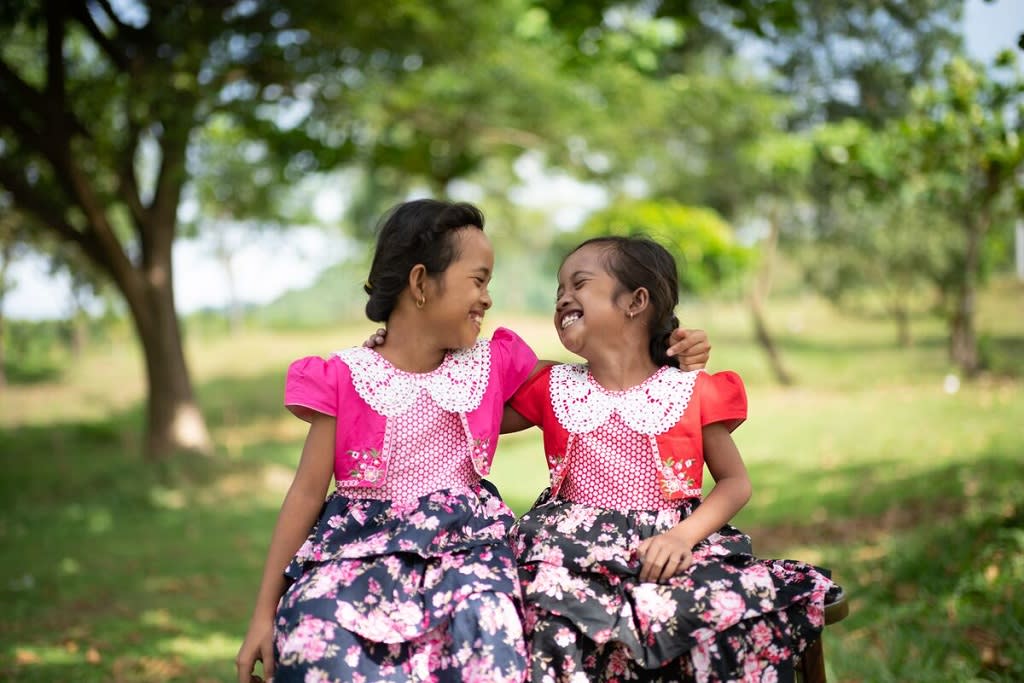 Just like Payel and Piyal from Bangladesh, Marta and Magdalena are inseparable. But Marta, the older of these eight-year-old twin sisters, is battling a heart condition. She is shorter, leaner, and gets tired easily. Magdalena often gets disappointed because her sister is quickly exhausted and can't play with her as often as she'd like. They're best friends—and Magdalena doesn't want to play with anyone else!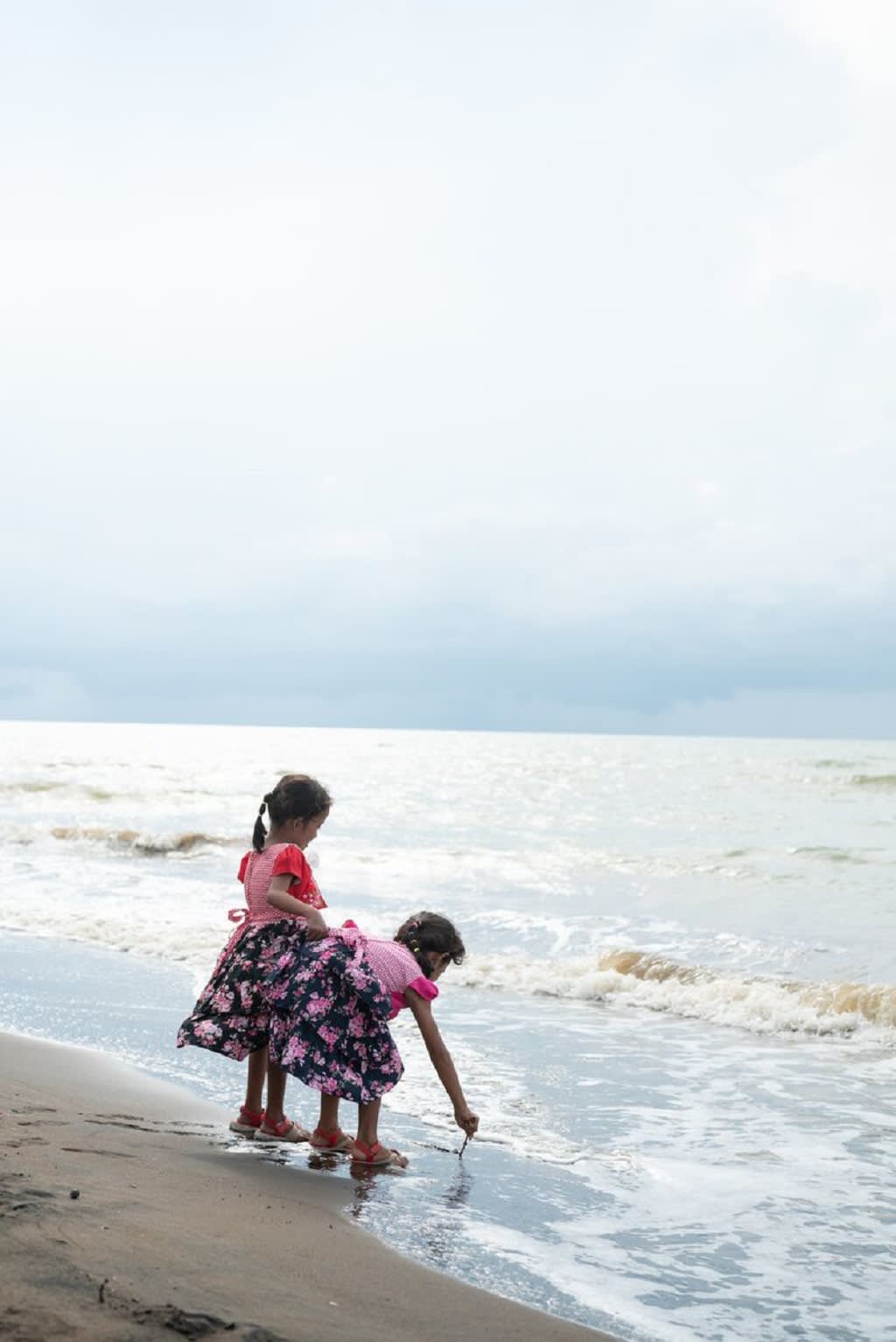 Their parents are thankful for the regular medical checkups conducted at Compassion centres, which helped them know that Marta has a heart condition and needs surgery.
Their father is a day laborer with no regular employment, while their mother doesn't have work. They could not afford to have their twins checked by a doctor, but they are so grateful that Compassion and the local church are taking good care of their daughters. This allows Marta and Magdalena to enjoy their close bond and be there for each other through thick and thin.
A friend that makes you laugh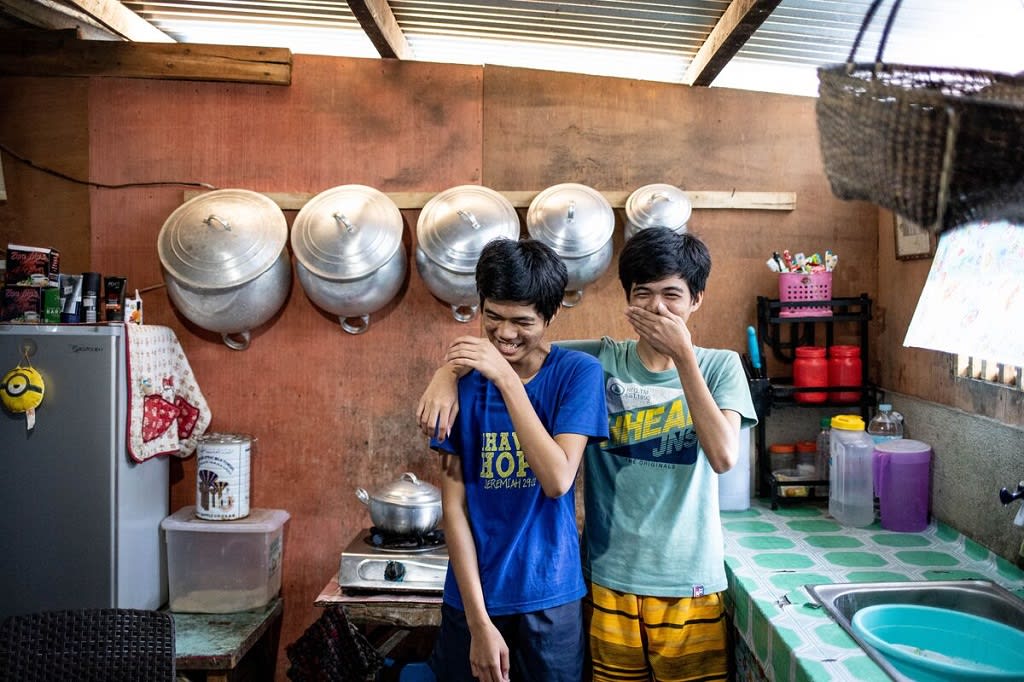 Sixteen-year-old twins Julian and Jian haven't always been the best of friends.
From an early age, they would fight and argue over the most trivial of things; like who gets to sit where, and they would deliberately ignore each other for days.
"We can get very annoyed with each other," said Julian, who is the more talkative of the two. "We feel we look so much alike that it's annoying," he added, laughing.
Yet, these two teenage boys agree on one thing—being part of Compassion's sponsorship program is one of the best things ever.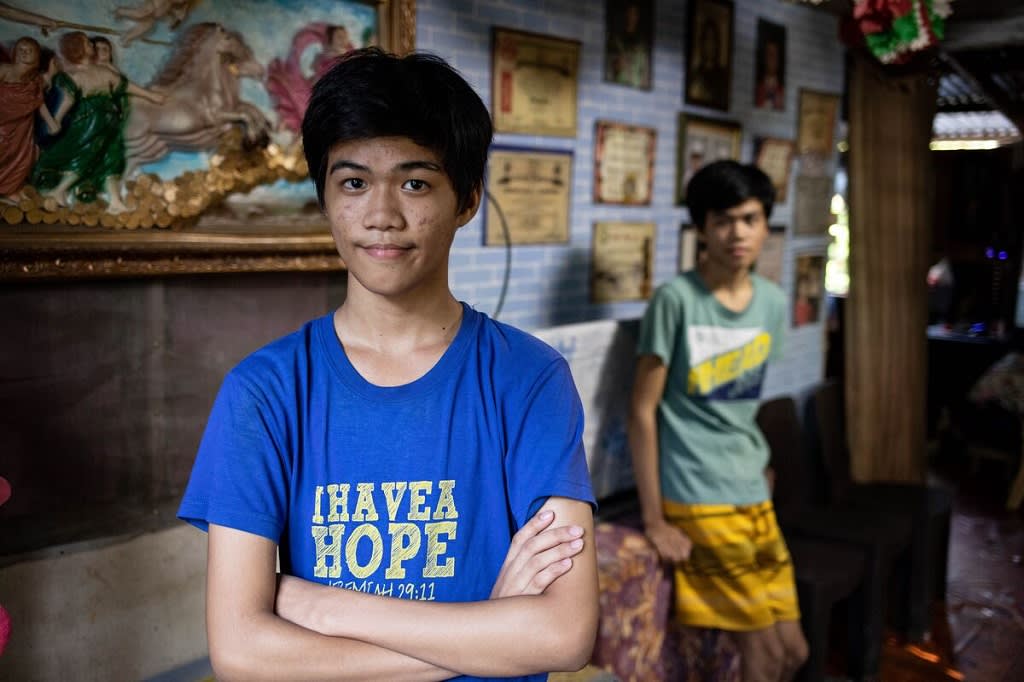 The twins belong to one of the poorest families in the crowded city of Butuan in the Philippines, raised only by their hardworking mother. Compassion's support has been crucial to their development since they were registered at just five years old.
Jasmin, the Compassion centre director where the twins are registered, shares that they have such a humorous friendship and she believes that deep down—despite all their arguments and competitiveness—Julian and Jian truly do love each other.
A friend that lifts you up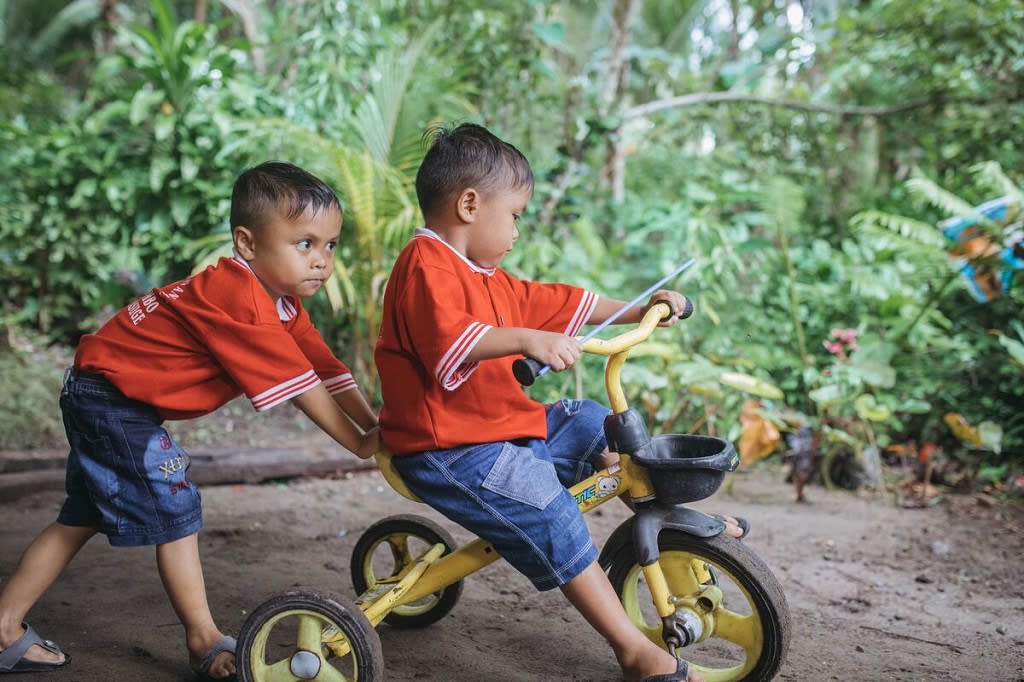 Six-year-old twins Novendri and Novandro had severe malnutrition when they were very young—and local Compassion staff knew that registering both boys with Compassion's program was the right thing to do.
"They were very sickly," said Roswati, the centre director where the brothers are registered. "It was our first time to register siblings into the program, and it was an easy decision because of their health condition."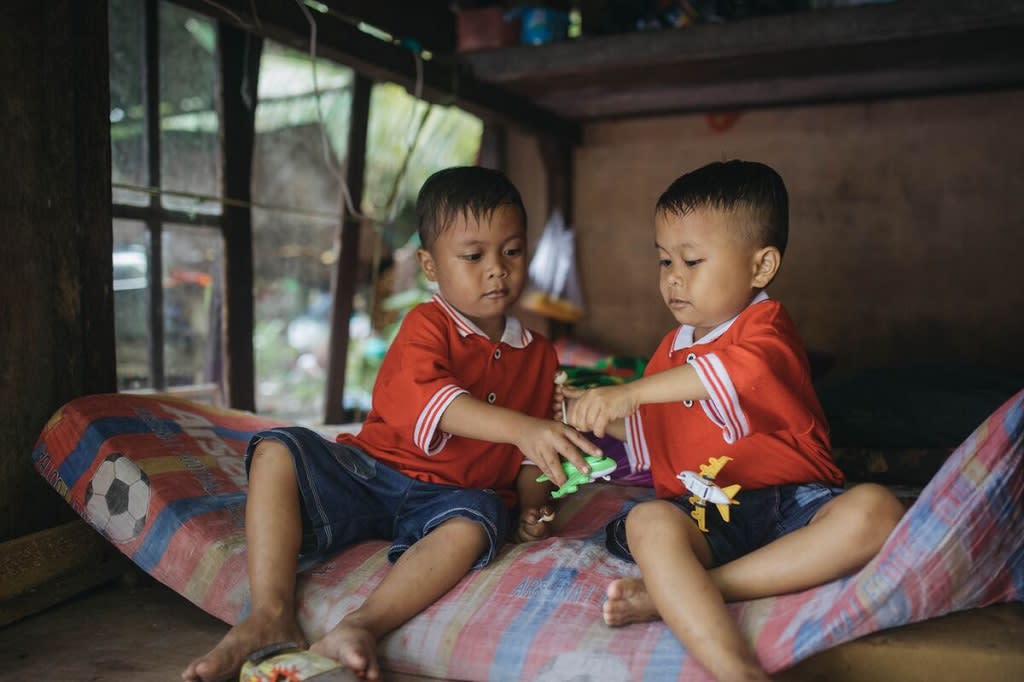 After Novendri and Novandro joined the program, Roswati and the centre staff patiently and consistently visited the twins' father, Metro to educate him about health, wellbeing and parenting to make sure that the twins stay healthy.
Novendri and Novandro are now six years old, and their health has improved significantly. They love spending their time playing together and taking turns pushing each other around on their bike. Everyone who knows these twins can see that their friendship is lifegiving!
A friend that stands by you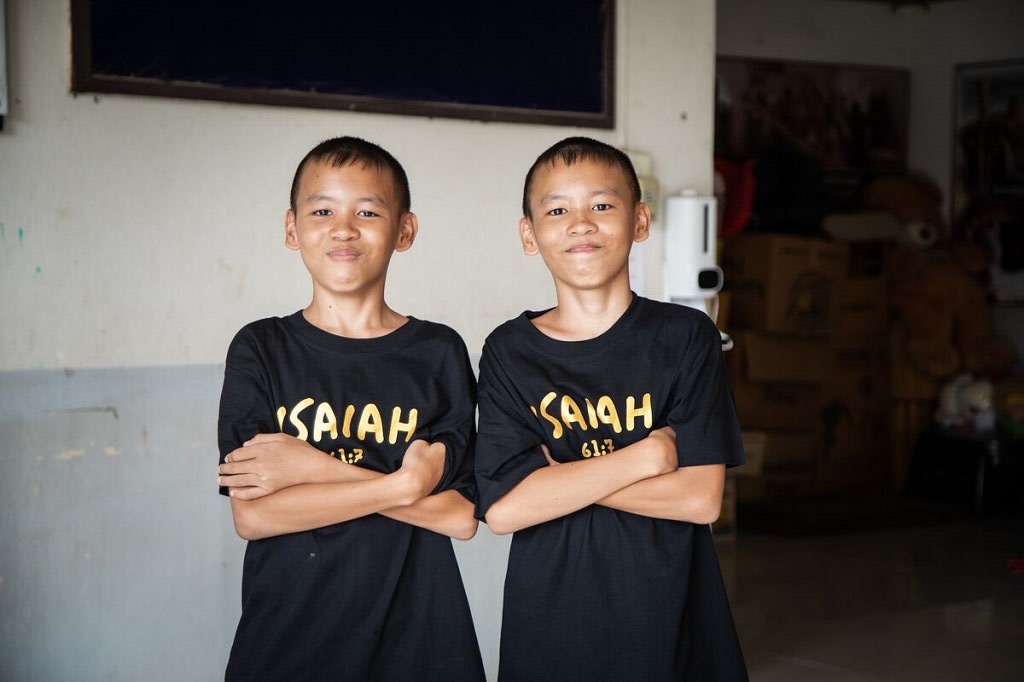 The care that Compassion's program offers to children covers so many grounds.
In Thailand, 12-year-old twin, Anucha was diagnosed with ADHD—a condition that can be very expensive to treat especially without much support.
"It takes tremendous patience and attention caring for a child with ADHD," said Jirapond, a teacher at the twins' Compassion centre. Jirapond is the only one who can cater to Anucha, as well as his identical twin brother, Anuwat. "Our centre didn't hesitate to help this family. We registered both brothers, considering the hardship and struggles they were going through."
The boys' mother, Pornwajee, is raising her sons by herself. And the family's struggles were compounded recently when Anucha suffered from an aneurism and had to undergo multiple brain surgeries. Without a successful operation, Anucha could go blind or be paralyzed.
There are not many brain surgeons in Thailand, so his case was widely publicized in the country.
This happened during the COVID-19 pandemic, so the Compassion centre raised money to help the family by making and selling face masks. They raised over $500 CAD—a huge accomplishment for the sponsored children and centre staff who made thousands of masks by hand, laboring day in and day out.
With the help of Compassion's critical interventions (CIV) fund, the surgery was paid for completely and Anucha received treatment and care and is now recovering well.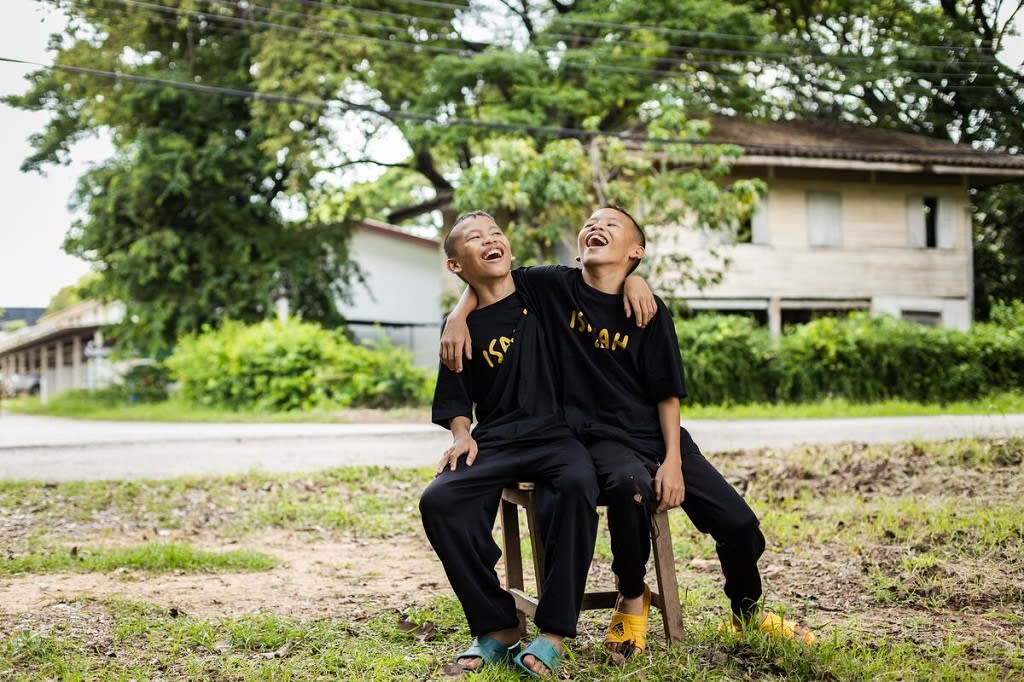 Pornwajee is so grateful. Her heart is so full of love and compassion that she even took her niece into her home, who is also suffering from ADHD.
"I could not deny my niece," she said. "Her parents didn't want to have anything to do with her, and I cannot let that happen."
Inspired by the friendship her sons which modelled standing up for one another and the kindness of the Compassion staff, Pornwajee decided to show compassion to her niece, by stand up for her and taking care of her when she needed it most.
_______________
Twins are a true blessing. While it may not be the same in every family or community, twins remain a desire for many parents. Parents of twins have the joy of watching both children grow together to become inseparable playmates who encourage and take care of each other through their life's journey. This is why Compassion gives special consideration to twins and will do everything possible to ensure that both children are registered in the same program, so they never have to be separated.
Compassion remains committed to supporting local churches so that they can continue to provide care and support to twins and their families, especially those with urgent needs.
The world needs more true friendships, so join us as we continue to celebrate and cultivate the love and care that twins in the Compassion program share with each other. And let their friendship inspire you.
____
"My command is this: that you love one another as I have loved you. Greater love has no one than this, that he lay down his life for his friends. You are My friends if you do what I command you" (John 15:13).
Would you consider extending friendship to a child today?
Field reporting by: Edwin Estioko, Compassion Philippines Photojournalist, Vera Aurima & Hutama Limarta, Compassion Indonesia Photojournalists; J. Sangma, Compassion Bangladesh Photojournalist; Piyamary Shinoda, Compassion Thailand Photojournalist