North American children have much to offer the world and much to offer a sponsored child. Renowned children's author Sally Lloyd-Jones reminds us, "Children need to know they're part of something bigger." Sponsorship offers the opportunity to invite your children into a global story. Here are three ways your child can get involved:
Letter Writing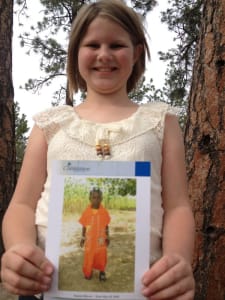 "I start each letter by reminding Sonata that I love her so so so much," beams nine-year-old Noelle. Her eyes light up as she tells me about the five-year-old girl her family sponsors in Burkina Faso. "When I saw her picture, I thought 'I've never heard of that country and she's really cute!' She'd been waiting almost ten months for a sponsor and that made me really sad. I knew we had to be her sponsors."
Noelle begged her parents to sponsor Sonata and now writes her regularly. Her mother is amazed at Noelle's enthusiasm: "It's beyond me. It's a God-given desire that He's planted. What's God doing in her life and her unfolding story?" When Noelle heard her mother say this, she agreed: "God has planted a seed in my heart and it can only be watered with Africa!"
Educate
Mrs. Combs knows that her class of fifth graders at Antelope Trails Elementary School is extraordinary. "This group here could change the world. They don't know any limits." The class is using their potential to educate fellow students and their parents about issues of poverty, specifically malaria.
The first piece of education began with educating themselves. Mrs. Combs helped her class do extensive research, including bringing in an expert from Compassion who taught the class the dangers of malaria. After seeing a malaria net, one of the students asked if he could sit under it for the day to experience what so many other children do across the globe.
Motivated by the horrific truth that kids their age die every day from malaria, two groups chose to educate others about the disease through their year-end projects.
Fundraise
Each group of fifth grade students who presented on malaria incorporated an action piece. They chose to raise money for malaria nets.
At a school field day, everyone from their class brought baked goods, and they hosted a bake sale. One student in the class saved up his money and bought the whole class cupcakes—a full $30! Mrs. Combs says, "He kept telling me, 'I want to raise enough money to buy three nets. If I buy three nets, I can save three families.' He wasn't even concerned about the cupcakes." That simple mixture of flour and sugar helped save more than three families that day. The students raised $172.05, enough to buy 17 malaria nets for those in need.
***
As children write letters, educate and fundraise, they do more than just expand their knowledge and raise money—the inspire those around them. This ripple effect spreads through their families, schools and into their communities. Your kids have so much to offer! Help them be part of a larger story.
---
Written by Katy Causey