Music captivates the mind and touches the heart like nothing else.
That's why Compassion partners with a diverse group of artists and speakers who use their time and talents to bless congregations across Canada in their worship gatherings.
But how does this ministry change the hearts of a congregation? Watch as pastors and artists from across Canada share how they've seen God at work when they've partnered together:
Compassion Artists have had the life-changing opportunity to experience Compassion's programs in action, to meet their sponsored child and witness what God is doing in their lives. They've witnessed local churches caring for their communities and sharing God's love with them. They've seen what the church can do—both around the world and at home in Canada.
They are uniquely equipped to speak on behalf of the voiceless. Their love for children living in poverty is matched by their love for the local church—and they want to share their passion with congregations in Canada.
Experience worship in a new way and see poverty in a new light.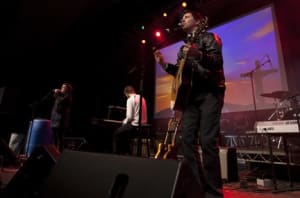 Compassion Canada want to serve your church by giving you the opportunity to have a Compassion Artist visit your church, to lead your congregation in a morning of extraordinary worship and help them discover how they can be a part of releasing children from poverty in Jesus' name.
Request a Compassion Artist