When Vedhanayagam Masilamani wants to teach his two young sons about God's power to transform a hopeless situation, the story of his own life tells it best.
Now 38 and a professor at one of India's premier universities, Masilamani came from the poverty-stricken village of Thirumanickam in southern India. Life was defined by a mud hut where rain came through the roof and simply getting enough food was a daily struggle.
At age 10, his father told him that five years of school was "enough" and put the boy to work full time herding water buffalo and doing hard labor.
His sister, Nallathai, like other girls in Thirumanickam, wasn't allowed to attend school at all.
"I was not taught to think about the future," Masilamani says from his office at the Indian Institute of Information Technology, Design and Manufacturing in Chennai, where he teaches computer science and engineering. "I was very dejected."
One of Masilamani's former teachers, however, could not forget him and his desire to stay in school.
She eventually convinced his father to enroll the boy in Compassion's Child Sponsorship Program at a child development centre in the Dindukal district, nine miles from their home. She assured him that his son's education at the school there, along with his daily needs at the hostel, would be provided at no cost. (In some rural areas that lack schools, Compassion runs hostels where children can live during the school year.)
Masilamani remembers feeling relieved that, though only a child, he no longer had to worry about food, clothes, medical care and shelter.
His sponsors, Ron and Karen Rohne Todd of New Jersey, were university professors themselves.
"I was amazed when I learned that my childhood photo was pasted on [the Todds'] refrigerator … which shows the love and compassion they have for me," says Masilamani.
Compassion staffers describe his progress in school as unstoppable, and Masilamani says that his sponsors' support and his increasing awareness of God's love motivated him to succeed.
"Sponsorship transformed my life completely."

—Dr. Vedhanayagam Masilamani
He finished high school and then college, becoming the first person in the history of his home village to do so. He went on to earn two master's degrees in math and a Ph.D. in computer science, dedicating his thesis to the Todds.
Masilamani says the difference the Compassion program made in his life is the difference between a job herding buffalo and a career "making future technocrats and computer engineers of my country through an institute of national importance."
But the biggest change Compassion made in Masilamani's life, he says, is making his relationship with God a personal one.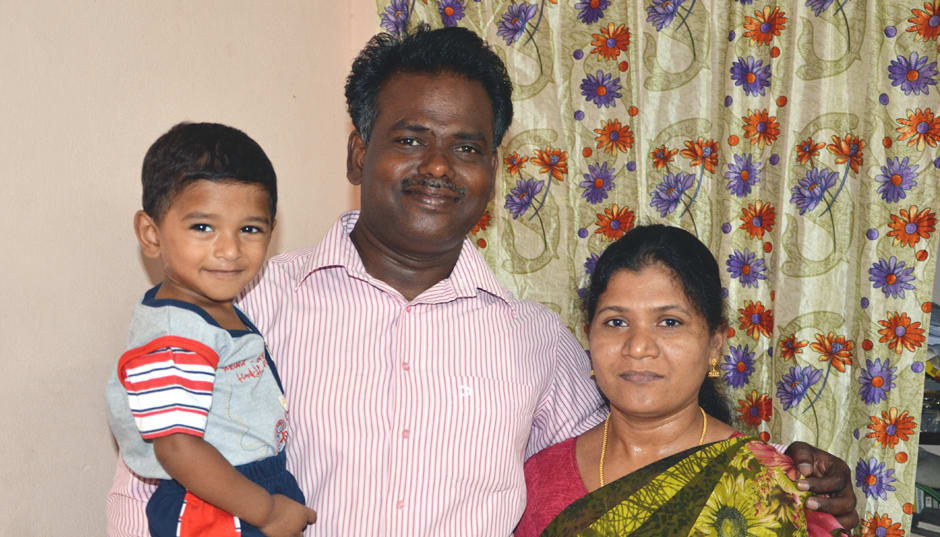 It was through his involvement with Compassion that God's love for him became real. And it is only because of God's intervention in his life, he says, that he can even think about a future for his sons — Joel Suvisesha Muthu, 9, and Josh Jothimani, 2.
"Otherwise, I would have no thought or processing about the future at all, as I would have been fighting for [a] daily living as my parents did."
Masilamani's parents now live in Chennai with him, his wife, Lily Chithra, and their sons. He returns to his village every summer and Christmas, with love for his home and sadness for those who did not get the opportunities he received. He encourages the children of friends and former neighbours to pursue education, and he says the rate of those finishing high school is increasing significantly.
Masilamani's sister never attended school, but he provided an education for her eldest son, Selva Kumar, now 25 and a business professional.
Masilamani and his wife, who has a master's degree, encourage their sons to love God, read Scripture, and study hard. Their fourth-grader has been named the top student in his class every year since he started school.
Such are the far-reaching results of a 10-year-old buffalo-herder joining Compassion's sponsorship program 28 years ago.
"Sponsorship transformed my life completely," Masilamani says. "I have told my elder son all my stories: how I ran behind the buffalos, how I studied through Compassion."
---
Story by Martha Anne Tudor with Jayaseelan Enos
Want to know even more? Read this story and more in the latest issue of Compassion today, where you'll learn how Compassion's ministry is helping children around the world develop healthy minds, bodies and relationships while discovering God's love for them in Jesus Christ.
Download the latest issue!