Our new Bible Reading Plan, Hope Amidst Hardship, was written just for you, and it is now available on the YouVersion Bible App.
Written by Compassion Canada writer Laura Phillips, this 4-day devotional explores practical ways to find, cling to and share hope in seasons of hardship. Rooted in themes from scripture, this study walks you through reflections and prayers designed to help you cultivate the hope of Jesus that is already yours.
How do you find it? 
You can access the devotional on desktop or mobile by going to this link.
You can find an audio version of this devotional at the bottom of this page.
Or, you can find it directly in the App by searching for "Hope Amidst Hardship". Just look for this image in the Bible App: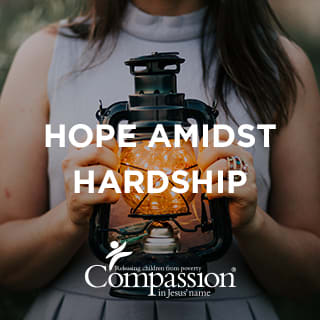 Plan description: In a broken world, it's hard to cling to hope at the best of times. It's even harder in seasons of pain. But the beautiful thing about the hope of Jesus is that it's not contingent on what happens in this world. This hope is already ours. This four-day plan will help you explore practical ways to cling to and share hope with your neighbours, even in times of uncertainty.
____
Audio version of Hope Amidst Hardship
Do you prefer to listen rather than read? An audio version of each daily devotional reading can be found in the playlist below.
 ____
Check out all Compassion Canada devotionals currently available on the YouVersion Bible App!