Guest post by Halina Rose, teacher and Compassion volunteer from Québec.
June is a good time to celebrate teachers! Possibly because we don't have to see them until September… As a teacher, I don't take this personally. I need the break too! In fact, the last six weeks of school are enough to bring many teachers to the point of questioning their career choices. Every year.
I may joke about my work being difficult, but I know why I became a teacher and why I still love my job. Teachers get to engage with kids on a deeper level. Teachers build communities inside their classroom. Teachers strengthen and encourage. Teachers develop the maturity and knowledge of small individuals through a million lessons, some academic and some not-so-much. In fact, looking up the average amount of time I spend with my students, children are at school for almost one thousand hours a year.
A lot of growth can happen in 1000 hours.  
This year was unique. Reality at school was difficult: COVID-19 restrictions, frequent changes to procedure, stressed families whose frustration sometimes spilled over onto the teacher, classes with half the kids in person and half on the other side of a computer screen.
For my small Grade 3/4 class, this year was unique in a good way too.
In a normal year, my students know I sponsor and write children through Compassion. They know their names and try to find their countries on our map. Some years, we talk about similarities and differences between Togo, Canada, Bangladesh and Honduras in geography and language. We talk about poverty and wealth and having enough and what this looks like in each aspect of our lives (body, mind, relationships, etc.). Sometimes students give me artwork or suggest topics for me to write my Compassion kids. Most of these activities fit into the Québec curriculum and some are simply an opportunity to build a well-rounded and healthy worldview with the kids.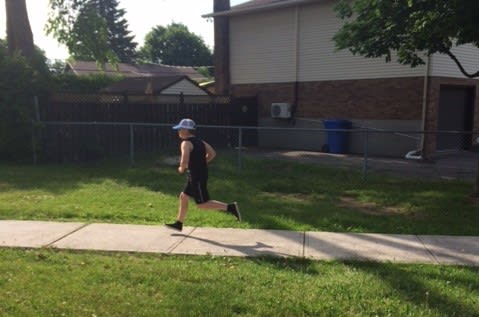 This year, our conversation went deeper. We knew how much COVID-19 affected our lives. From September onwards, we regularly discussed changes in class protocols and how we felt about them. I also explained what was happening globally and the impact COVID-19 was having on families. The kids understood how big the challenges must be for families who lost jobs and had no savings left.
As part of Gym, the kids were going to complete 5K. The goal was to develop their running and to learn to work together as a relay team. Each child would run a few hundred metres and then pass the baton (figuratively, because of COVID-19 guidelines) to their classmate. The kids would have time to rest until the baton came back to them again.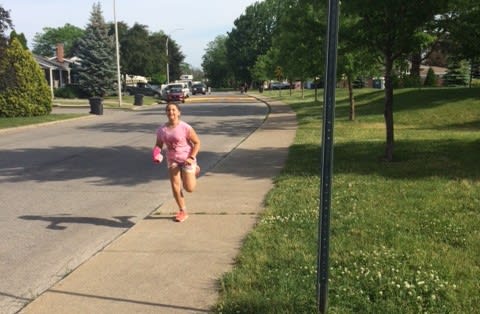 At the time, I was aware of the fundraising platform Compassion had developed. Why not organize a Compassion COVID-19 relief fundraiser to coincide with our run? Just like the kids learned how to step in for each other and share the distance, we could come alongside families in deep poverty to make it through the pandemic together. The kids were excited and we named our fundraiser 5 Kids, 5K.
Learning Compassion
As we prepared to gather donations, I encouraged my students to consider what they would like to give. One of my kids was bluntly honest: "I don't want to give to charity. I want to save to buy a PS5."
We talked about why we were giving, about the cost of COVID-19 restrictions and job loss to families and their need for support. I told them the word charity was the old word for love in action. This child was not convinced. That video game console was too important!
Yesterday, I was talking to my sister, now 25 years old, about the fundraiser. She had given generously. She told me about the first time she ever raised money for "charity." She was 8 years old and sold snowman notepads in the cafeteria with her friend for a wheelchair fundraiser. The rest of us had forgotten that memory, but it was impactful enough on her to remain almost two decades later.
A lot of what we learn as kids remains with us deep into our adult years, shaping us into the adults we become.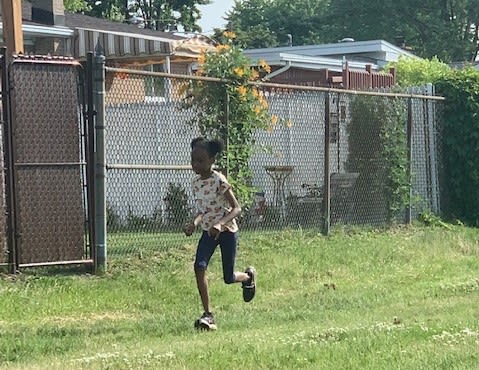 I know this was true for me. My parents sponsored children through Compassion right from the start of their marriage. One of my earliest memories is my mom praying for Sadik, Lillian and Gregory each night when she came to tuck us into bed. I wrote my first letter as a correspondent with Compassion at about 7 years old. I experienced the loss of a letter-friendship twice before the age of 11 due to conflict instability in the countries of the children I wrote to. I remember a letter still on the microwave because I had put off choosing stickers. That unsent letter really stuck with me. I learned "do good now" because tomorrow the opportunity might not be there.
I can follow most of the threads that make up my character, choices and abilities today back to key moments or aspects of my time as a kid. This is one of the reasons I became a teacher: I know the impact that the school years can have on a person.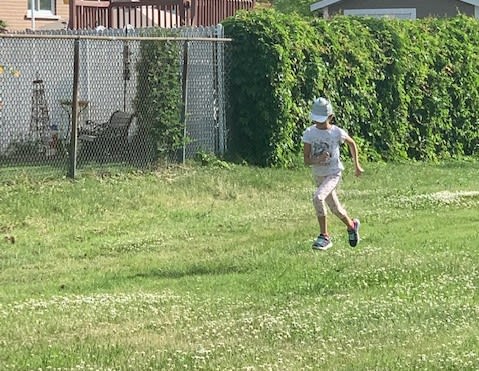 My reluctant student did raise money. She ran the distance, did not give up and, on the day of the run, did not complain. Afterwards, she celebrated that people had given so generously. I think she will remember her effort and joy and how our small fundraiser achieved more than any of us thought possible. I am praying she learns God gives us joy in giving and God loves a cheerful giver.
Learning Community
Back in September, the kids quickly discovered none of us could run 5km on our own. Not even Miss Rose. The kids learned to work as a relay team, to take turns, to run their best until they were tired and then pass the run to a classmate.
My 3/4 class is very small – only five kids with very different running styles and endurance levels. They had to become familiar with each other's abilities to recognize when to make the switch. Seeing the kids learn to look out for each other and share the load inspired me. This was a picture of what the COVID-19 relief fund, and giving in general, was supposed to be. Each one gives according to their ability, according to the need.  
When we first talked about the run, the kids wanted to raise $5000. I have never successfully raised more than $100 with a class in the past so I suggested $500 instead. I thought this was a manageable goal if the kids took asking for donations seriously. The kids agreed and made posters, coin jars and thank you cards in preparation. I set up the online donation page with Compassion.
Our first donation came in Monday morning through Compassion's online platform—$250! We were floored. We stared at the screen while the student who had solicited the gift danced about the room, pleased by our reaction. One of my more mathematical kids said, "That's half our goal!" And I said, "I think we need to raise it!"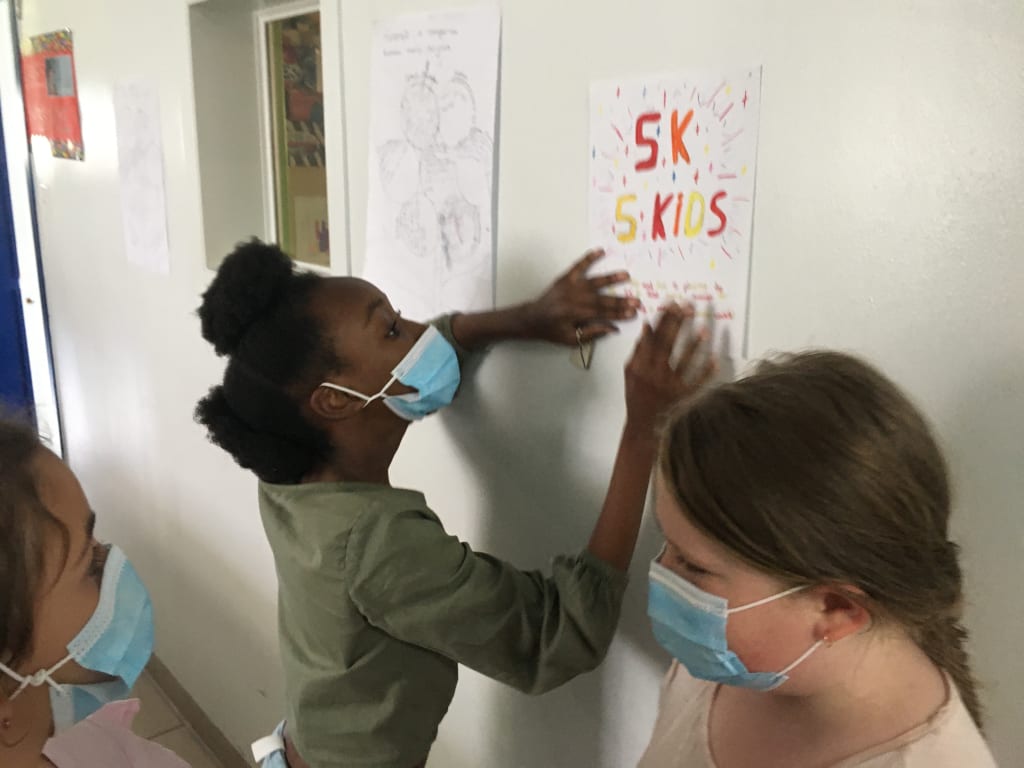 Of course, the kids said $5000! Eventually, I settled on $2,500 with the promise to change it to their dream goal if we reached that amount. Fundraising was in full swing. Kids brought in their own money and asked parents, friends and teachers. They were a little aggressive in their commitment to fundraising, so we practiced scenarios of people saying yes and people saying no. Some kids from other classes got involved in the giving.
Then came the day of the run. We started at 8:30 a.m. as it was going to be a hot day. We had never made it further than 2km in practice so I was not sure how long the run would take. I was concerned the kids would give up before completing the full distance. Just before sending them to their stations, I reminded them that at some point in the run, they would probably want to stop and the best way to keep going: to think about why you are running, run a few steps farther than you think you can, and signal the team for support. The kids blew me away. Only once did a kid slow to a walk short of their relay point, and the next child actually came running toward them to shorten the distance! The entire 5km run was finished in 27 minutes. In fact, the kids ran an extra 300 metres as I was double checking my calculations, sure we could not be done already!
On the last day of school, we reached our fundraising goal of $2,500. The kids had far exceeded what I thought possible and I was willing to do the same, so I promised the kids that I'd increase the goal to their original $5000 and run the 5k as well. I'd let them know in September if more donations came in, but we had already learned something important as a class. When you work together, big goals are not too big.
As people, we need team. We need people to step in when we are tired and we need to do the same for others. Stepping in to support and love your neighbour—be it a classmate struggling to make it to the finish line or a family that has run out of food in another country—honours God and brings a lot of joy, even when it is hard.
Conclusion
Love God.  Do good now.  Teach your children to do the same.
"Hear, O Israel: The Lord our God, the Lord is one.  Love the Lord your God with all your heart and with all your soul and with all your strength.  These commandments that I give you today are to be on your hearts.  Impress them on your children. Talk about them when you sit at home and when you walk along the road, when you lie down and when you get up. Tie them as symbols on your hands and bind them on your foreheads.  Write them on the doorframes of your houses and on your gates."  Deuteronomy 6:4-8
This chapter of Deuteronomy goes on to tell God's people that when they have all the good gifts He is planning on giving them, when they eat and are satisfied, they are not to forget Him, the One who rescued them. They are not to serve other gods. They are to do what is right and good.
Love God.  Do what is good.  Teach your children.
These verses are special to me because they encompass four things that are central to my life.  Of course, loving God is central. Second, the call to do what is right, encompassed in the command to love your neighbour. Then the call to teach this relationship to my kids in each moment and every day. I have a lot of kids in my students and in my Compassion kids. I get to walk with them and teach them the things God has taught me. Finally, the warning that in our wealth, we are not to forsake those things. Love God, not other gods. Not money, not comfort, not security, not ourselves. Do good. Love our neighbours as ourselves. And teach our children to do the same.