Buzz. Buzz. Buzz. Akhi rolled over and fumbled to turn off her alarm as it startled her awake. The buttery glow of the morning sun filtered through her green mosquito net as she pulled the edges out from where they were tucked under her mattress. As her feet hit the ground she started to go through her mental checklist of everything she would need to get ready for school until a thought suddenly had her dropping back onto her bed with her head in her hands. School is still closed.
Just another reality of the lockdown brought on by the pandemic for 14-year-old Akhi and her parents, Atiar and Johora. Akhi's day started with the jolting recollection that she wouldn't be able to go to school with her friends. She had known that when she set her alarm the night before but the warm, sleepy sunshine and a short night's sleep had momentarily pressed the pause button on reality this morning. Akhi stretched and shook it off, resolving to start her day with some semblance of routine like she had planned to when she set her alarm for 6:00 a.m. this morning. Keeping her daily routine as normal as possible has helped keep her occupied while she waits for the schools to reopen.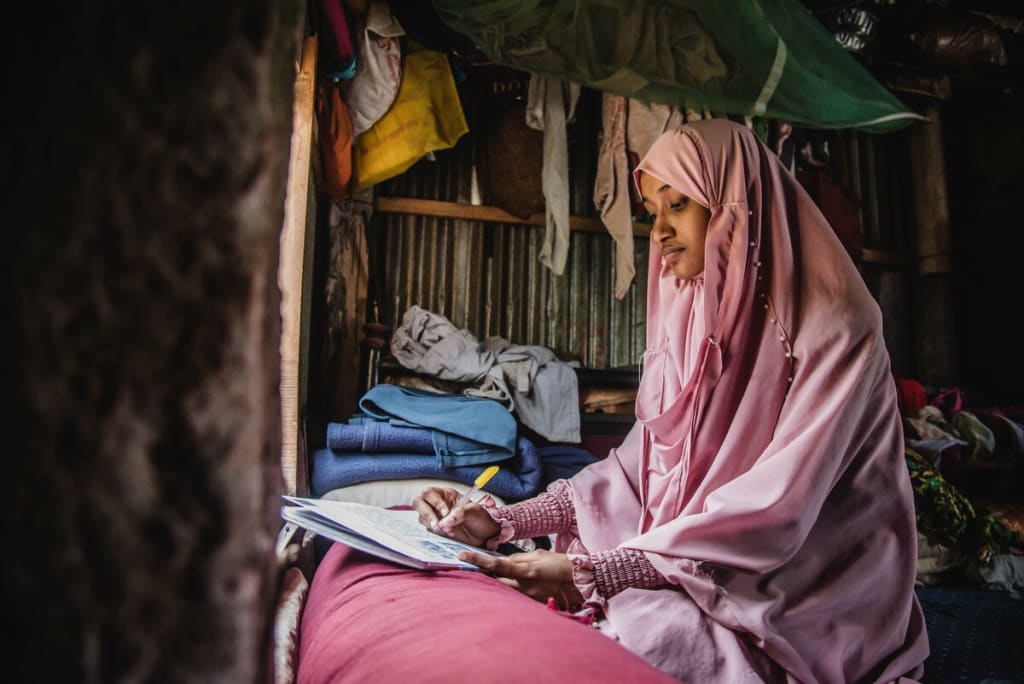 Exciting news
Akhi rolled her eyes and laughed at herself, knowing she had been the sole culprit for her foggy morning memory. She had stayed up until midnight last night chatting with her friend Munira from the child development centre. They had received word that they both had letters from their sponsors waiting to be picked up and they spent a good part of last night guessing what their sponsors might have shared with them this time. Akhi and Munira were giddy with excitement and it had been hard to hang up the phone with all the butterflies of anticipation fluttering around in their stomachs. They repeated the same wonderings and rehearsed the same answers until Akhi's mother finally gave her the sign for bedtime.
Akhi suspected that her mother had let her talk with Munira longer than usual because she, herself, was excited for Akhi to receive a letter from her sponsor. Akhi always shared her sponsor's letters with her parents and it had become a treasured time for them to pore over the words that her sponsor had written to encourage and connect with her. Akhi thought she had caught her mom grinning at her conversation with Munira last night. In fact, she could hear that her mother was humming as she prepared breakfast this morning.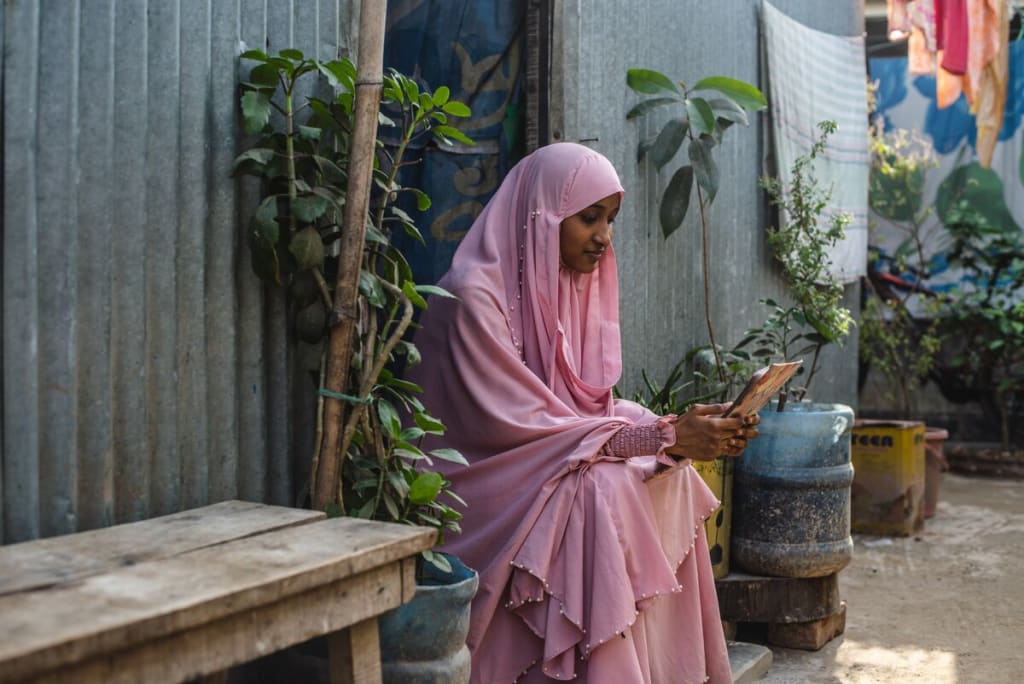 A really difficult year
It has been a hard year for Akhi's family. Her mother has been carrying a lot of stress because her father had been really sick four times this year. His job is to transport crabs on his tricycle rickshaw to local suppliers all over Bangladesh. The daily proximity to water in the boxes he carries the crabs in has created the increased likelihood of contracting dengue fever from mosquitoes that breed in the water and typhoid from the contaminated water sources. Akhi's father had dengue three times and typhoid once in just one year. This has put more stress on the family's income both due to the fact that he required medicine and health care, but also because he was unable to work while he was ill. Being sick meant that the opportunity to bring in income for the family was stunted in a year where the pandemic already negatively impacted the demand for his work.
Akhi didn't want to cry but sometimes her heart just felt so overwhelmed by the circumstances her family was facing that her worries would spill over. She used her head scarf to hide her tears from her parents because she didn't want to dishearten them any further in this challenging season. She was glad for the small privacy her head scarf provided for her to pour out her heart to God in their small home.
Something to look forward to
As she wrapped up her morning chores and donned her favourite pink head scarf, Akhi joined her mother outside for tea where the world had finally stirred to life. The Bangladeshi sun had started to turn from the buttery glow of dawn to the saffron-yellow heat of the day. Akhi's spirit was as bright as the sunshine because today, she would go pick up the letter from her sponsor. Tonight, when her dad returned home from work, they would all gather on the bed together to hear what her sponsor wrote.
Those moments had become a lifeline to her family this year. Even though the pandemic had hindered her from receiving letters as frequently as she used to, her sponsor had not forgotten her and she was able to receive letters every three months. Those evenings together as a family have become the most precious evenings of the year and have carried Akhi and her parents through some immensely challenging times. The letters gave them all the strength to keep going. Tonight would be one of those special nights.
A special time together
Akhi burst through the doors after the walk home from the child development centre. She had tried her best to savour the excitement and not sprint all the way home knowing that she would have to wait for her father to return home from work before they would read the letter together. Seeing her father and mother already sitting on the bed was exactly what she had hoped to come home to. She scrambled over to give her parents a quick hug and pulled out the letter as she settled onto the bed with them.
She unfolded the pages and beamed up at her parents. She could tell this small token of love from her sponsor was permeating her whole house as the weight and burden of the past year lifted for this special ritual they had created together. She started to read the caring words of her sponsor aloud, glancing over the page to peek at her parents faces when her sponsor shared how special she is and how she is prayed for every day. Akhi just loved catching the wide smile of her mother and the pride in her father's eyes in those moments. Her sponsor's words encouraged all of them to stand firm and have hope in the midst of their difficulties.
Precious words of hope
Akhi's eyes welled up with tears again—tears of hope this time and not despair—and this time she did not try to hide it. She looked up at her parents with eyes full of hope as she read the final line of her letter: "Your life is worth more than your current situation in poverty."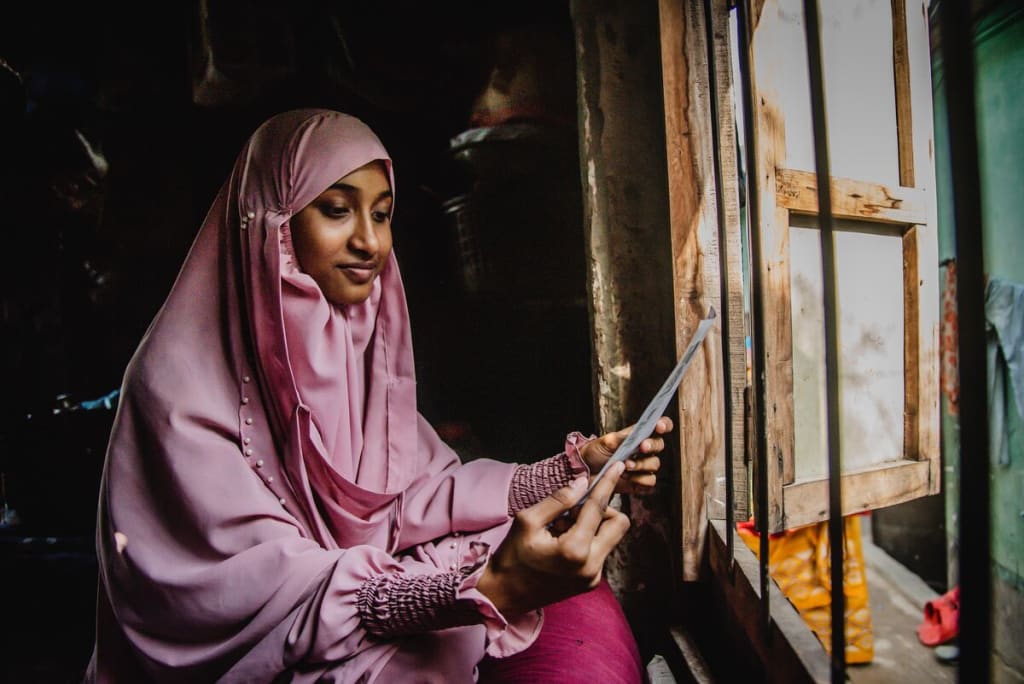 Akhi did not know how her sponsor knew not only what she needed to hear, but what her parents needed to hear, too. She was so grateful for those words of hope and encouragement. She neatly folded the pages up and tucked them into her treasured collection of letters. Knowing that her sponsor prayed for her and her family, she invited her parents to join her in dedicating her evening blessings to her sponsor. For Akhi's family, these letters are more than words. They are pillars on which they can lean and hold their family firm through thick and thin.
____
With just a letter, families like Akhi's can have their hope rekindled.
The delivery of letters has been affected by the COVID-19 pandemic to varying degrees depending on the country. However, we encourage sponsors to continue writing regularly to your sponsored children. Your words mean the world to them, whenever they are able to receive them.