In November 2020, the Philippines weathered five tropical storms in a three-week period, including Typhoons Goni and Vamco. In the midst of devastation, Compassion responded, meeting the needs of their neighbours, and even fellow staff.
Typhoon Goni
Typhoon Goni made landfall in the Philippines on November 1, destroying homes, church buildings and lives.
One of Compassion's church partners in Iriga City served as an evacuation centre for 10 families. But when the entire roof of the church was blown away by the record-setting winds, the families were forced to crowd into the pastor's home.
Two other nearby church partners were completely flooded, while several Compassion children's homes were damaged or destroyed.
Approximately 60 kilometres southeast of Iriga City is the Philippines' famous Mayon volcano, where several homes stood vulnerable to lahar, which is a concrete-like flow of volcanic mud and debris that can have violent and devastating effects.
At a nearby evacuation centre, Compassion-sponsored youth Cyril received tragic news: one of her close friends was killed by the strong currents of the floodwaters. "We never know what will happen tomorrow," the grieving teen reflects. In total, 17 people were killed by Typhoon Goni.
Even as Compassion centres mounted their response, they soon needed to begin bracing for another devastating storm.
Typhoon Vamco
Less than two weeks later, Typhoon Vamco made landfall on November 11. The storm submerged several cities and provinces, including areas already pummelled by Goni.
It wasn't just sponsored children who were affected. Compassion Philippines staff also experienced flooding and severe damage to their homes. In response, other staff members quickly pooled their own money to purchase resources and relief goods for their co-workers.
"This is the second time my family has experienced major flooding as high as our roof," says Joseph, an administrative assistant. "On both occasions, my co-workers at the Compassion national office were there, ready to offer help."
Noel Pabiona, National Director of Compassion Philippines, led the charge, mobilizing crisis management teams to check on and support each church partner. He even jumped in his car, attempting to navigate the flooded streets and reach four trapped Compassion team members. While he was able to reach one of them to deliver hot meals, reaching the other three had to wait until the next day.
On November 13, several Compassion staff put on their face masks and went to buy and pack groceries with their own money to deliver to their co-workers whose homes had flooded. Then, they helped begin the clean-up.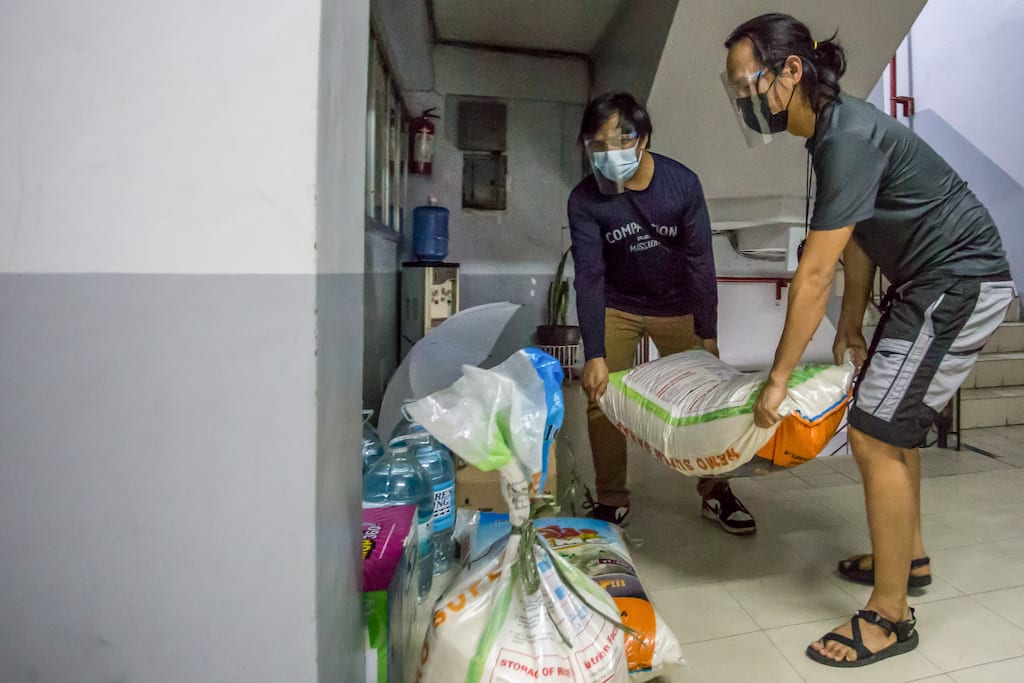 Their actions reflected those of Compassion frontline church partner staff across the region, who that day were doing similar tasks—evaluating the needs of their neighbours and responding with support from Compassion.
For Compassion beneficiaries and staff alike, the help was deeply appreciated. "I don't know if I could thank them enough," says Abigail, a program support staff whose home was flooded. "I am so touched, and so are my parents."
As always, if your sponsored child and their family were directly affected by an environmental disaster, we will contact you with more information about the impact and how you can help.
____
Beyond the COVID-19 crisis, several other crises, including environmental disasters, have affected the countries where Compassion works this year. Read more about our disaster response efforts around the world.
Photos and field reporting by Edwin Estioko and submitted by Compassion Philippines staff