Meseret stood in the small, one-room home she and her 15-year-old daughter, Saron, shared. She took inventory of the items before her: the bed, some cooking pots, the old TV and receiver. Meseret mentally calculated how much she could make off the sale of each item. No item was safe from being sold, because none of them was more important to Meseret than having a roof over her and her daughter's head.
But not the bed, she thought, or where would we sleep?
Not here, if you don't come up with some money soon, said a mocking voice in her head.
The voice wasn't wrong. Meseret sold the TV and receiver and her biggest cooking pots. For one more month, she and Saron were safe from eviction.
Then, the global pandemic hit.
In Ethiopia, like in many countries where Compassion works, daily wage labourers like Meseret were the first ones to feel the pandemic's effects as work became scarce. The government was quick to forbid evictions and layoffs during the crisis, but this did little to protect the most vulnerable, including single mothers like Meseret.
Fear and failure
The threat of becoming homeless and being cast into the streets with her teenage daughter loomed large in Meseret's mind. Each day brought her closer to the end of the month, when her next rent payment would be due. But each day also brought more scarcity, as work opportunities continued to dry up. Meseret became increasingly convinced it would take a miracle for her to come up with the rent money.
Despite this, she never gave up trying. "I went out every day to look for work," Meseret says. "I went to the shops and computer service centres I used to clean, but they all started to gently avoid me. They started telling me they would call if they needed my services and yet the calls became few and far between."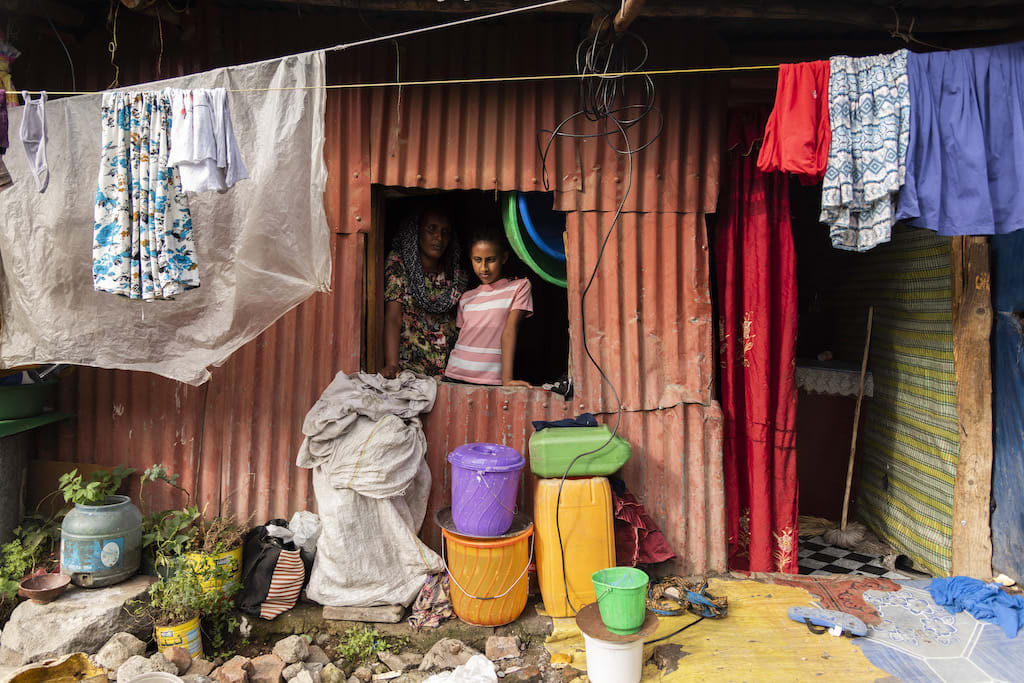 One evening, Meseret and Saron returned home from another unsuccessful day of looking for work. But the house they returned to was no longer their home. An unfamiliar padlock hung from a loop on the door, the sight of it causing Meseret's stomach to drop. Desperate, she tried their key. Once, twice. Even if she had tried a third time, their key still wouldn't have worked. Tears began rolling down Meseret's cheeks. Despite all her efforts, the moment she had feared had come to pass. They had been evicted.
"I failed my daughter."
Desperation
Meseret and Saron spent the night at a friend's house while Meseret tried to think of what to do. She thought of calling Gotera Full Gospel Believers Church, the local church that runs the Compassion centre that Saron has been part of since she was five years old. But Meseret felt ashamed and was determined to find a solution on her own.
"I didn't want to bother them. They had already done so much when they provided food support for us at the start of the pandemic," Meseret says.
A few days soon melted into a week, but Meseret still hadn't come up with a solution. She considered running away and disappearing with her daughter to a place where no one would recognize her.
"I felt hopeless when I couldn't find any solution," Meseret says. "I've always believed in working and overcoming my problems. However, that week, all I could do was cry. As the days went by, I knew this was something I could not overcome by myself."
A sense of hope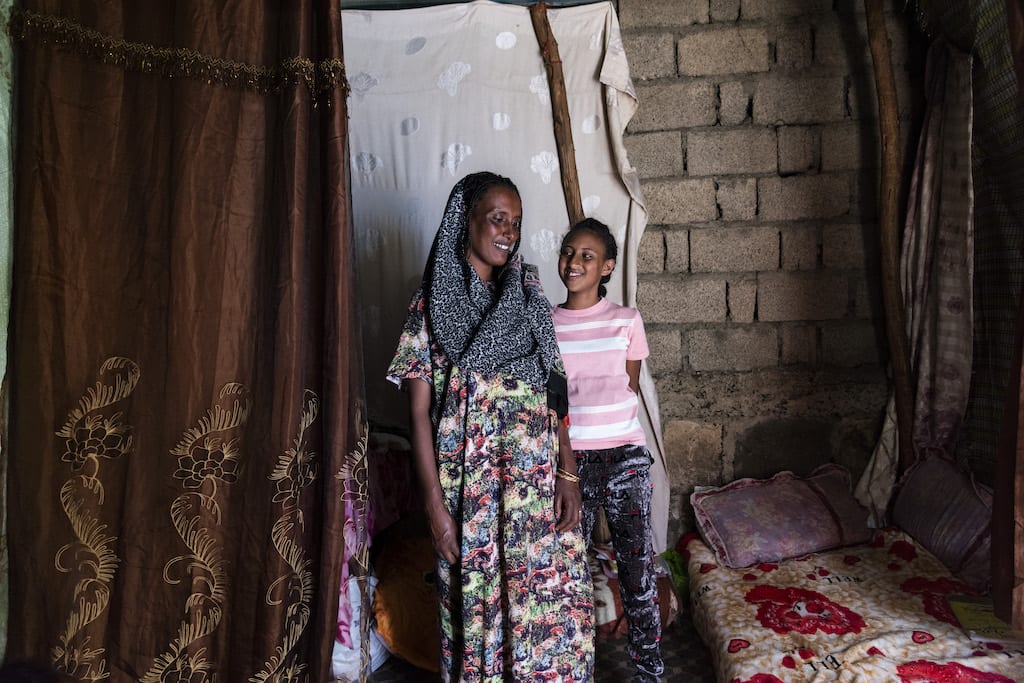 Meseret was in the habit of keeping her phone nearby, ready to answer it in the hopes that it was an employer offering even half a day's work. So, when her phone rang exactly one week after she and Saron had been evicted, she answered right away.
However, it wasn't an employer on the other end of the call, but Mimi, the director of Saron's Compassion centre. She was calling to check-in, as she and the rest of the Compassion centre staff have been doing regularly during the pandemic with all the families in their care.
At the sound of Mimi's voice, Meseret began to cry.
"I felt seen and heard by God," Meseret says. "When Mimi asked how we were doing, I couldn't control my tears. She was shocked to hear what happened. That phone call brought a sense of hope and a promise of a better tomorrow. They always know what to do."
Indeed, Compassion's local church partners are always ready to act when faced with the needs of their neighbours. However, the reality of the COVID-19 crisis is that the needs are immense, unlike anything the world has faced in generations. Meseret and Saron are far from the only ones experiencing such desperate need.
Mimi and her staff, like all of Compassion's local church partners around the world, are being stretched like they never have before. They are relying on the generosity of the global church to meet the desperate needs of children living in poverty in their communities.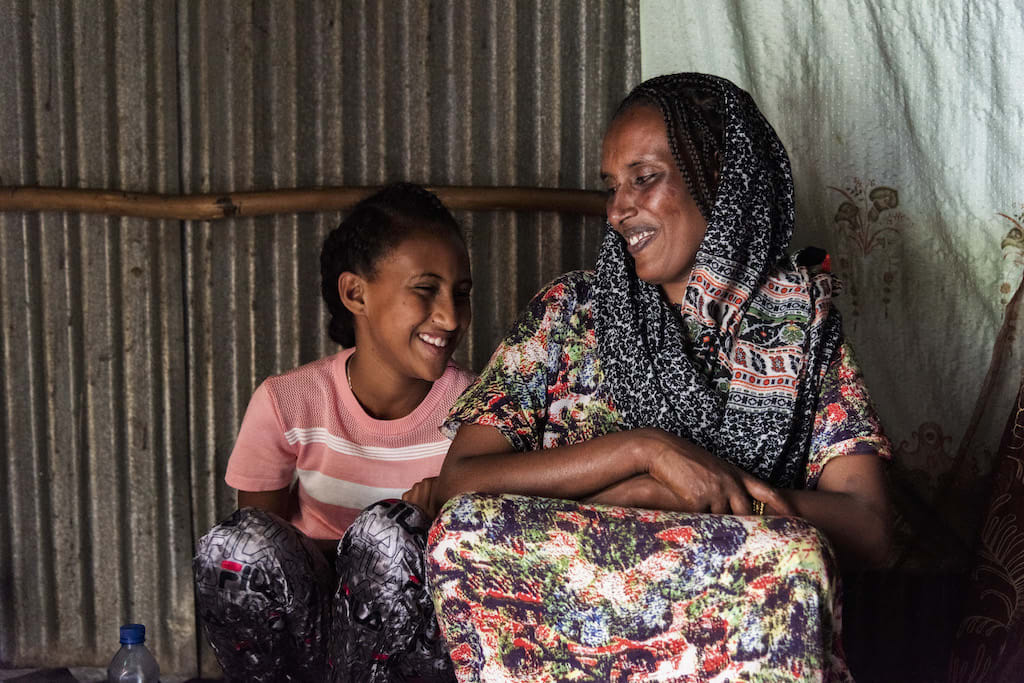 After hanging up the phone with Meseret, Mimi sprang into action. By the next day, she had incredible news for Meseret and Saron: The Compassion centre would be able to cover their rent for six months! Mimi instructed Meseret to immediately begin looking for a new place to rent.
Meseret could hardly believe it.
"Six months' rent is like six years for me," she says. "Even though the current situation with the virus is packed with a lot of unknowns, I am thankful that at least I have a safe place to stay with my daughter. It's hard to describe how secure I felt when we moved into our new house."
We rise as one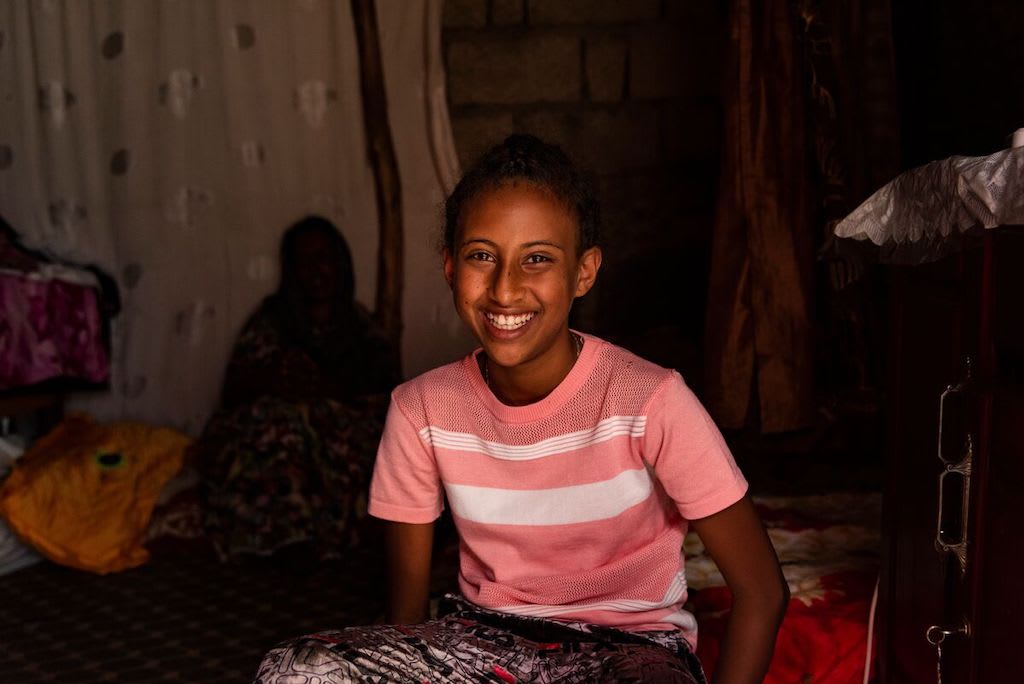 In this case, Mimi was able to return to Meseret with good news. A smile returned to Saron's discouraged face. But the needs of families like theirs are abounding as the COVID-19 crisis continues. Compassion centre staff and volunteers are working hard to keep up with the critical needs of children and families that are emerging each day, from medical emergencies to housing crises.
It's a fight that is only made easier when we rise as one to meet the needs of single mothers like Meseret and the millions more who are most critically affected by this crisis.
Will you rise with us to meet the needs of families like Meseret and Saron's?
Yes, I want to give the gift of rent assistance!
By Tigist Gizachew and Alyssa Esparaz