Typhoon Haiyan is the strongest cyclone that has hit the Philippines. In fact, it is considered the strongest tropical cyclone to make landfall in recorded history.
Haiyan hit on November 8 and seven days after, the unofficial casualty count is feared to be more than 10,000 people. Arriving at an exact number is difficult due to power outages and damaged infrastructure. This is also why Compassion Philippines is still working to determine which of our beneficiaries have been affected and to what extent.
Donate now to help children and families affected by Typhoon Haiyan:
When a disaster strikes, the first assistance sponsored children get is from the church partner connected to the child development center where they are registered. Our partners have been trained to develop their own disaster response protocols that are unique to their areas and needs. They have received instructions on risk assessment and response planning. Most churches have also established strong links with local government agencies and non-government organizations.
In August 2013, Metro Manila was hit by surprisingly strong southwest monsoon rains. Several of our church partners were flooded, but the churches were able to handle the situation without needing additional assistance. They tapped local agencies and used local resources to address the needs of the children.
Immediately after a disaster, church partner staff visit communities to see how sponsored children are doing and assess damages. Each child will be accounted for. In many cases, staff members themselves have been affected by the disaster as well. This is certainly the case in the aftermath of Typhoon Haiyan.
All student-center activities are suspended in affected areas.
Church partners will try to relay any type of information to the Compassion country office through their partnership facilitator. It may be through email, phone call or text message. In many cases, texting is the only way to communicate until the batteries on cell phones run out.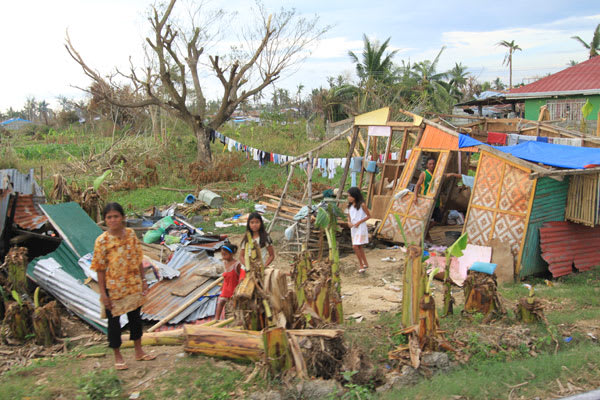 Meanwhile, the country office organizes a disaster response team composed mainly of the country management team, the administrator for our Response Programs, program supervisors and partnership facilitators, as well as volunteers. This is most needed in response to the most severe disasters such as Typhoon Haiyan and Typhoon Washi, which took the lives of several sponsored children in Cagayan de Oro in December 2011.
After Typhoon Washi, the disaster response team from the country office immediately traveled to Cagayan de Oro in Mindanao to offer comfort, prayers and any form of assistance. The first on the scene was the PF assigned to the area. The team was able to deliver relief goods, tap local agencies that provided clean water, organize a medical team, lead a cleanup drive, and so on.
Today, the disaster response team for Typhoon Haiyan has begun packing relief items to be sent to church partners in Leyte, Samar and Cebu with the help of the Armed Forces of the Philippines, who will be transporting the goods.
While people are being mobilized, goods packed and children cared for, the Response Program administrator gathers data as provided by partnership facilitators from our church partners. The administrator writes a formal proposal for relief assistance. The initial proposal typically covers just the first phase of operations, addressing urgent and immediate needs of the worst-hit sponsored children and church partners.
Meanwhile, affected church partners may use project funds to cover any expenses in response to the crisis.
The administrator also receives and gathers disaster communication reports submitted by church partners through their partnership facilitators. These reports include updates on the children affected and the extent to which they are affected.
Next comes a proposal for the second phase of assistance . The second phase takes longer to implement and complete, and addresses rebuilding, recovery and rehabilitation — which may include livelihood assistance, property restoration and reconstruction of facilities.
In 2006, after the fury of Typhoon Durian, the rehabilitation process took more than five years to complete. For the crisis created by Typhoon Haiyan, the second phase will include the construction of new homes in partnership with Habitat for Humanity.
Donate now to help children and families affected by Typhoon Haiyan:
---
By Edwin Estioko, Compassion Philippines
An earlier version of this article appeared on Compassion International's blog.