For many women, pregnancy and motherhood is a time of joy and anticipation—at least, some of time. But pregnancy can also be difficult, and not just physically. Even from the onset, some mothers experience anxiety and disappointment relating to their pregnancy or their circumstances. When Hajara got pregnant for the third time in 2020, she was already a mother of three girls under the age of 10.
As you can imagine with three young girls, Hajara's hands are always full. When she is not helping one child, she is helping another. Before she finishes one thing, she's already worrying about the next thing that needs to be done. Motherhood has had its impact on Hajara.
Despite the challenges, when Hajara had a scan five months into her third pregnancy and was told she was expecting twins—again—she was delighted. Her husband, however, was not. Terrified of the responsibility of more children, he left, and didn't return.
When the pregnancy became challenging, Hajara struggled to care for her young family and decided to move in with her mother for support. "It was a difficult pregnancy," she says. "It felt very different this time. My stomach was too big and heavy. I felt so full up to my chest all the time. I spent the whole pregnancy feeling very weak."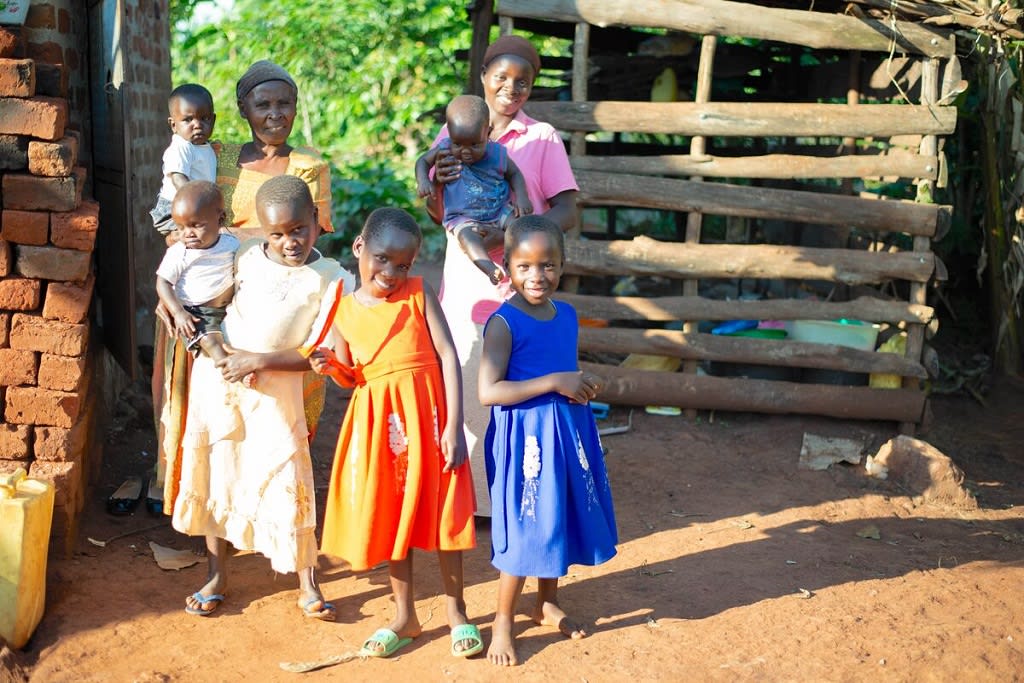 On September 3, 2020, Hajara went into labour and was met with another surprise: she wasn't having twins, but triplets. The news was a shock, and all Hajara could think of was the weight of taking care of three new babies. In the beginning, it felt as though it might be manageable. Giving birth to triplets is uncommon in her community in central Uganda; neighbours came to visit, bringing gifts for the mother and the babies. Some people brought food; others, money and diapers. The support made a big difference.
But when the novelty of the triplets wore off, people stopped visiting and the financial burden set in. Baby Hashim began falling sick. Hajara took him to the hospital, but he continued to get sick with such regularity that she soon couldn't afford the hospital visits. In desperation, she experimented with local herbs. He did not improve.
Hajara was becoming increasingly frustrated and worried. Food at home was becoming scarce. As the situation worsened, she and her young children could only manage one meal a day. Anxiety and the lack of food caused her breast milk supply to drop, and without a source of income, Hajara could not afford milk for the triplets.
No longer able to breastfeed, she tried feeding the triplets black tea. Some days she didn't even have sugar.
"When the triplets were three months old, it was too tough. Caring for the children was too hard. Hashim was falling sick very often and I could not afford medication as often as he fell sick. Someone recommended an herb I could give him, so I treated him, but he was not recovering. I went to speak to the local leader in our community to see if he could help. He called a journalist who ran my story on national television," she says.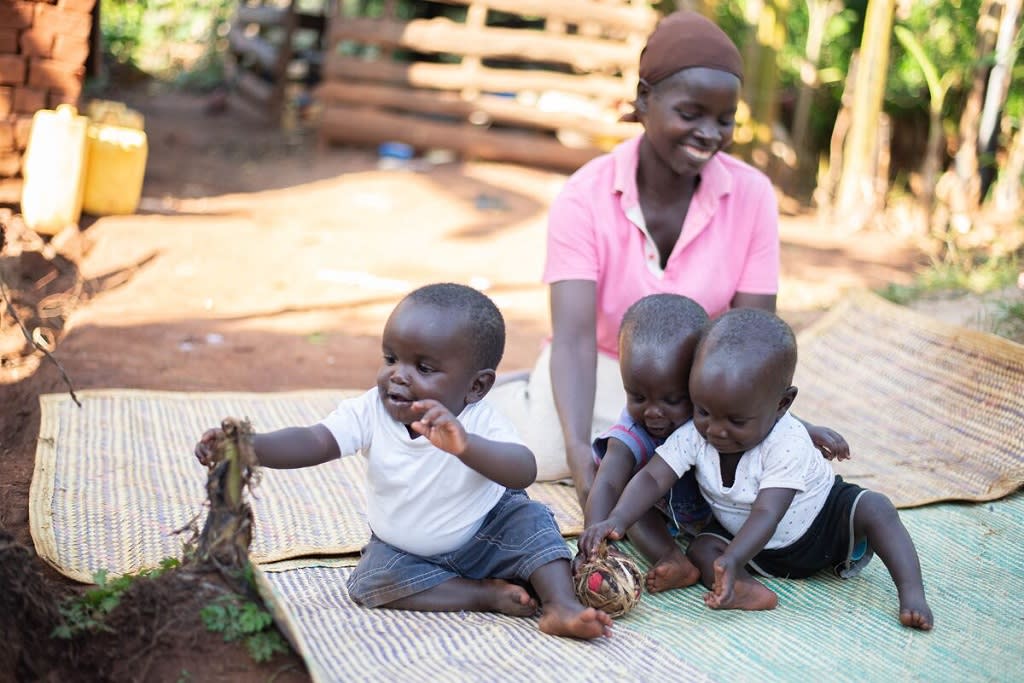 That television coverage changed everything. When it aired three months later, Jackson—a Partnership Facilitator who supports Compassion's local church partners—watched the program and immediately took action. He called the Kayunga Child Development Centre, the nearest church partner, and the staff contacted Hajara. The triplets were registered into Compassion's Survival program immediately.
"We found the mother in a miserable state. She looked very unhappy. Getting a smile out of her was very hard. The triplets' hair was reddish [a symptom of malnutrition], and they had a rash all over their bodies. They also had a heavy cough, so we took them to hospital and got them treatment," says Lydia, the Centre Director.
Lydia and Peace, another staff member, delivered diapers and food. Hajara received a large supply of essential groceries: posho, rice, sugar, beans, eggs, porridge and margarine, plus toiletries including Vaseline, bathing soap and laundry soap.
The centre staff also delivered new baby clothes, sweaters and socks for the triplets. At night, Hajara shared a mattress with several of her children, who had to lie vertically so they could fit. Staff purchased a new mattress and bed sheets so they would be comfortable.
Besides her children's health, Hajara's greatest worry was how she would provide for them. At the time, she didn't have a job but wanted to start a business selling vegetables. The Compassion centre secured a small business startup for her to begin her business.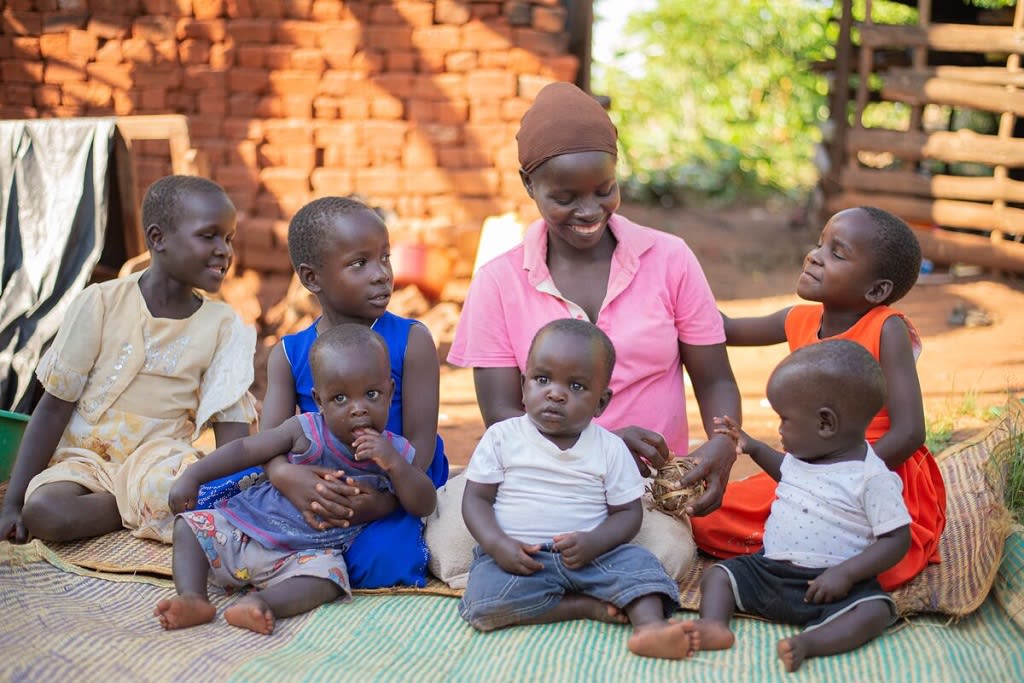 Today, the triplets are healthy one-year-olds and have made it through the critical first twelve months with the help of the local church. Hajara is ready to work and begin earning money. Her life and the lives of her precious children have been restored. A situation that had turned to despair has instead become one of great hope.
______________
Through the Compassion Survival Program, mothers like Hajara are visited regularly by Survival specialists to pray with them and share vital lessons from the Survival curriculum on topics like nutrition, hygiene and healthy child development. Mothers are also welcome into supportive groups, where they engage in church-based activities, learn skills that equip them to earn an income and gain vital knowledge that include basic literacy, the importance of breastfeeding and how to prevent malnutrition and disease. These groups have reportedly facilitated friendships that have become lifelines and a supportive community of mothers who continue to learn that they are loved and valued.
____________
Every mother needs to be empowered to raise healthy and happy babies.
When you give to Compassion's Survival Program, you are giving mothers the support they desperately need.
Written by Caroline A. Mwinemwesigwa and Rayo Adegoke