Compassion Canada has just released a fun new devotional reading plan for kids and families, Dinner Table Devos! 
Isn't food a really amazing gift from God? Food makes our bodies work; it connects us to our community, and sharing it is a great way to love other people. In this kids and family dinner-table Bible reading plan, we'll have fun and learn together! The plan includes downloadable activity pages, memorable (and easy!) meal challenges and fun food facts.
Written by Compassion Canada writers Laura Phillips, Rebekah Malbrecht and Lindy Brown, this devotional is designed for kids aged 4-9, but the whole family is encouraged to participate! Parents are encouraged to read ahead and try a meal challenge or two. All the challenges and opening activities are designed to be flexible, have low preparation and should only require items you already have at home. This is the perfect opportunity to start a Bible reading habit as a family or a fun change of pace from your usual plan.
If a printable version works better for you, you can grab your copy right here:
Don't forget to grab the activity pages with art from Compassion Canada designers Aveleen Schinkel and Krista Dodson.
Dinner Table Devos is now available on the YouVersion Bible App.
You can access the devotional on desktop or mobile by going to this link.
Or, you can find it directly in the app by searching for "Dinner Table Devos." Just look for this image in the Bible App: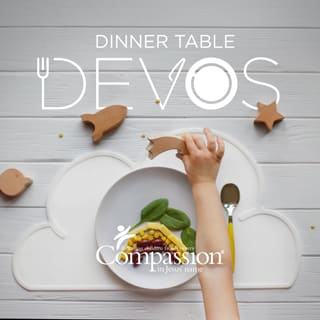 If you're looking for other great plans for kids and families, we've put together a list of our favourites. You can find it here. The full list of Compassion reading plans on YouVersion can be found here. Watch for more plans coming soon for adults and kids too!