Compassion Canada has just released a fun new devotional reading plan for kids and families, Dinner Table Devos, now available on YouVersion's Bible App!
Written by writers Laura Phillips, Rebekah Malbrecht and Lindy Brown, this devotional is designed for kids aged 4-9, but the whole family is encouraged to participate!
How do you find it?
You can access the devotional on desktop or mobile by going to this link.
You can get a physical copy of this devotional when you download this PDF.
You can download our accompanying activity pages here.
You can find it directly in the app by searching for "Dinner Table Devos." Just look for this image in the Bible App: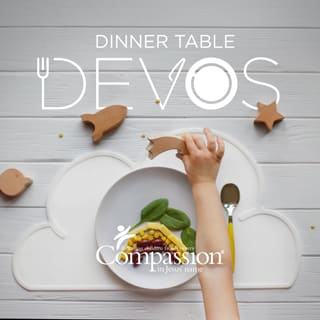 Plan description: Isn't food a really amazing gift from God? Food makes our bodies work, it connects us to our community and it tastes good too! In this kids and family dinner-table bible reading plan, we'll have some fun and learn together! Includes downloadable activity pages, memorable meal challenges and fun food facts.
____
Check out all Compassion Canada devotionals currently available on the YouVersion Bible App!