Every morning, it's common to see several young and older adults waiting their turn for a haircut in front of Oned's house. His small barbershop— started with vocational training skills learned at his Compassion centre—has become one of the most popular in Talaigua Nuevo, a small town on the Caribbean coast in Colombia.
Once, when Oned was eight years old, his grandfather Eufrasio needed a haircut. Even though Oned had no idea how to do it, he cut his grandfather's hair.
"I took a razor and a comb to cut my grandfather's hair," he says. "The haircut did not look very good, but at least his hair was shorter! That's the moment I realized that cutting hair was something I liked to do."
Oned is well-known in his community. He grew up with his grandparents, whom he considers to be his parents. Since he was a child, he walked around the neighbourhood with his grandmother Celia, buying food or running any other errand. People in Talaigua think highly of him. He is respectful and kind. This 20-year-old man is his grandparents' pride.
Growing up with Compassion
Oned still remembers when a tutor from the Compassion centre at the local church visited his family to register him with the program.
"I was going back home after playing on a nearby field. I remember I was dirty from the mud," Oned says. "When I arrived home, I saw tutor Palmira, who was there to register me in the centre. I thank God for Palmira's life."
This young man grew up playing and eating delicious food at the centre. He considers the centre staff as other parents for him. Oned learned about God, and as a result, reads the Bible and prays every night. Oned also appreciates his sponsors. He loves to read their letters and hear all about their family.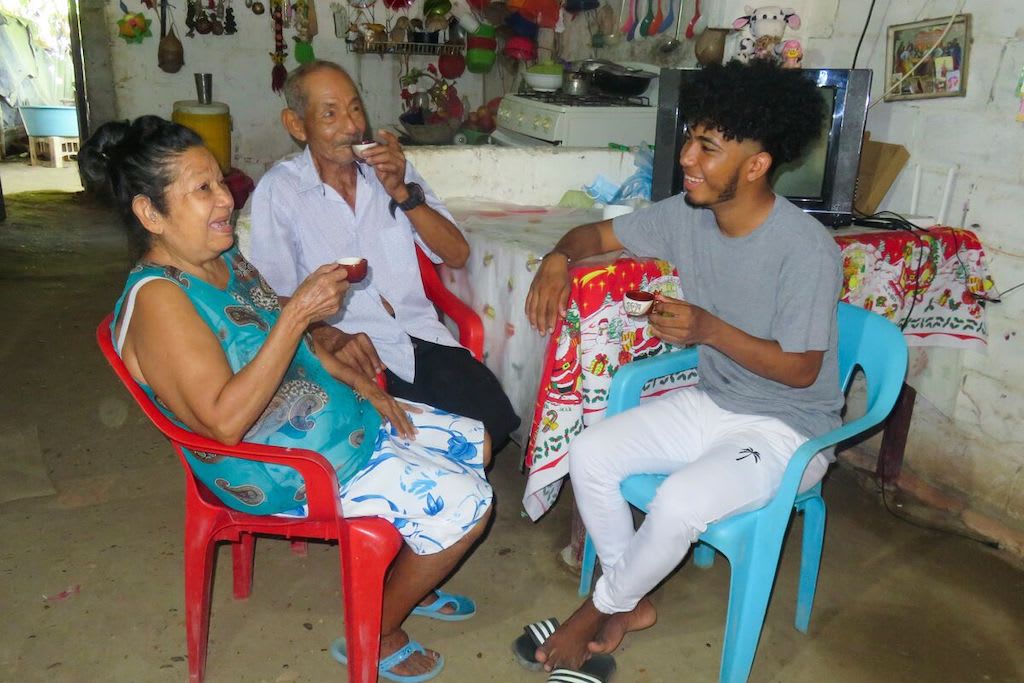 Eufrasio and Celia feel grateful for what their grandchild has learned and received through Compassion and the local church.
"Oned enjoys being at the centre, the activities and the learning," says Cecilia. "I like that the centre teaches him to keep away from bad behaviours. He has learned many good things."
Achieving a dream through vocational training
Becoming a barber was Oned's dream. He felt he had the talent, but as years passed, he understood his family had no money to pay for his education. In high school, Oned washed cars in his free time to help with some money for his grandparents.
One day, while attending a Compassion centre class, the staff announced they would offer a barbering course for youth. Those who were interested were invited to register to start the lessons.
It was an answer to Oned's prayers.
"When they offered the barbering course at the centre, I thought, this is for me! I registered my name immediately," says Oned. "I had desired to study barbering but didn't have the money to pay for it. That day I felt I was going to start accomplishing my dreams. That is what I want to be: a great barber. Before, I washed cars to get money, but when I learned barbering at the centre, I started to work on it to provide food for my family."
Oned started a barbershop in his house entrance. With a chair, a small mirror that he cut from a broken one, scissors, a comb and a borrowed hair clipper, he started to cut his friends' hair. Celia made a barber cape using an old blanket and gave it to Oned. Clients sit under the tree out front of Oned's house while they wait for their turn, and Eufrasio tells them stories of his youth and offers them a cup of coffee.
Giving back to his community 
Oned gets paid around CAD$1.35 for the haircuts he gives. He gets CAD$1.69 if the client asks for something unique, like lines or drawings.
For children or his grandfather's friends, he charges them half a dollar, as they do not have much money. When people go to his barbershop but do not have money, he does the haircut for free, as he knows they need the service.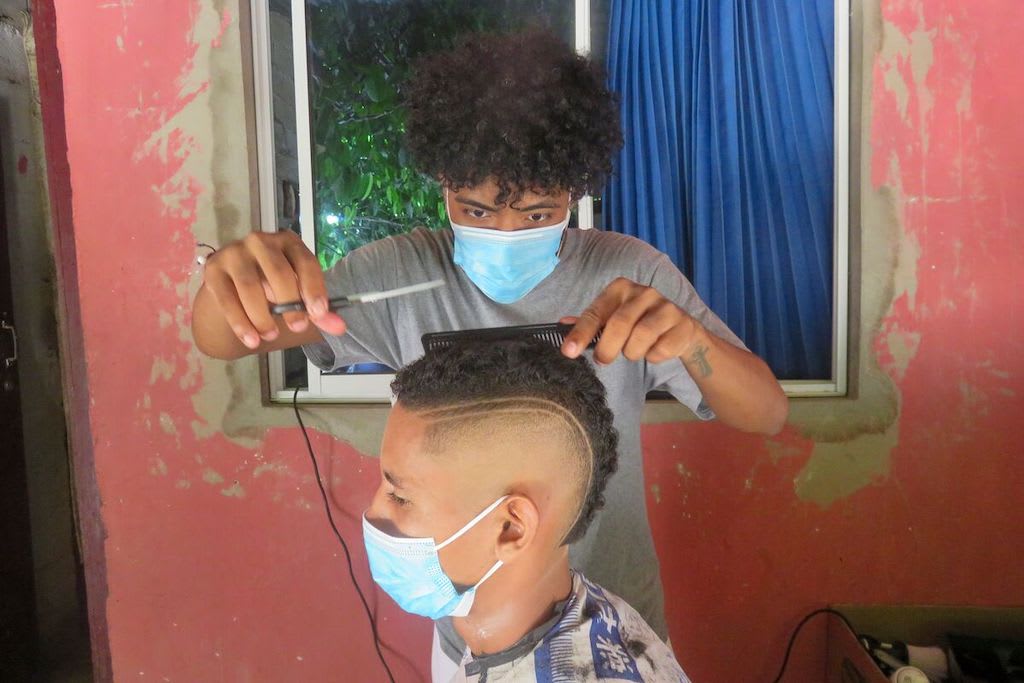 "I really like to help people," he says. "Sometimes, my neighbours don't have money, so I cut their hair for free. As my grandmother says, we should give, to then receive."
Oned uses his barbering money to buy food and pay for electricity and water services at home. His grandparents, who used to have informal jobs, are no longer able to work. Now, Oned is responsible for providing for his family and does it with love and gratitude.
Celia always tries to convince Oned to keep some money for himself, but he prefers to give it to her for family expenses.
The tools to overcome poverty
For Venis Manuel, the Compassion centre director, it was motivating to see Oned's enthusiasm for becoming a barber.
"Oned was the most punctual in attending the barbering classes," Venis Manuel says. "I have seen his effort and desire. That is why we decided to give him two hair clippers, a chair and other elements to help him to improve his barbershop."
Thanks to the centre's help, Oned has the tools and skills to do his work. For him, having Compassion's support has been essential in his life.
"I don't know what I would be doing if I had not been part of the Compassion centre," he says. "I would not have learned barbering or anything else. God has blessed me through Compassion, and I will always be grateful for that."
Oned recently applied to a public institute to study drawing. He wants to continue learning arts and use that knowledge in his job. As his reputation and business grows, he aims to build his barbershop to serve all the people of his neighbourhood. He wants to continue learning, and his dreams are bigger each day.
"I trust that step by step," says Oned. "I will accomplish my dreams."
____
Equipping youth through vocational training opens many opportunities and empowers them to break the cycle of poverty. Give the gift of Vocational Training today.
Photography and field reporting by Lina Marcela Alarcón Molina. Written by Lina Marcela Alarcón Molina, with Alyssa Esparaz.