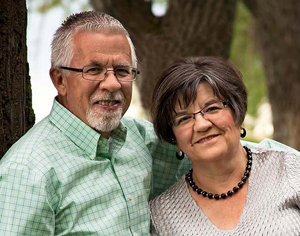 In 2011, Connie Lawson, wife of Compassion Canada's board chair Ian Lawson, saw Compassion's work among mothers and babies through the Child Survival Program. She was moved by what she saw, as she witnessed the local church teaching mothers in poverty how to help their babies grow up strong and healthy.
When Connie was diagnosed with terminal cancer in 2015, she decided to use a $1,500 gift honouring her 15 years of service with the Evangelical Free Church of Lethbridge as a way to bless others. For Connie, the choice for how to use the gift was simple: She wanted to bless mothers in Nicaragua through the Child Survival Program.
The need in Nicaragua
Nicaragua, located in Central America, is a lush land punctuated by volcanoes. Although the economy is recovering from decades of political instability, Nicaragua remains the poorest country in Central America and one of the least developed. Many of the poor live in rural areas where there is still little access to basic services. Many of the mothers in the Child Survival Program in Nicaragua have never gone to school or dropped out after primary school.
More than 1 in 4 women in Nicaragua give birth without the help of a skilled birth attendant.
Four times as many babies die during their first year of life in Nicaragua compared to Canada.
Nearly eight times as many women in Nicaragua die from pregnancy-related causes compared to Canada.
Nicaragua has the highest percentage of teenage mothers outside of Africa.
More than 1 in 5 children in Nicaragua have stunted growth from malnutrition in their first two years of life.
But this can change—and you can be a part of it!
Connie's generosity and passion for women led her children and grandchildren to join her in helping mothers in Nicaragua. Together with Connie, they raised a total of $7,300. And now, the Lawsons are inviting you to join them in leaving a legacy for Connie with a gift to the Child Survival Program.
The Child Survival Program in Nicaragua will ensure babies and pregnant women receive the health care they need. Mothers will have the opportunity to learn about things like disease prevention and nutrition. They will also learn vocational skills to help support their families. And, best of all, families will be introduced to new life in the gospel of Jesus Christ.
Help Connie Lawson leave a lasting legacy and support moms and babies in Nicaragua with a gift to Compassion's Child Survival Program today.