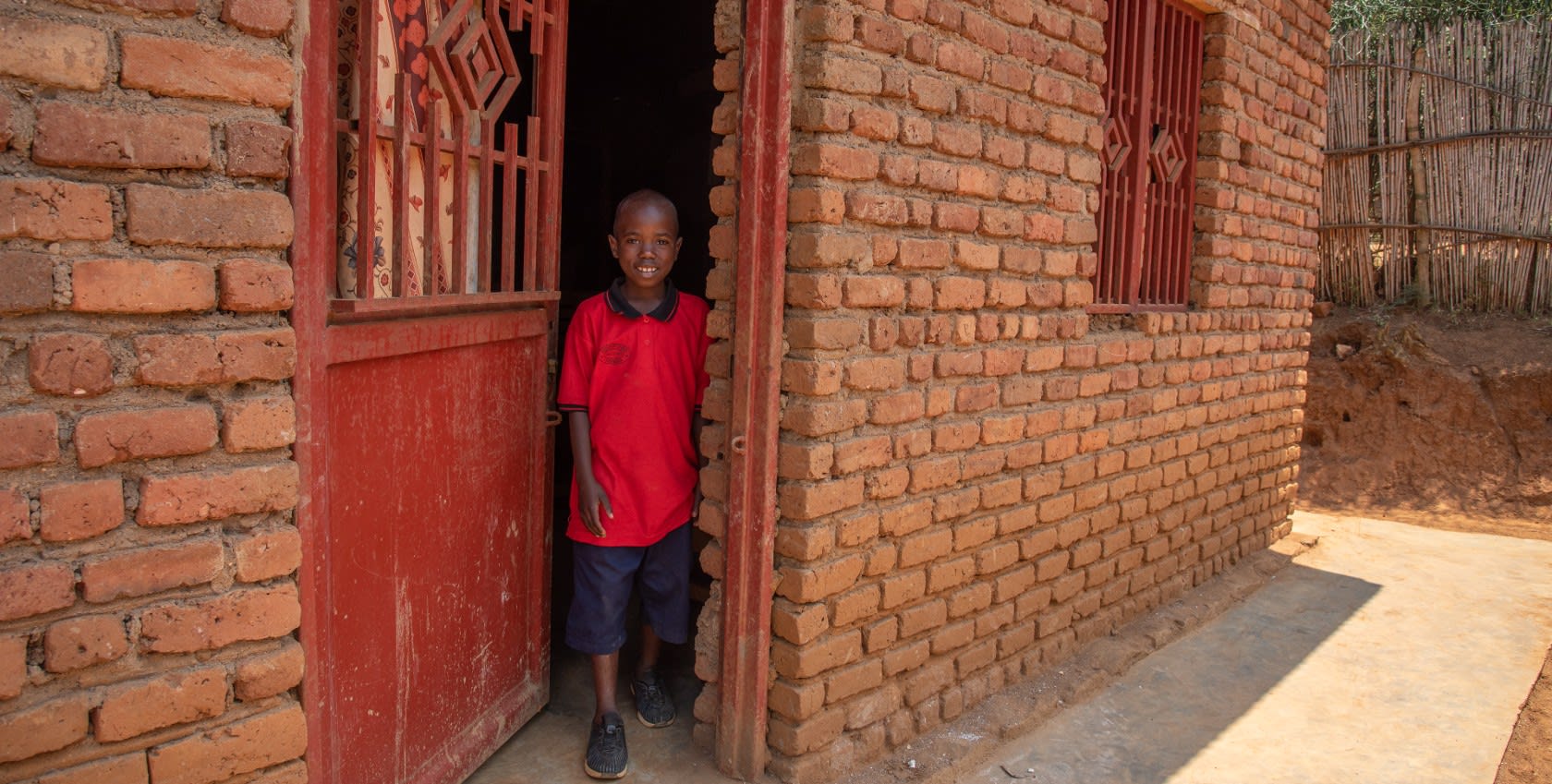 Funding required: $81,915
Beneficiaries: 56 children and their families from 18 Compassion centres
Completion date: May 2023
Country: Rwanda
Executive summary
For any child anywhere in the world, home should be a safe place where they can grow and thrive. Sadly, for many children Compassion is serving in Rwanda, this is not the case. Poor housing is one of the strongest predictors of emotional and behavioural problems in impoverished children and youth and poses a major hindrance to their development. In Rwanda, where millions live in extreme poverty, many children are growing up in homes with leaking roofs, broken windows and pest infestation. Frequent heavy storms, as well as natural disasters like earthquakes and landslides, can leave poorly constructed dwellings close to collapse within mere hours. Each night, families living in these conditions go to bed fearing the worst. For them, home is not a refuge—it is a prison.
Living in such a deplorable state has a profoundly negative impact on children's self-esteem, physical health and social skills. Without a comfortable place to sleep or do their homework, children's performance in school suffers. The amplified social and academic pressures of adolescence lead many students to drop out of school altogether. Unfortunately, the economic impact of the pandemic has further destabilized families who were already extremely vulnerable. Many have ended up homeless, dependent on the mercy of others to survive.
Eighteen of Compassion's church partners in the Rulindo, Gakenke and Gicumbi areas of Rwanda have identified 56 beneficiaries whose families are in imminent need of improved housing. Heavy rain and natural disasters have left their dwellings dilapidated and on the brink of collapse. Church staff have been reaching out to families to help however they can, but without significant improvements to their homes, these children face an increasingly bleak future—or no future at all.
This intervention will provide renovations or the construction of new housing for 56 families in the areas of Rulindo, Gakenke and Gicumbi in Rwanda. Homes will have at least two bedrooms, doors and windows and a pit latrine. Quality materials will ensure the structures are durable and can withstand natural disasters and heavy rains. With strong, sturdy homes, families will be able to live and sleep in comfort and peace, improving emotional, physical and mental wellness and stability.
Summary
Did you know?
UNICEF estimates that due to the pandemic, 150 million additional children are now living in multidimensional poverty, reducing or removing their access to safe housing, education, nutrition, water and sanitation. This represents a 15 per cent increase compared to pre-pandemic figures.
Background
Compassion exists as an advocate for children to see them released from all aspects of poverty by removing barriers to their holistic development. Improved housing is integral to children's socio-economic transformation, and an essential component in the sustainable, long-term development of low-income communities. However, for many children Compassion serves in Rwanda, safe housing is not yet a reality. The extreme conditions may well be difficult to imagine; our partners, who have visited each home, are horrified by what children are having to endure. Frequent storms and natural disasters have battered these dwellings, leaving them virtually unliveable. However, with no alternative and no funds to make the necessary improvements to their homes, families are forced to carry on as best as they can.
Compassion is committed to improving household stability by helping children and their families access safe shelter, whether through home renovations or constructing new homes where needed. Time and time again, we have seen the profound impact of adequate housing on children's well-being. Providing children with a clean, safe and appropriate place to play, study and sleep means they can thrive in school and begin pursuing their dreams and aspiration—and one day, break free from poverty for good.
The need
In Rwanda, 18 of our frontline church partners from the areas of Rulindo, Gakenke and Gicumbi have identified 56 families in desperate need of improved housing. Their dwellings, battered by storms and the effects of natural disasters, are barely standing. The miserable conditions are not just a danger to children's well-being but are hindering their school performance and attendance at church activities. Our partners believe that children's lives may be on the line, and they need immediate help to rebuild these homes.
Your gift will provide significant home renovations and improvements for 56 children in Rwanda, along with their families—a total of 326 people, including siblings and caregivers. Single-roomed houses will be upgraded to include at least two bedrooms and a living room. Each home will feature a concrete floor, a front door and windows, metal and timber framing, iron sheet roofing and a pit latrine. Family members and community volunteers will contribute their labour. Local contributions will also cover the cost of some of the building materials including gravel, reinforcement steel, mud bricks, wood preservative, doors and windows and water, as well as covering transportation costs and digging pit latrines for each home. Funds provided through this initiative will cover costs for the remainder of the building materials.
What your gift will do
Your investment will help 18 churches in Rwanda provide improved housing for 56 highly vulnerable families, including:
Cement: 10 bags per home
Sand: 2 truckloads per home
Stones: 2 truckloads per home
Steel binding wire: 4 rolls per home
3″x2″ timber: 50 pieces per home
Iron sheets: 35 pieces per home
Nails: 10 kilograms per home
Logistics
Local contribution: US$41,468.77; caregivers and community members will volunteer their labour.
Handling of funds: Compassion Rwanda will distribute funds and ensure that this intervention remains within budget.
Monitoring and follow-up: A team consisting of caregivers, project managers and centre staff from each area will be responsible for hiring contractors and monitoring the construction of each home. You will receive regular reports on the progress of this initiative, including photos of the families you are helping and their new homes.