Resources for your church.
Resources to help you learn more about the gospel, poverty and mission and to help you share about Compassion's ministry at your church. There's something here for everyone, no matter the age, size of the group or platform.
Engage your church with the power of sponsorship
Christ, church, children. If those things matter to you as much as they do to us, then you're in the right place. For us, child sponsorship isn't just a development model. It's an invitation to join God in the mission of releasing children from poverty in Jesus' name.
These videos from our If Only You Knew campaign share real stories of the impact of sponsorship. We hope they inspire you as much as they inspire us. Download the full campaign toolkit to share these stories with your church and invite your community into the life-changing journey of child sponsorship.
Your church and Gifts of Compassion 
You know the problem: One billion children worldwide are experiencing multi-dimensional poverty. They live without access to their basic needs or hope for a bright future.
That's what makes compassion so critical. It can create a brighter future for kids in poverty. This is what Gifts of Compassion is all about. 
Compassion's local church partners are uniquely positioned to know, love and protect children living in poverty. They're able to identify the needs of the children, families and communities they serve in a way that is personal, contextual and effective. 
When your church partners with them by engaging with Gifts of Compassion, you can be confident that your gifts are delivered within the framework of our proven holistic child development program. This means that your gifts not only have an impact today—they're just as critical to building a child's tomorrow. 
Bright futures. Compassion can.
Your Gifts of Compassion campaign kit 
Engage your church with our Gifts of Compassion campaign kit for churches to help your community understand the needs of children living in poverty and the impact of their generosity. Download the full kit or choose the resources below that will best serve your community. 
Digital assets
Order physical assets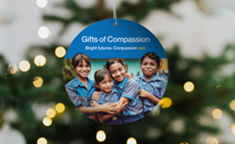 Ornament
Use these ornaments to tangibly track your community's generosity. Add them to a tree in your gathering space or send them home with people as a reminder of their generosity!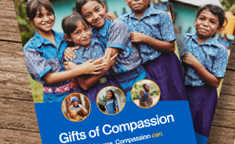 Gift guide
Choosing gifts from our Gifts of Compassion gift guide has become a beloved part of Christmas traditions in many homes. Place an order of gift guides for people in your church community!
Curriculum and small group resources
Video curriculum to help kids, youth, families and small groups learn about God's heart for the poor and consider how to take practical action in the fight against poverty.
Eyes to See
This six-week journey invites individuals or small groups to view the world as God sees it, get to the root of poverty and become part of the solution.
explore resource
True Story
A six-week curriculum to help teens discover what God wants us to do about poverty, designed for churches, youth groups and Christian education settings.
explore resource
Step Into My Shoes
Kids are invited to see the world in a whole new way during this immersive and interactive experience designed for families or church groups.
explore resource
YouVersion devotionals
Devotionals from Compassion Canada available on the YouVersion Bible App.
Request a Compassion artist or speaker
Looking for an inspiring artist or speaker for your church or event? Consider one of our talented and passionate Compassion Ambassadors.
Contact us
A member of our Partnership Development Team would love to connect with you to learn about your church's global mission strategy and craft a Compassion partnership that fits your context and maximizes impact.