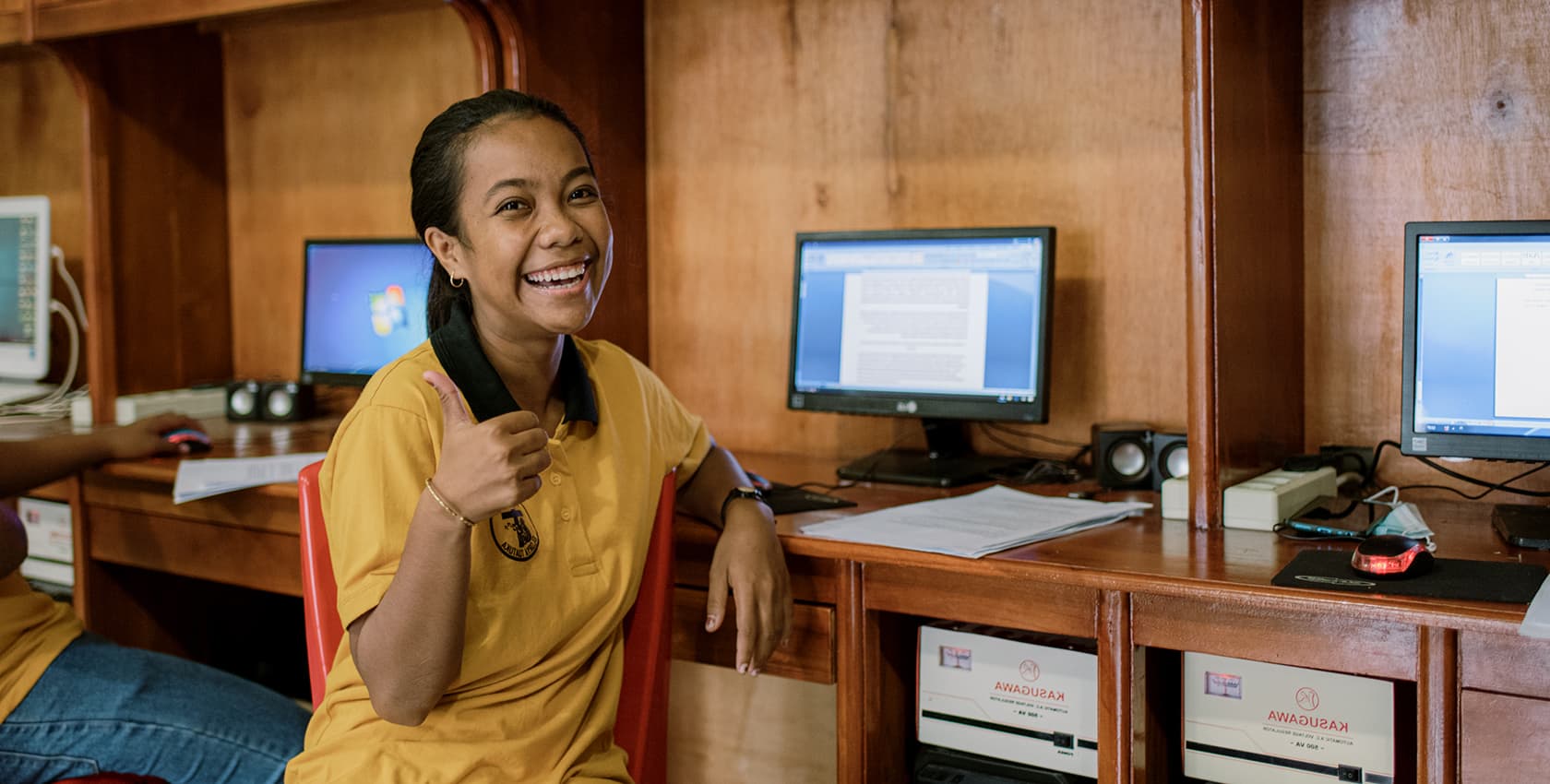 Funding required: $54,500
This project will help: 1,020 children and youth
Estimated completion date: November 2023
Country: Indonesia
Executive summary
In Indonesia, as elsewhere in the world, technology plays a major role in education and the workplace. The new model of integrating technology into the school curriculum means that the few computers available in the classroom are in high demand throughout the school day, leaving some students with only minutes to learn and practice these skills. But for students to use computers as a learning tool in school and as a core function in future jobs, they must have ready access to technology and the competency to use this technology effectively.
The global COVID-19 pandemic caused many schools to move children's education to an online model, where children attended classes and accessed their assignments via computer. However, many of the children Compassion's church partners serve in Indonesia struggle to survive. Their parents simply could not afford to purchase computers and the Internet service needed to further their children's education. Sadly, these children are falling behind in their studies.
Computer expertise is not a luxury in today's workforce; it is a given. Young people who lack computer skills will be hard-pressed to find stable, living-wage careers. Youth must be equipped for the future by learning technology skills now so they can face real-world challenges, pursue higher education, compete as leaders the marketplace and make a powerful impact in their local communities.
In remote regions of Indonesia like Papua and Sabu Raijua, communities lag behind in information technology infrastructure, resulting in technology-illiterate children. Six rural church partners want to bridge the information technology learning needs of their youth by providing accessible computer labs so they are not held back in their education or careers. Teaching vulnerable youth relevant computer skills now means they will not face a technology gap as they grow older.
You can help end poverty in the lives of 1,020 children—and countless more in the future—by establishing computer labs for six church partners in Indonesia so students can learn essential life skills. Children will receive age-appropriate computer skills training in a safe, controlled environment, multiplying their potential and helping them dream big for the future.
Did you know?
In a study examining how best to offer technology skills development for elementary students, three American researchers discovered that computer labs offer many benefits, including all students having the same access to software and hardware, completing computer exercises at the same time, focused and engaged computer time and the ability to practice new skills immediately after instruction.
Summary
Background
Most of the public schools in Indonesia are compelled to provide students with technology skills that will allow them to supplement their learning through online sources and succeed in the workplace. However, in order for students to learn the technology, schools must have adequate and up-to-date equipment to allow students to do so properly. Unfortunately, most schools do not have sufficient computer equipment to meet their students' needs. Groups of up to four students end up having to share time, leaving many students with only minutes of computer time per week.
Computer labs, however, remain relevant in today's schools as inclusive, structured, collaborative learning environments, ensuring all students have equitable access so they are prepared for higher education and the workplace—not to mention simply having access to curriculum during the pandemic so they don't fall behind in their studies. Students can also learn how to use the Internet appropriately for research and job searches in a safe, monitored environment. Our church partners want to ensure their beneficiaries have the best chance possible of discovering their talents and finding well-paid jobs that will lift them out of poverty, but they need help to do it.
The need
Students growing up in urban Indonesia have greater access to computer facilities and learning opportunities, leaving a huge technology gap for boys and girls growing up in rural, impoverished communities. But living in technology-illiterate regions of Indonesia does not need to be a lifelong barrier for Compassion-assisted children who are trying to overcome poverty.
This invention will help build computer labs for six different Compassion centres in Indonesia, benefiting 1,020 children and youth. Once the labs are established, youth will be enrolled in varying levels of computer classes to practise their computer skills as they complete centre activities, school assignments, job searches and more. Each student will receive a certificate of completion for each module. Taught by qualified instructors, classes will include topics like Microsoft Word, Excel, PowerPoint, websites and multimedia design.
When computer labs and Internet are made accessible and safe for students, they can gain the necessary computer skills to succeed in school, pursue higher education and excel in competitive careers. By investing in computer labs for six church partners in Indonesia, you will ensure that 1,020 boys and girls have the tools to become self-reliant, capable young men and women who will be released from poverty in Jesus' name.
What your gift will do
Your gift will outfit six computer labs for 1,020 beneficiaries in rural Indonesia, including:
One computer lab for IO434:
10 computers and terminals
Cables
4 tables
14 chairs
3 indoor fans
1 air conditioning unit
One computer lab for IO755:
15 desks and chairs
1 computer, 3 monitors and 1 server
6 carpets
Software
Speakers and cables
Construction materials and labour including wood, cement, sand, doors, nails, paint, aluminum, glass
One computer lab for IO793:
10 computers
Desks
Electrical cables and switches
Printer
Wifi box
One computer lab for IO933:
Renovations
6 computers
2 air conditioning units
Electrical work
One computer lab for IO945:
5 computers
15 computer desks
1 TV unit
1 video camera
2 air conditioning units
One computer lab for IO472:
12 computers
16 desks and chairs
Whiteboard and lamp
2 air conditioning units
Electrical installation
LCD projector
Printer
Internet installation and 6 months of fees
3 Switch D-link units
Plus transportation and setup
Logistics
Local contribution: US$3,629.56
Handling of funds: Compassion Indonesia will ensure this intervention remains within budget.
Monitoring and follow-up: Church partners will monitor the students' progress in the new computer labs through monthly reports, partnership facilitator visits and individual child impact studies and testimonies.