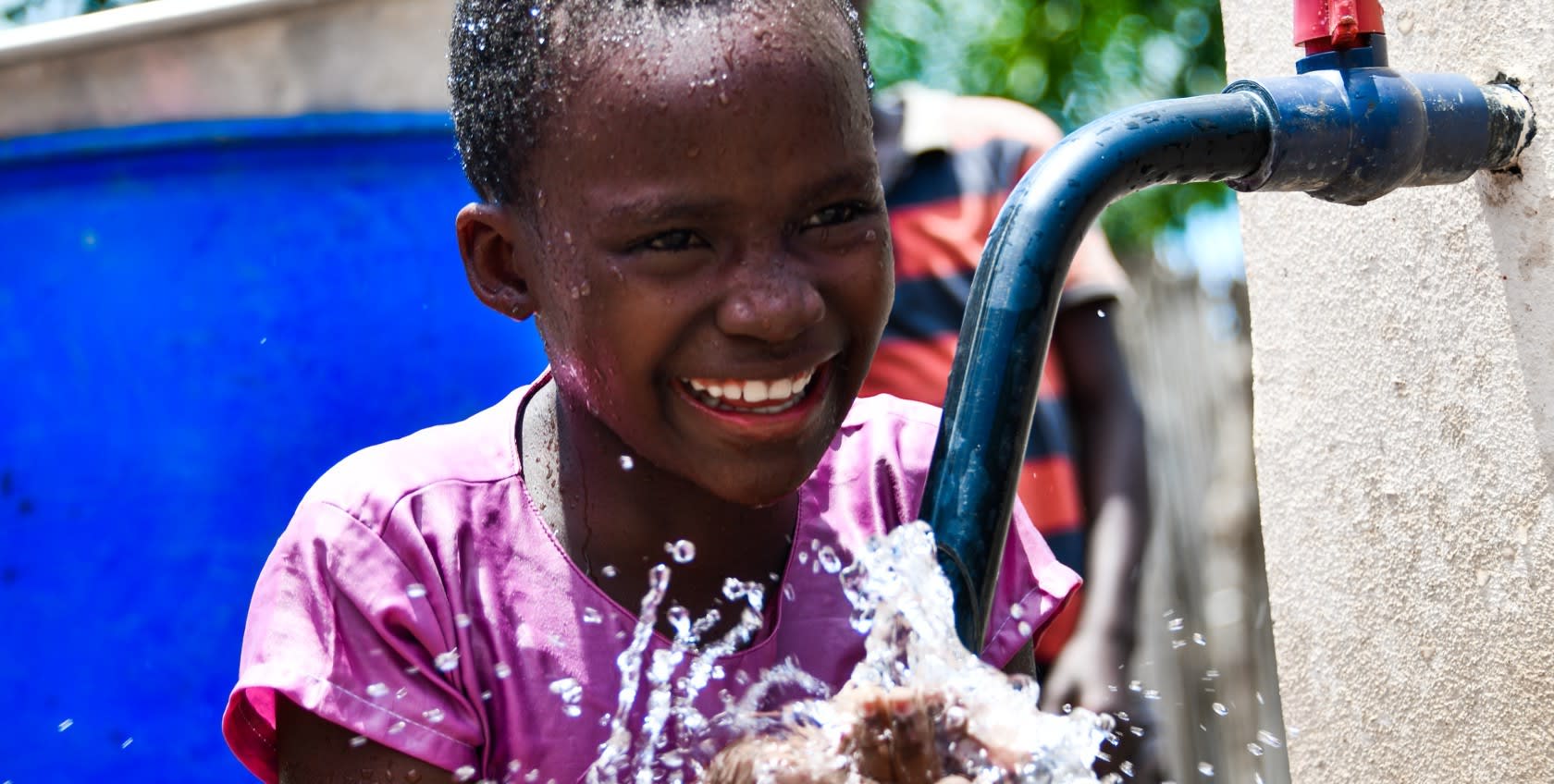 Funding required: $99,495
Beneficiaries: 363 children and 805 adults
Completion date: August 2024
Country: Togo
Executive summary
Water—the source of life—has become a rare commodity in rural Togo. According to UNICEF, 57 per cent of the rural population does not have access to an improved water source. A Water, Sanitation and Hygiene (WaSH) survey conducted by the Compassion Togo National Office found that four in five beneficiary households do not treat water before consuming, one in two homes have no available toilets and fewer than one in four children practise hand washing, exposing them to chronic and painful diseases.
Poor sanitation, water scarcity and unhelpful hygiene habits are major obstacles to the holistic development of these children as they seek to overcome poverty. Not only does this critical issue affect children's health and development, but it constitutes a daily challenge for girls who, from age seven, are forced to miss school to walk long distances in search of water for their families. One mom explains their plight: "We suffer to find enough water in our village and Compassion centre. The only source of water available to us is the river, which dries up from December to July. Everyone is called to dig holes to bring water up. It is in these holes that the whole community comes to get water. Our community fights when our fear of not finding water for drinking and cooking becomes serious."
But the problem isn't just at home. Two of Compassion's local church partners in the Savanes region of Togo are travelling six kilometres to find clean water for 363 girls and boys to drink and wash with on program days. The two Compassion centres dedicate a large portion of their monthly budgets toward treating preventable water-related illnesses among the children. The physical environment of the centre facilities significantly affects the health and well-being of the children, too. Without clean water, soap and private toilets available on program days, illness spreads quickly among little ones.
Your generous investment will directly improve the daily lives of 363 registered children and 805 parents, staff and volunteers by building WaSH infrastructure at the two church partners. Each facility will include a borehole, 5,000-litre water tank, eight toilets and hand washing stations to improve the health and vitality of each precious child. Growing children and youth will finally be protected from chronic waterborne diseases, empowering them to pursue healthy lives and brighter futures.
Summary
Did you know?
Daily access to safe drinking water is a fundamental need and human right. UNICEF defines safely managed drinking water as a water source that is accessible, local, available when needed and free from contamination.
Background
Two of Compassion's 30 church partners in the Savanes region of Togo, TG0159 and TG0165, care for a combined 363 boys and girls from some of the most impoverished families in their communities. Through the holistic child development program, children and young people have been supported through health care, school support, curriculum teaching, food and hygiene kits, home visits and emotional support—all with the goal of equipping them to become fulfilled Christian adults.
Usually, the community members and centre in Bidjenga (TG0159) get their water from the borehole located next to the elementary school, about onr kilometre away. Unfortunately, the borehole at this school broke down, forcing the community to walk to a neighbouring village three kilometres away to find water. Centre volunteers make this trek very early every Friday morning to fetch what water they can, at an expense of 50 francs per can. Despite their efforts, it's not nearly enough for use at the centre. Poor sanitation, water scarcity, lack of potable water and inappropriate hygiene behaviours are obstacles to the holistic development of children. Our partners in Bidjenga and Tierou in Togo need help if they are to improve the health and well-being of the children and families they serve.
The need
Families living in the Savanes region of Togo have no local access to safe drinking water. Traditional wells and run-off water from contaminated rivers that evaporate in the dry season are the only sources of water. Broken down boreholes have forced community members to fetch water from neighbouring villages. Children, and especially girls, are tasked with traveling long distances to fetch water, often to the detriment of their education. Many of them are forced to go to school or sleep at night without bathing—a situation that leaves children exposed to water-related illnesses.
Your gift will equip two dedicated church partners to drill solar- and generator-powered boreholes to provide a long-term, permanent source of accessible clean water for the children they have promised to love and protect. Sanitary blocks consisting of eight toilets, taps and showers at each centre will ensure the privacy, dignity and health of each girl and boy. To fully maximize the benefit of the new WaSH facilities, parents, staff, volunteers and children will participate in hygiene and environmental stewardship training. Church leaders will organize water management committees to ensure the sustainable operation and maintenance of the facilities.
You can ensure impoverished children and their families have reliable and sustainable access to safe water and proper sanitation, thereby decreasing their exposure to disease and improving their healthy development so they can thrive in childhood and develop into the courageous men and women God designed them to be.
What your gift will do
Your gift will build WaSH infrastructure for two church partners and their communities in rural Togo:
Preliminary activities

Bid announcement
Meetings

Borehole drilling

Hydrological and geophysical study
Mobilization and demobilization
Drilling

Borehole equipment

PVC casing
Calibrated gravel mass filter
Expansive clay dam and cementation
Foot plug
Drilling closure

Borehole development

Development and disinfection
Assembly and disassembly of pumping test device
Pumping test
Water analysis (physiochemical and bacteriological)

Plumbing and polytank

Polytank
Pressure hose
Materials and accessories
Transportation
Electric pump

Construction of concrete stand and hand washing facility

Excavation
Cement, sand, rebar, gravel, pipes
Welding, iron, woodwork, masonry
Transportation

Solar power installation

Solar pump, panel, regulator, cables
Power generator, electrical outlets
Installation assets

Power generator and electrical outlet
Construction of sanitary block with 8 toilets
WaSH (Water, Sanitation and Hygiene) training and awareness

Training venue
Trainer fees
Snacks and water
Borehole management training

Supervision and monitoring

Supervisor fees
Regional director supervision of drilling works
Monitoring and review meetings
Logistics
Local contribution: US$5,545.04
Handling of funds: Compassion Togo will collaborate with the two partner churches to manage the budget and schedule.
Monitoring and follow-up: A monitoring and evaluation specialist will assist with follow-up activities and collect data to identify how the WaSH facilities are improving children's health and holistic development. Church leaders will set up a water management committee for each centre to help ensure the sustainable operation and maintenance of the water system.