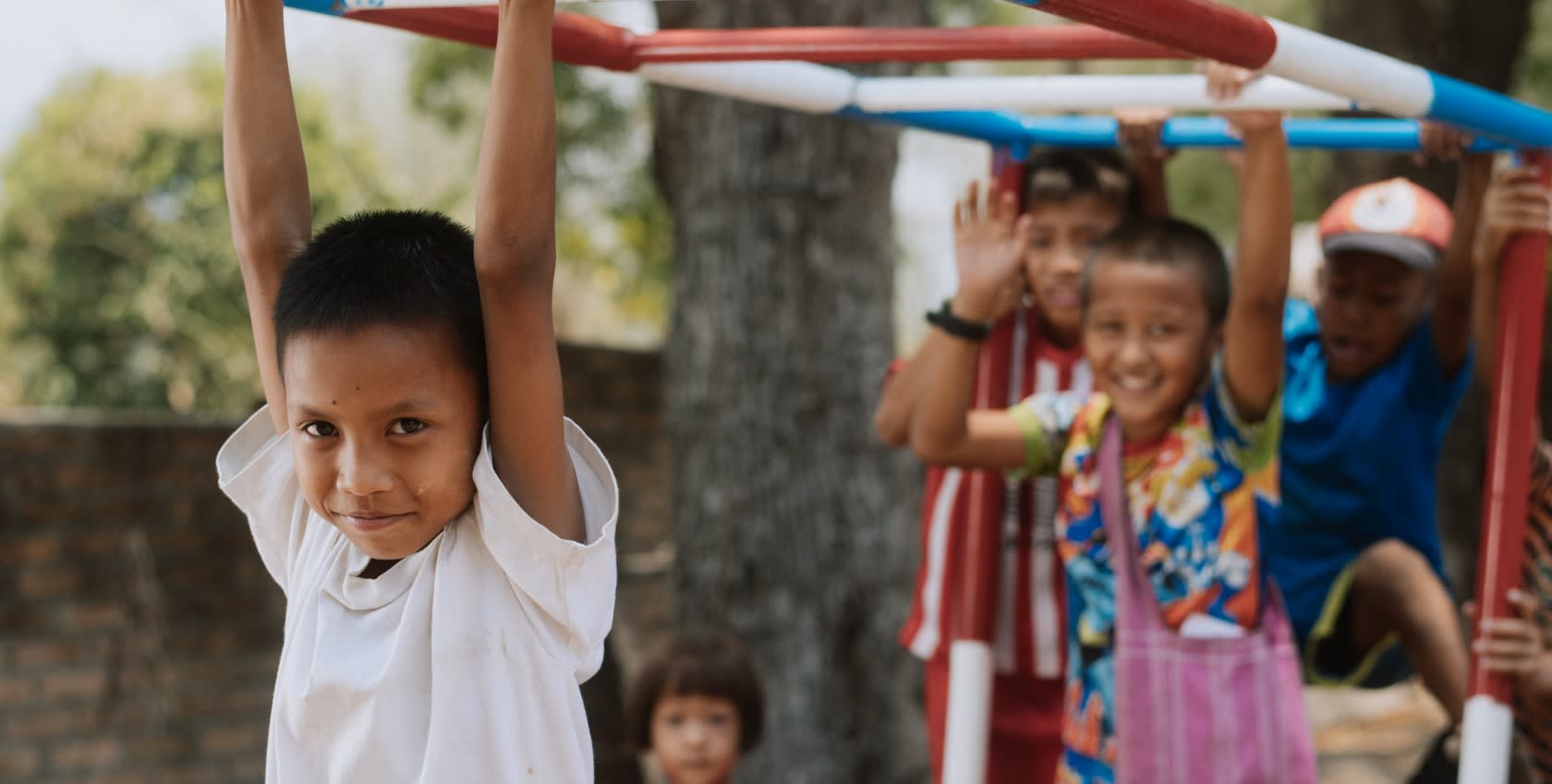 Funding required: $85,000
Beneficiaries: 1,792 children
Completion date: June 2024
Country: Thailand
Executive summary
Children around the world need play. Play allows children to learn more about themselves and others. Although play is an important part of early childhood development, many children living in poverty do not have access to safe play spaces, toys and resources. Compassion currently partners with six church partners in Thailand, including an additional 15 satellite locations, that serve 1,792 children age 1 to 12. Many of the children and young people served by the church live in poverty and do not have access to playgrounds or other spaces for quality play.
Quality playtime is vital for children—it impacts their physical, social and cognitive development. Playgrounds in particular are essential, safe spaces where children can freely play and truly be themselves. Playgrounds provide a place for children to develop crucial cognitive, physical, social and emotional skills. Through play, children learn social awareness, develop peer-to-peer relationships and have the opportunity to move their bodies.
While our church partners in Thailand are doing what they can to facilitate play by providing activities such as hide and seek, tree climbing and jump rope, they feel that registered children need access to higher quality activities and designated safe play spaces to better facilitate their holistic development.
With your help, Compassion will build 15 age-appropriate playground structures at each satellite location, allowing all 1,792 children access to new, safe playgrounds. Child development workers and Sunday school teachers will also be provided with training on the importance of the playground in child development and how to use the playground equipment effectively in teaching and supervising the children.
Background
Compassion has been partnering with six local churches in Thailand for more than 15 years. Over the years, our church partners have expanded their holistic child development ministry to include 15 satellite locations in the Southeastern Myanmar area. These ministries serve 1,792 registered children. Although participants have access to classroom activities, there is a lack of age-appropriate resources and playground facilities.
Many of the children who attend these programs do not have access to educational toys, books or equipment like swings and slides at home. Our church partners determined that these registered children need more opportunities to play cooperatively in both an outdoor and classroom setting, and they need a safe space to practise social and conflict resolution skills that will empower them both in the classroom, at home and in their communities.
The need
Compassion Thailand is committed to providing children with safe, age-appropriate play spaces to encourage children's holistic development. Sadly, 15 of Compassion's satellite Compassion centres lack playground equipment for the children at the centre, hindering their development.
Your gift will equip 15 of our frontline church partners with the education and resources they need to build new playgrounds for children in Southeastern Myanmar. Planning meetings will include church leaders, centre staff, caregivers, partnership facilitators and a health specialist to discuss the planning and design, activities and project evaluation. Centres will oversee the building and installation of high-quality playground equipment at each centre such as slides, swings, seesaws and climbing nets where children can run, jump, climb, explore, have fun with their peers and leaders and develop vital social and cognitive skills. Centre staff and caregivers will be trained in the importance of playgrounds to children's development and how they can include play in their teaching.
What your gift will do
Your gift will provide 1,792 children in Thailand with access to high-quality playgrounds and resources including:
Construction materials for 15 new playground units:

Swings, seesaws, slides climbing nets, etc.

Delivery and transportation
Funds for selected builders
Logistics
Local contribution: US$638.00
Handling of funds: Compassion Thailand will work with local church partners to ensure this intervention stays within budget.
Monitoring and follow-up: Compassion centre directors and church leaders will follow up with staff and beneficiaries and report on child development progress and satisfaction.