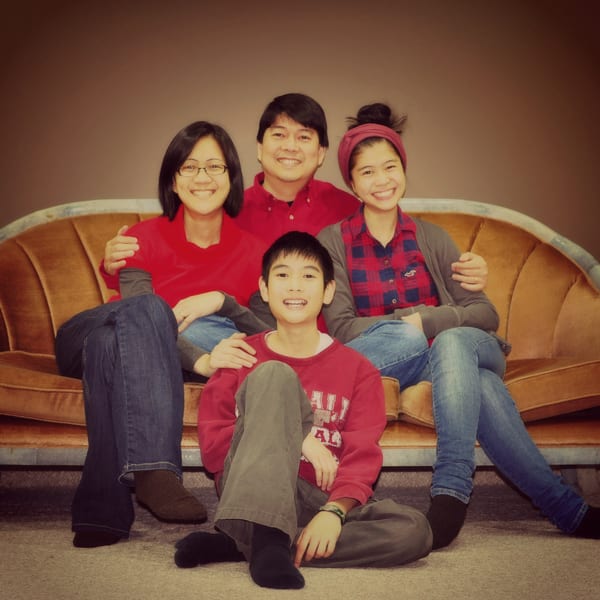 Cebu City, the oldest city in the Philippines, is dotted with both grand, old colonial buildings and modern skyscrapers. On the coast of the island of Cebu, it is fringed by turquoise beaches and palm trees. Aimee and Floyd Esparaz grew up here, enjoying all the beauty that an upper-middle class life can offer in Cebu. But they knew little of the desperate slums huddled in the corners of the city where children live in homes pieced together from scrap metal and plastic tarps.
As a teenager, Aimee and her family moved to Toronto, and Floyd moved soon after—to an even more comfortable life in the so-called first world. Floyd and Aimee married 20 years ago, and they now have two teenage children, Alyssa and Jon. They lived the typical North American lifestyle. But God had a plan to shake them out of their comfort.
Like many others, Aimee didn't always understand poverty. She would think things like, "They're poor because they're lazy," or "They just need to look harder for a job." But when she came face-to-face with the poor through things like serving dinner to homeless people and donating to local food banks, God began changing Aimee's heart.
One year, her daughter Alyssa wanted nothing more for Christmas than to sponsor a little girl through Compassion, and their journey as sponsors began. Then three years ago, they decided to visit the Philippines as a family on an immersive mission trip and to meet their sponsored children. They saw children drinking water out of gutters, families living on the street and shanty towns leaning precariously over dirty rivers. God used what they saw to break their hearts. They knew they had to give up their comfort to show God's mercy to the desperate poor around the world.
Now their mission as a family is to live out Micah 6:8: "To act justly and to love mercy and to walk humbly" with God.
They have extended their family to include the many children they support through Compassion. They sponsor five children: Florianlyn, Bell, Esperanza, Happyness and Moses, and support a Leadership Development student in the Philippines, Rechelle. They also write letters together to children whose sponsors don't write.
All four of the Esparaz's are Compassion Advocates. Their favorite thing to do together as a family is volunteer at Compassion events to find sponsors for children. It brings meaning to their family and has strengthened their bonds with one another. Two years ago, they stepped out in faith even more and organized a concert to raise funds to build classrooms for children in desperate poverty in Masbate, Philippines.
Looking back, Aimee believes her family is unrecognizable from where they were just a few years ago. God has taken them on a journey to give them His heart for those around them. Their family is a vivid example of how we can love mercy and act justly to those around us while walking humbly with our God.
Here are a couple of questions with Aimee to help us learn how we can make compassion a part of our families.
What were the first steps you took to build a compassionate family?
We started when the kids were really young. They've grown up with it, and it's now just a normal part of our family life. We've always made sure our kids understand why we volunteer. We don't just demand that they "tag along." We think it's important that they want to do this with us and not feel like it's because they have to. Finally, we try not to cram our calendar with activities. This ensures that we'll be available when there's an opportunity to volunteer with the various organizations that we love to support.
How would you encourage others to volunteer as a family with Compassion?
I would encourage families to just do it! There will never be a perfect time to start getting involved—we all lead busy lives. Volunteering as a family has been life-giving for us. It's one of the best things we've decided to do together as a family.