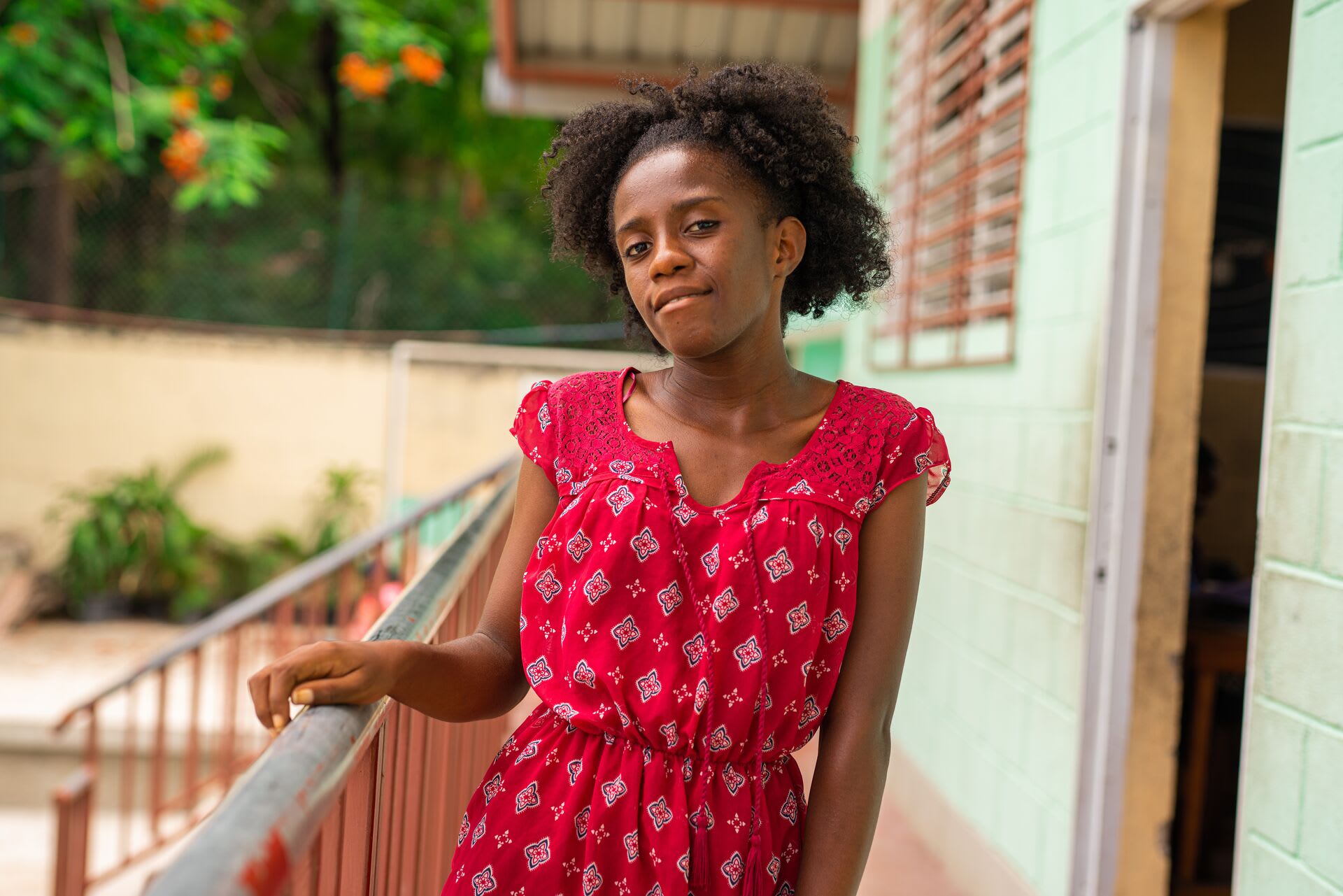 [4 Minute Read]
It's been ten years since the 7.0 magnitude earthquake in Haiti changed the fabric of the country forever. And though survivors still bear scars of the traumatic event, they face the future with fierce hope and steady support.
Wisnerly was only 10-years-old when the devastating earthquake in Haiti hit her home.
"Everyone thought life was over after January 12th…"
"It was about 4:50 PM and I was studying [when the earthquake hit]. My parents weren't with me, and I was afraid because I didn't want to lose them. The ground was shaking, people were running and even voodoo practitioners were calling Jesus because they didn't understand what was happening. After the earthquake, I saw my mother and my father crying: 'Wisnerly, Wisnerly, where are you? Where are you?' When I saw them, I wasn't afraid anymore," she says.
Port-au-Prince, Haiti's capital city, was the epicentre of the tragedy, billowing outward in all directions, taking the lives of more than 220,000 people, injuring 300,000 and leaving 2 million without a home.
"Everyone thought life was over after January 12th," says Pastor Gary of John Wesley Church.
"I have never slept in the street before, but after January 12th, I spent about three months sleeping in the street because we were afraid of the houses."
Compassion helps rebuild and restore
After the earthquake, Compassion Haiti immediately began checking on churches and sponsored children. Local centres were used to serve survivors through giving them water, food and a place to rest and be supported.
"We made a plan to use our Compassion centres as shelters while we built shelters and homes for the families," says Dominique of Compassion Haiti.
With some Compassion centres unrepairable from the damage, Compassion Haiti built 30 new buildings to international seismic standards—also known as "earthquake standards"—ensuring structural stability and safety in the face of future earthquakes.
"If another earthquake happens," says Marie, director of a local Compassion centre, "kids are safe and the centre contains everything they may need. I am delighted in that."
Healing Post-Trauma
With survival also came deep hurt for many Compassion children and their families. Losing loved ones to the earthquake meant heavy post-traumatic stress for many. Through Compassion's efforts, over 9,000 Haitians received psychological care.
"After the earthquake, Compassion provided counselling and books to teach children how to face trauma," says Marie.
A powerful presence—even 10 years later
Though 10 years have passed, Haiti still remains one of the lowest-income countries in the world, facing regular disasters and unrest. But, the hope of Christ shines brightly even amidst the rubble through local churches, Compassion centres and ultimately, the perseverance of brave Haitian survivors willing to walk forward with hope.
Today, over 122,000 children are daily receiving spiritual development lessons, nutritional support and vocational training.
"It is vital for us in Haiti to have an organization which gives us such help," says Marie.
"If Compassion never came to [our community], we could have lost too many people. I think Compassion is a gift to us."
Jesus, like Wisnerly was only 10-years-old when the earthquake hit. In the aftermath, Jesus felt like support was hard to find—except for one steady presence.
"After the earthquake, nobody helped us except Compassion and our sponsors. I want to thank Compassion because they supported me a lot to face that hard and difficult situation. Thank you very much," he says.
Ten years ago, Haiti was deeply changed forever. Scars still run deep, and longing for safety permeates every heart. But the local church was, is and will continue to be a strong, unstoppable force, empowering a generation of survivors—like Wisnerly and Jesus— to walk forward with confidence, longing and ultimately, hope.
____
You can help empower the next generation in Haiti to walk forward with hope today.
Photos and Field Reporting by Javier Elis.