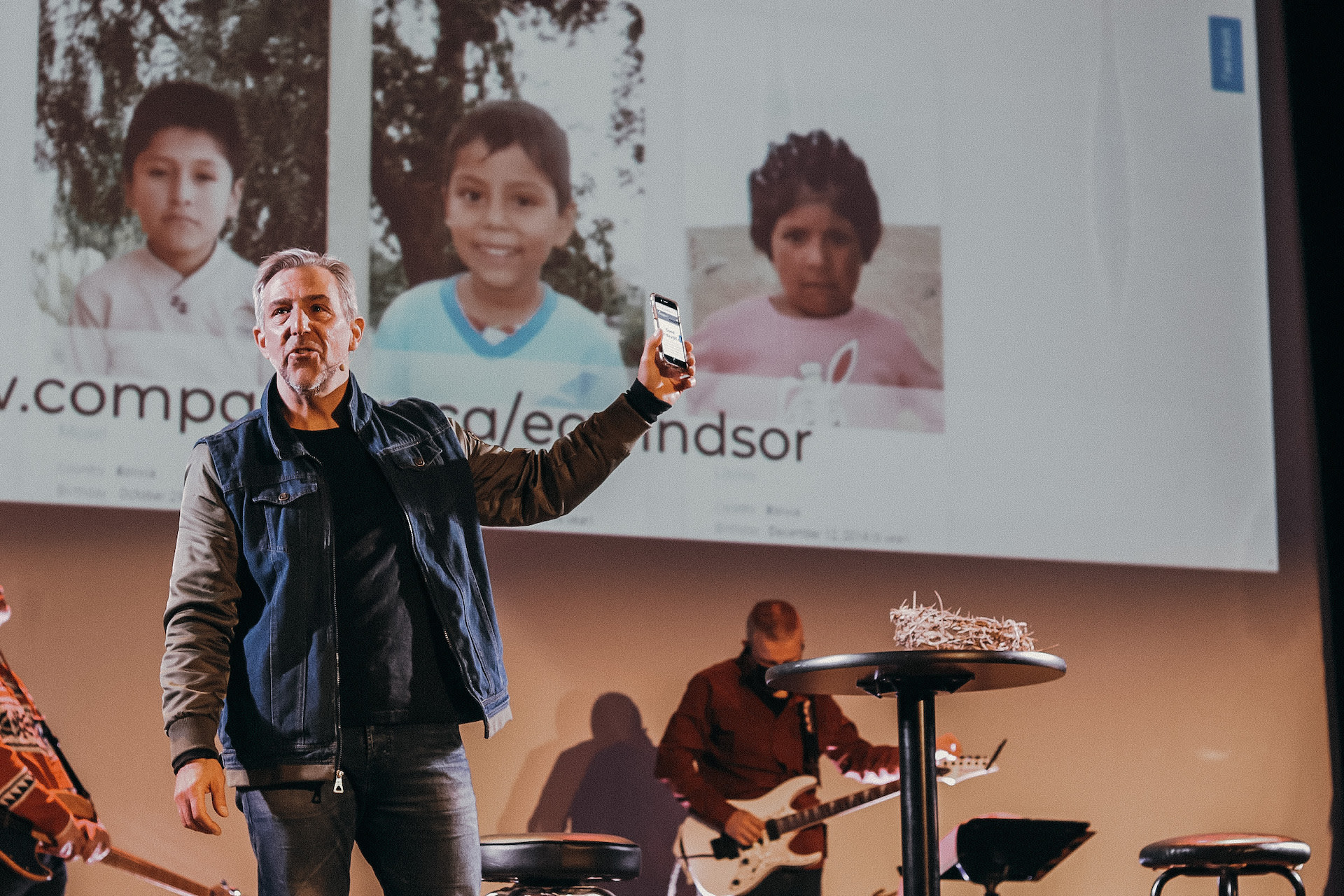 It was during a Compassion trip to Bolivia when the pastor of a local church spoke a pivotal line to Pastor Brad Watson after hearing about the size and age of his former church: "You must have many daughter churches!"
The innocent comment stopped Pastor Brad in his tracks. Recalling that moment, he says, "I looked at him and I said, 'We have zero.' And then the Holy Spirit ambushed me, and I was a mess."
As Pastor Brad reflected deeply on the conversation upon coming home from that trip, a passion for church planting began brewing. "You know, you always go [on trips] with this sense that you're going to minister. But you know this, what ends up happening is that you can't out-give God, you can't out-honour Him. You go with this heart to serve, and you end up being the one served. And I was."
The result was Exchange Church, a church planted in Windsor, Ontario in January 2019 where today Brad is the Associate Pastor alongside Lead Pastor Drew Riach. It's a church centred on community, generosity and mission. And when you hear these two pastors talk about their heart for the church, it's easy to see why.
For Pastor Drew, he and his wife began asking what it would look like to plant a church in their home city as they realized "there are tons of friends who aren't necessarily mad at God but don't really connect with church." And from the beginning, mission was a top priority. "We wanted to be a missional church," says Pastor Brad.
One would think that during a global pandemic, mission might take a back burner. But not for Exchange Church. Instead, mission came front and centre in an unconventional way.
An unconventional Good Friday service
A partnership with Compassion was an easy choice for Pastors Drew and Brad when it came to finding ways to engage their church with mission. And when joined a church leaders' call with Compassion International's President and CEO Jimmy Mellado and heard about the rising needs of children living in poverty because of the COVID-19 pandemic, they wanted to act as soon as possible.
"I was so fired up after listening to Jimmy, and I was mad at COVID, and I said, we have to do something," Pastor Brad says.
At the end of the call, when they were invited to host a Compassion Sunday on Mother's Day, they knew they wanted to do something sooner than that. "We did something unconventional and did it on a Good Friday," says Pastor Drew, calling it "a leap of faith."
On a Good Friday in the midst of lockdowns and an ongoing global pandemic, engaging with Compassion was a powerful way to engage with the story of Christ's sufferings. "[When thinking about,] what does it look like to share in the sufferings of Jesus Christ today? How could it get better than telling these kinds of stories, showing these beautiful faces and inviting people into something that costs them," says Pastor Drew.
"There are children hurting all over the world, and for us to know that we could step in for them on a day like this, I think that was the goal, and I think that's why it resonated."
And resonate it did. With just 90 people in the room due to pandemic restrictions, together the church sponsored a total of 76 kids—the most by any church during the pandemic.
Kingdom-minded generosity
What fosters such radical generosity in their community, that they could see 76 kids sponsored in one day? "Oh, definitely Drew's preaching," they joke with a laugh.
But then with all seriousness, Pastor Drew shares powerful reflections on kingdom-sized generosity: "[Our people] see the concept that, like Brad said, you can't out-give God. When you invest, the stories you get back and how the Spirit invests into your heart—this is meaningful, this is huge."
"Everything we've put our hand to missionally, I think the Holy Spirit has really solidified in people's hearts that yes, this matters. This is worth it. The return is beautiful."
In fact, in a rare situation for a young church with bills to pay, Pastor Drew shares that they rarely talk about money. "We just did our first financial series [recently]," he says.
Yet engaging with things like Compassion has increased their community's generosity. "It's so funny because money was kind of low in January and February… March," Pastor Drew shares. "Then we have this Compassion event and people are giving like crazy, and then our tithes double in April. It was bananas."
Generosity is written down as one of Exchange Church's values. For them, it's important to show people that it's not for "nice lights and a great sound system, but to invest in things that are actually making a difference in people's lives."
Mission, not position
It was also important to Pastors Drew and Brad that they engaged with Compassion in the midst of the ongoing pandemic—it was an intentional choice.
In the midst of division and "some pretty hard lines that got drawn in the sand" during the pandemic, Pastor Brad shares that their church's heart was for people in their community that "don't hate God, but when they look at the Church, they go, 'Yuck, that's the narrative?'" For Pastors Drew and Brad, they wanted their church to be known by their mission, rather than any divisive positions.
"We want our narrative to our community to be about our missional story, not our positional story," Pastor Brad explains. "We wanted to emphasize our missional wins, not our positional wins."
"There's so much of a bigger story that Jesus is inviting us to creatively and courageously get into."
One of the sparks that put that into action was that church leaders' call with Jimmy. "I didn't want to go, I didn't want to do another Zoom meeting," says Pastor Brad. "But again, the Holy Spirit ambushed."
In the midst of malaise about the pandemic's impact on ministry and their own community, the invitation to consider the perspective of the global church was just what they needed. "Both Drew and I are sitting there, and I'm convicted that I have allowed my vision to become too [much] about me and our community," Pastor Brad says. "You know, how can we help me, myself and ours? And I had forgotten about the other side of the world and what they were dealing with, with COVID."
Out of that church leaders' call, they set a goal to see 75 kids sponsored, a percentage of the 75,000 newly registered, unsponsored and highly vulnerable Compassion children that Jimmy mentioned on the call.
Kingdom vision for now and the future
Pastor Drew is the first to admit that the depth of their church community's missional posture is not something he really expected. "There's really something on Exchange Church when it comes to this missional thing. Everything we've done whether in our [local] community or abroad, man, our people are just here for it. It's wild."
But for them, it speaks to the kind of church that's needed for today—and the future.
"I think it speaks to this generation—Gen Y and Gen Z, now," says Pastor Brad. "They're not looking at just coming to church, they're looking at being the Church. I don't even think 'the church' is the right word these days. I think it's inviting people into the kingdom. Our language needs to switch to, 'Can we invite you into the kingdom?' Because Jesus talked about the kingdom: 'Repent for the kingdom of God is here.' And that's all we're inviting people into: to the least of these. And we get excited to see God move."
Beyond engaging in an ever-deepening partnership with Compassion, the church is also engaged locally with one of the most under-resourced communities in Canada, which is right in their city, in west Windsor.
"I said at the beginning that I wanted to start this church for people that were disillusioned with the church. Well, funny enough, I'm finding these days that people are still disillusioned with the church," says Pastor Drew. "While that's disheartening, it begs the question, 'What are people looking for? What is the kingdom calling us to?'"
As they look to life beyond the pandemic, there's excitement for things both small and big. First on this list is finally not speaking into a camera: "I hate speaking into a camera," Pastor Drew says. "Cameras are from the devil—you can quote me on that."
But beyond those everyday things are the bigger visions, too: "I'm really, really excited to get back [in person] with the church family and to worship and to take some of these learnings and questionings of What does the church building represent versus who we're called to be?" Pastor Drew says.
They also dream of having their own space and building: "For a mission control, that's how you can pray for us."
And ultimately, their prayer is for renewed passion for Christ and His kingdom. "That people come back more passionate than ever," Pastor Drew says.
"We want to stay missionally engaged. This is what's beautiful, the mission hasn't stopped for us, and we don't want it to stop now once we get back into a building," says Pastor Brad. "We want to make sure the main thing stays the main thing: engaging people to follow Jesus into mission."
____
Watch the message from Compassion International's President and CEO, Jimmy Mellado, that helped to inspire Exchange Church's Good Friday Compassion event.
Photos submitted by Drew Riach and Brad Watson.