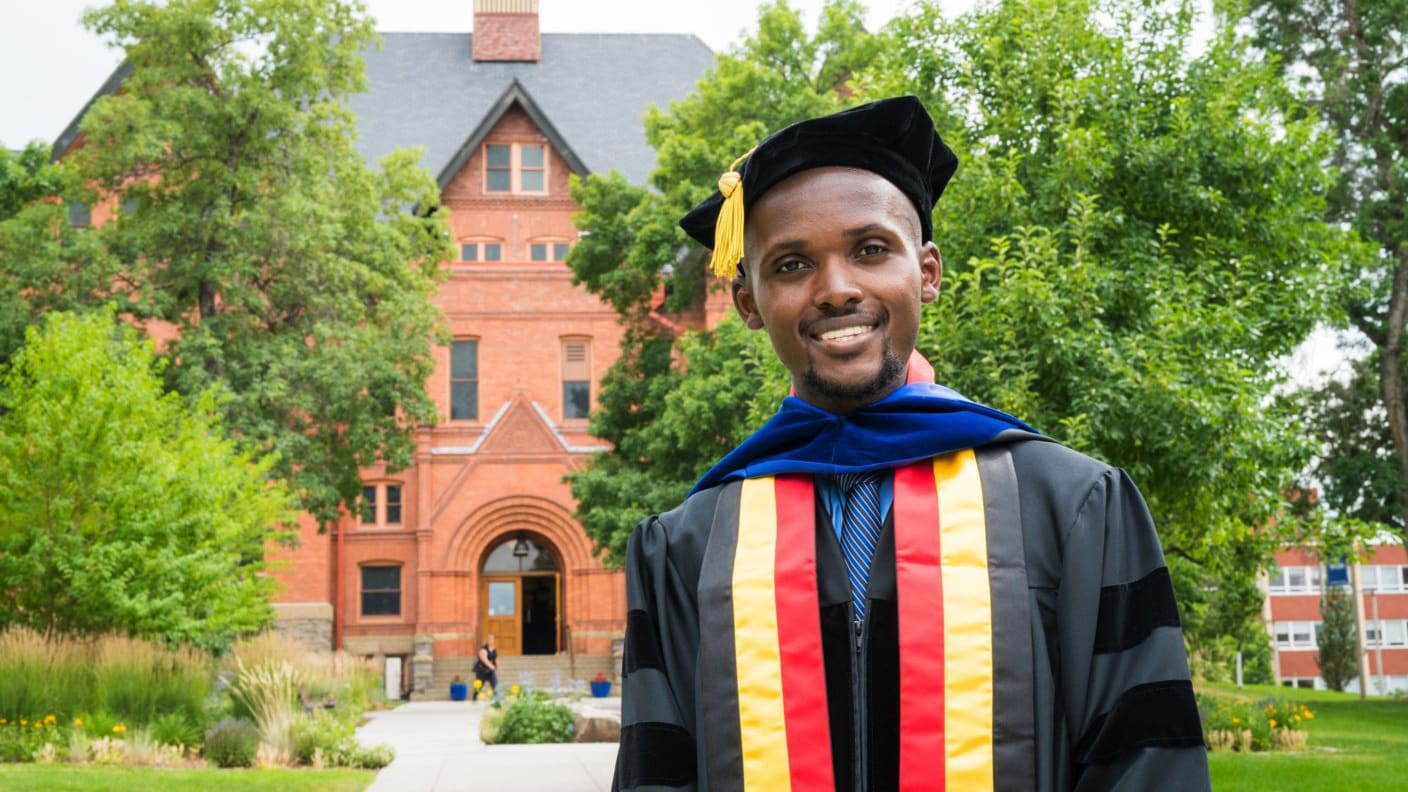 We recently had the pleasure of catching up with Collins Bugingo, a former Compassion sponsored child who completed his PhD in Plant Science and Plant Pathology last year. We invited Collins to share his unique perspective on food security—as someone who has experienced food insecurity, studied it and is now working to address it.*
Food is a global language. It brings people together. But food can also come with a lot of issues. Growing up, food was always on my mind—partly because I did not have enough of it. But my experiences with food have brought me to where I am today.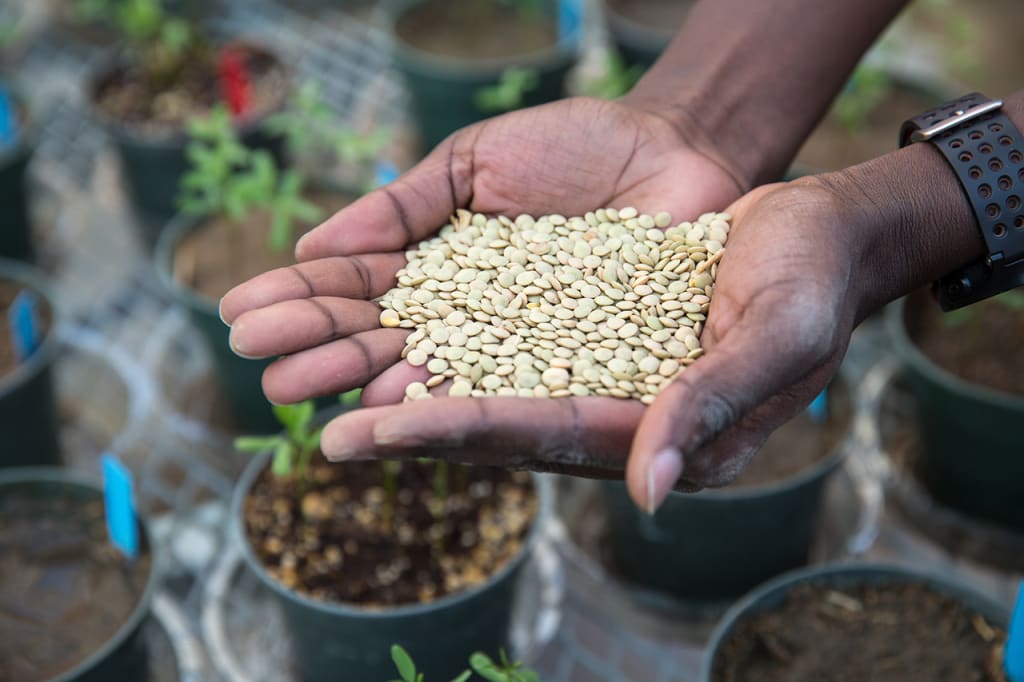 Not enough to eat
My name is Collins Bugingo. I was born and raised in Uganda and am the second oldest of five siblings. My dad passed away from yellow fever when we were young, so my mom was our sole breadwinner. She is a farmer.
Growing up, we spent a lot of time in our gardens, which is when I first became interested in farming and agricultural studies. It wasn't an easy life. When I was ten years old, I remember asking my mom, "Why do we have to work so hard to feed ourselves?" We were in the gardens every day, working the ground, keeping away pests and carrying heavy baskets on our heads—all to put food on the table.
And still, we experienced hunger. There were times when our harvest was stolen, making it hard to save seeds for the next season. And we depended on our small piece of land as our only source of food.
Lack of food impacts cognitive abilities, growth and physical health. It impacts other parts of life, too: if parents are worrying about food, they are not going to be considering whether their kids should go to school. Because I was registered with Compassion, I no longer had to worry about not being able to cover tuition. I looked forward to centre days because I knew I would get a good meal with meat and rice, and my family received supplemental food baskets. But for many of my peers—and so many kids today—starvation and malnutrition are very real issues that consume their day-to-day life.
Not having enough food to eat pushed me to study how food systems work.
The challenges of smallholder farmers
I remember my mom was frustrated that we had planted beans but wouldn't get a good yield because of pests or disease. My aunties and neighbours regularly complained about similar issues. As smallholder farmers, we were all dependent on nature for our daily meals—and nature wasn't always dependable.
My mom was also at the mercy of third-party buyers who would pay an unfair price for her crops and then sell them at the market for a high gain. My mom invested in fertilizers and labour, tended the gardens and grew the crops, but in the end, she wasn't the one profiting from her work.
Seeing how susceptible small farmers are to external shocks sparked a desire in me to help develop better systems for resilience and food security, like planning for environmental setbacks and understanding market dynamics. Directing our efforts towards sustainability would be incredibly helpful for people who, like my mom, don't have a safety net or access to education services. I am also passionate about ensuring that policies are relevant to what farmers are facing—and that scientific data is backing it.
My mom initially wanted me to be a medical doctor, but I can't stand the sight of blood. When I chose to go into agriculture in 2013, I said, "I'm going to help people like you, mommy. If you could have enough good food available and accessible to you, then you might never have to see a doctor."
When food isn't safe
Then, in 2015, I lost my sister. We still aren't sure what made her so sick, but she couldn't retain any nutrients and threw up everything she ate. Knowing what I know now, I suspect it was severe food poisoning of some sort.
She is not the only one in my community to have struggled with food-related illnesses.
When food isn't kept to a standard of safety, people's lives are put at risk. It's also risking people's economic way of living and impacts the smallholder farmers who grew the food. And this is not only in Uganda—it's anywhere in the distribution chain where people aren't taking food safety seriously.
I am currently working as a Food Safety Specialist for Cornell University, which at first seems unrelated to food security, but it's not so different as you may think. There are people struggling with food availability, but is the food that is available to them safe for consumption? How do you make sure things are being produced, handled and stored in a way that is not going to harm people's health?
In a way, my current work relates to both food stability and food security because, at its roots, food issues always hit the most vulnerable people hardest. But if we can make sure people have enough to eat and that it's safe for them to eat—that's what keeps me going every day.
Trusting God is holding all things together
"Trust in the Lord with all your heart and lean not on your own understanding." That verse from Proverbs 3:5 has kept me going all these years. As a scientist, this verse helps me trust in God even more because of how many things I cannot explain and because of how much capacity He has given me to understand. I believe in God, and I believe in His sovereignty. And I believe that He's the one who enables us to do whatever we do. He gives us the ingenuity.
These global issues, they are all things that God already foresaw. He knows, and He has a way out. It's easy to get caught up in things, but trust in the Lord.
Read Collin's 2019 interview with Compassion International, where he shares more about his journey with Compassion.
 ____
Just like Collins, you can help build food security for families around the world.
Give the gift of a backyard farm today!
*The views in this piece do not represent the views of Collins' employer or any organization with which he is professionally affiliated, and neither is it an endorsement thereof.
By Collins Bugingo, with Aveleen Schinkel