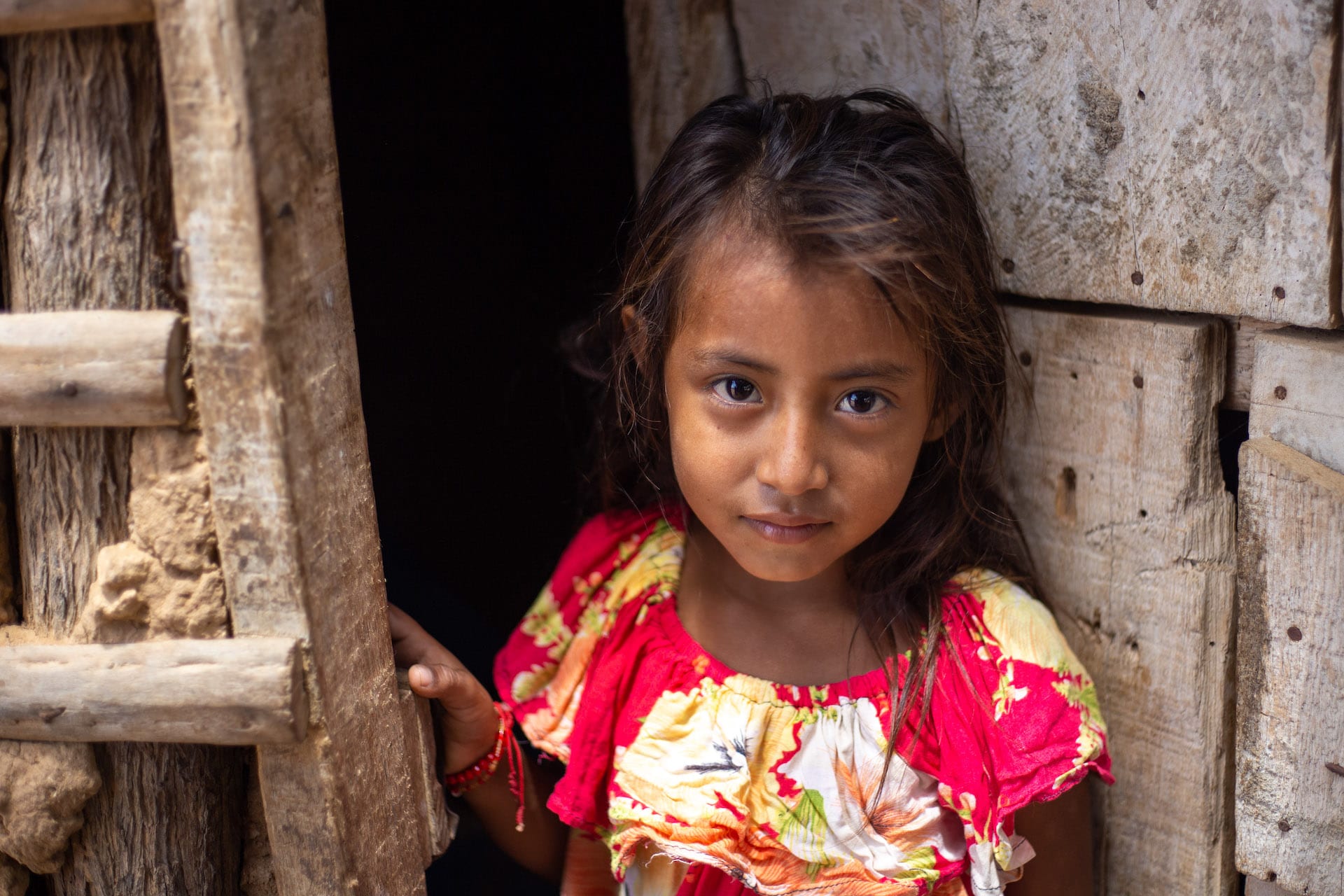 Welcome to the desert community of Manaure.
Run your fingers through the dirt and you will find a dry and chalky soil sift through the cracks of your fingers. Look up and you will find one or two clouds in the sky and the heat of the red-hot sun radiating into your squinting eyes. Turn your gaze forward and you will see sand and salt pillars, as far as the eye can see. You don't see many roads. Manaure isn't accessible by car.
This remote desert village is home to 6-year-old Lismar.
For parents in Manaure like Lismar's, providing food and water for their families is not an easy task. Most of them have no formal jobs. They work in the salt mines, sell the coal they make at home or build houses in the community, barely making enough to pay for their families' needs.
On top of a lack of work, families in Manaure suffer from a lack of water. In urban areas, the aqueduct—an artificial channel for conveying water—brings water extracted from salty wells, so people must buy water to drink. But in the rural area where Lismar lives, there is no aqueduct, and families who can't afford to buy water from tank cars must drink salty and unsafe water.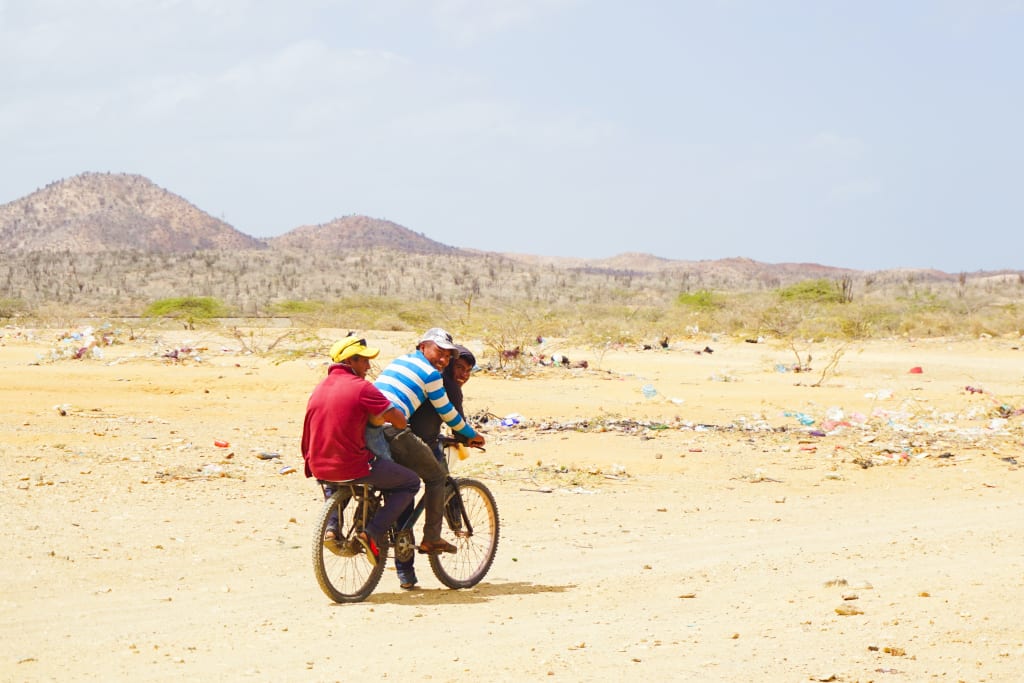 To accommodate for the lack of water, Lismar's family gets water from "jagüeys", artisanal wells that fill with water from natural leaks of the land. But in times of drought, they do not produce any water. Other families take water from salty wells. These are unprotected sources of water, where dust, garbage and animal excrement contaminate the water.
And then…COVID-19
Since the COVID-19 quarantine started in Colombia, things have gone from bad to worse in Lismar's village of Manaure. Parents and caregivers have had to stop working, leaving them unable to provide for their children.
Before the quarantine, Lismar and her family had one or two meals a day, but since the pandemic hit, it has become normal for her to see empty pots and empty plates each day.
Behind the scenes, Compassion had partnered with Casa de Dios Puerta del Cielo Church—a small congregation near Manaure—just months earlier. Their hope was to register 150 children from Manaure between the ages of three and eight years old, including Lismar.
With the new Compassion centre set to launch in May of 2020 and begin activities in June, staff were heartbroken when they heard the unthinkable news: the COVID-19 pandemic would delay their plans, keeping the centre's doors closed for the foreseeable future.
With the faces of the 150 children and their families in their minds, pastors and staff of the unlaunched centre could not stand the thought of leaving these families without support, especially in such a trying time. So, they did everything in their power to make sure the families of Manaure were provided for.
With the resources they received from Compassion, the staff got to work.
They prepared food baskets for children that included essentials like rice, beans, cornmeal, pasta, bags of drinkable water and more.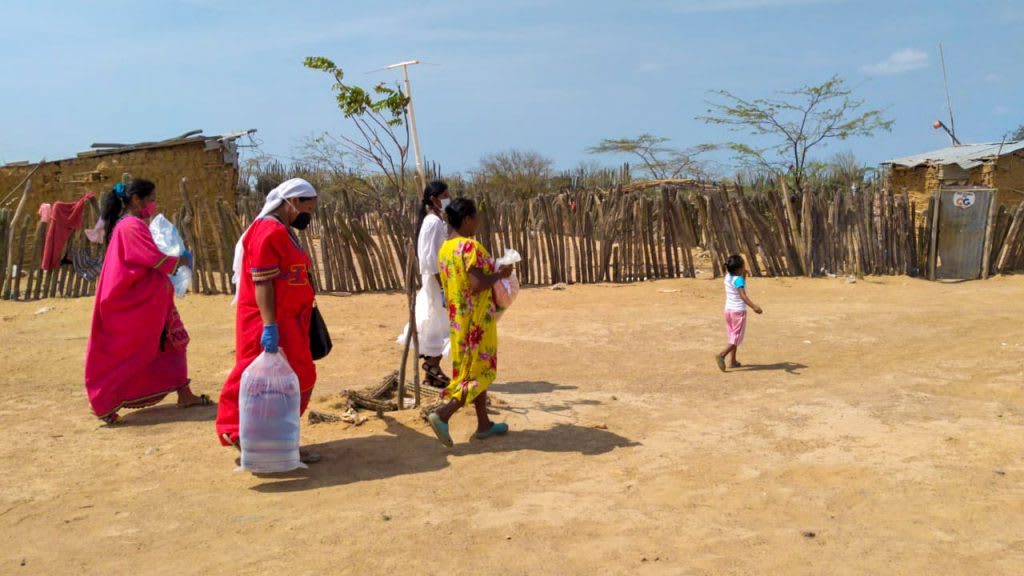 Since there is no car access to the community of Manaure, staff took matters into their own hands. Piling food packs into wooden wagons to bring to each child and their family, staff journeyed through the desert by foot from wherever they lived, walking back and forth for 2 days to make sure every family had the food they needed.
Pastors, tutors and volunteers from the church carried heavy bags under the sun to bring children hope, to see them smiling.
"Jesus heard us!"
As children like Lismar saw from a distance countless staff with wagons full of food and fresh water, they couldn't believe their eyes. They couldn't help but dance around with pure joy.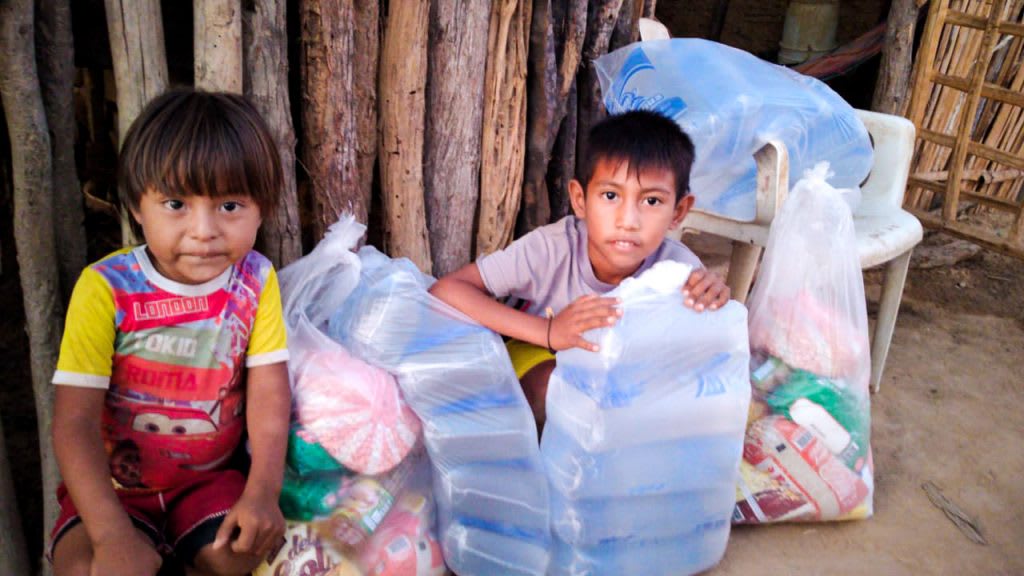 "Jesus heard us! Jesus heard us! There is food and water," the children exclaimed.
Families had been drinking salt water for days and some children were sick. Others had not seen adequate food on their plates for days. It was this day that everything would change.
"This help is a blessing from God," says Lismar's mom. "I thank with all my heart those who give us this food. I have no words to express my gratitude."
"I am happy because yesterday there was nothing for us to eat, and today we are going to eat because the project brought us food. Thank you," says Aldivio, a young child meant to be registered in Compassion's program.
Enis, the pastor of Casa de Dios Puerta del Cielo Church was moved seeing families' excitement when they arrived to bring food and water.
"I remember," she shares, "a child who told me, 'Pastor, this is God's answer for us. Yesterday we did not eat anything, and my mom told my dad that she believed the blessing was on the way. And then you came with the food for us today.' For us it is a blessing to show children and families the love of God through food baskets or bags of water, being God's answer to those families' prayers."
For the staff, it is a privilege to serve children like Lismar and make them smile. Knowing that a child can be healthy thanks to the food and water they bring them encourages the staff to do their best to continue serving them and do whatever it takes to get it there. As the government extends the quarantine, the centre is preparing new food baskets for children—but they need your help.
This Giving Tuesday, we're raising $160,000 to help our church partners, like our friends at Casa de Dios Puerta del Cielo Church, continue to provide desperately needed food to children and families in their communities.
Will you help?
Written by Laura Phillips
Field reporting by Lina Marcela Alarcon Molina
Photos by Lina Marcela Alarcon Molina and Berend Leupen