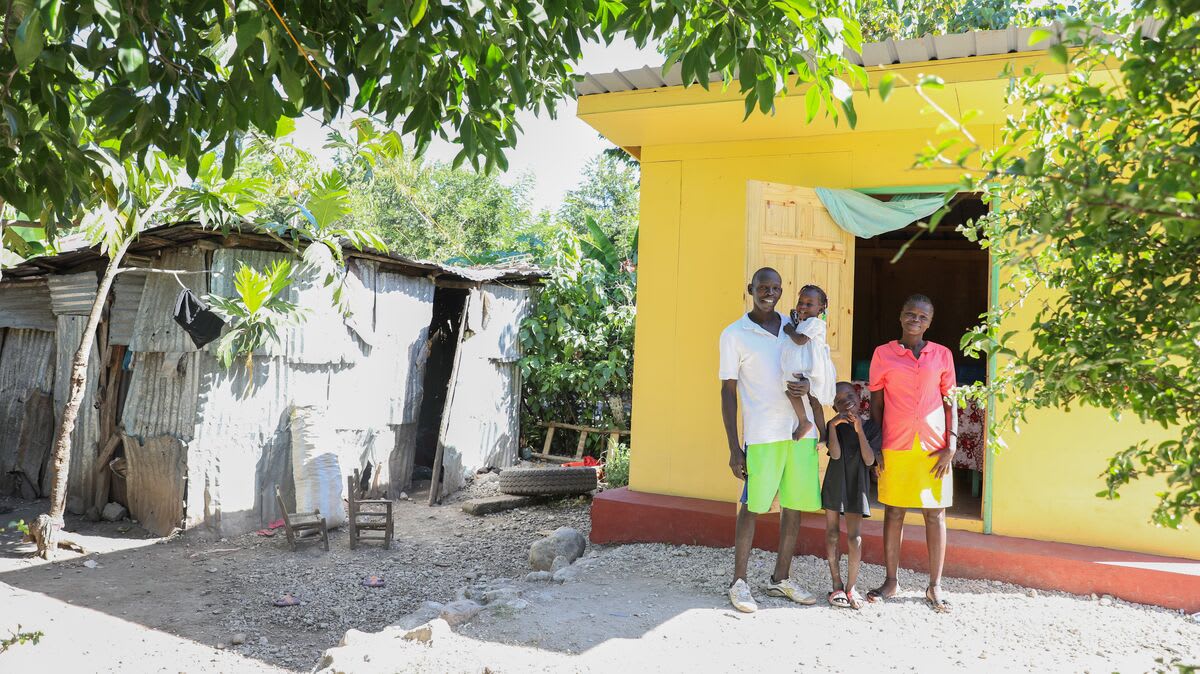 I'll let you in on a secret: this is a part of our story.
Unforgettable. Life-altering. Traumatic. These are words that describe August 14, 2021 for the country of Haiti. 650,000 Haitians were thrust into a humanitarian crisis—260,000 of whom are children—due to the 7.2 magnitude earthquake that is now known as the world's deadliest environmental disaster of 2021.
The destruction caused by this tremendous earthquake impacted 46 of Compassion's church partners and over 15,000 Compassion-assisted children. 12,000 of these children's homes were destroyed or damaged on this one day, as was the experience of six-year-old Soraya and her grandmother.
But this story, though experienced by children and families in Haiti, is not only their story. It is our story—and responsibility—too. We, the global Church, have had a role to play in the story of restoration and hope. We have had the privilege of playing a part in rebuilding homes and lives and communities that were shaken, damaged and destroyed.
We were knocked to our knees and reminded of the strength of those joints. Our knees were where we could pray, where we find the strength to stand and the momentum to march onwards.
Watch "Marching On" by spoken word poet, Ezekiel Azonwu.
We rebuild because God loves. We rebuild because God comforts. We rebuild because Haitian children are watching and waiting to see how the body of Christ responds, their youthful eyes seeing the steadfastness of their pastors, teachers, caregivers and supporters on the long road of recovery.
We all are a part of the story. Together, kneeling, standing and marching onwards so that children and families in Haiti experience the love of God in action through His Church.
So, where are we now?
Kneeling: when the church rallies together
The strength to overcome trauma and adversity comes from God. Compassion Haiti has been praying this Scripture over their country, the children they serve and one another: "The Lord is my rock, my fortress, and the One who rescues me; My God, my rock and strength in whom I trust and take refuge; My shield, and the horn of my salvation, my high tower—my stronghold." (Psalm 18:2)
The global Church can and has come alongside Compassion Haiti in embodying this truth. It is our rallying point to both exalt Christ and express His love and care to those who need it most. This is accomplished through the power of prayer, certainly, but there are also very practical ways that the global Church is expressing God's love by helping Haitian children overcome the trauma, adversity and instability this environmental disaster has caused.
Your prayers and generosity are helping to provide:
Trauma counseling for children
Mental health care and social support
Resources for the local church for child protection
Emergency food packs and clean water
Temporary shelter that is safe and secure
The rebuilding and restoration of the 12,000 homes that were damaged or destroyed
When the Church shows up, God's love is expressed. And when God's love is expressed, healing begins. The generosity and intentional involvement of the Canadian church to partner with the local Haitian church have made a significant impact on children and their families. It is both a present witness to God's love and an enduring testimony to it for years to come.
Standing: what it looks like to be a constant presence
Let's talk about how your partnership with the local church in Haiti is putting love into action in a very specific way.
On Giving Tuesday 2021, you helped us surpass our fundraising goal towards meeting two significant needs: safe homes and trauma counseling for children in Haiti. The need for shelter was critical as 12,000 homes of Compassion-assisted children were destroyed or damaged by the earthquake. Equally as critical, post-trauma psychological care was essential after children lived through this devastating disaster. Your generosity means that Compassion Haiti and the local church have been able to meet these needs.
What does the process of rebuilding and restoring homes look like?
Compassion Haiti has determined that the most effective way of supporting children and their families in rebuilding is through a voucher system. This voucher system is highly efficient and even provided a way for 1,591 homes to already be repaired or rebuilt by December 31, 2021! And by February 2022, 4,657 homes had been built or repaired.
Here's how it works:
Our frontline church partners in Haiti distribute vouchers to families when they are ready to begin rebuilding
Families then redeem these vouchers at local stores and receive the materials they need as well as SPHERE construction plans
Families construct their homes (this typically takes two weeks)
Families report completion of their home to Compassion Haiti.
"Where people see a shelter, I see a palace. The Lord heard our cries and responded through Compassion."
Vania, Mother of 6, after receiving a home through Compassion
Because the new shelters are built to SPHERE humanitarian standards, they are built to be safe and secure. These homes sit on raised concrete to protect them from mud and water and they each have a secure door with a lock and a sturdy roof. The foundations and structure of these houses can also be built upon and expanded in the future.
"Relief work has its place, but we cannot be satisfied with relief for a long time. We need to provide durable solutions! We're committed to building safer and stronger buildings that withstand future earthquakes and hurricanes."
Guilbaud Saint-Cyr, Haiti National Director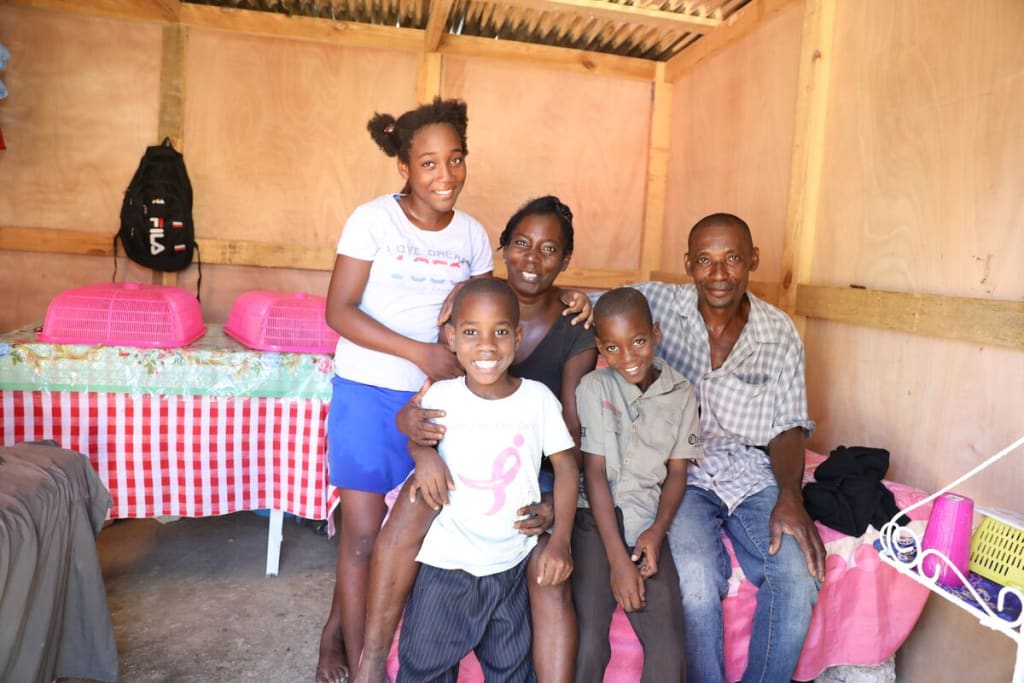 What does post-trauma psychological care look like?
As you can imagine, trauma counselling is a complex matter and amidst the many other needs that children and their families are facing, it could be easy to overlook this necessary part of the journey of restoration. But Compassion Haiti and our local church partners knew that this devastating disaster would have a significant emotional and mental impact on the children they serve. They have been building out a step-by-step plan to ensure that every child has the care they need.
The good news is that these initiatives are being funded and are in progress. In January 2022, post-trauma sessions were held to check in with Compassion kids, families and our frontline church partners. After those sessions, follow-up care has been provided for 661 children, families and staff members who needed additional psychological support.
Further to that, Compassion Haiti and our frontline church partners are continuing to check in with children and their families, are providing psychosocial activities for them and are even planning how to deliver long-term psychological care.
"Getting together to share their own experiences with other classmates and also to listen to them has given the children strength. After these sessions, they were more willing to move forward."
Stéphanie, a Compassion staff member in Les Cayes, Haiti
March on: empowering the local church to minister
There is still much to be done for children and their families in Haiti. But we have hope. Hope because the Church has risen up in response to the great need. The local church in Haiti continues to be a beacon lighting the way forward and the global Church is a bolster, giving strength and encouragement as they march on.
Remember Soraya? Her story was one shared by many other children in Haiti. The earthquake destroyed her home. But Soraya and her grandmother found help at her Compassion centre. There they experienced the love of God in action—providing food, ensuring they had temporary shelter and eventually, providing what they needed to rebuild their home.
A six-year-old girl asks, "Did you come to rebuild my house?"
The Church says, "Yes. Yes, we did."
____
When the earthquake shook Haiti, the Church rallied together on our knees. When buildings and lives came crumbling down, the Church stood firm as a constant presence of hope. And when the dust settled and it seemed there was no way forward, the Church marches onwards.
I'll let you in on a secret…
This is part of our story.
As long as we have love, the Church marches on.