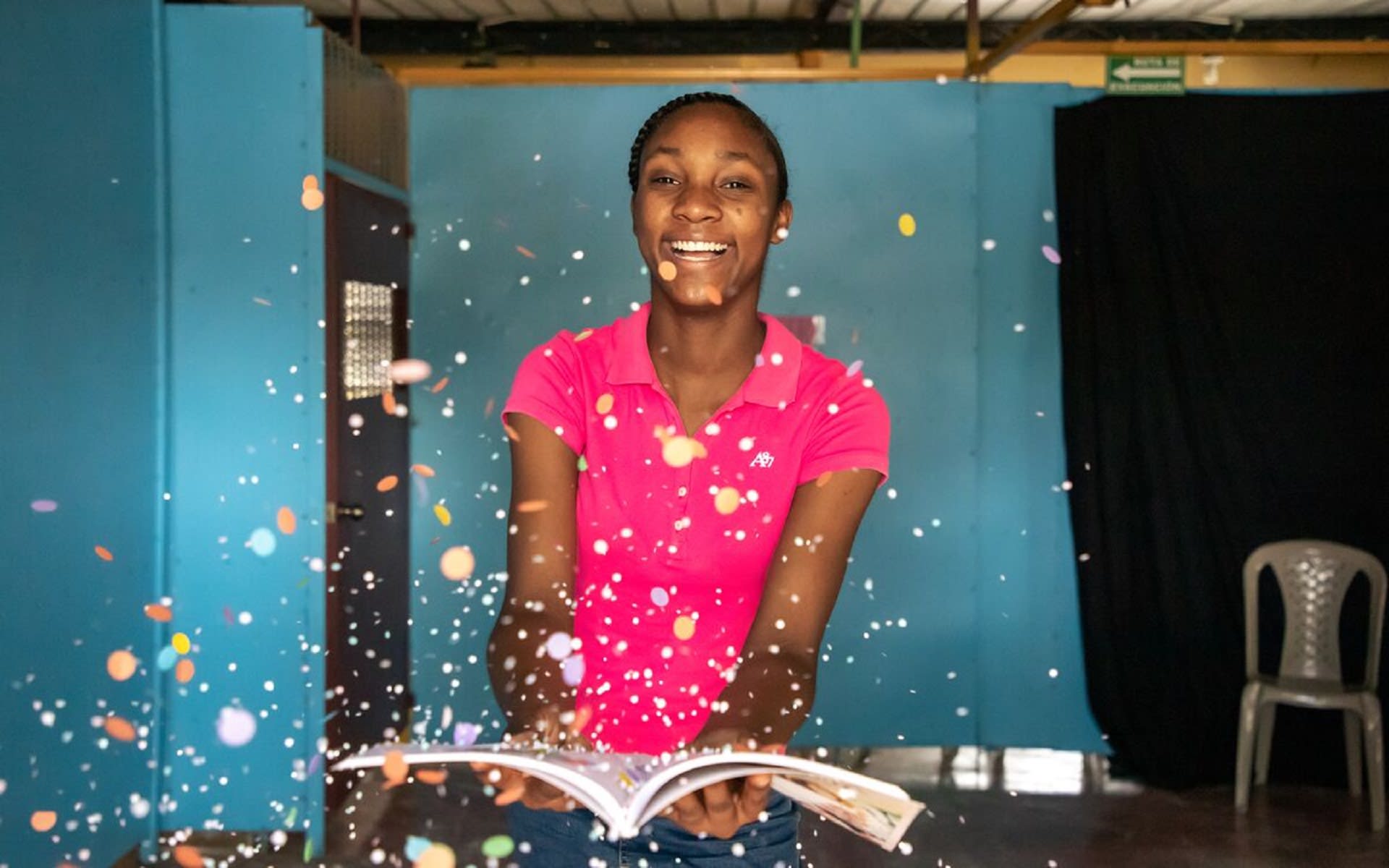 Imagine for a moment not having the ability to experience the joy of reading a good book, a letter from someone you love or even your Bible. Take it a step further and imagine not being able to read a road sign, a restaurant menu, a voting ballot or the recipe for that meal you've always wanted to try. That's probably too hard to imagine, right?
"There are still at least 771 million young people and adults today who cannot read and write."
Our world was formed by the very word of God. We are surrounded by words at every turn to help us understand and navigate the world He's given us. So, it may seem unbelievable to think there are still at least 771 million young people and adults today who cannot read and write.
Bringing awareness to this reality is what International Literacy Day is all about. Celebrated on September 8th every year, the day seeks to bring to the forefront of people's minds the literacy issues persisting within our local and global community.
"It is estimated that nearly 24 million learners may never return to formal education [after the pandemic], many of whom are children living in poverty."
In the aftermath of the pandemic, with school closures and disruptions, it is estimated that nearly 24 million learners may never return to formal education, many of whom are children living in poverty. To celebrate this year at a global level, there is a call by UNESCO to enrich and transform existing learning spaces through an integrated approach and enable literacy learning from the perspective of lifelong learning.
As a homeschool mom of a kindergartener who is learning her phonics daily and putting together more words and sentences, I jump with joy at every milestone. I love to see how empowered my little girl is when she gets to read another word. Such a delight! And just as my daughter continues to learn to read and write through our homeschool curriculum, by spending time with her cousins playing her favourite "spot the difference" games, or on Sundays at children's church, literacy learning is achieved through a multisectoral approach of both formal and informal learning.
At Compassion, we partner with local churches in helping children thrive through holistic child development. One of the key focuses of our program is education.  For many children, it is the foundation for a sustainable future and the basis for the healthy development of other areas of their lives.
To commemorate this day, we're sharing three inspiring stories of resilient children and local church communities determined to break the cycle of poverty through education and empowerment.
Literacy tutoring in Brazil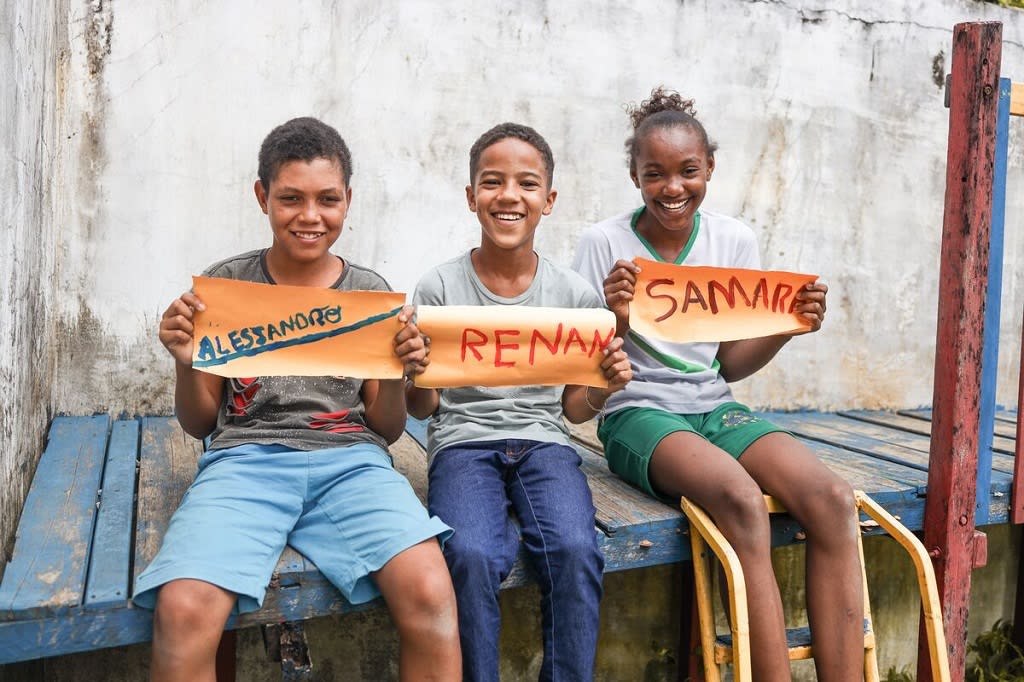 Like thousands of children impacted by school closures and disruptions as a result of the pandemic, Alessandro, Renan and Samara felt frustrated and discouraged because they couldn't read.
For 13-year-old Alessandro, school was hard. The worst moments were when his teacher asked him to read aloud in class. He often tried, but his voice betrayed him. He almost knew all the letters, but he didn't know what they meant together.
His classmates sniggered and whispered to each other.
"I didn't like going to school because I always felt bad there. My classmates laughed at me because I couldn't read or write well. I used to feel embarrassed and stupid," says Alessandro.
Alessandro was not alone in his frustration. Many of his friends in the community felt the same—Andrielly, Dheimison, Lucas and others. Crowded, hot classrooms, impatient teachers and lack of resources created an uncomfortable place for children. All of these stacked together increased their chances of dropping out of school.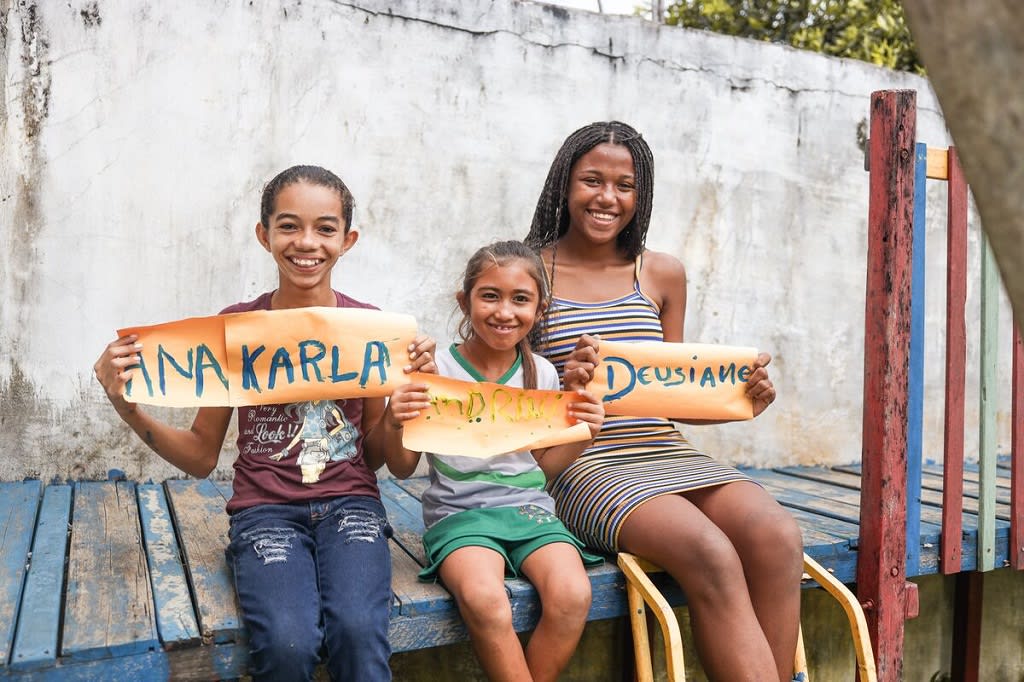 When Compassion staff at the Pró-Resgate Centre in Brazil observed that many children were struggling with literacy skills, they decided to start literacy and tutoring classes for the children. "It's unfortunate to see the situation of these children. Most of them have long since passed the literacy stage, but they can't write their own names," says Marilia, the centre director.
"We know and believe that education is one of the most important means of transforming children. Therefore, we analyzed the needs of each participant and separated them into classes according to their needs. Some just needed encouragement; others needed to start right from the beginning."
With this extra support provided by the Compassion centre, children are learning to overcome literacy challenges in an encouraging environment. The tutors use different activities and approaches to support the children through their learning journey in a way that takes into consideration their varied competencies and challenges. Alessandro says he and his friends attend these classes because they feel accepted and confident to try.
"The teachers here are much more patient than at school," says Alessandro. "They explain everything as many times as I need and never yell at me. Now, despite the challenges, I feel I'm learning everything. I feel proud of myself. I can write my name!"
All the children are encouraged to support one another as exemplified by their tutors. They're excited to return to the centre to keep learning.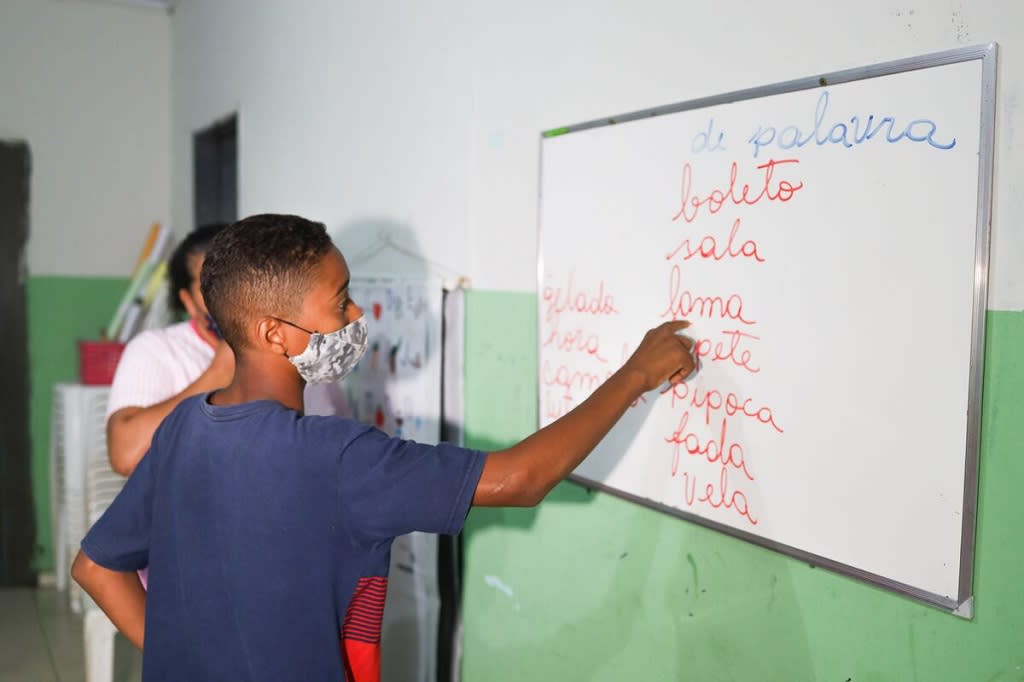 "I love doing the activities the teachers here at the centre give me. I'm a good student and I do everything correctly. My handwriting is getting better and better every day," says 11-year-old Lucas.
Building a second school in Burkina Faso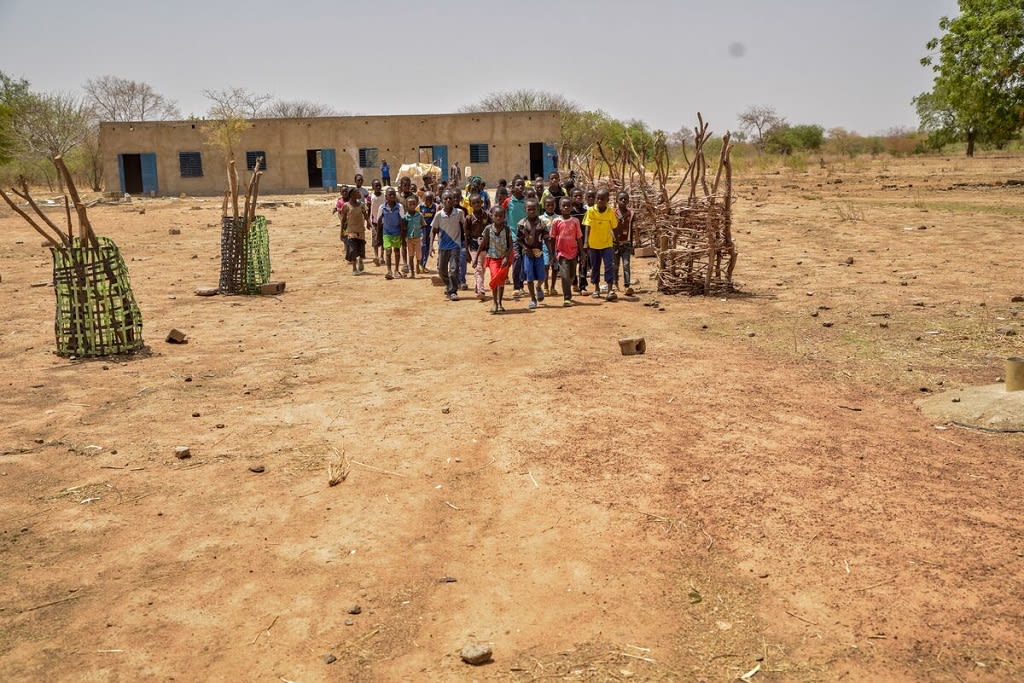 On the other side of the world, in a remote community in Eastern Burkina Faso, children crowd into a classroom, chattering, excited and eager to learn. There's only one public school in the community and it's bursting at the seams.
But having so many children in one classroom makes it hard for the teacher to follow each student's progress to ensure they have the support they need to learn well. As a result, many children and teenagers drop out before grade six because their marks are below the level required to move into the upper grades.
There is no vocational school available in this tiny village. When a child leaves school, they have very few options. And it's the poorest children who are most disadvantaged.
Students who fail their formal education often run away to work in traditional gold mining sites where they face all kinds of risks. The work is backbreaking and dangerous, but many other threats lurk in the mining camps: child exploitation, child abuse, child labour and drug addiction. Specifically for young girls, the risks of child marriage or pregnancy are on the rise due to a growing security issue in the region and the persisting impact of the pandemic.
The future looks uncertain for children from low-income families and urgent action is needed.
One man who sees the risks facing the community's children and is determined to do something to address them, is Pastor Daniel.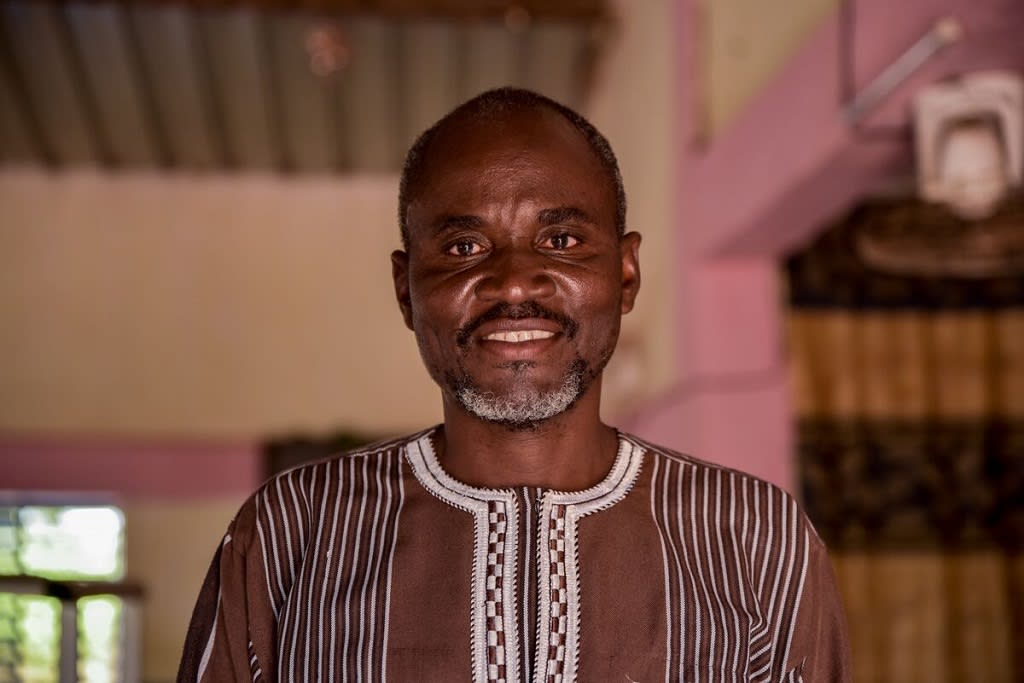 Pastor Daniel is a man with a big heart for families and children in desperate need. He has a vision to see the church rising to meet the community's needs.
"The church represents fertile soil for children in the community. It means that when a seed falls at the church, it must grow and bear fruit. My vision for this community is that children can learn new skills and jobs that allow them to grow and flourish like seeds for the development of their families and the village," says Pastor Daniel.
His love for others is visible through the mobilization of his church, as they bring hope to their community.
Since the partnership between Compassion and the local church in this Burkina Faso community, the children and youth ministries have yielded good fruit. Now, they're determined to help more children attend school, grow and thrive in their education.
They're so committed that they're building a school on the church grounds.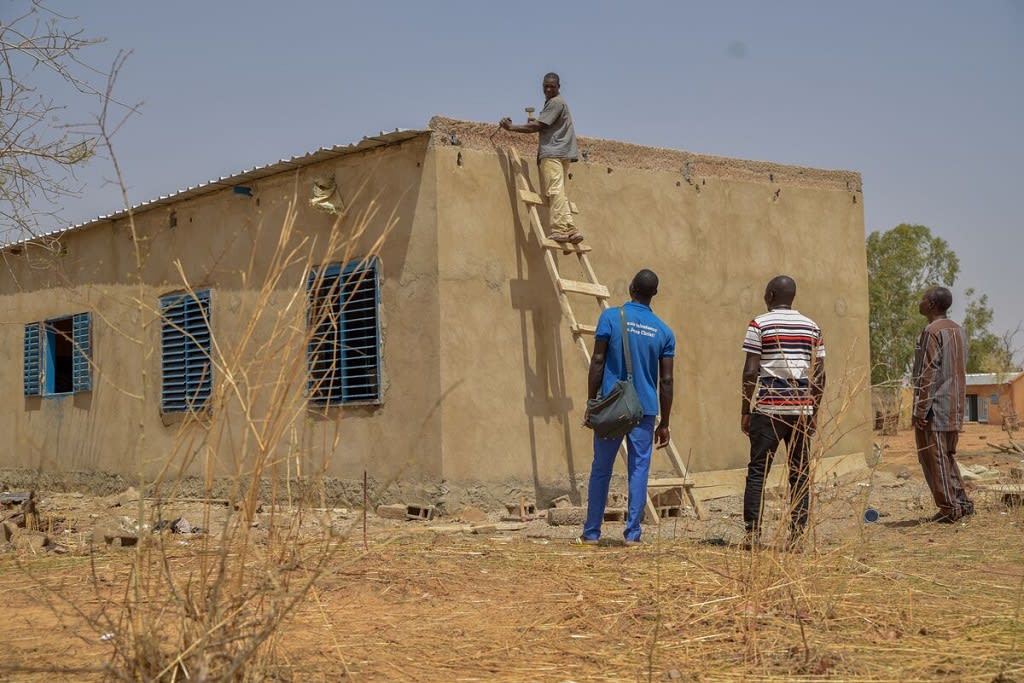 "I am happy that Compassion and the church together can create more impact in the village. The church organizes special offerings each month to mobilize resources and support the activities of the centre. Last year, the church started the construction of four new classrooms, but the local resources couldn't finish the work. Thankfully, this year, Compassion provided for the roofing and the completion work," says Pastor Daniel.
From temporary tiny shelters, the church is now building concrete classrooms to accommodate more students at the primary school of the church. Thanks to CIV funds, Compassion was able to support the local church to complete the building of infrastructure.
The impact is already apparent in the children's lifted spirits and enthusiasm.
"Without the new classrooms, many children would have stopped their education. Thanks to the new classrooms, the students are motivated to attend school. I can see their joy to be here and learn new things. It will also contribute to enhancing their performance," says Palipouguini, the school's director.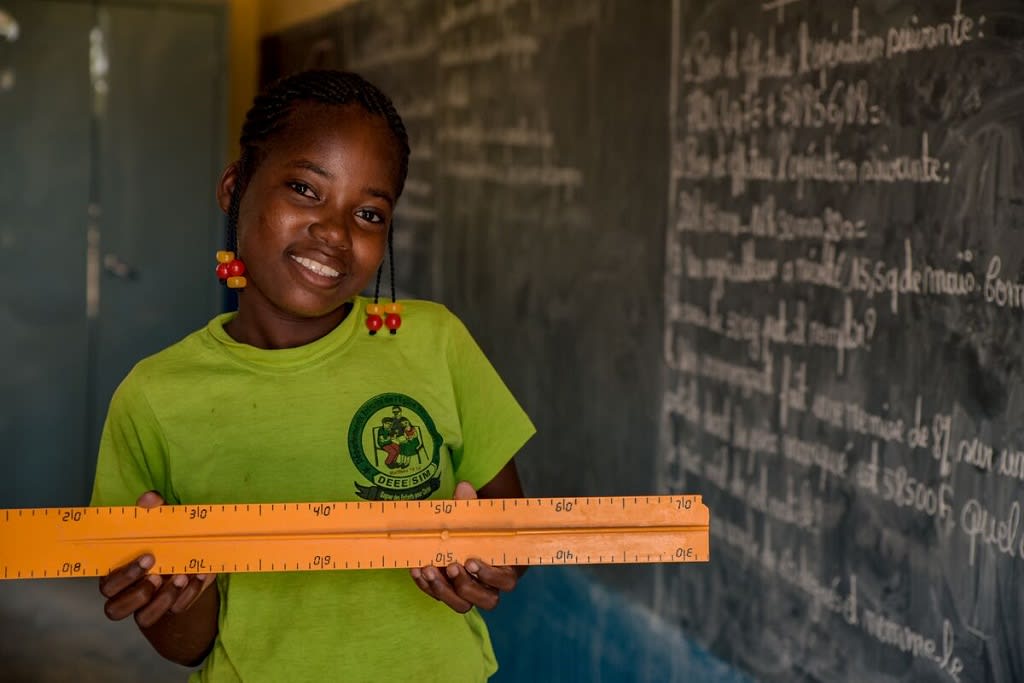 13-year-old Damalissa is in grade six and is preparing for her primary school exams. Although she didn't pass her exams last year and consequently couldn't register in the public school this year, she is thankful for a second chance to learn at the church's school.
"I am thankful to be enrolled in the new school of the church. The teacher is very kind, and I am learning more subjects compared to last year. I hope that I will succeed in my certificate this year and go to high school. I want to become a teacher one day and train little children," says Damalissa, smiling.
Vocational training support in San Felipe, Dominican Republic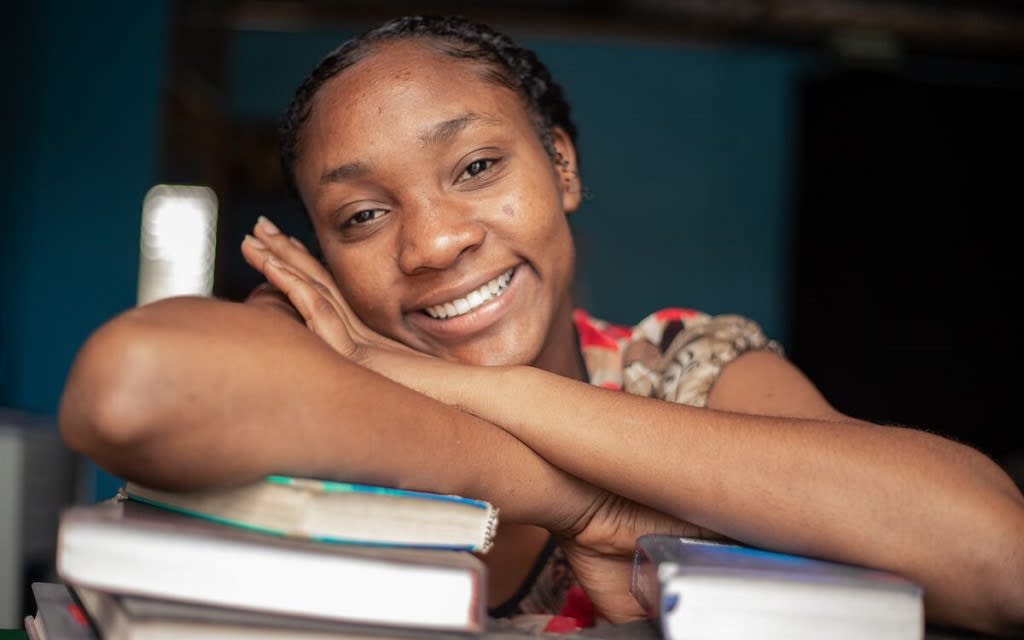 For Bedarlin from the small community of San Felipe, Dominican Republic, neither the rain, the long walks to school, the loss of her father nor hunger pangs are enough to keep her from going to school.
Often, her school days begin with dodging the sprays of water from cars and motorcycles as she walks to school on rainy days. Even so, Bedarlin is determined to make the journey. She knows how important education is in pursuing her dreams.
"I remember walking about 45 minutes to high school and 45 minutes back, and that was never an excuse to stop going, even in the rain or the heat," she says.
The 18-year-old grew up as one of four siblings with her parents in her impoverished community located north of the capital of Santo Domingo. Each day, they faced a lack of food and dangerous living conditions. With the sudden death of their father, life was even more difficult.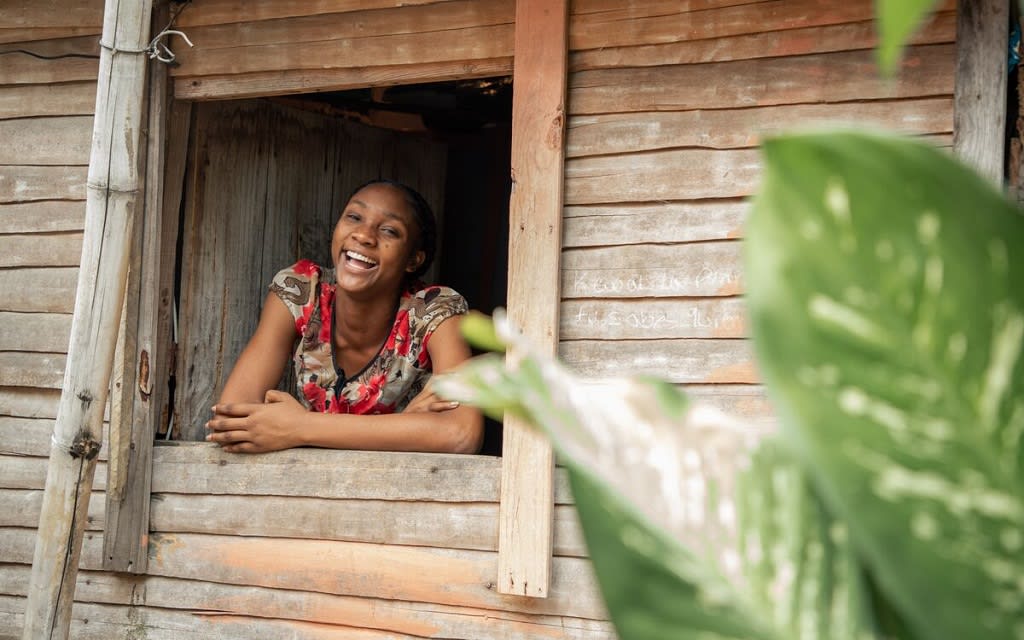 "Sometimes we had nothing to eat, and our house was not a safe place because the wood it was made of was rotten," she explains. "When it rained, water would come into the house, and we had to run and pick everything up and unplug the electronics so we wouldn't lose what little we had. It was very uncomfortable and hard to live like that."
When she was eight years old, life began to change. Bedarlin was registered in Compassion's Child Sponsorship Program where she received support for her family and a love of learning planted in her heart by her tutors. Their inspiring words about the power of education, their encouragement to enroll in the centre's vocational courses, their follow-up on her homework and their dedication to her progress gave Bedarlin the confidence she needed to dedicate herself to her studies.
"At the centre, we teach children to think—we motivate them to dream. We let them know that they have the ability to change their present and have a hopeful future full of blessings if they apply themselves in their studies and with the Lord's help," says Cristobal, the centre director. "I think Bedarlin took all this knowledge very seriously."
Bedarlin's biggest dream is to graduate from college and buy a house for her mother—a house where she doesn't need to worry when it rains. She hopes to provide for her mother so she doesn't have to work. She also wants to help her little brother, Kewal, finish high school and follow in her footsteps by going to college. At the centre, she learned the best way of fulfilling these dreams was by preparing herself through education.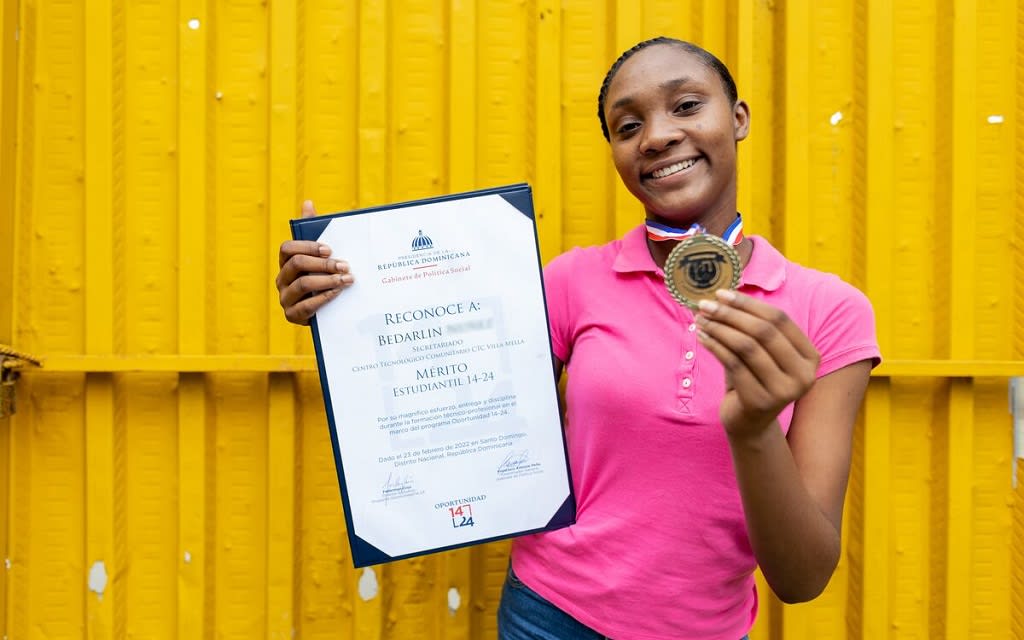 With this commitment, Bedarlin managed to overcome many obstacles and graduated from high school with honours. However, there was one more challenge standing in her way: her family's financial situation. The cost of a full degree at the country's public university is between RD $1,600 (CAD $35) and RD $28,000 (CAD $625).
An already high and seemingly impossible cost for Bedarlin's single mother, the fees are quickly inflated by additional costs of transportation, books, supplies, uniforms, and internet access.
Thankfully, Bedarlin's centre has a special initiative that supports young people interested in studying a technical or college career. The College Education and Vocational Technical Training Development Program pays their tuition and provides them with opportunities for social development in the community and in the church.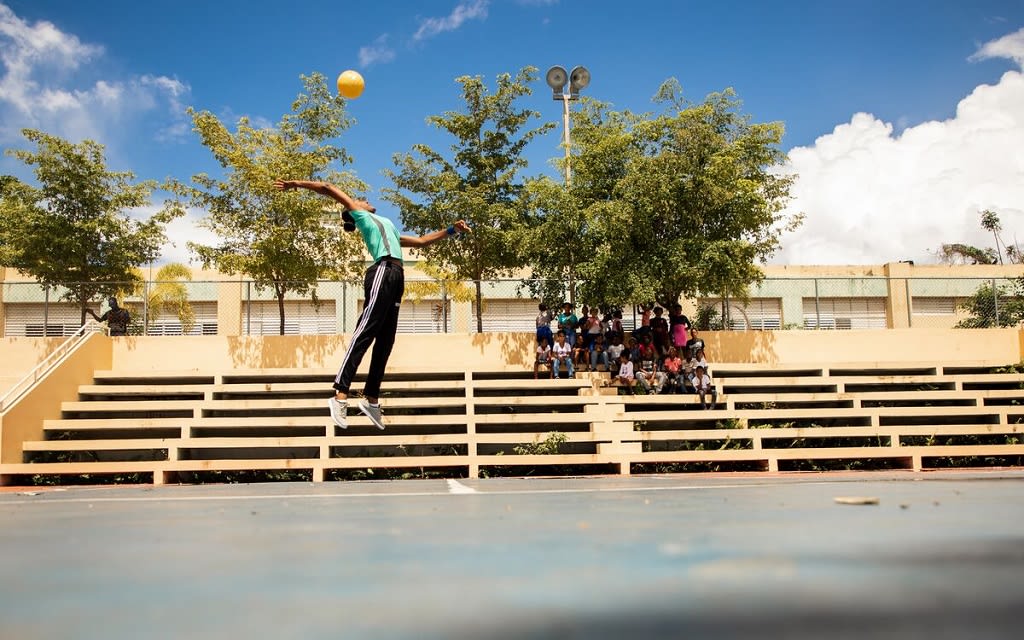 Madrilin, Bedarlin's tutor, observed her passion for learning, her goals for the future and her desire of studying Physical Education.
"When centre director, Cristobal, asked us to choose 16 youth to be part of the superior education program, I immediately thought of Bedarlin, and Cristobal didn't hesitate to approve her. She is an example here at the centre and in our community," says Madrilin.
Bedarlin was one of 16 youth chosen in 2021 to receive the support. Her dream of studying Physical Education has come true and she is on track to graduate in 2024. To support her college studies, her centre also enrolled her to learn computer basics at the Community Technology Centre.
Even with all these opportunities, so much more awaited Bedarlin as she was also nominated to receive a student merit award from the President of the Dominican Republic as an acknowledgment of her magnificent effort, dedication and discipline during the technical-professional training in computer science.
"We talked for a few minutes, and he encouraged me to keep up with my studies. I couldn't believe I was talking to the President," says Bedarlin with a big smile.
In addition to studying at college and taking computer classes, Bedarlin is also taking English classes. Knowing her patience, love of teaching and expertise in computers, her centre hired her as a computer teacher for the children.
"When I was hired by the centre, it was like a relief," she says. "With what I get paid, I can help supplement my studies, but most of all, help my mother at home."
Achieving her dreams has required a group of people who share her vision and support her to pursue her goals: her mother, the centre director, her tutors and the church.
"For me, education is very important because it is the only way my children can have a better way of life," says Demetria, Bedarlin's mother.

Sustaining the momentum
Compassion is committed to working with local churches and communities to break down the barriers standing between children and their education. Just as with Bedarlin's journey, breaking down these barriers requires a joint effort and collaboration between parents and caregivers, families, teachers, tutors, the church and their community in order to sustain the progress that is being made in a child's education.
When we support the education of children, we give a family a chance at a better future and a community the opportunity for sustainable development.
___
Would you consider supporting the literacy and education of a child today?