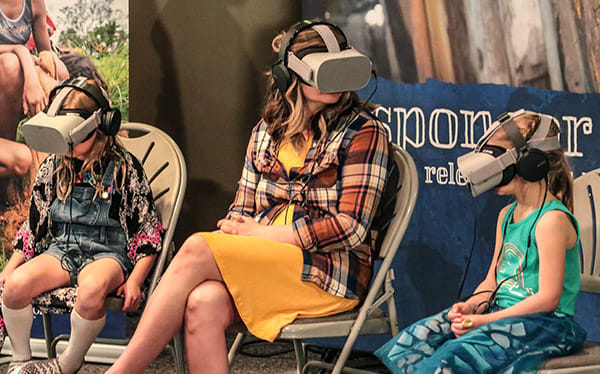 It's hard to imagine what it's like to be a child living in extreme poverty.
Attendees at One Conference in Edmonton this January 17 and 18, 2020 will get up close and personal with the realities of global poverty and hear the true story of a family living in Brazil through a unique Virtual Reality experience.
"It's one thing to talk about poverty," says Mike DeBoer, Compassion Canada's Events Manager, "but another thing to see it first-hand. The VR experience will open eyes and hearts as participants see what life is really like for millions of children around the world who live in poverty."

Compassion Canada is offering the one-of-a-kind experience to highlight the transformational work of child sponsorship. During the immersive VR experience, participants will walk with Antonia, a mother of two daughters, who prays for relief from her family's poverty.
They'll also see how the Compassion program impacts the life of Antonia's 7-year-old, while witnessing the challenges experienced by her 4-year-old who has not yet been sponsored. This 5-minute virtual journey to Brazil will transport viewers to a world where they can experience their hardship and offer great hope.
The aim of the VR experience is to start a conversation about real physical and spiritual needs experienced around the world and how Canadians can make a practical difference.
"Compassion sees the impact Canadian Christians make around the world through their generosity every day," notes DeBoer. "We're proud to partner with One Conference to create meaningful dialogue about the transformational work of child advocacy."
More than 80,000 Canadians currently sponsor children in 25 countries around the world through Compassion. Each month, more than 100,000 children who live in extreme poverty receive practical support that helps to meet the physical, relational, and spiritual needs.
Beyond providing the VR experience, Compassion will also be hosting a workshop entitled "Real Help: Learning to Serve Well by Learning to See" on Saturday, January 18 at 11:15 am.
We want to see you in Edmonton!
Use the Coupon Code "ONE2020_COMPASSION" at check out when you register online at www.oneconferences.ca