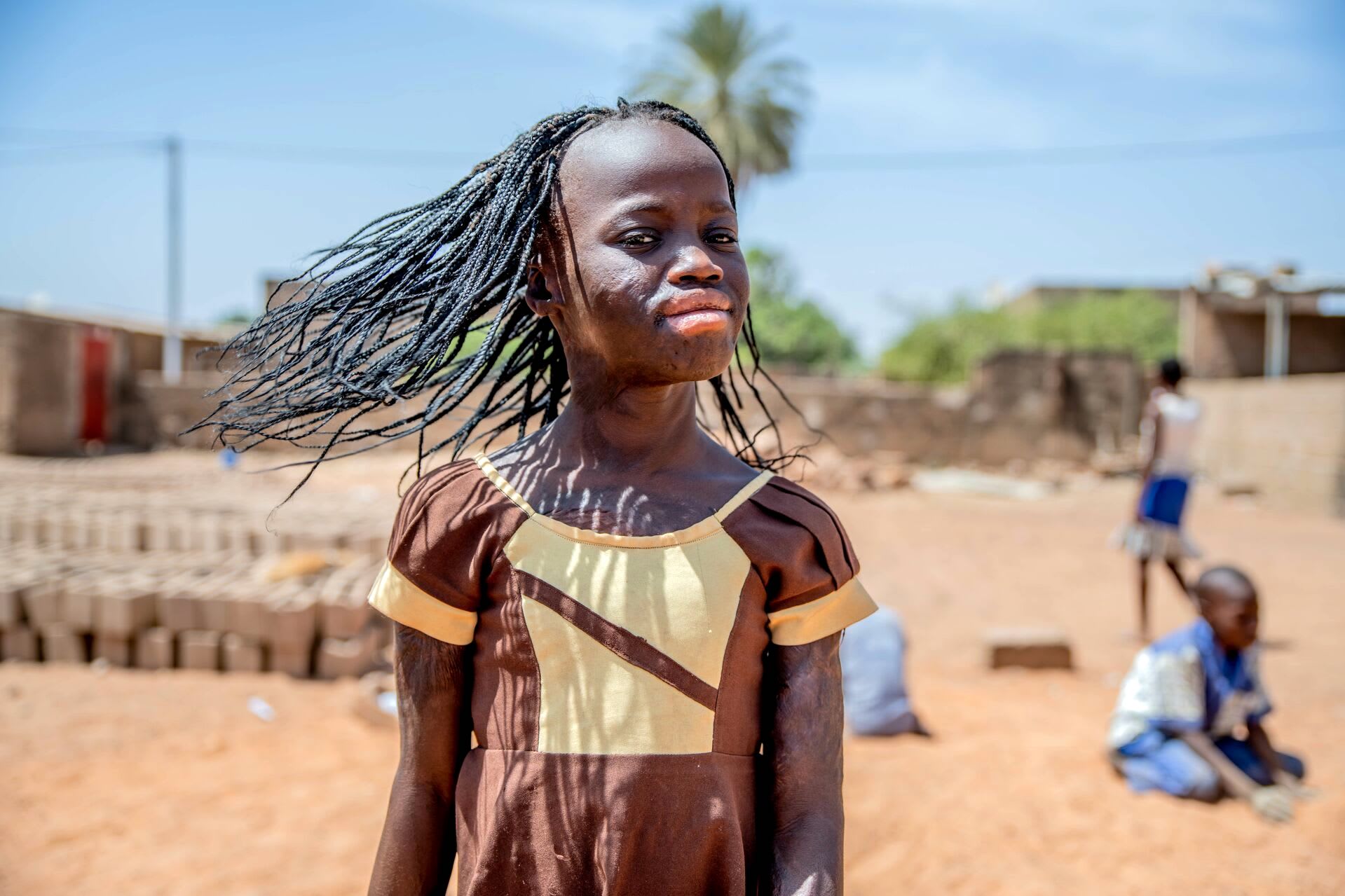 Warning: This story contains potentially disturbing details of a burn accident. We recommend that you read with discretion.
In 2015, while playing outside her family's home in Burkina Faso, six-year-old Rihanata tripped and fell onto the cooking stove. A pot of boiling sauce spilled onto her body. She was left with agonizing burns to her face, chest, arms and legs—80 per cent of her body.
"It was so very painful that I can hardly describe how I felt," brave young Rihanata says.
Her mother, Nematou, arrived home horrified at the sight of her severely injured daughter.
"I have never seen someone feel as bad as my daughter," she says. "I couldn't even hold her, because she had been burned on different parts of her body. It was hard for me to see my only daughter bleeding and screaming in pain. I started to weep, too."
The local health centre wasn't equipped to deal with Rihanata's injuries and sent her three and a half hours away to a hospital that could perform life-saving surgery. But Nematou quickly realized she wouldn't be able to afford the medical costs. Her family didn't have medical insurance and their limited finances wouldn't allow them to treat their precious little girl.
That's when Compassion's local church partner stepped in. With funds from generous donors around the world, Rihanata's local Compassion centre was able to cover all the costs of Rihanata's treatment, including her hospital expenses and medical care.
"Compassion saved the life of my Rihanata following this accident," says Nematou. A Compassion staff, Patrice, was also by the family's side throughout the whole experience, regularly travelling to the hospital to be with them.
Five years later
It's now been five years since the horrible accident and the life-saving surgery. And brave Rihanata is thriving. This month, she will celebrate her 11th birthday. Her scars are still visible, but they boast of her great bravery and resiliency. Thanks to the timely care she received, nothing can stop her.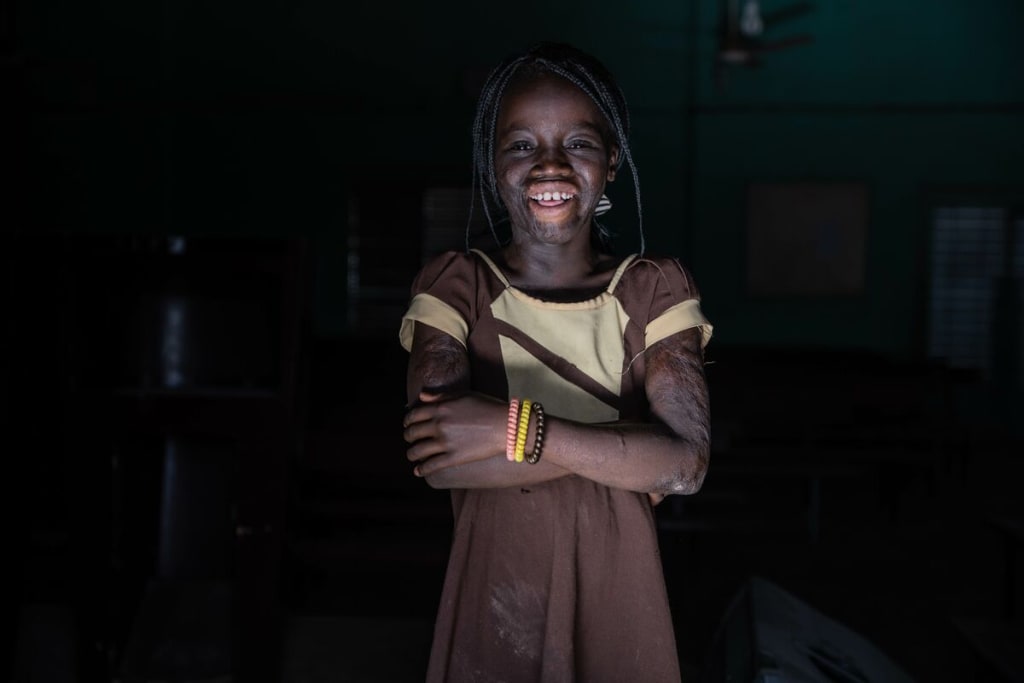 "I am doing very well. I feel no major pain due to the burns," Rihanata says. "Sometimes I get a scratch while playing with my friends or riding my bicycle and the teachers at the centre are very kind to me. They treat my wounds when I hurt myself."
The staff at her Compassion centre also continue to be pleased with her health reports, noting that her recent medical checkups at the centre reveal no serious health issues.
"Rihanata keeps on shining at the centre like a star in the sky at night to brighten the lives of many people around her."
They are even more pleased with the optimism and infectious joy she carries with her that is absolutely contagious. Before the pandemic, she loved spending time with her friends at the centre.
"I love to play jump rope and hopscotch with my best friends Jasmine and Jamila at the centre. It gives me joy and confidence knowing that I am loved and encouraged by the staff there. My teacher Patrice is my superhero because he is very kind to me," she says.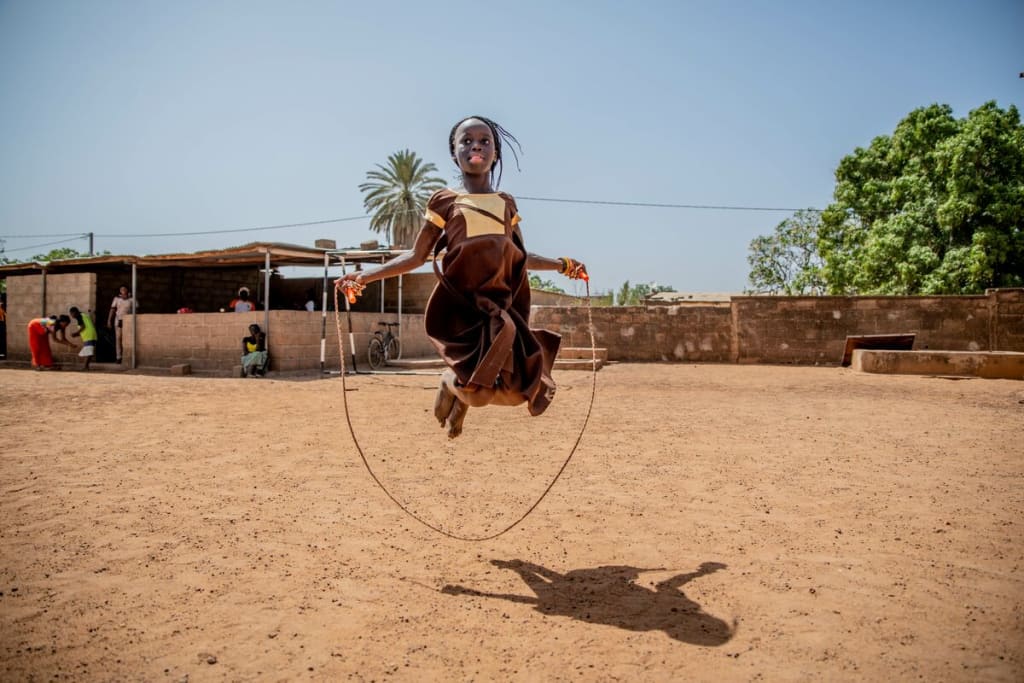 Though Rihanata's scars continue to remind her of that troubling time five years ago, her strong faith keeps her rooted and present in the graces of each day.
"Rihanata is a bright young girl who is friendly and obedient. She keeps on shining at the centre like a star in the sky at night to brighten the lives of many people around her," says Patrice.
With the rise of the pandemic, Rihanata's Compassion centre remains closed to abide by government measures. But though she misses her friends and the hours of fun they had together in the churchyard, her positive outlook keeps her looking to brighter days.
"I pray that this bad disease ends soon so I can resume the centre and school activities. I have received a bag of rice, cooking oil, toothpaste and a toothbrush from the centre. I also received a handwashing facility with soap to protect myself from the coronavirus. May God bless them," she says.
As schools slowly begin to reopen, Rihanata can't wait to be back in the classroom after six long months.
This brave girl is neither defeated nor destroyed by the devastating challenges she went through. Instead, she is hopeful and confident that her dreams will come true thanks to the support of the centre and her sponsor from the Netherlands. "When I grow up, I want to be a medical doctor to help children who are sick and wounded," she says.
Rihanata has turned over the page of the horrible accident by focusing on the bright future and plans that God has for her. And as she does, Compassion's church partner continues to work tirelessly to give children like Rihanata hope amid despair, joy amid sorrow and protection during uncertainty.
____
Rihanata received lifesaving surgery because of generous supporters like you. This Christmas, you can help another child like her receive life-changing surgery and get back to just being a kid.
Words by Laura Phillips and Jehojakim Sangare
Photos by Jehojakim Sangare