[6 minute read]
Amnivabol is a teenager from a Compassion centre in a remote town in the southern Philippines. She loves Jesus and is a youth leader at her centre. She and her friends live simply in their town— far from shopping malls and a strong internet connection, unlike many other kids their age. Their lives aren't much different than the typical teenager here in Canada. Amnivabol and her friends face the same pressures and temptations. But, they are seeing Jesus working powerfully in their lives. God is using their stories and struggles to bring others to Him.
And Amnivabol wants to tell you all about it herself.
Living life as teenagers, sometimes, it is like playing hide and seek: nobody really knows who we are or where we are. Often, we are misunderstood, but people should know that we are also trying to understand life.
I am Amnivabol, and I am writing this story about my squad, particularly my good friend, Hydee. We are all Compassion kids and we belong to Generation Z. I have seen my friend, Hydee, spend many of her days playing hide and seek with herself, with God, her family and people who were concerned about her.
Like most teenage girls our age, Hydee has many questions in life. She asks herself, "Why did I refuse God's Word? What was I thinking preferring being bad  than being good? Why did I play hide and seek with God?"
Hydee was registered at the Compassion centre at age six, and I remember that she was very shy and unsocial.
Then at 12, I saw her turn for the worse. She got hooked on smoking and alcohol, and not long after, her attitude started to change and she began to curse. She also learned to lie and disobey her parents. She became a free-spirit and did what she wanted. Her grades suffered. And she also left our squad at our student centre.
Generation Z, the entitled generation: that's what people are saying about us. Hydee abused her newfound "freedom" as a teen, until her parents finally demanded that she choose family and studies over her friends and vices.
Hydee became very confused because of that. It was then that she remembered she had real friends here at church. She came to our student centre class, and it so happened that on that day, I was assigned to deliver God's Word – me, Hydee's friend, also just a teenager, only my life was directed towards God and my freedom is based on God.
I asked Hydee and everyone present that day, including members of my squad, "Do you really have Christ as your Saviour? To those who haven't yet, when will you repent?"
Hydee raised her hand and began to cry. I was shocked but was very happy for my friend. The Lord spoke to Hydee and gave her hope, and she took her first unforgettable goal in life, which was to embrace God's love.
Today, Hydee is a changed young lady. She always goes with us to church now. She regularly prays to God. Indeed, plenty of individuals, including myself, witnessed Hydee's transformation. Her school grades picked up, her relationship with her parents was restored, and she is now serving the Lord with me at church and in our student centre.
I am happy to write this about my friend, because I saw how the Lord worked in her life.  She is an inspiration to all of us in our student centre. If Hydee was an object, she said she would be a mirror; broken in little pieces but restored and made whole again by God to reflect His beautiful creation.
What are Hydee's goals today?  She wants to be a police officer someday, to have a say in improving the community. Through her Compassion centre, she is a community leader with self-confidence, someone who knows how to interact with people. She encourages teenagers to make wise choices— sharing with them the dangers of drugs and social media addiction.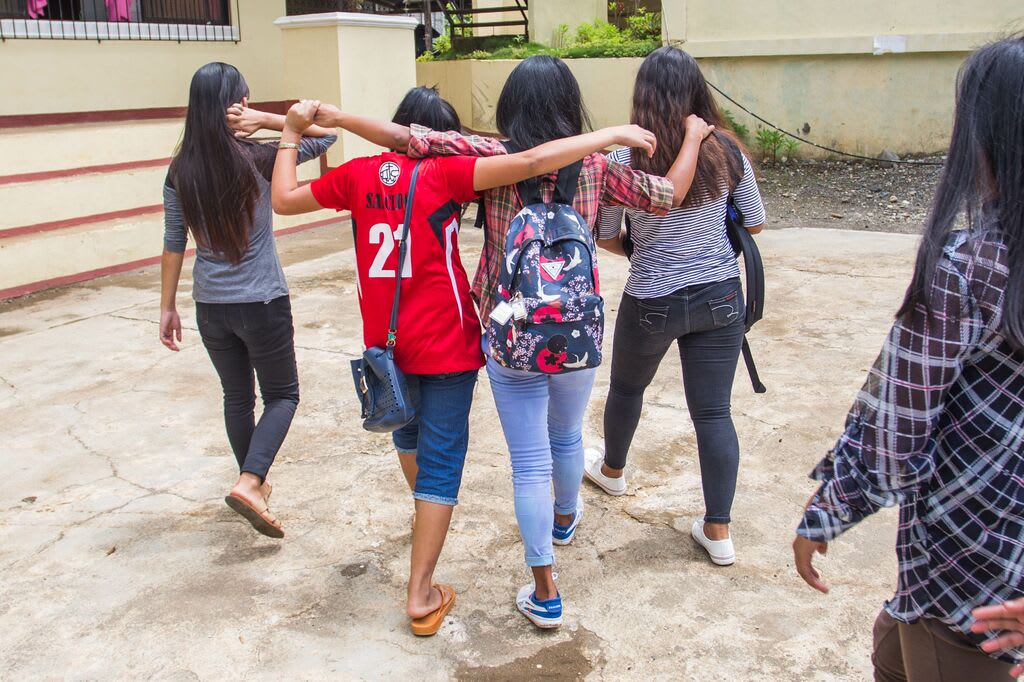 ____
God is working in incredible ways through the stories of teenagers all around the world. And as you just heard from Amnivabol, it's contagious! Help more teens know the saving love of Jesus today.
Written by Edwin Estioko and co-written by Amnivabol Sapalan