Each year, Canadians have the opportunity to give gifts that meet real needs of children and families living in poverty through Gifts of Compassion.
Whether you've been giving to Gifts of Compassion for years or this is your first time hearing about it, we're here to tell you everything you need to know about these unique gifts that make big impacts for children and families in need around the world. So buckle in and prepare to have your questions answered!
5 things you need to know about Gifts of Compassion…
1. Every gift in our gift guide meets a need identified by local church leaders in the communities where we work.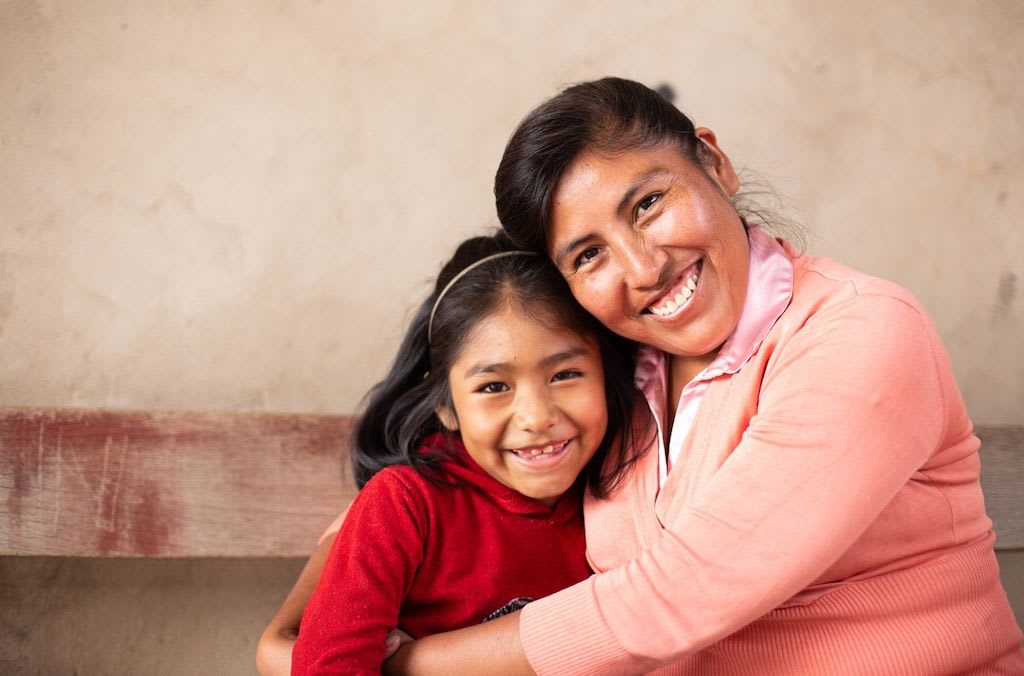 Meet Judyth. She is a Compassion centre director in Bolivia. Every gift in the Gifts of Compassion gift guide is there because a local leader like Judyth identified the need.
It's one of the things that makes Compassion unique: we partner with over 8,000 local churches in 27 countries to deliver our proven child development program to more than 2 million children and their families. Because our local church partners are already embedded in their communities, they have unique insight into the needs of their neighbours, which drives everything we do.
Anytime we dig a well, build a house, offer a scholarship or meet any other need, it's because a local church with close knowledge of their community has identified, initiated and taken ownership of the intervention.
This becomes even more important in times of crisis like the COVID-19 pandemic or the global food crisis. Because Compassion's local church partners were there before the crisis and will be there long after, they are prepared to respond both urgently and sustainably to the needs of their neighbours.
When you give to Gifts of Compassion, you can be confident that your gifts meet real needs.
2. Gifts of Compassion are designed to be gifts given in honour of the people in your life. We provide cards digitally to help explain the impact of your gifts.
Gifts of Compassion are meant to be just that—gifts! You can definitely give to Gifts of Compassion as a regular donation, but we think they're the most fun when you pass it on and give your gift in honour of someone in your life, whether for Christmas, their birthday, anniversary, graduation, just because or something else.
When you give in honour of someone, be sure to download a Gifts of Compassion card or use our new e-card feature so that you can share about the impact of your gift with your loved ones.
And don't be afraid to get creative! Pair your Gifts of Compassion with fun and personal gifts—like a houseplant to go with the gift of Vegetable Seeds or a new book to go with the gift of Textbooks. There's a Gift of Compassion for everyone in your life!
3. Gifts of Compassion are integral to Compassion's unique child development model.
Wait, you might be thinking, I thought Compassion was a child sponsorship organization. What do goats or washrooms or mosquito nets have to do with child poverty?
Great question. Compassion is a child development organization whose mission is to release children from poverty in Jesus' name. We do that by meeting the needs of children in every aspect of their lives—physical, mental, social-emotional and spiritual—through child sponsorship and by funding interventions that foster communities and spaces where children can thrive.
Child sponsorship, though incredibly effective, does not accomplish holistic child development on its own. The needs that are met through major gifts, one-time donations and Gifts of Compassion complement child sponsorship to help ensure that kids, families, churches and communities have everything they need to break cycles of poverty in Jesus' name.
READ MORE: Learn about Compassion's proven approach to ending child poverty.
4. We take your trust seriously. Financial integrity is a top priority at Compassion.
We don't take it lightly that our sponsors, donors and supporters choose to entrust their funds to Compassion. Faithful stewardship of the resources entrusted to us is a core value and something we take very seriously.
Compassion Canada is proud to be an Accredited Member of the Canadian Centre for Christian Charities. We are one of Charity Intelligence Canada's highest-rated charities and are also named by Maclean's and MoneySense as one of Canada's top charities.
Last year, 84.9 per cent of our funds went to program activities, while 15.1 per cent went to fundraising and administration. We are committed to ensuring that every dollar you invest in the fight against child poverty is used in the most effective way possible to have the biggest kingdom impact.
READ MORE: Learn about Compassion's finances.
5. Your gifts make a real impact.
We recently celebrated 10 years of Gifts of Compassion. Over these 10 years, the impact of your gifts has been immense.
These gifts aren't just photos on a website. They aren't just dollar amounts or inspiring cards you can pass on to friends and family. These gifts impact real stories, real lives and real communities:
The stories of mothers like Hanna in Ethiopia, whose family was starving before she receiving life-saving gifts as part of Compassion's Survival program at a local church.
Communities like the village in Indonesia that was transformed by the gift of safe washrooms.
Lives like Brian, Francis and Achille's, who received lifesaving surgery thanks to generous Compassion donors.
These aren't just words on a page. They are an invitation to be part of giving life-changing gifts to children and families living in poverty.
____
Ready to give a life-changing gift?