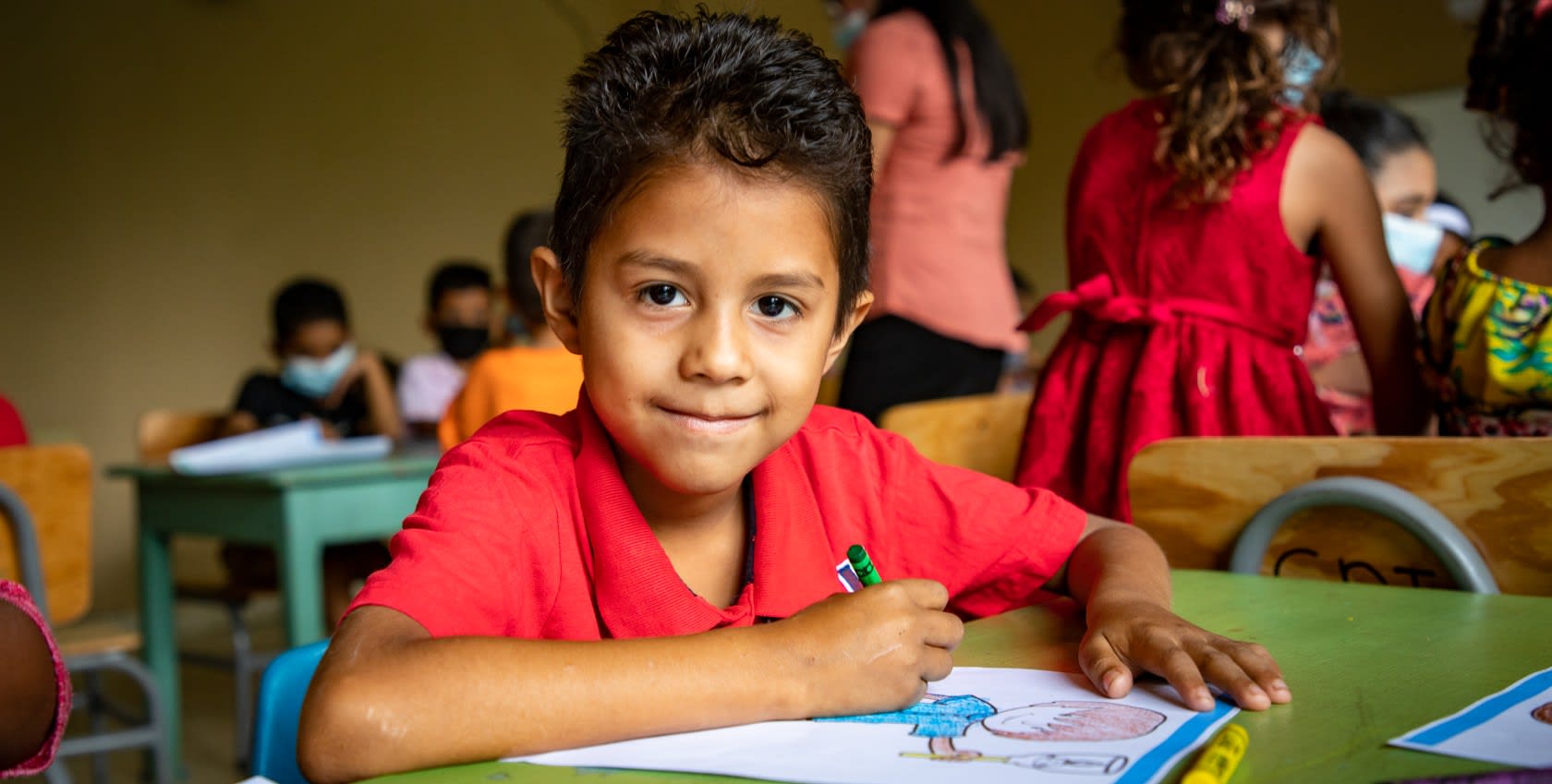 Funding required: $90,510
Beneficiaries: 501 children
Completion date: April 2024
Country: Honduras
Executive summary
The Evangelical Church Holiness is one of Compassion's church partners in Honduras. Located in Colonia Nueva Suyapa, the Compassion centre has had a strong impact on the local community it serves. However, the biggest challenge facing the HO0237 Child Development Centre is a lack of sufficient classrooms to accommodate all 501 registered children and youth. The current space is overcrowded with students, causing them to feel frustrated and unmotivated to attend program days when they can't focus—negatively affecting quality of education and compromising the children's integral development.
What makes it even more imperative to address the current infrastructure challenges is the church's recent launch of the Survival program. This fantastic program will support 15 impoverished moms throughout pregnancy and their babies' first year of life—but it requires specific infrastructure conditions to support the health, well-being and early development of these precious little ones. The Compassion centre urgently needs safe new classrooms to ensure the infants and mothers receive the necessary support to thrive during this sensitive season in their lives.
At every Compassion centre, it is vital for girls and boys to have safe, well-equipped classrooms to facilitate their learning and promote their cognitive, social, emotional and spiritual development. Compassion's local church partner in Honduras is ready to seek a creative and effective solution to this problem by constructing new classrooms. But they can't do it alone.
Your vital investment will help build three well-appointed classrooms to offer a more safe, comfortable and appropriate learning environment. Classrooms will be built according to quality and safety standards and will be outfitted with appropriate furniture, equipment and facilities to ensure an optimal learning environment for students. Each classroom will facilitate 25 students. The improved Compassion centre will be a place where the church can welcome more children and youth, where parents are proud to send their children and where both youth and kids are eager to come!
Summary
Did you know?
A whopping 60 per cent of the 10.2 million people in Honduras live in poverty. Inequality, violent crime, natural disasters and land degradation disproportionately affect families living in poverty.
Background
Since 2003, the HO0237 Compassion centre in Colonia Nueva Suyapa, Honduras, has been promoting the holistic development of children and youth in their community by providing health care, education and spiritual guidance to more than 500 beneficiaries and their families. But the lack of adequate facilities to accommodate so many growing boys and girls has been a growing concern for the church and community leaders.
Nueva Suyapa is a densely populated neighbourhood characterized by low-income households and limited access to basic services—leading to high levels of crime, overcrowding, substandard housing, poor sanitation and lack of potable water. But although low-income urban communities may not have ideal infrastructure, they are also places of resiliency and creativity, home to hard-working people fighting for a better future.
To address the growing need for expanded facilities, Compassion's frontline church partner hopes to undertake a construction project to add additional classrooms to provide much-needed space for program days and outreach activities to serve beneficiary families and the community. Building new infrastructure is an important step toward the church's goal of creating a brighter future for the children, youth and families of Nueva Suyapa. The new classrooms will enable Compassion staff to provide higher quality programming to all the precious children entrusted to their care, leading to more opportunities for growth and development as the boys and girls mature into the strong, hope-filled men and women God created them to be. But without additional investment, our church partner will continue to struggle to meet the growing needs of children and youth living in poverty.
The need
The Compassion centre in Colonia Nueva Suyapa, Honduras, has been a vital resource and safe haven for children and families living in extreme poverty. The growing need to offer Compassion programming to struggling families in the community has seen its registered beneficiaries grow to more than 500 boys and girls. It has also recently launched the Survival program for moms and babies. However, the local church partner simply cannot accommodate so many children in its current facilities. Sadly, the overcrowded and uncomfortable classrooms are leaving many children and youth frustrated and unmotivated to participate in the program.
Your gift will enrich the learning environment and expand growth opportunities for 501 boys and girls in Honduras by building new infrastructure to accommodate more fully equipped classrooms. Three new classrooms will allow for even more beneficiaries to join the program, while reducing classroom crowding and ensuring the local Compassion centre is a safe, fun and welcoming place for kids to come to experience Christ's love, good food, friendship and bright hope for the future. All classrooms will be accessible, meeting required quality and safety standards, and will be equipped with desks, chairs, blackboards and other educational aids for an optimal learning environment.
You can strengthen the capacity of this faithful church partner in Honduras to continue sharing Christ's love with vulnerable children so they can be released from poverty and experience lasting joy and freedom.
What your gift will do
Your gift will equip a local Compassion centre in Honduras with new classrooms to allow for greater capacity and higher quality education for all children and youth:
Land purchase and legal fees
Construction materials
Labour and supervision
Furniture: desks, chairs, blackboards, etc.
Logistics
Local contribution: US$18,329.94
Handling of funds: Compassion Honduras will work with the local church partner to assess the need, create a detailed action plan, design the classrooms and purchase building and classroom materials.
Follow-up: Following classroom construction and equipment installation, a final evaluation will be carried out to ensure the new classrooms are functioning properly and accommodate all the children for quality education, mentoring and holistic development.