Do you hear what I hear? The sights and sounds of Christmastime will soon be in the air, and we are ramping up for an exciting season of giving with Compassion's annual Christmas Gift Fund— a giving campaign that provides sponsors and supporters like you a tangible way to bless every sponsored child around the globe at Christmastime with a handpicked gift just for them!
Though gift-giving is just a small piece of the larger Christmas picture, we recognize that these gifts are not simply things for children in poverty. They are treasures, cherished and well-loved. They are acts of love themselves—allowing children in poverty to know that they are not forgotten or looked past—they are treasured, seen and loved.
Here are some amazing stories of children sharing their most treasured Christmas gift from you—our Compassion family—and the encouragement these gifts have brought to them!
____
 1. Jarwin gets a big toy truck.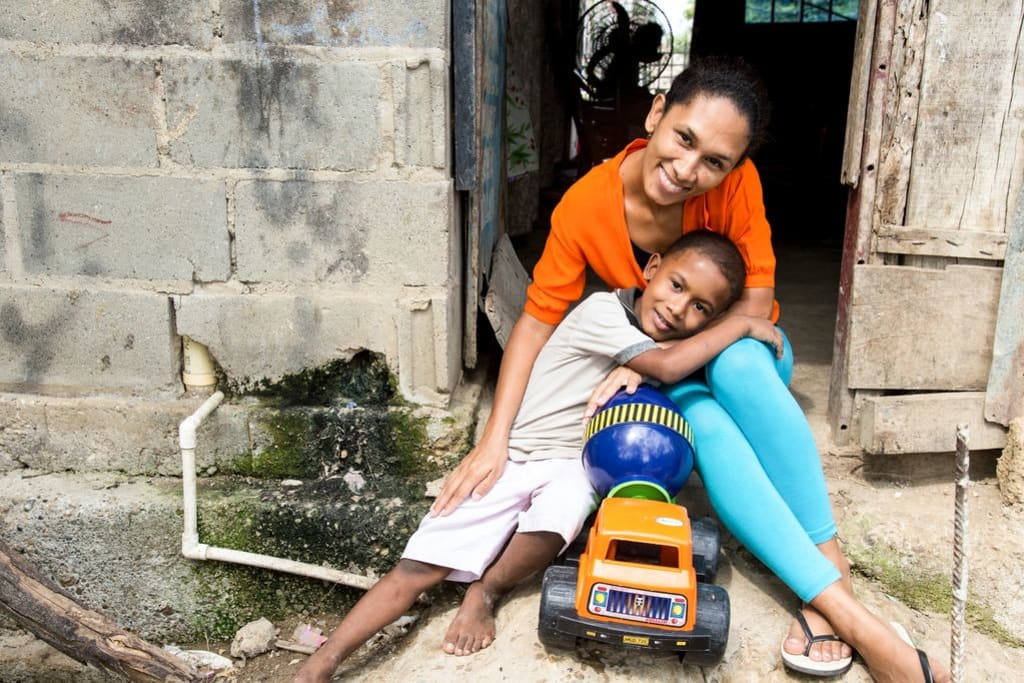 Jina from Colombia always wanted to buy her son, Jarwin, a toy car for Christmas—a gift that he had always dreamed of receiving. When the day of the Christmas celebration came at Jarwin's Compassion centre, Jina saw a large, wrapped gift delivered to her son. Without seeing what was inside, she thought, that is the car for my child.
To Jina's excitement, Jarwin unwrapped exactly the same car that he had wanted, but even bigger. Since then, he has experienced so much joy spending his free time playing with his car, combining water and soil to create his very own "concrete."
He also enjoys playing with his sisters, transporting their dolls in his car. After playing, Jarwin uses a piece of foam, some soap and water to wash his car, because as he says, "it gets dirty with the soil."
____
2. Absalat and Eyerusalem get brand new clothes.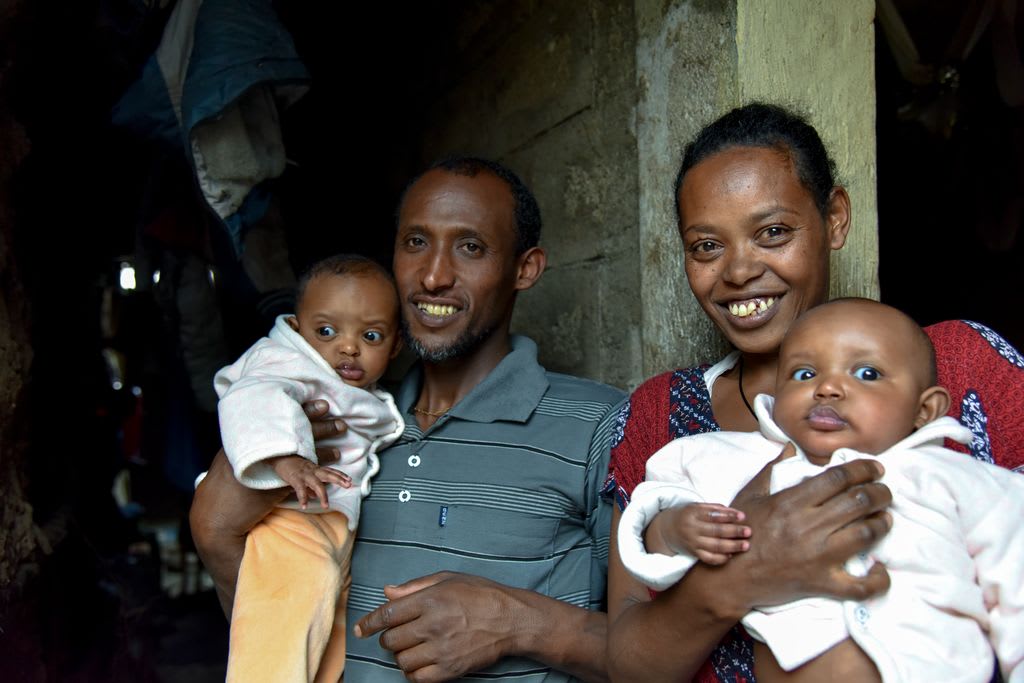 Tiruwork and Enyew welcomed their twin girls, Absalat and Eyersusalem, to the world six months ago. Through their parenthood transition, their Compassion Survival program staff were by their side, providing them with assistance and essential items for the twins.  For their first Christmas, the twins received a new set of clothes—a gift that came right as the girls were outgrowing their clothes.
"We didn't expect a Christmas gift at all," said Enyew. "They have done a lot for us. We are very grateful. I still make the same amount of money every month. It would have been next to impossible to do everything the program is doing for the twins with the income I get. When you have twins, every expense is multiplied by two. We are very grateful for everything including the Christmas gift that really increased our hope."
____
3. William gets some spiffy new shoes.
Eight-year-old William from Indonesia had his dream come true when he received his Christmas gift from the Compassion centre he attends. "I chose sport shoes because I only have school shoes, so when I want to go out with my friends, I just wear sandals while all of my friends wear shoes," William explained.
For William, this gift was able to lift his self-confidence, increase his dignity and provide him with acceptance among his peers.
"I love my green shoes. I don't feel unassured anymore when I hang out with my friends, because I can wear my shoes as my friends do," William said. William's mother, Veronika is also thankful for this thoughtful gift for her son.
"The Christmas gift from the centre really helped," Veronika says. "William got the shoes he wanted and I could spend some of my husband's income to buy new clothes for William's little brother. If I only relied on my husband's income, I don't think I could buy shoes for William because I need to pay house rent, electric and buy food. Before having the shoes, anytime he wanted to go to church or play badminton, he was always unwilling to go with friends because he was not confident wearing his sandals."
____
4. Karn gets a camouflage tent.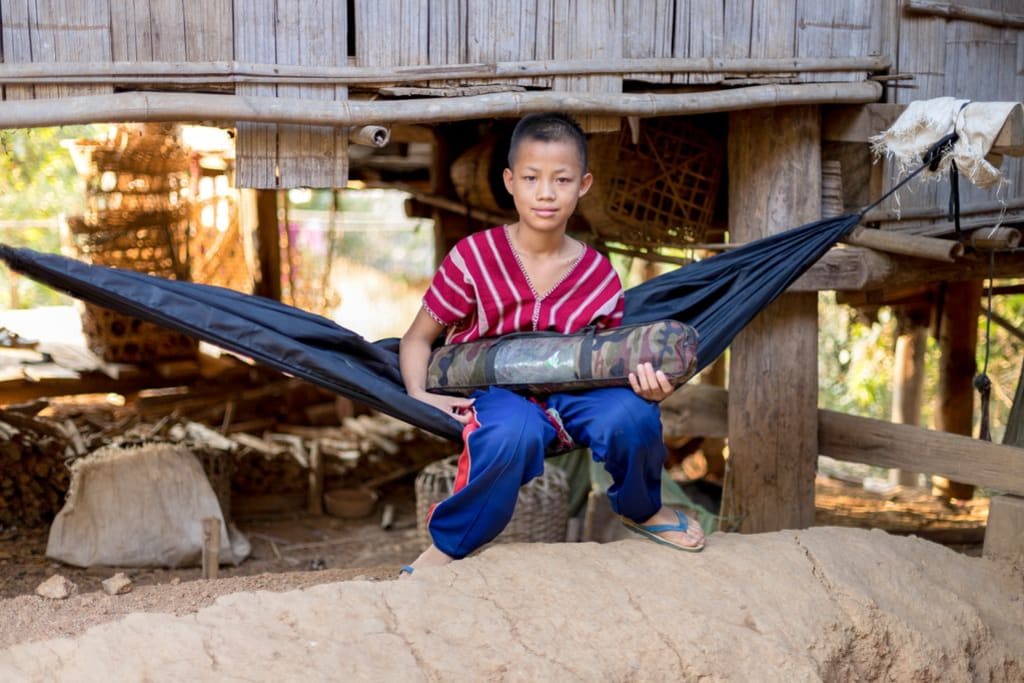 Karn from Thailand's tent was his very first Christmas present from his Compassion centre two years ago.
Since that day, his tent has been his prized of possession. He takes good care of it, keeping it clean and tidy in a tent bag. He uses his tent when he travels with his school for math and other academic contests at the district centre city called Mae Sarieng. He also uses his tent when he visits other villages during a Thai Christmas event called Sweet December.
____
5. Ana Luiza treasures her first baby doll.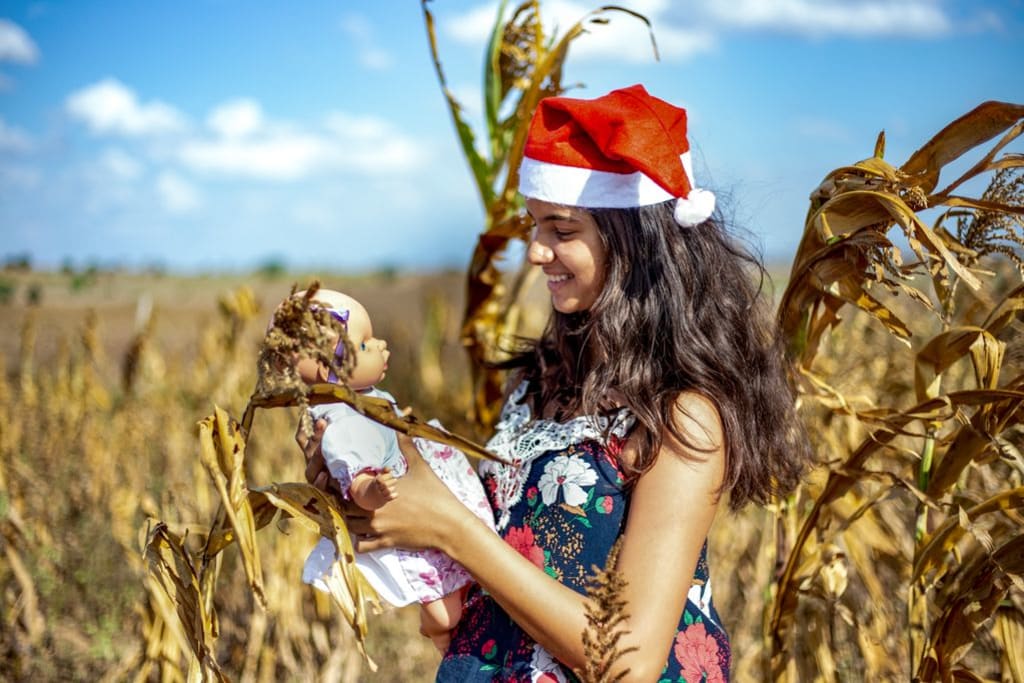 Thirteen-year-old Ana Luiza treasures the beautiful doll she received seven years ago. Although it was given to her long ago, she carefully keeps it in her bedroom, making it look as though it is brand new. For Ana Luiza, this doll represents so much more than a simple gift.
"I love this doll. I already received others gifts since then, but this one is special because it was my first doll. I have amazing memories of playing with her and my friends. I'll keep it with until I get older.  I'm deeply grateful. It's not just a present it's an act of love," says Ana Luiza.
____
6. Precious babies get interactive toy guitars.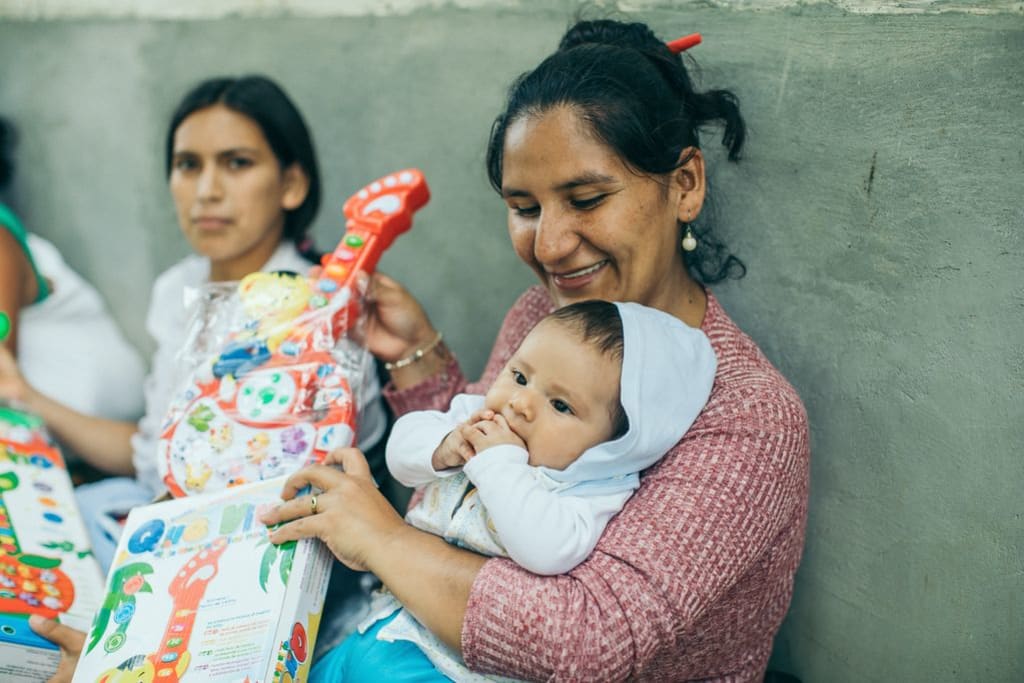 These moms in Peru received toy guitars to give to their babies! It might be easy to underestimate the importance of toys like these. Babies' brains develop at an incredibly fast rate in their earliest years, and cognitive stimulation is important in this key phase of life.
However, many babies living in extreme poverty don't have any toys at home, and sometimes don't receive the social interaction necessary to fully develop and bond with their parents. Not only did these babies receive the gift of a toy, but their moms are learning healthy ways to interact with their children to stimulate their growth.
____
You can make sure even more children receive opportunity, acceptance and joy through one simple gift.
Note: Gifts given through Compassion's Christmas Gift Fund can be chosen and distributed in a variety of ways, depending on the centre. In some Compassion centres, parents might receive gift money and then submit a receipt to the centre, or children might get vouchers to take to a store. Other times, the centre purchases the gifts for each child, knowing what they need or, kids get to choose from a few options, which the centre ultimately purchases. Based on the poverty of the area, gifts might vary as well. In some of the poorest areas, children might be gifted very practical gifts like food supplies. In areas of less abject poverty, children might receive gifts like toys and shoes.
Words by Laura Phillips; Field reporting and photos by Vera Aurima, Tigist Gizachew, Ryan Johnson, Lina Marcela Alarcón Molina, Sara Navarro and Piyamary Shinoda