At Compassion, we are passionate about holistic child development. This means we don't simply respond to poverty by handing out food or Bibles. Instead, we seek to develop children in all the different aspects of their lives while equipping local churches to share the love of Jesus with them and to journey with them through the long haul. Meet Annet and her triplets, and see how Compassion has walked with them through the highs and lows of their past nine years.
How it started:
From the time they were born nine years ago, triplets Samuel, Grace and Patience's lives were threatened.  
After unexpectedly giving birth at home to her baby, Samuel, Annet was rushed to the hospital on a motorcycle to the nearest clinic. While cutting Samuel's umbilical cord, the nurse shared some shocking news with Annet: she had another baby to deliver!  
The nurse advised her to visit the main hospital, where she did her first-ever pregnancy scan. More life-changing news awaited her. 
"There is not one, but two babies still to be born!" shared the shocked ultrasound technician. Little Grace and Patience were born the following day. Annet was a mother of triplets! 
When the news reached her husband, he was baffled. In their Ugandan community, triplets were considered a curse. Together with his family, Annet's husband rejected her and the triplets. Annet was abandoned to raise her newborn triplets, along with her older child, completely alone. 
Building a new and safe home
When the staff at the local Compassion centre heard about Annet's tragic situation, they reached out to help. They met the family's every need—from warm baby clothes and food for Annet to emotional and spiritual support.  
Though the staff supported the triplets, their father wanted to take their life due to his belief that they were a curse. Annet and her triplets lived in danger and fear, but the staff put in place strong security measures to protect her. This included moving her to a different village. In fact, with the help of Compassion supporters across the world, a new home was built for Annet's family in a secure location where the local leaders could keep watch over them. Threats against the triplets ceased. 
 "The church has brought me far. I didn't have hope of raising these children to where they are now. If I was alone, I am not sure they would have grown. Because of Compassion, we are all alive," says Annet. 
 How it's going:
Over the years, Compassion has continued to support Annet and her children. Through birthdays, sicknesses and even a global pandemic, Annet has felt held and carried through the highs and lows of single motherhood.  
Now, it's almost their ninth birthday. Because of the loving community that has surrounded them over the years, the triplets continue to thrive. They are growing into their own people with different strengths and personalities. 
Samuel: The Determined
"[Samuel] now freely interacts and takes on leadership roles. He is the one who represents his peers when something happens among the peers or when they need something," says Janet, the director at the triplet's Compassion centre, who has supported the children through the years. 
Samuel is becoming more aware of the world. He understands that hard work and development is essential to becoming the very best he can be. 
"In the first term, Samuel was the 17th, Patience the 4th and Grace the 11th in class. When they went to the centre, Patience was given gifts for being among the best five, so Samuel said, 'You beat me this time, but next time, I'll win.' Samuel worked very hard. He became the first for the second and third terms consecutively. I am filled with joy when they start the competition. Now Grace also says she wants to work hard," says Annet. 
Grace: The Benevolent
While Grace has studied hard and improved her grades, too, she is also a sweet-natured girl who melts the hearts of adults around her. 
"When it's centre day, Grace comes and knocks on my office door. She says, 'I've come to greet you.' If she doesn't see me, she looks for me. She is good at telling stories, so this gives me a chance to know a lot about how she is doing. She is a smart girl," says Janet. 
At home, Grace is concerned about helping her mother with housework.  
"When she sees me busy outside doing work, she gets a basin and says, 'Mama, I am going to mop.' She helps a lot with the housework. She is friendly at home, and even at school, she is friendly to the teachers," says Annet. 
Patience: The Gentle
Patience has a reserved and gentle spirit, loving being in the presence of others. 
"She moves with Grace most of the time. When Grace knocks at my door, Patience will stay outside until I call her in," says Janet. 
Patience loves to be around babies and little children. She freely interacts with her peers. She's also helpful and loves to help her mother with chores. Patience is the community's darling because she is so easy to be with. 
A triple ripple effect in the community
Since moving into their community of Bumirambako village in Busia, Uganda, Samuel, Grace and Patience have blessed the people of the neighbourhood with their joyful presence. When the triplets received a new home, seven other families in need also received a home from the same fundraising. Since then, community members have seen the development of the village, including local leader, Ben. 
"The church built houses for the triplets and other people who were renting and hopeless; I was so happy. There was development in my village," Ben says. "I started telling the people rebelling against the gospel that they need Christ to change their lives. Land was given from me to the pastor so that he can plant a church near us and change this community." 
Ben's sacrifice paid off as he witnessed the development of people's lives for the better. Some villagers stopped abusing alcohol, while others began working instead of being idle. Some people are now in the business of bricklaying, and others are farming and growing their own food. 
An update on the family's development
Though Annet and her family have seen many blessings in their lives, every day still comes with challenges—especially as the global food crisis continues to impact Uganda and the development of the children in it.  
Farming this season has not been very profitable. The weather all over the country has been inconsistent. It rains when it should shine and shines when it should rain. Because of this, food production is fickle, and there is a scarcity of food. Prices are high, leaving some families with one meal a day or even no food at all. 
Annet's family has not been spared from this reality, but even so, God has made a way. 
"We usually buy cassava flour for food. One kilogram of cassava flour used to be 1,000 shillings, but now it is 2,300. When I get money, I can't save because, with all the money I get, I must buy food for the children," says Annet. 
Working towards sustainable solutions
Making ends meet for Annet has been challenging. While her crops haven't grown as well as expected, her business of making bags has also suffered as people focus on meeting their most essential needs. 
"People no longer come to buy the bags I make these days because money is scarce. I can sell one bag in a month, and people buy the small ones. Before, I used to sell three or four bags in a month, but now everyone is spending their money on food," says Annet. 
To help Annet and her family get through this difficult time, the Compassion centre continues to provide them with food, including maize flour, beans and fish. The sustainable plan for Annet has been making and selling rice balls at the triplets' school. She also persists in planting and hopes the seasons change. 
Full of hope, despite it all
While it is a challenging season of the food crisis, Annet is hopeful for the future.  
"The sorrow I had in the past is now gone! My children are studying well. Their performance is so good, and this gives me confidence. At home, every child has a dream; because they have these dreams, they work hard," says Annet.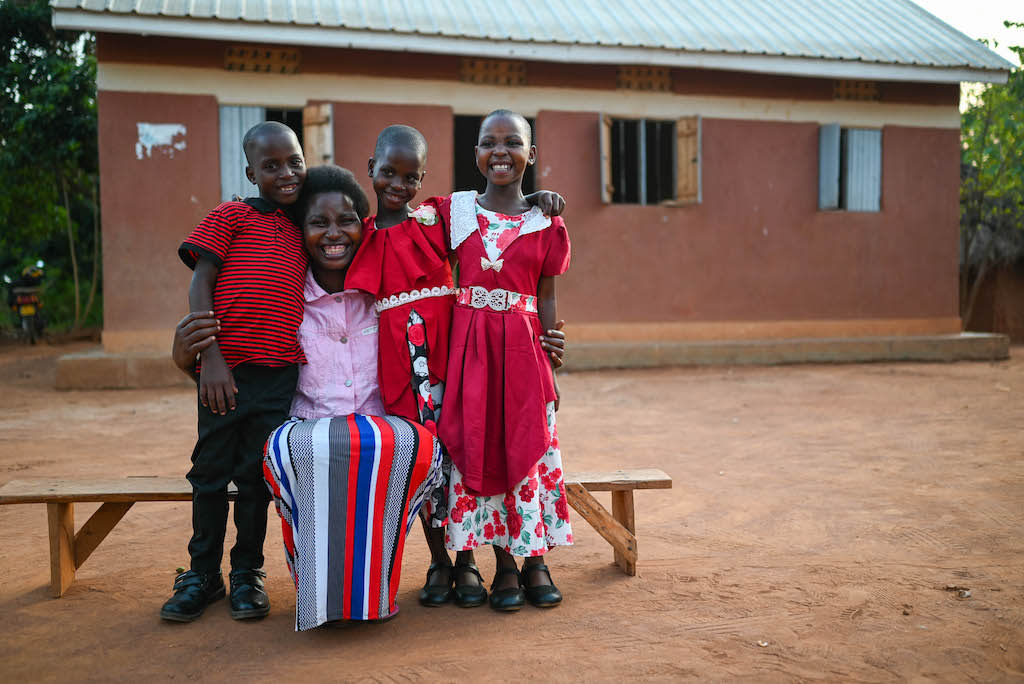 Samuel dreams of being a pilot, Grace a policewoman and Patience a doctor. Annet hopes these dreams will come to pass because she has support from Compassion and the local church, who are unrelenting in their support for the family.  
"I was here the first day the triplets joined the program. We did not have hope for those children and didn't think they would grow!" says Pastor Godfrey from Businywa Church of God. "Now I see hope; I see the future." 
 Here are a few ways you can pray for Annet and her children as they continue to grow up in their Compassion community: 
Please continue to pray for Samuel, Grace and Patience. Pray for their continued development— that they would grow in good health and security and receive opportunities to pursue their dreams.

 

Pray for Annet as she seeks to provide for her children; pray for her crops and her bag-making business. 

 

Pray for all the farmers and those struggling in the drought. Pray for rain so that crops may grow and the food shortages may ease.  

 
____ 
Child development is love in the long term. 
Want to know more about child development at Compassion? Learn more about how one of our main ways of journeying with families works—child sponsorship! 
Words by Laura Phillips and Caroline A. Mwinemwesigwa
Photos by Caroline A. Mwinemwesigwa