Our new Bible reading plan, If only you knew: an Easter devotional, was written just for you, and is now available on the YouVersion Bible App.
Written by the team of Compassion Canada writers Alyssa Esparaz, Andrew Kooman, Elizabeth St. John, Rayo Adegoke and Rebekah Malbrecht, this 6-day devotional walks through the events of Holy Week by examining the ways Jesus experienced them—holistically. Reading Isaiah 53 alongside the events of the Easter weekend reminds us of how Jesus gave Himself fully so we can live an abundant life in every way.
How do you find it? 
You can access the devotional on desktop or mobile by going to this link.
Or, you can find it directly in the App by searching for "If only you knew: an Easter devotional". Just look for this image in the Bible App: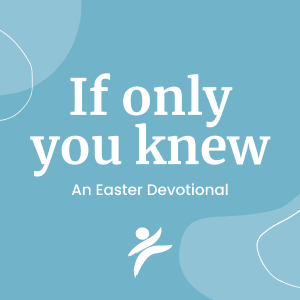 Plan description: Look at the events of Easter with fresh eyes and discover how Jesus experienced them in every way. Journey through the Last Supper, the events of Good Friday, the holy waiting of Saturday to Resurrection Sunday, exploring the social, physical, emotional and spiritual aspects of what Jesus did for us. If only we knew just how fully He gave Himself for us…
____
Check out all Compassion Canada devotionals currently available on the YouVersion Bible App!