When Wess Stafford announced that he would be retiring from his 20 years as Compassion International's President and CEO, we knew we had some big shoes to fill. Wess has humbly guided the international organization with wisdom and grace and has become like a father to many of its staff.
But over the past year, the entire Compassion global family has seen God moving in this transition, and today, we at Compassion Canada are hugely blessed to announce that Compassion International's new president and CEO is Santiago (Jim) Mellado.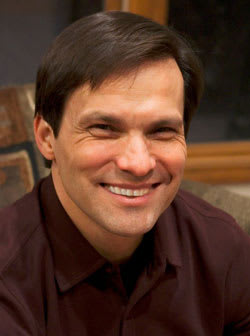 There are so many ways in which this new season in Compassion's history is clearly orchestrated by God.
Jim has a heart for the local church, as he has served for the past 20 years as the president and CEO of the Willow Creek Association. During that time, he has been dedicated to inspiring and equipping local church leaders in more than 90 countries to redeem and restore our world for Christ—something so near and dear to our heart at Compassion.
Jim also comes with an international background and a heart for children in poverty. A son of Hispanic American parents, Jim was born in El Salvador where his father worked as an engineer. Because of his father's work, he lived in various countries, from Nicaragua to Bolivia to the Philippines. He grew up in churches just like those that Compassion now partners with around the world and has always had a heart of mercy for those he grew up around who had less than his family.
Jim has a diverse background, having a degree in mechanical engineering and a graduate degree from Harvard Business School. He also is an accomplished athlete—having competed in the 1988 Olympic Games in South Korea as a decathlete.
Jim knows that God has been using his diverse background to prepare him for this very time.
"As I look back on my life experiences, I can see how God has been leading, stirring and preparing me for this role," he said.
At the presentation of Jim as Compassion International's new president and CEO, we had the honour of also hosting Amman Beeftu, a young man who is one of our "ambassadors to the future." Amman has the weighty responsibility of asking our president at our centennial anniversary in 2052 the question, "Is our ministry still all about Jesus?" Today, the answer is a resounding yes.
Besides all Jim's experience and wisdom, he is a man who loves God and will keep Jesus at the centre of our ministry.
Compassion Canada's president and CEO, Barry Slauenwhite, couldn't be happier with the news. "I am thrilled with God's selection for the new CEO of Compassion International," he says. "Jim Mellado is a gifted leader, but more importantly, he is a man of God and we know that Compassion will remain Christ-centred under his leadership."
As a member of the Compassion global alliance, Compassion Canada partners with Compassion International, headquartered in Colorado Springs, Colorado, and Compassion offices around the globe to  connect individual sponsors with children in need around the world.
Please join us in praising God for His leading in this new season of Compassion's ministry, and pray for the Mellado family in the coming months, as the official leadership transition takes place in September.