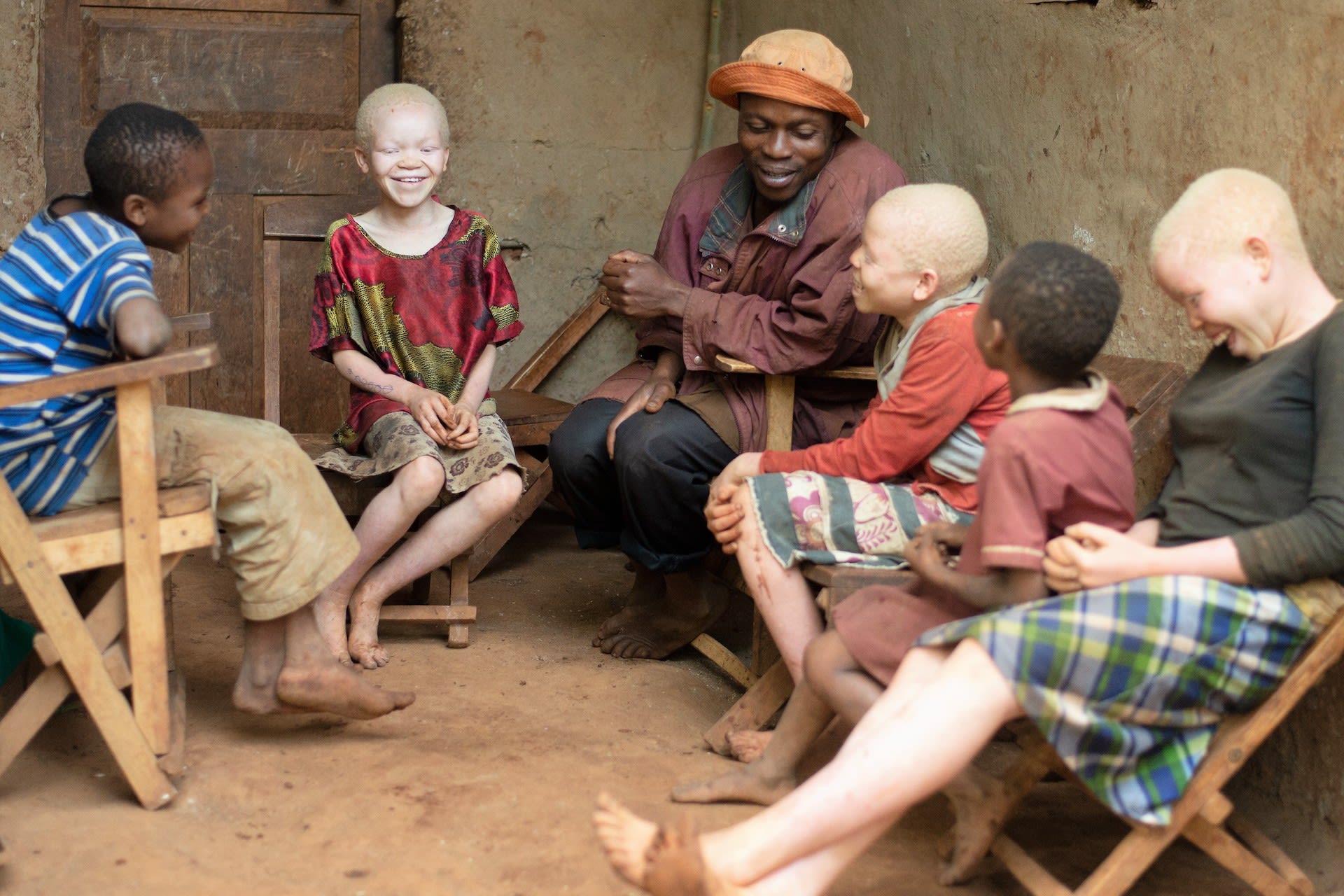 Meet playful Selinah, deep thinker Grace and science whiz Yona—three young people with dreams and determination who also have albinism.
Albinism is rare genetic condition that reduces the amount of melanin formed in the skin, hair and eyes, and can create serious health and social challenges. Yet this trio hopes you will see how they are so much more than the condition they were born with.
To highlight International Albinism Awareness Day on June 13, here are five things Selinah, Grace and Yona want you to know.
____
1. We are not defined by our medical condition.
To those who know Selinah, Grace and Yona, their albinism is just another fact about them—and certainly not the most important one.
In Uganda, 10-year-old Selinah is like any other child. She loves chasing her younger brother and laughing with her sisters. She jumps rope, plays house and is expected to help out with the family's chores. To her siblings and her friends at her Compassion centre, she's just one of the group.
Across the border in Tanzania, Yona is a keen science student who dreams of becoming a chemical engineer. His hard work and determination in senior school saw him graduate among the top of his class. "I fell in love with science subjects. My plans are still the same: to study up to university level and become a chemical engineer," he says.
In Tanzania's capital, Grace loves to sing and has a passion for justice. After graduating from Compassion's program in 2018, she is studying theology at university. One of the biggest challenges she faced as a teenager was not related to albinism at all, but peer pressure—something confronted by youth all over the world. She tackled it the same way she deals with every challenge: with steadiness and optimism.
____
2. Stigma hurts, but we are standing strong.
Despite progress, young people with albinism still face discrimination. The condition is misunderstood, which leads to stigma. Common myths say those with albinism have lower intellect and red eyes. In some cultures, superstitions brand people with albinism as ghosts who possess superpowers or bring bad luck. Yona has received taunts, while Grace and Selinah were rejected by family members as babies.
"My fellow students and people nicknamed me 'Mzungu', meaning 'white man'," says Yona. "It was a bit hard for me to accept such kind of comments or jokes, but now I am used to them and their jokes are slowly diminishing as they see my determination and what I have been able to achieve."
Grace remembers shrugging off cruel comments as a young child but says, for the most part, she felt accepted by her community. Sadly, her father walked out on the family shortly after she was born. He said Grace couldn't be his child because no one in his clan had been born with albinism before.
In Selinah's family, three of the five children have albinism. They, too, experienced stigma from extended family members.
"It looked strange to have a child with albinism. We have never had albinism before in the clan," says her single father, Peter. "The clan mistreated us because of the children's appearance. It caused a disagreement between me and clan members and I had to cut them off."
Stigma hurts, but Selinah, Grace and Yona stand strong in the face of it, surrounded by loving family members and caring Compassion staff.
____
3. Myths and superstition are dangerous.
In some communities around the world, the stigma and superstition can be life-threatening. In the early to late 2000s, a wave of ritual killings and amputations of people with albinism—especially children—spread in Tanzania. 'Traditional healers' sold good luck charms made from the bones and blood of people with albinism. The horrific practice was widely condemned and the government took strong action but the terror—and danger—still linger today.
"Witch doctors look for albinos for their rituals. I am so frightened, so I am alert and monitor my children's movements," says Peter. "When they killed albinos in Tanzania, we were so scared and wanted to shift and live near a police station, because witch doctors could break into our house and take the children."
Closer to home, neighbours also played cruel pranks on his children, deliberately offering them food they were allergic to so their skin would react in painful sores.
In recent years, the Tanzanian government has launched awareness campaigns about albinism, banning witch doctors to help stop the attacks. On the ground, child advocacy organizations like Compassion continue to work with individual children like Selinah, Grace and Yona to ensure they are known, loved, and protected from dangers like these.
____
4. We face medical complications.
The impact of albinism goes beyond skin, hair and eye colour. The condition causes vision problems that are not correctable with glasses. Many children with albinism have low vision and are classified as legally blind. Due to a lack of pigment in their eyes, bright light is incredibly uncomfortable.
The lack of skin pigment also makes people with albinism more susceptible to sunburn and skin cancers. In rural farming communities, their fair skin can put them at a disadvantage, as they may be unable to work outside.
"I faced sunburn because of my skin, especially during hot seasons, and my sight in the sun is much disturbed. With the support of a cap and sunglasses for these extreme situations, I did not give up," says Yona.
Poverty can make it difficult for families like Grace's to afford the skincare and sun protection their children require. Her Compassion centre provided her with extra support so she could get the lotion and glasses she needs.
____
5. One person can make all the difference.
Selinah has a loving immediate family, and her father is her champion. He has taught her that each day is an opportunity to embrace life. The family does this wholeheartedly, talking, laughing and enjoying each other's company. "Those children are like my siblings," says the proud father. "They are closest to me more than any other."
From the moment baby Grace was placed into her mother's arms, Flora loved her fiercely. She found the same dedication to her daughter's wellbeing in Grace's tutor, Florencia, at her Compassion centre.
When Grace began attending school, Florencia spoke to the teachers to ensure she received the support she needed, like sitting in the front row so she can follow the lesson with her low vision. "I would not have been able to reach where I have reached if it had not been for Compassion's support," says Grace. "May God richly bless you."
Being registered in Compassion's Child Sponsorship Program when he was five years old introduced Yona to a community of people outside of his family who loved and accepted him just as he is. Since then, Yona has had the support of an encouraging sponsor who spoke words of life over him.
"My sponsor has stood by me from the beginning. He has been sending encouraging words about the future and my dream," says Yona. "He lets me know that he's praying for me. His support is invaluable."
____
June 13 is International Albinism Awareness Day.
As we've all learned in recent weeks in light of the heightened attention on anti-Black racism in North America, education and understanding are the first steps towards breaking discrimination and injustice—such as the stigma that Selinah, Grace, Yona and thousands of others with albinism face each day. Let's celebrate their courage and achievements as they stand strong in the face of adversity and pave the way together for empathy and acceptance.
Thank you for sharing your experience with us, Selinah, Grace and Yona!
Words by Zoe Noakes
Photos and field reporting by Caroline A. Mwinemwesigwa (Uganda) and Charles Ngowi (Tanzania)