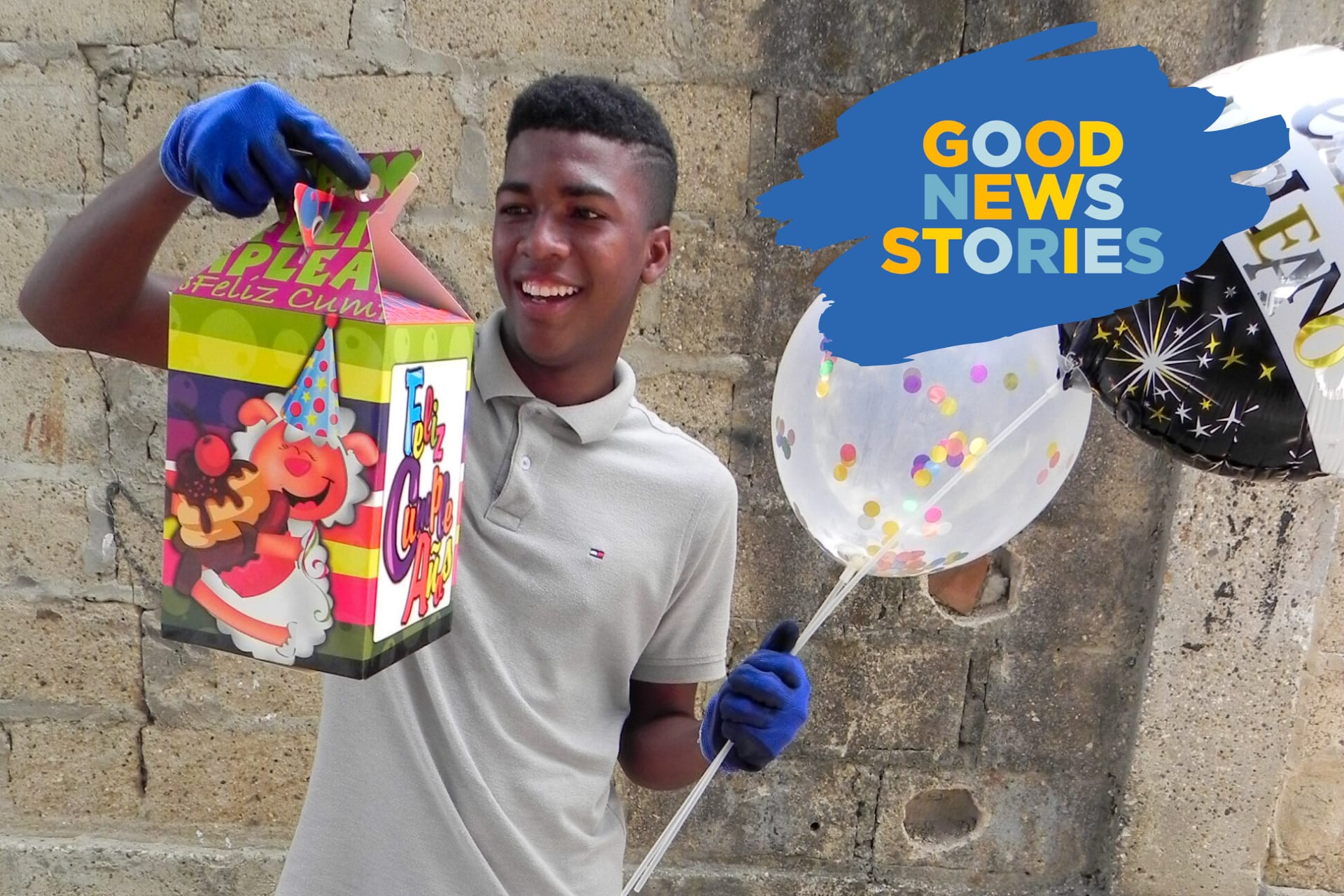 Since the government declared a mandatory quarantine in Colombia, Compassion's local church partners have been working tirelessly to face the effects of the pandemic and support families through it.
Providing food for children and their families is one of the biggest concerns during COVID-19. Many parents have been forced to cease their income-generating activities, most of them informal jobs like street selling, which has plunged many families into tough financial situations.
Compassion centres throughout Colombia immediately identified and prioritized the most vulnerable children and delivered groceries to their families. The government allows religious organizations who are working with vulnerable people an exception to the quarantine measures so they can continue to purchase and deliver food and monitor child protection cases.
Compassion staff across the country are being innovative and creative, staying attentive to the most pressing needs and working hard to ensure the children in Compassion's program continue to be loved, known and protected.
Existing crisis before crisis: Supporting migrant families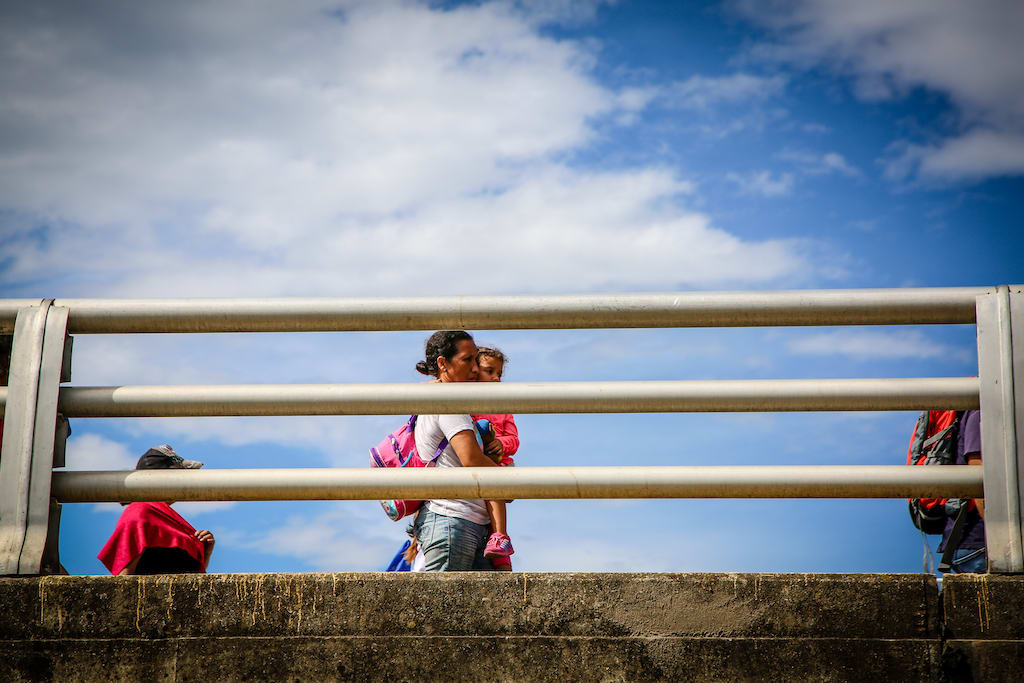 The Venezuelan migrant crisis in the border city of Cúcuta, Colombia captured the attention of Compassion supporters late last year during our Giving Tuesday campaign.
Of course, the needs of these migrant families have not gone away in the midst of the pandemic. In fact, they've only increased.
The Vasquez family's story
There are 15 people living in the Vasquez family's home: Gladys, Jonny and their six children, as well as Gladys' mother, siblings and nephews. They are Venezuelan migrants living in Cúcuta. Their situation was desperate before, but when Jonny was suddenly unable to go out to earn a living due to the pandemic, the family's situation worsened.
Yuderky Alvarez, the director of the Compassion centre at Los Olivos church in Cúcuta, received a phone call from one of the Vasquez's neighbours, warning her that the family was about to be evicted. Yuderky took immediate action.
"We contacted the house's owner and paid the month of rent they owed and one more month. Then, I called Gladys to tell her that we wanted to bless her with some food, and we met at the grocery store."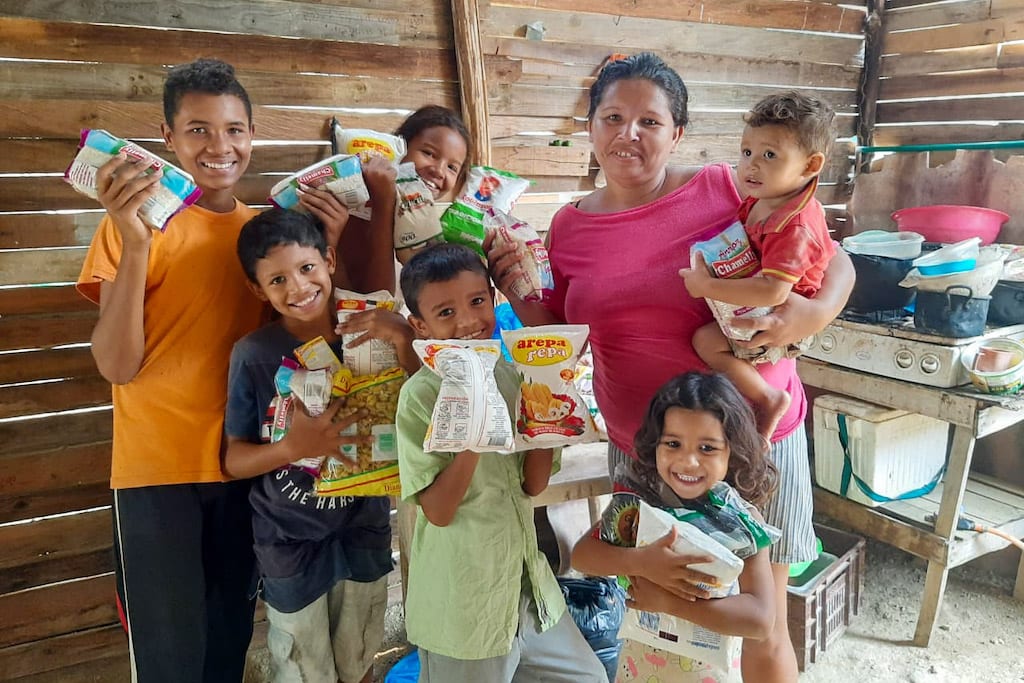 The family was overwhelmed—relieved to have food to eat and the ability to sleep well, knowing they were no longer at risk of being homeless.
"Many Venezuelan children and families are alone here in the country. As a church and Compassion centre, we are a light amid the many difficulties they experience. Thank God and Compassion for allowing us to be part of the great blessing that means we can help the neediest," Yuderky says.
Quarantine birthdays
For Compassion staff around the world, celebrating children's birthdays is an important part of ensuring children are known, loved and protected. Many parents cannot afford to buy a gift or prepare a special party, so Compassion staff always strive to give children the best celebration and as much fun as possible.
Of course, people around the world are now familiar with how things as simple and beloved as birthday celebrations have changed because of COVID-19. Yet Cristina, a Compassion program specialist in Cartagena, Colombia, is determined as ever to celebrate the children at her centre.
"I know how important it is for a child to feel loved during their birthday. Considering that we were not able to prepare a celebration, I thought about delivering a gift to each child who has their birthday during the quarantine," Cristina says.
Wearing all the necessary protective equipment, Cristina brought birthday balloons, a piece of cake and a special gift to each child's home.
"I also wrote a card for each child. I included Bible promises for them and words of encouragement," she says. "Everyone was really surprised about my visit. I was happy seeing their astonishment and the big smiles on their faces. Some of them cried, others shouted out, some just smiled. But all of them were full of joy."
Staying encouraged
As we enter the third month of this global pandemic, discouragement and fatigue may be setting in. Children like Daniel are turning to scripture for encouragement.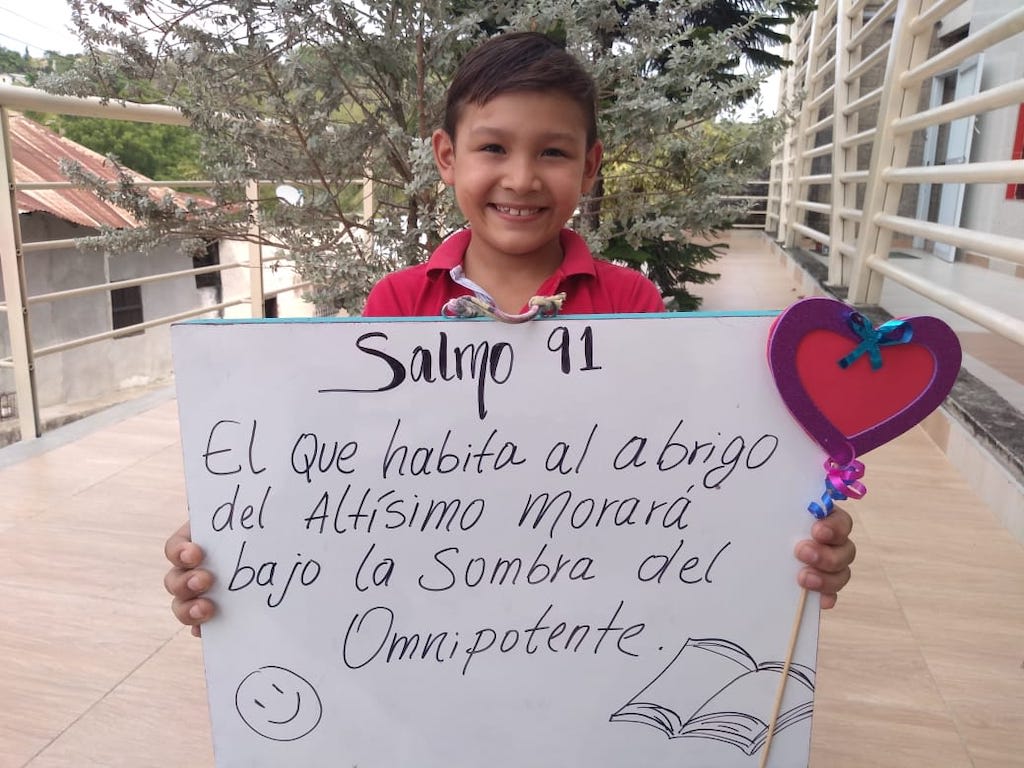 "Whoever dwells in the shelter of the Most High
will rest in the shadow of the Almighty."
– Psalms 91:1
And Compassion staff like Yuderky are turning to thankfulness and prayer.
"I want to thank God for the sponsors and donors' lives. Even though they do not know the children, God put in their hearts the desire to help them. As a church, we always pray for the sponsors and we pray that the Lord will keep them safe in this pandemic."
Be encouraged! God continues to work through his Church—in Colombia, in Canada and around the world—to bring hope and help to those who need it most during this pandemic.
Here are some prayer requests from our Compassion Colombia team:
Pray that the Lord will keep the children safe from abuse during the pandemic, as many live in crowded houses with extended family members.
Pray that God will help church partners provide for children's needs during this hard time.
____
For our most up-to-date information on COVID-19, please visit our updates page.
You can help families affected by COVID-19 through our disaster relief fund.
By Lina Marcela Alarcón Molina and Alyssa Esparaz