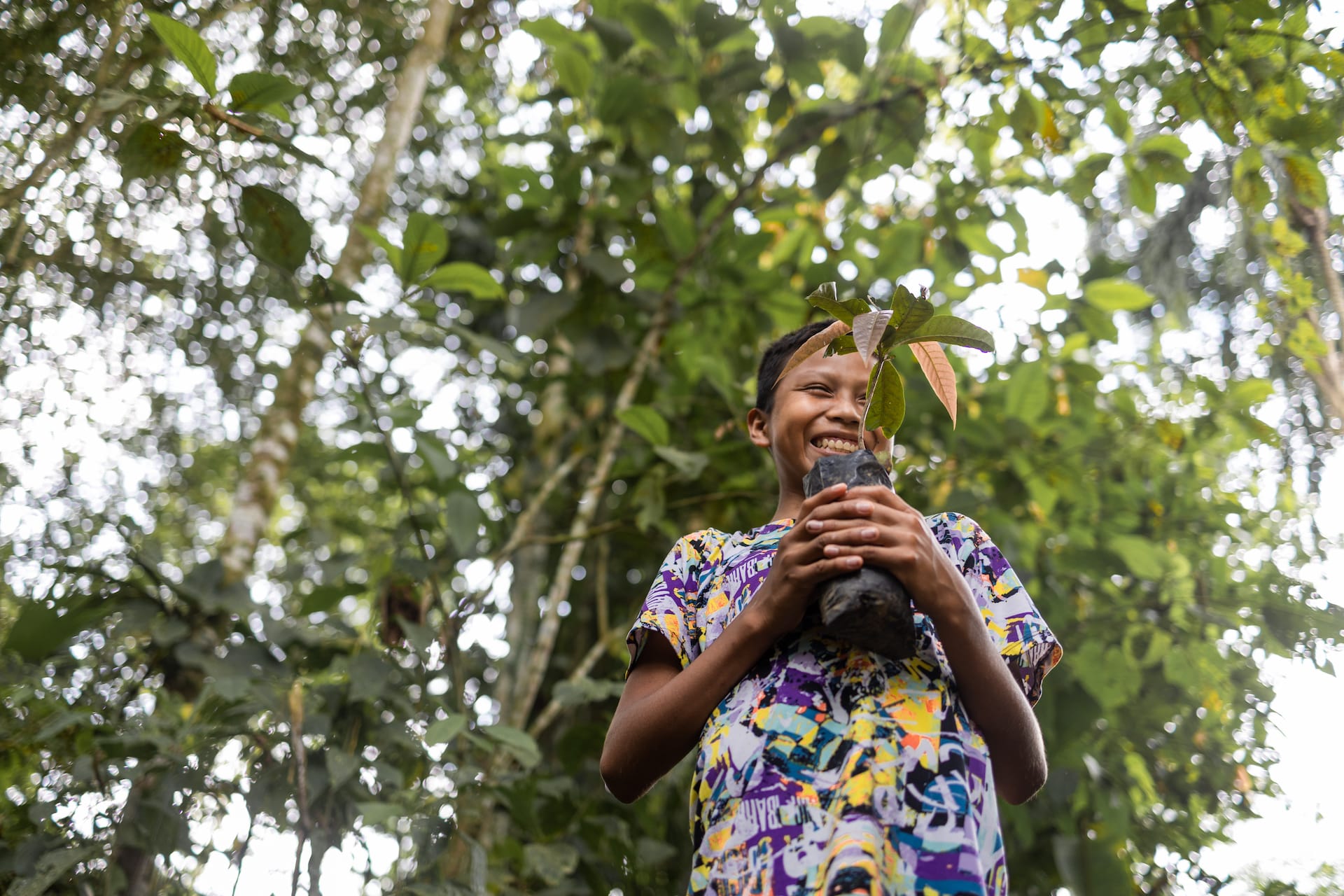 Why should we care for creation? What is our role in environmental stewardship? What does concern for the environment have to do with the fight against poverty?
For children, families and communities experiencing poverty, creation care isn't just a set of intellectual questions. For them, the impact of environmental degradation is an everyday lived reality that they can't ignore. We know that people living in poverty are disproportionately vulnerable to environmental impacts.
But for many people around the world, creation care isn't only about survival. It's also about stewardship, community and honouring God.
MORE: Our friends at Compassion UK are spending this week leading a conversation about what our role as Jesus followers is in caring for the environment. Follow along with us!
Today, we want to introduce you to three inspiring groups that are taking tangible action to care for creation in their local communities. We hope as you read their stories, you are inspired to take action yourself!
____
Gildo and "The Green Squad"
Combatting deforestation in the Amazon rainforest, Ecuador
The problem: Deforestation in the Amazon rainforest
In the indigenous community of the Quichua people where Gildo is a Compassion centre director in Ecuador, oil companies and machinery have devastated the environment.
In recent years, deforestation in the Amazon rainforest have reached all-time highs, threatening the ecological balance and natural habitat of thousands of animals and plant species as well as the livelihood of local communities.
According to National Geographic, in the last 50 years, deforestation has increased to levels never seen before in the history of humanity, destroying 15 per cent of the world's vegetation surface— equivalent to the territory of Spain, Portugal, and France.
"The rainforest provides water and food for us to survive. Without the jungle, the planet would collapse," Gildo says.
The action: Planting native trees and raising awareness
Once a month, Gildo runs a small reforestation and tree planting project in the jungle. Together, they plant native trees and learn about environmental awareness and protection.
"We plant trees and plants because we don't want our home, the jungle, to be destroyed," says 12-year-old Martin.
MORE: Watch and share our Instagram Reel about these inspiring kids!
"The jungle is life, and we have to respect it," says 12-year-old Waira.
The group has already planted more than 300 trees in just a few months. Their environmental approach also includes cleaning the river and preventing it from being filled with plastic and waste.
The "why": "I learned to love the nature that Jesus gave us."
"When I was a kid in church, I learned about everything God created. I learned to love the nature that Jesus gave us, and I also learned to take care of it," Gildo says.
Now, as a leader in his community, Gildo wants to encourage children to be active in social issues and community development.
"Together, we can take care of what God gave us. That's why we plant trees," says Martin. "We can all be heroes and save the planet."
"Caring for the jungle and the planet is everyone's responsibility," says Gildo. "Together, we can save God's creation."
____
Grace and Kareen
Protecting the coast in Nasipit, Philippines
The problem: Coastal mangrove loss and vulnerability to typhoons
A mangrove is a shrub or tree that grows in coastal areas. Mangroves play a vital role in protecting coastlines by decreasing the risk of flooding and erosion during storm events.
The Philippines is the most exposed country in the world to tropical storms. In coastal communities such as 13-year-old Kareen's home of Nasipit, mangroves are vital, protecting vulnerable homes from flooding and ensuring sustainability for families who rely on fishing for their livelihoods.
Yet despite the benefits they provide and the ease of growing them, mangroves continue to dwindle at alarming rates all over the country.
Kareen's father is a fisherman, and having been raised in this community, she knows how the coastline looks without flourishing mangroves. "The beach was full of trash and there were no plants to see," she says. "It was just barren. There were also no fish around."
The two leading reasons for mangrove loss in the Philippines, according to the Philippines' Department of Environment and Natural Resources (DENR), are the lack of education among locals and the conversion of land to other uses, such as aquaculture and development.
The action: Planting mangroves
The local Compassion centre that Kareen attends, Day by Day Christian Ministries, has worked closely with the DENR to promote the care of the environment and protect marine life along the beaches of Nasipit and its neighbouring municipalities.
In fact, the centre's staff and students were among the first groups of people to answer DENR's call to plant mangroves in the area.
WATCH: Kareen explains the importance of mangroves
"At first, I joined planting the mangroves because it was just part of our activities at the centre, but now I understand why this is important to us and to nature," Kareen shares.
She is a budding leader at her centre. She hopes to be a teacher someday so that she can educate children about many things, including the proper care of the environment.
Fisherfolks, including Kareen's parents, are grateful for the mangroves. They say that marine life has again become abundant, resulting in better catches and better income. As a bonus, they now have an additional source of livelihood—the growing and selling of mangroves, with incentives coming from the government.
The "why": "An act of worship"
The area around Nasipit is now protected land, as mandated by the DENR. Grace, the centre director at Day by Day Christian Ministries, regularly coordinates with local officials to better understand how the church and Compassion-sponsored youth can take part in preserving the mangroves and caring for God's creation.
Grace says restoring nature's beauty is important, even beyond helping the local children and families to thrive. For her, it's a powerful way to express her faith in God the Creator.
"Creation care is actually an act of worship," she says. "When we take care of nature, we are honouring our God, who is the Maker of everything around us—and He is pleased."
____
Benson, Jimson and Gilbert
Planting trees and revitalizing agriculture in Matioli, Kenya
The problem: Soil degradation and decreasing crop yields
When Benson became the director of Matioli Child Development Centre, he set out to address a growing problem in the community.
The community in Matioli was mostly made up of subsistence farmers, but the practice was struggling. Young people were becoming disconnected from their environment. As they saw their parents and older generations straining and struggling to reap a good harvest, they began to turn away from farming.
Years of subsistence farming, monocultures and tree clearing around Matioli had left the soil degraded. Crop yields were decreasing. Families were struggling for food. Children were increasingly hungry.
"I was concerned with soil erosion since poor soils lead to poor yield and poor nutrition," Benson says.
Matioli receives heavy rain since it borders Kakamega forest. As more trees are cut down, the soil is left unprotected. The heavy rain washes away a lot of the fertile topsoil, leading to poor harvests. And poor harvests lead to families struggling to feed themselves.
To help his students get enough to eat, Benson knew he had to address the problem at its root cause.
The action: Agricultural training and tree planting
Benson started a program to encourage agricultural practice among the youth. Part of the agricultural training involved teaching his young students about the benefits of planting trees.
Among the youth who took part in the training was 18-year-old Jimson. He heard Benson's message about the importance of trees and recognized the truth of it from his own experience.
"I heard what the teacher was saying, especially about trees, and I connected with it," says Jimson. "My parents' crops had struggled due to soil erosion."
Jimson began to actively encourage other youths to plant trees together. They would support and visit each other's home to plant trees. "Our parents had also been told of the importance of planting trees and the church encouraged them to allow us plants trees at home," says Jimson.
So far, Jimson has planted 300 trees at home.
In 2019, Compassion Kenya, as part of its 40th anniversary celebrations, started an initiative to plant one million trees countrywide, and encouraged church partners to plant trees in the communities they served.
Matioli Child Development Centre planted a total of 53,076 trees in the fields and yards of Matioli—and Benson has planted 3,000 trees himself!
The "why": "A mandate to manage God's creation"
Benson prays that the seeds he is planting will help children to grow up knowing it's important to take care of their environment. Thankfully, it's already evident that his lessons and example are making an impression on the Compassion-sponsored children and youth in his community.
"In Genesis 1:26, God commands man to take care of all creation. He values His creation, and he intended that we take good care of it," says 10-year-old Gilbert.
"We have a mandate to manage God's creation in a better way," Benson says.
MORE: Watch and share this Instagram Reel from Gilbert.
____
Compassion's holistic child development model empowers kids and youth to care for the environment because we know how important environmental stewardship is in our mission to release children from poverty in Jesus' name.
Take action: Sponsor a child today.
Photography and field reporting by Nico Benalcazar (Ecuador), Edwin Estioko (Philippines) and Kevin Ouma (Kenya)