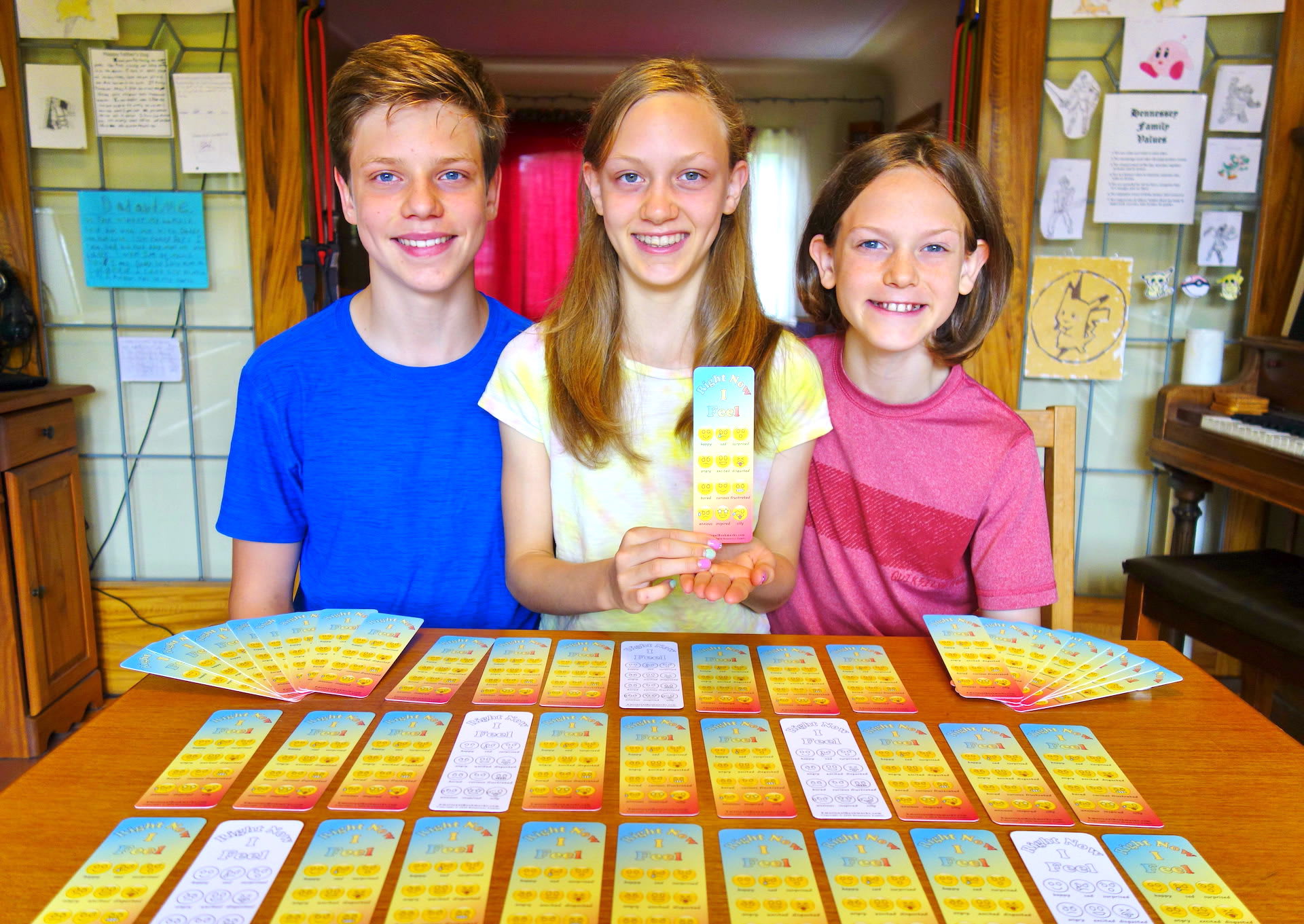 What do you get when you mix a few creative kids who love reading, love others and are stuck at home during a pandemic?
An innovative family business that gives back!
For Elias, 14, Eowyn, 12, and Aerial, 11, from Vancouver, B.C., creativity has always been in their bones. In fact, it's in their DNA. Their dad, Eric Hennessey, is an entrepreneur who runs multiple businesses in a way that allows him optimum time to spend on his true passion: travelling with his three beautiful kids.
Over the years, the imaginative trio has put their creativity into action through small businesses.
From lemonade and cookie stands, door-to-door pie selling and housekeeping services, to busking, dog walking and babysitting, these siblings have always found a way to turn their passions into profit.
During the pandemic, the creative siblings felt the weight of activity and school cancellations, as well as their inability to run their normal businesses because of social distancing. In an attempt to beat the boredom one day in May, Eowyn sat down with her Lord of the Rings book and opened it up to the page carefully marked by a special bookmark she had made years ago.
The top of the bookmark read, "How This Book Makes Me Feel," in bold and bright colours. Below sat an array of hand-drawn emojis—some sad, some excited, some in tears. Beside each face were the words of emotions that matched the face.
Seeing the bookmark in Eowyn's hand, an idea dawned on Eric. Could this be their next family business?
 I caught up with these inspiring siblings to hear more about what came of Eowyn's bookmark idea, and learn about its amazing connection to Compassion's COVID-19 relief fund!
____
Q: You're a family who loves to read! What is each of your favourite book?
Aerial: My favourite book is Percy Jackson and the Lightning Thief because I like books where people have superpowers and Rick Riordan is a really good writer. I also like the plot of his stories.
Eowyn: Half Upon a Time by James Riley because of the mystery aspect.
Elias: Master of the Phantom Isle by Brandon Mull because it has a unique plot!
Q: Tell me a bit about the creation of your product, "The Emotional Bookmark". Where did the idea come from?
I [Eowyn] like to craft, and my friends and I were making bookmarks for fun a few years ago. I wanted to make one that helped me identify how I was feeling since my parents always encouraged us to label our emotions. During the pandemic, my dad saw me reading with it and thought it was a cool idea and something that might help other kids, especially during this stressful time.
Q: Who played what role in the process of making the bookmark?
Besides creating the concept, I [Eowyn] chose the colours and fonts and now I help mail them. My sister Aerial was our consultant. She gave ideas and made sure everything was as good as possible. My brother Elias sketched the emotions of the faces and is doing a lot of the marketing like sending e-mails to schools.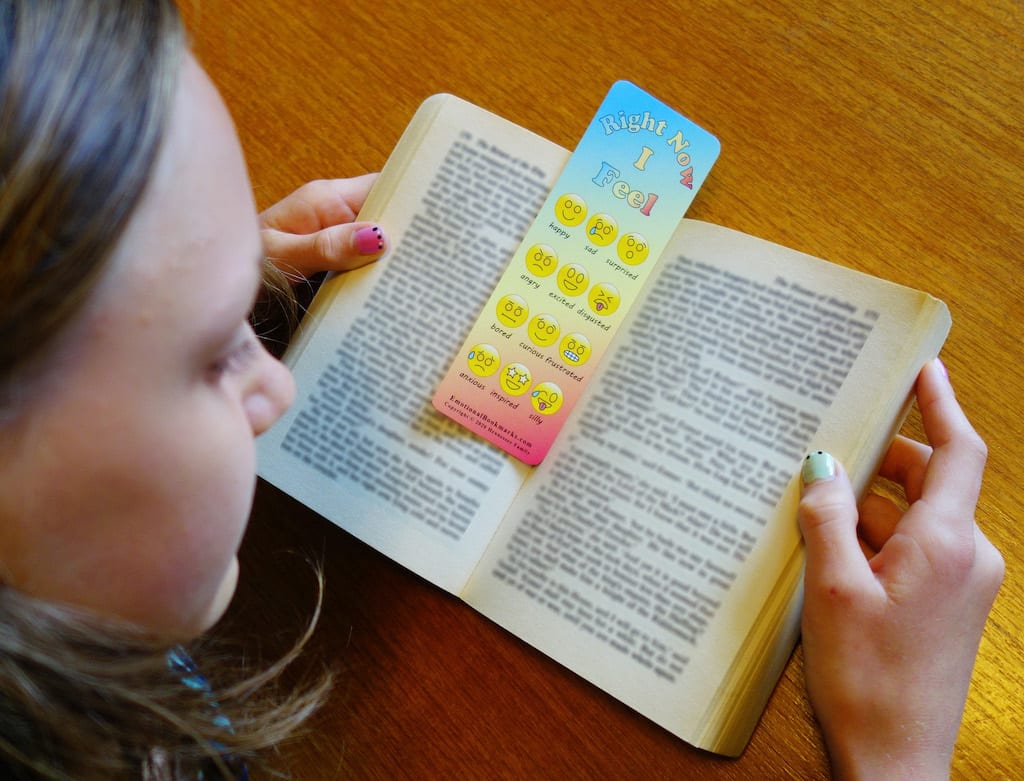 Q: Why do you think other kids might benefit from your product?
Our bookmark helps kids reflect on their emotions when they glance at the bookmark while they are reading. They can think about how they're feeling about what they're reading, and how they feel about life. A lot of parents are buying the bookmark to help their young kids have more words to describe how they're feeling.
Q: Your bookmark gives a portion of sales back to charities like Compassion and Kids Help Phone. What made you decide to give part of your proceeds away?
We're very lucky to live in Canada and have income and resources and sharing is one of our family values. If people buy a bookmark, that's a gift to us, and so we want to give our own gifts to show our appreciation. We know the pandemic has been hard on everyone, but some kids don't have proper protection and resources to stay safe and we want everyone to be healthy and safe. We are glad that Compassion Canada will use the money we give to help the most vulnerable children around the world.
Q: Tell me a bit more about your connection to Compassion.
We don't remember how we first heard about Compassion because we've just always been involved with donations and sponsoring children and writing to them. Right now, we are sponsoring a young girl from Peru named Yaritza and we're about to sign up to sponsor another child.
You can support the Hennessey's in their new business venture by purchasing a bookmark today! Visit their website to find out more.
____
Do you and your family have a skill or hobby you'd like to use for a creative venture that gives back? Our Volunteer Network would love to connect with you!