If you've ever travelled abroad, you may have had this experience… a joyful reaction when you share with someone that you are Canadian. There is a reason why you are welcomed with smiles and good-natured greetings, even if the only thing they know about you is your nationality. Canadians are known to be polite, thoughtful and generous.
Here at Compassion Canada, we know this to be true. Our supporters are deeply generous and have always shown profound kindness and compassion to the most vulnerable in our world. Time and time again we hear your stories—the stories of Canadians who have chosen to release kids from poverty in Jesus' name in heartwarming ways.
We are proud to partner with compassionate Canadians like you. And like baseball-loving Geo, backstage superstar Maiya, or farm-family Jodi and her three children, Gemma, Nolan and Joelle. Today we'd love to share their stories with you as a reminder of how compassion comes alive in Canadians from school age to retiring, from baseball diamonds to farmlands to concert halls, from coast to coast and everything in between.
Stories like these show the diverse ways Canadians show compassion. And they remind us that when compassionate Canadians get behind a common mission, we can release children from poverty in Jesus' name.
____
Jodi's Family: Compassionately gifting animals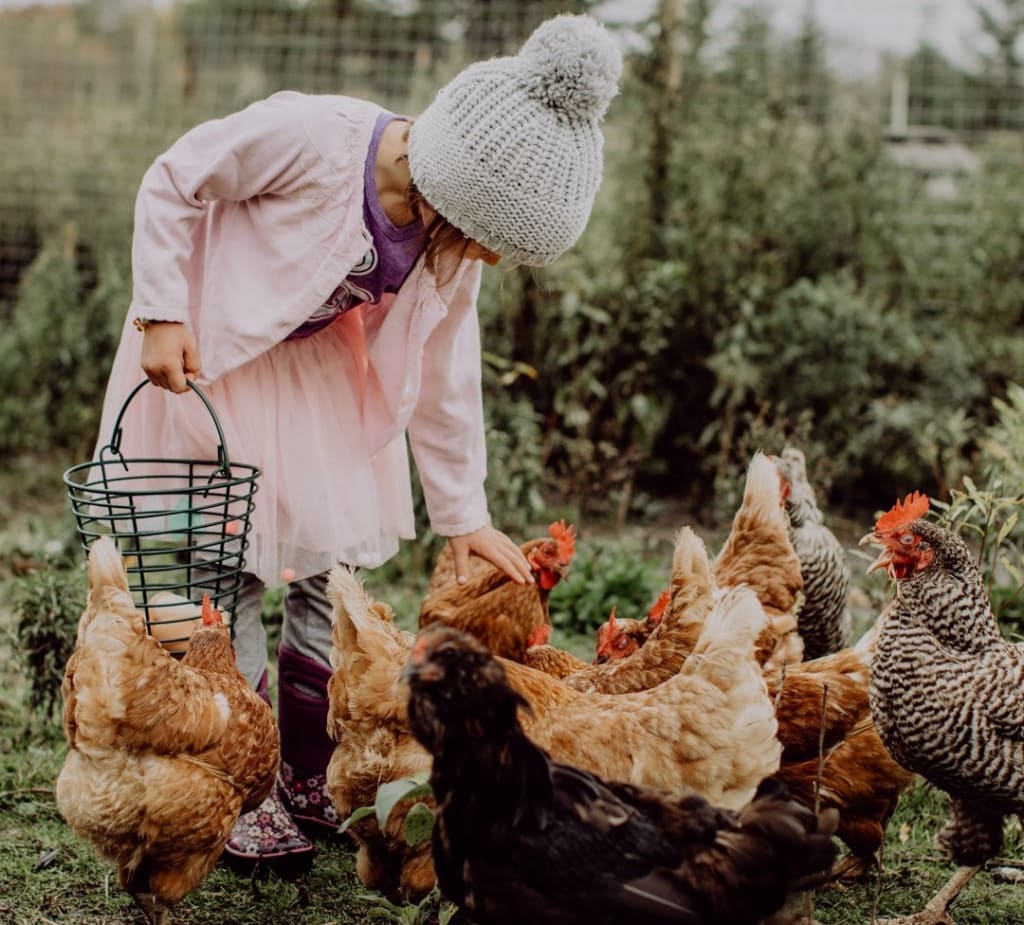 On a remote hobby farm in Northern Ontario, chicken feed is generously scattered and freshly laid eggs are delicately collected by tiny hands completing their daily chores. For Gemma, Nolan and Joelle, growing up on their 40-acre farm is an ever-changing classroom rich in indelible life experiences. Every day they are learning lessons about the intricate rhythms of God's creation through caring for chickens, pigs, dogs, cats and their beloved bunny, Willow.
After living for years in a bustling city, their parents chose to move to a quieter place where their kids would have a unique childhood filled with outdoor experiences like engineering forts in the woods, tending to the needs of animals and freely roaming their spacious acreage as their imagination flourished. Cultivating their own organic food in a massive garden is a "get your hands dirty" course in horticulture for Gemma, Nolan and Joelle, developing their appreciation for God's gracious provision of healthy food. Their abundant harvest instills a spirit of generosity and kindness as they share their bounty with family, friends and neighbours.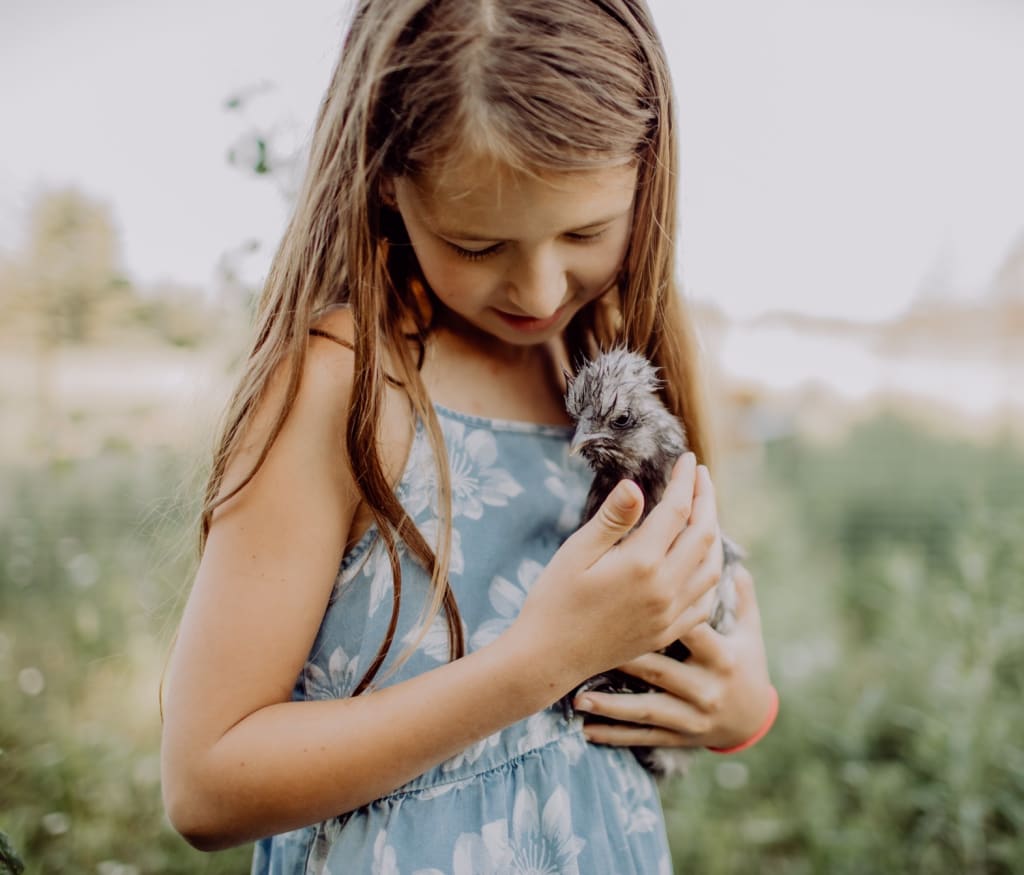 Almost two decades ago, their mother, Jodi, heard about Compassion's ministry at a youth conference. As a high school student, her heart was moved by the life-changing work being done to combat poverty. It was that night that she began investing in the life of a child through a shared sponsorship with a friend. Jodi's children share her heart of compassion and wanted to make a difference for children who didn't have the food stability they experienced on the farm. Their choice was obvious—to "Fill the Yard" through Compassion's Gift Guide. Their thoughtful gift of a backyard farm is a transformative way to help families facing food insecurity build resiliency for the future. Now kids just like them will have goats, pigs, chickens and vegetable seeds, equipping their families to have a sustainable source of food and income. In a village across the world, tiny hands are scattering chicken feed and collecting freshly laid eggs with gratitude because of the generosity of a compassionate Canadian family.
Bless a family with a Gift of Compassion
____
Geo: compassionately leaving a legacy
Born in a country where most streets are unnamed, Geo developed his love for baseball as a young boy. It was baseball legend David Martinez, the first Nicaraguan to play in the Major Leagues, that naturally became his homeland hero. Moving to Canada opened the door for Geo to accomplish his lifelong dream—visiting all 30 major league baseball parks in the US and Canada. With 15 parks crossed off his list so far, plans are underway to continue his quest.
A garbage man by trade, Geo's investment in working extra hours has grown his ability to generously commit his overtime pay to impact the lives of Compassion children around the globe. Inspired by the story of Cain and Abel, Geo shared, "A lot of the time, I feel like Cain who gives God some of his left over. I want to be like Abel who gives God the best. I love how the Bible uses the word 'fat portion'. I want to learn to give God my fat portion from my paycheck."
"I want to be like Abel who gives God the best."
Geo's gifts to Disaster Relief, Water and Sanitation, and Education and Stability are transforming the lives of children and their families impacted by the daily hurdles of poverty. He also recently reached another one of his life goals—sponsoring five children! Desiring to continue giving God his very best, even beyond his lifetime, Geo has included Compassion in his Will, leaving a meaningful legacy to further God's Kingdom for generations to come. Our Wills are the last statement we will ever make—and Geo's final statement will show the faithful heart of this compassionate Canadian.
Learn about leaving a lasting legacy
____
Maiya: compassionately advocating for kids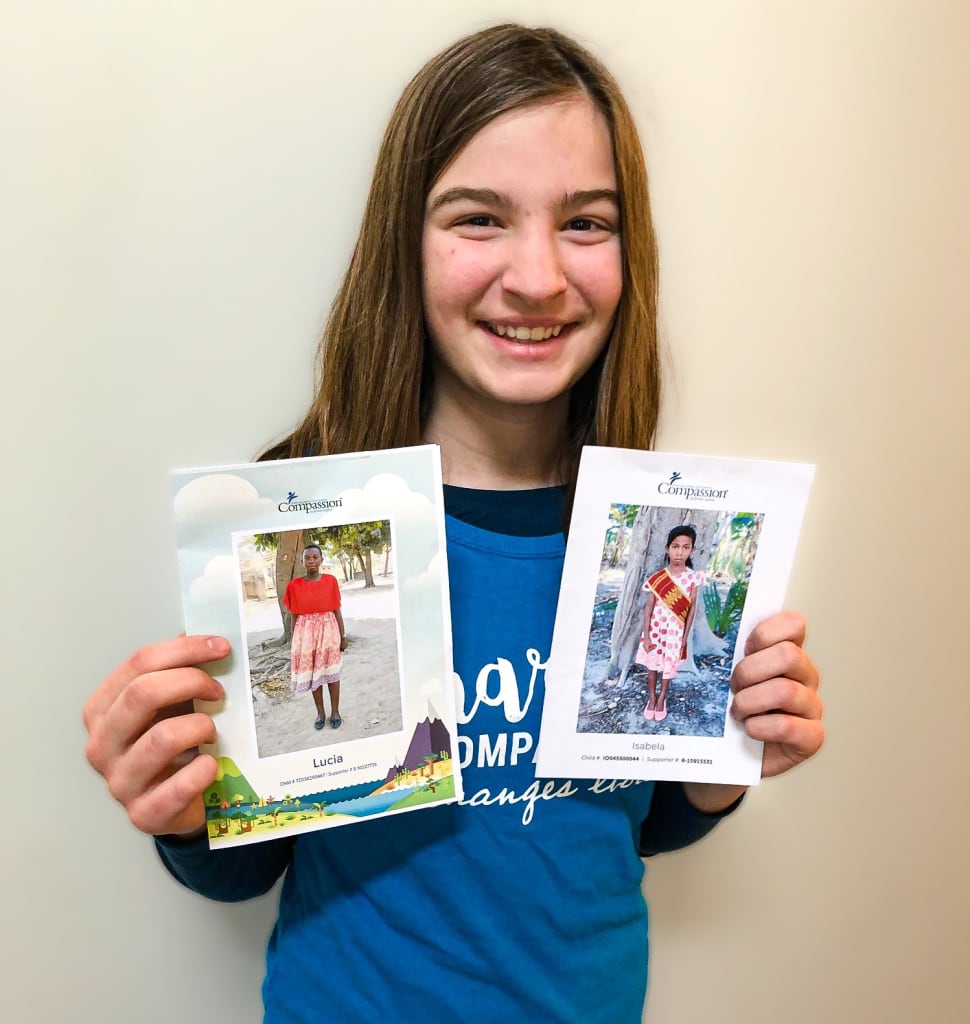 From toddler to teenager, Maiya has grown not only in wisdom and stature but also in her compassion for children around the world. As a baby, she was taking her first steps as her parents took their first steps to becoming Compassion sponsors. Cherished memories of placing colourful stickers on letters and drawing pictures for Lucia built a meaningful connection between Maiya and their sponsored girl in Tanzania.
Each Christmas, Maiya excitedly flipped through the pages of Compassion's Gift Guide, helping her mom, Jolene, pick out special gifts like mosquito nets, chickens and seeds. As additional children were sponsored by her family, her younger siblings joined her in letter writing and building friendships with children in Guatemala, Thailand, and Rwanda. They learned valuable lessons about the lives of kids who were born under very different circumstances than themselves.
"I want to help build hope and a better future for other kids."
As the great niece of a Compassion ambassador, Maiya has a unique perspective on Compassion's ministry, attending concerts at a young age and being inspired by her great uncle's message of sharing Compassion. "I want to help build hope and a better future for other kids", Maiya shared.
At 12 years old, Maiya officially became a Compassion volunteer, serving as an Advocate for children living in poverty. Every three months, she is excited to open her mailbox and see a child pack representing the cherished child that she will pray for and whose story she will share with others. Using creative Instagram posts, Maiya seeks to connect children with loving sponsors, impacting both of their lives forever. Just imagine what this young compassionate Canadian will accomplish in the years to come!
Become an advocate for children
____
The common denominator of these stories is that compassion was put into motion when it was sparked by a relationship. Specifically, the relationship that began with the steady, meaningful impact of sponsorship. It is a springboard to engage in the unique expressions of compassion that each and every one of us bring into our world.
Canadians are full of compassion that can help release more kids from poverty.
Together, we can make a difference.
Invite someone into the impact of sponsorship today and watch compassion come alive from coast to coast.