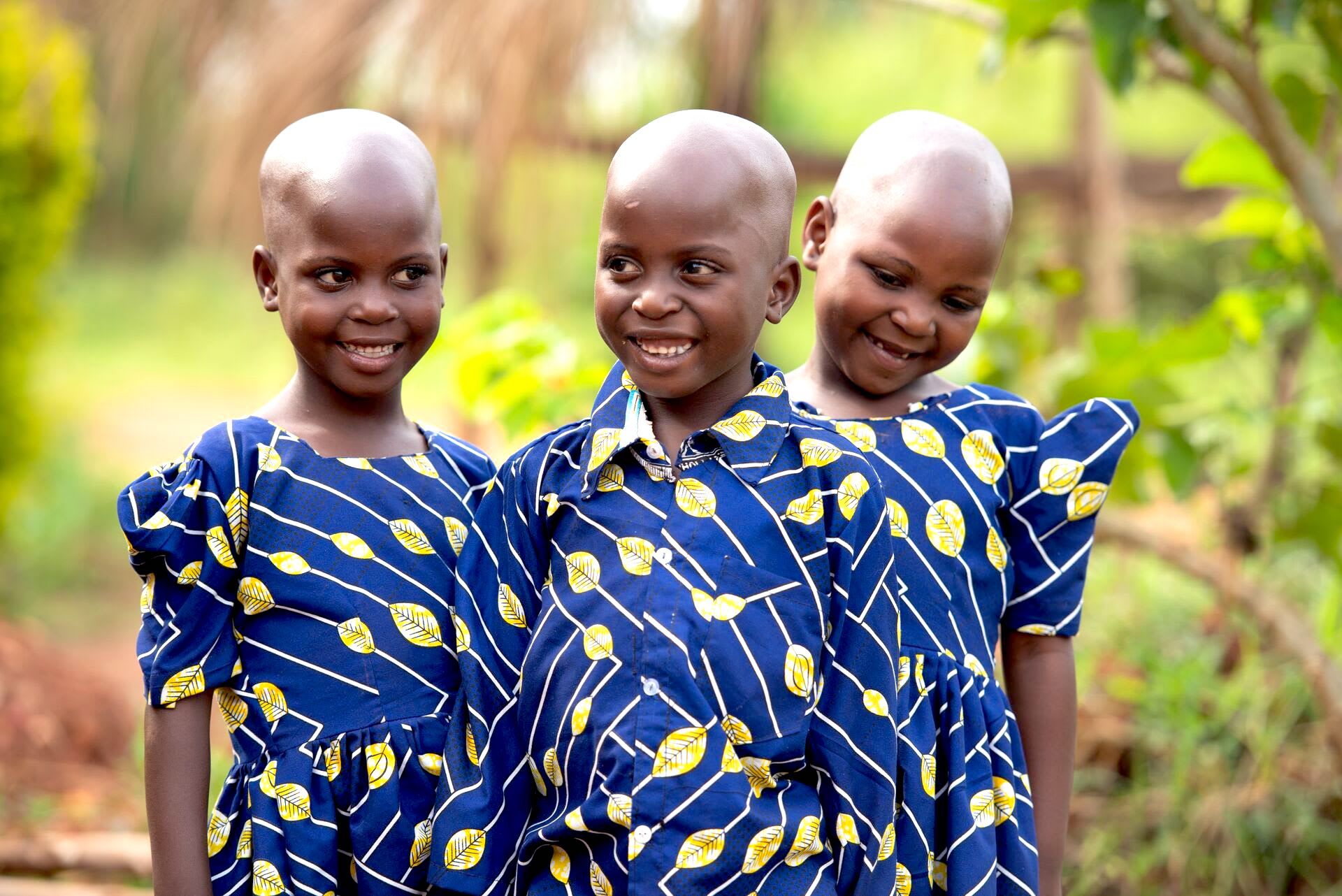 Do you remember Annet and the miracle triplets?
Six years ago, single mother Annet discovered she was expecting triplets—only when the medical staff delivered them. She was abandoned by her husband and family, who viewed the triplets as a curse. She endured threats to their life when her abusive husband threatened to kill them.
Through it all, Compassion's church partner in rural eastern Uganda has remained by her side, protecting her and helping to meet needs.
And together with friends across Australia, Canada and the United States, Compassion supporters came alongside the young family, providing funding for a safe and secure home, just in time for their fourth birthday! 
We caught up with Annet and her now six-year-old triplets. Today, a beaming Annet shares of the joy she has found, even amidst a global pandemic.
"Compassion has cared for my life in the COVID-19 pandemic. I only hear about the horror of COVID-19 but I have been fed. I am sleeping well and I no longer worry about rent. In case the children are sick, the centre staff help. We go to the hospital on time. I am so happy," she says.
A new job in a pandemic
The fact that Annet can say this despite losing her livelihood due to the pandemic is a testament to the care and support of Compassion's church partner. Annet used to sell vegetables and fish at the markets before they were closed due to COVID-19. But with customers greatly reduced, her business suffered and eventually collapsed.
That's when Janet, the local Compassion centre director, introduced Annet to a new, unique income-generating activity.
"She had learned the tailoring skill but said it was hard for her to concentrate with the triplets. When we talked to her about bag making, she was so excited. It was a skill we were teaching the children and she said she always admired it," says Janet.
Within a week of being trained, Annet had mastered the skill, and within a month, had made 20 bags! She now sells big bags for CAD $3.95 and smaller ones for CAD $1.70.
Annet can now make her bags at home as the children play outside.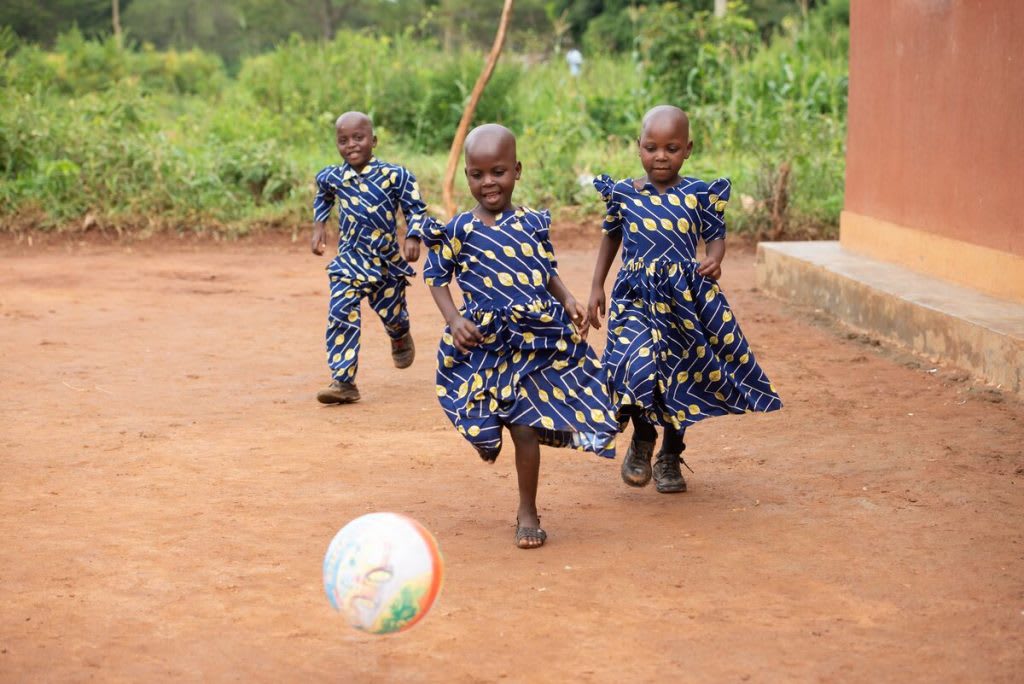 "I have peace. It is a business I do from home. I don't have to worry about going outside looking for customers. If you go out there you can contract COVID-19. I have peace working from home. I can sell and have money to save. I am so happy," she says.
Looking back at a very different story
Life was vastly different for Annet six years ago.
On July 19th, 2014, all by herself at home, Annet gave birth to her first baby boy, Samuel. She called her sister-in-law, Nerima, to help her cut the umbilical cord, but Nerima failed.
Annet decided to rush to the nearest health centre for help. She sat at the back seat of a motorcycle and held her newborn baby carefully with the umbilical cord still attached. Nerima squeezed on the same motorcycle seat as they rode four kilometres down a bumpy road to the health centre.
After the nurse had cut the umbilical cord, she informed Annet that another baby was in her womb. The nurse feared helping Annet deliver the baby because it was in a position she couldn't manage. That same evening, Annet got on another motorcycle to travel to a larger hospital for further assistance.
Two more surprise babies
After a scan at the hospital, the doctor was shocked to find Annet had two more babies in her womb! This was the first time Annet had a scan, since she couldn't afford to have it done earlier. The doctor decided to perform a cesarean and Annet gave birth to two baby girls—Patience and Grace—each weighing about 4 pounds each.
When her husband learned Annet had given birth to triplets, he rejected them. Triplets were unheard of in the Businywa community where she lived, and especially in their family. The family thought the triplets were a curse and cut themselves off from Annet and the children.
When Compassion's church partner discovered what had happened, they stepped in immediately. Annet and the babies were registered into the Survival program. When Annet's abusive husband threatened to kill them, staff protected them and built a safe house they could live in rent-free.
"I thank God for my sponsors, they care about my children. I feel thankful for the grace. I really didn't know that we would reach this day alive. The children have grown so much," says Annet.
Triple the thriving
The triplets are now six years old, and every day, Annet is amazed by her children and their unique personalities.
Patience is obedient beyond measure. Whenever Annet sends her somewhere, she is eager.
Grace loves to pray and is always a bit shy.
Samuel loves singing and is friendly with everyone he meets. The trio is incredibly close, following one another around daily.
Today, the triplets are sponsored by a set of triplets in Australia! When they heard about the COVID-19 pandemic, Samuel and his sisters were very worried about their sponsors' wellbeing.
"They heard about COVID-19 and asked if their sponsors are okay. They asked me twice, so I went and asked the staff members and they said they are okay. They were so happy," says Annet.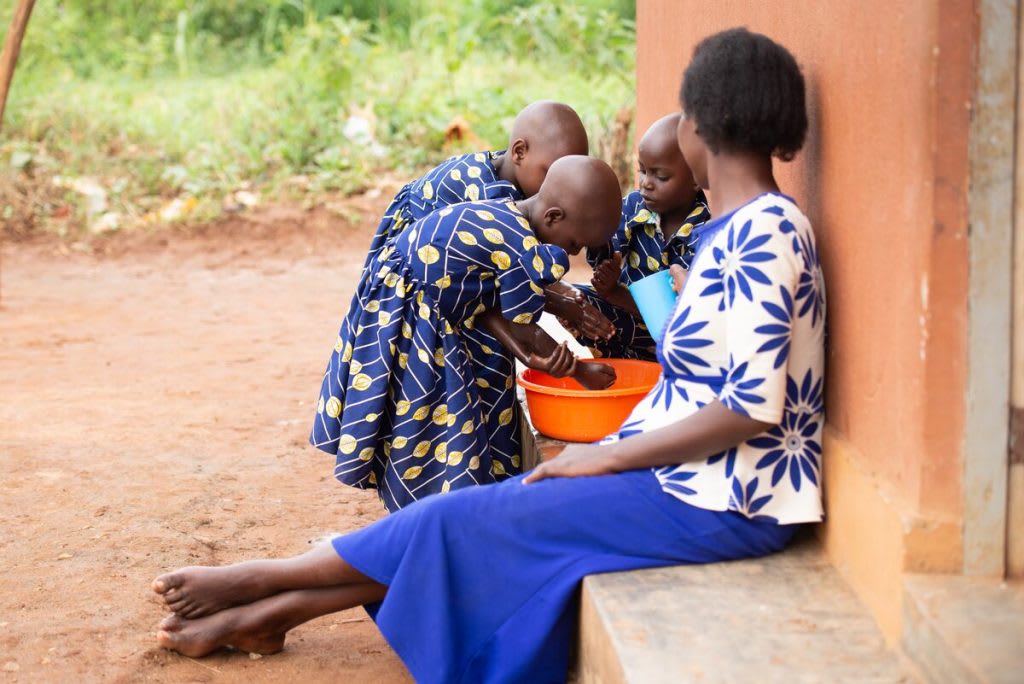 Annet is incredibly grateful each day for the loving support that has seen her family flourish. "I am so happy. If it wasn't for the staff's care, we wouldn't be where we are today. I look back from where I came from and thank God and give Him the glory," she says.
"I am now respected in the community. Those who used to diminish me now respect me. Even the father of my triplets no longer tries to attack me. I feel so protected and safe," says Annet.
The last six years have been challenging, but Annet has finally found true joy and rest thanks to the support of her global family around her.
____ 
You can help support families like Annet's through COVID-related challenges like unemployment.
Words by Caroline Mwinemwesigwa and Laura Phillips
Field reporting and photos by Caroline Mwinemwesigwa