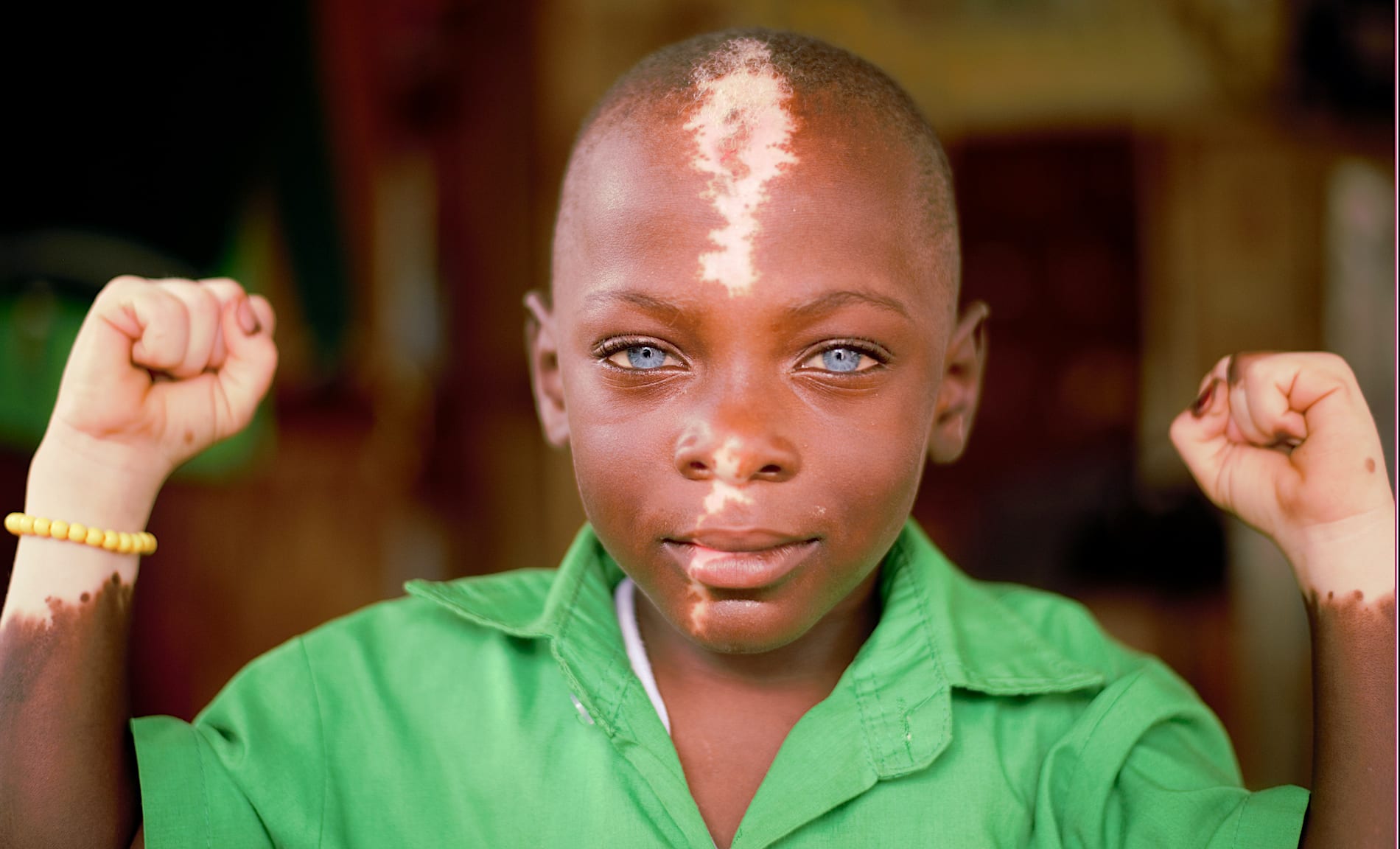 Do you remember Shakul?
Two years ago, we shared the story of the incredible Ugandan baby boy with ocean blue eyes and a bold streak on his forehead.
Born with a rare genetic condition called Waardenburg Syndrome, affecting pigmentation and hearing, Shakul was abandoned by his mother when he was just a baby. In some rural Ugandan villages like the one Shakul was born into, locals believed that children born with visible differences may be cursed.
Shakul's grandmother, Namatovu, knew that if he were to survive, she had to care for him. She didn't have a reliable income, but quickly fell in love with her grandson and committed to raising him, whatever it took.
In Namatovu's care, Shakul was sponsored and enrolled in his local Compassion centre. Today, Shakul is thriving and stealing the hearts of those in his community.
Shakul—Two Years Later
Through support from Compassion's local church partner, 4-year-old Shakul is now enrolled in a special needs school where he receives the specific support he needs to flourish.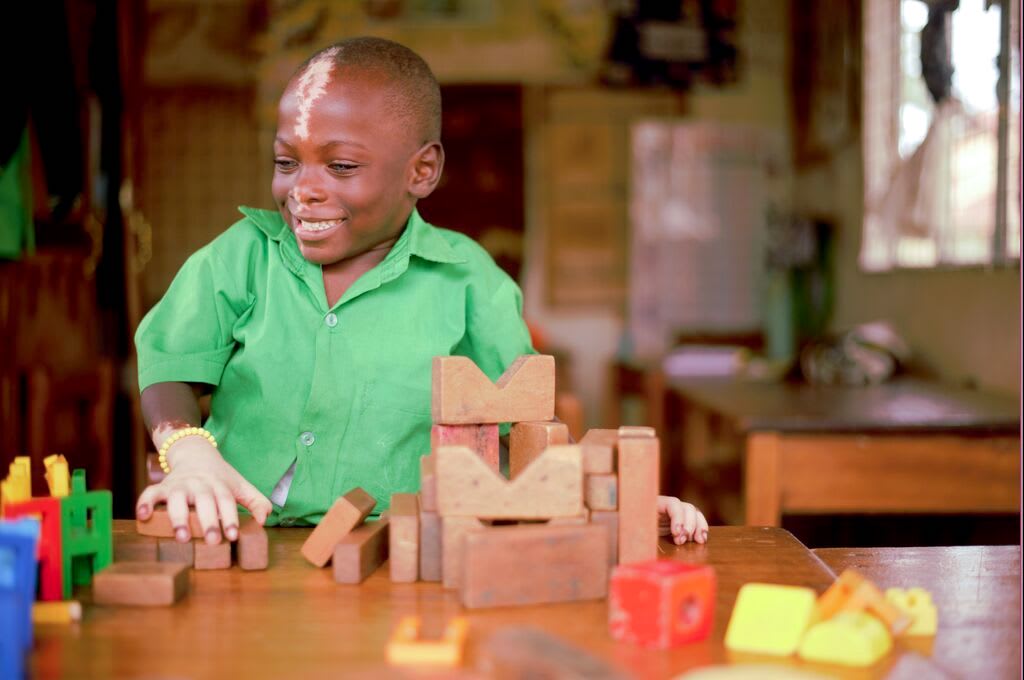 "Shakul likes learning. He shows interest in most things. He understands very quickly," says Mary, Shakul's teacher.
Despite the recent discovery of Shakul's complete deafness, he continues to find unique ways to jump the hurdles before him.
Creating his own form of communication, Shakul has mastered the art of using his hand and body movements to express himself. When he needs something, he taps someone on the shoulder and points at what he needs, or gets their attention and walks over to it.
Even without the ability to talk, Shakul has a charm about him that is infectious wherever he goes.
"Shakul is very active. He loves playing and is very inquisitive. He likes fixing things like machines, phones, computers and toys. If he sees a laptop, he'll want to explore it. He wants to learn. Even though he has never talked, he is very extroverted and communicative," says Alison, the Director of Shakul's Compassion centre.
If you were to look for Shakul, you could find him to this day, stuck like glue to his beloved grandmother, Namatovu—sitting on her lap, sucking his thumb, smiling.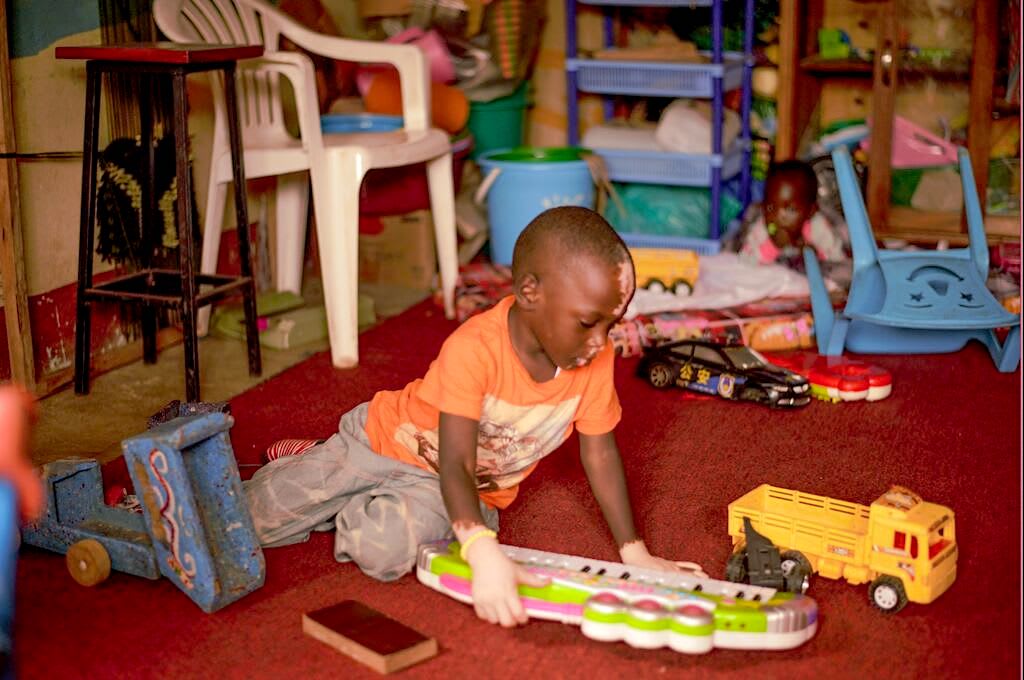 "From the time he went to school, he became more active. He knows if someone is hurting. He reaches out to the person. When I am quiet, he comes and taps me and with his hand and gestures, 'What is it?' He also just wants us to play all the time. He likes giving me spontaneous hugs," says Namatovu.
A Future as Bright as His Eyes
Nothing could have prepared Namatovu for the love and blessings that would surround her upon caring for her blue-eyed boy.
Today, Namatovu is preparing for a big move from her current stuffy, leaky one-room house, to an expansive space for her beautiful family to grow and bloom, thanks to Shakul's sponsor.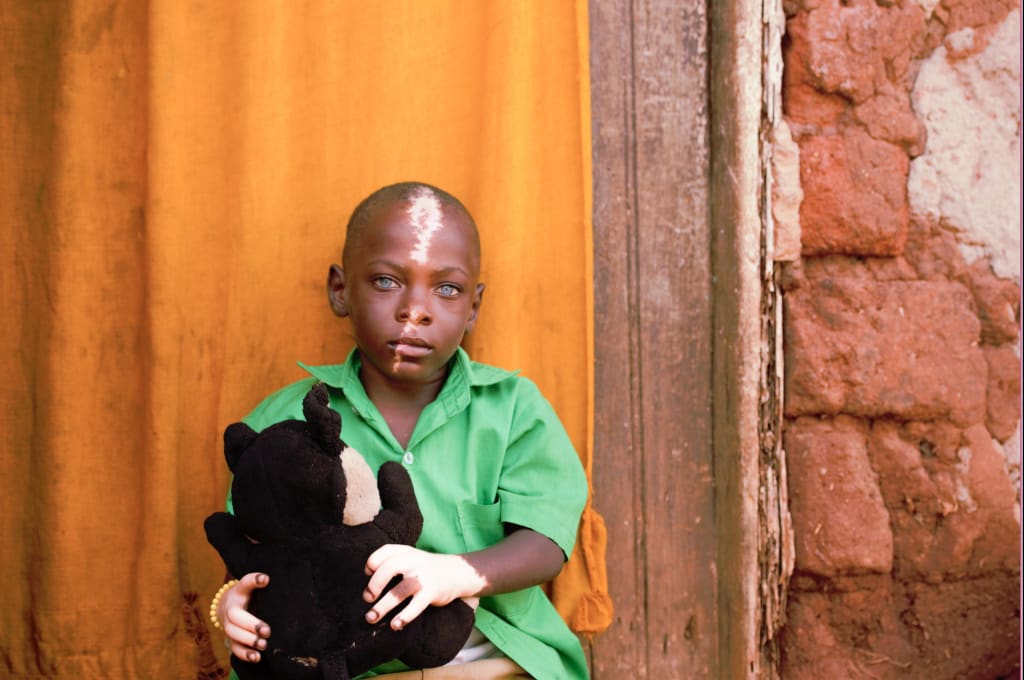 "[Shakul's] sponsor sent money and we bought a piece of land in Kakiri and started construction. The finished house will have three bedrooms, a sitting room, a bathroom and a storeroom," says Alison.
"I am so grateful to the sponsor," says Namatovu. "I was so happy and believed indeed that God is here for us. It is not good to abandon a child. If I had, I would not have seen these good things," she says.
With Compassion's help, Shakul has also secured a spot at the School of the Deaf so he can receive extra support with his education.
"Shakul is very sharp so he needs a school that can help him progress. We are planning to take him to the School of the Deaf in Mulago next year. All the children there are deaf and communicate with sign language. We want him to learn sign language," says Alison.
Amidst all the growth happening in her beautiful grandson, Namatovu still does everything she can to continue to see him thrive. She spends her evenings roasting sweet plantain by the roadside, while Shakul happily plays around her.
As the night falls, this dynamic duo goes back home. Blue-eyed Shakul crawls into his grandmother's arms, sucks his right thumb and dozes off, as he always does. No matter what they face in the days to come, they will do it together, in solidarity with the community they have cultivated around them.
____
 You can help more children like Shakul build a new future free from poverty and full of promise.
Field Reporting and photos by Caroline Mwinemwesigwa