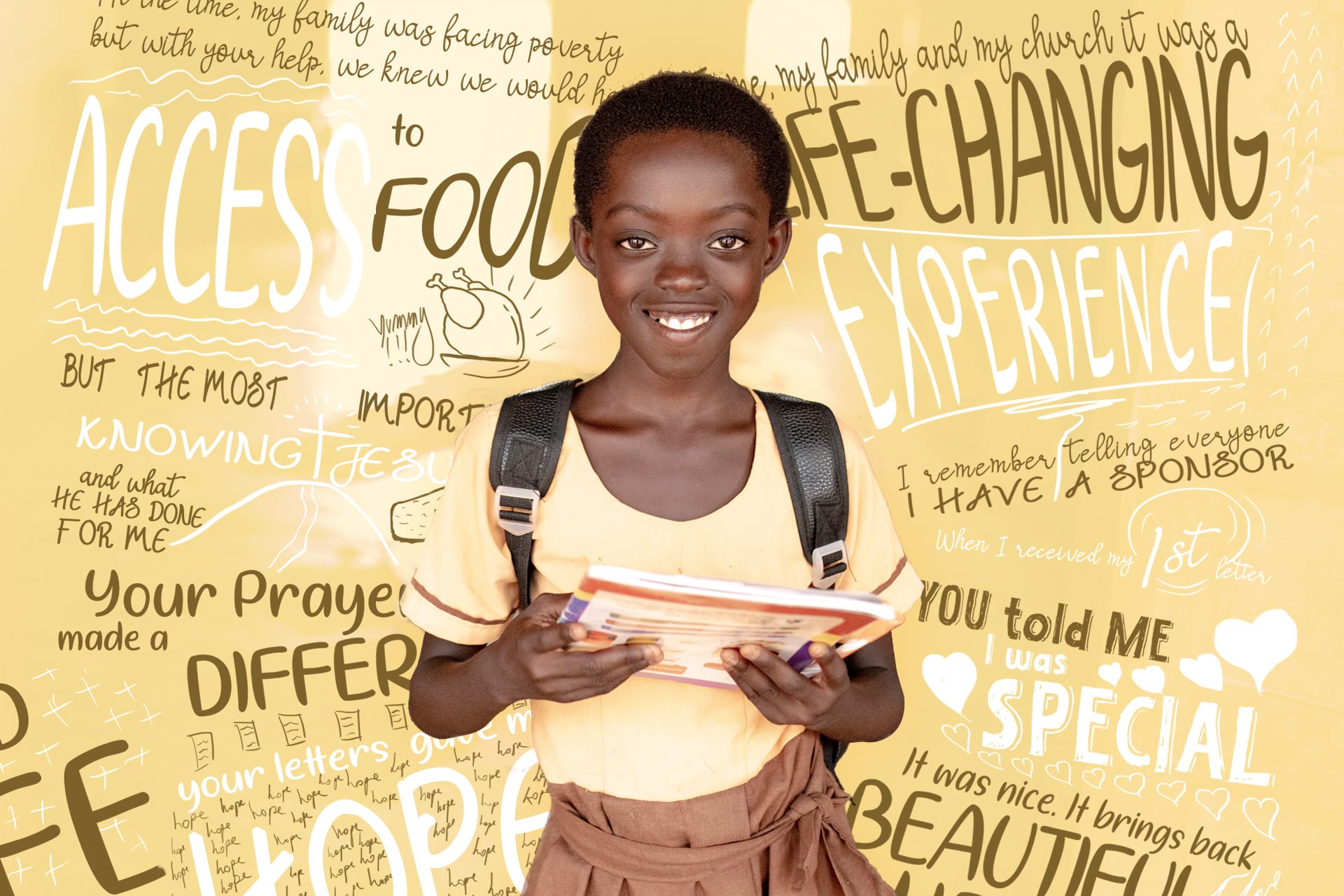 What can you expect on the journey of child sponsorship? We get tons of great questions from first-time sponsors. Questions like:
How do I choose which child to sponsor?
How many letters do I need to write? How many letters will I receive?
Can I send gifts to the child I sponsor?
Can I visit the child I sponsor?
How long will I be sponsoring this child?
Those are the exact right questions to be asking as you consider sponsoring a child, and we have answers for you. We put this sponsorship roadmap together for you, new sponsors (and old sponsors in need of a refresher!), to fill you in on what to expect throughout your child sponsorship journey.
____
In this sponsorship roadmap:
____
1. Choosing a child to sponsor
Every child available for sponsorship is a child in need. In that sense, there's no wrong choice.
At the same time, we know that choosing a child to sponsor is an important, life-changing decision. We believe those choices are the beginning of a beautiful story that God is writing.
Some sponsors choose the first child presented to them, believing they were put in their path for a reason.
Some sponsors choose based on age, birthdate or gender.
Some sponsors choose based on a country they have a connection to or hope to visit in their travels.
There isn't a wrong choice but know this: when the child you choose to sponsor hears that they've been chosen, that is a powerful, life-changing moment.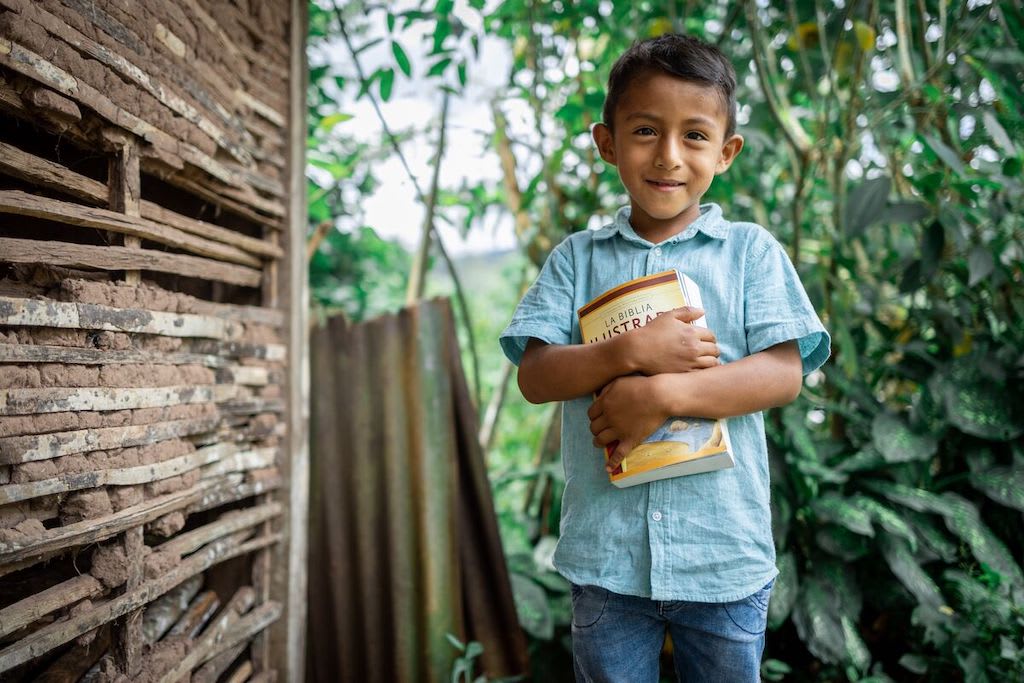 Once you choose a child to sponsor, the logistical side of things are easy: you provide your information, let us know how you'd like to make your regular sponsorship donation (we have lots of payment options) and at what frequency (monthly, annually or other) and then you're all set and on your way to the next stage of your child sponsorship journey…
2. Learning about your child, their family and community
Now that your sponsorship is started, it's time to learn about the child, family and community you've chosen to invest in. You can expect us to follow up by email and mail with more information about child sponsorship and specifically the child you sponsor.
You'll also receive instructions on how to create a My Compassion account, where you can gain more insight into the life and community of the child you sponsor.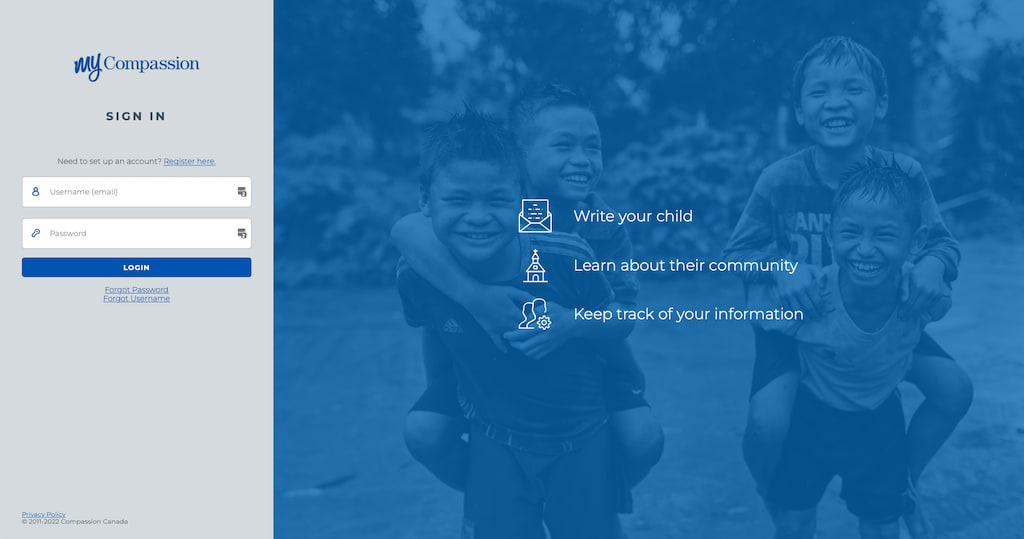 On My Compassion, you can see:
Photos of the child you sponsor
Information about their education, home life and favourite activities
Information about their church and Compassion centre
Letters from church and community leaders
Information about what it's like to live in their community
We hope all of this information helps deepen your relational investment into your sponsorship, helping you understand more about your sponsored child's everyday life and how you can be praying for them.
On My Compassion, you can also send letters and gifts to the child you sponsor, which is the next stage of the journey to tackle…
3. Writing letters and sending gifts
Letter writing is one of the most beloved aspects of child sponsorship. But it can also be hard to know what to expect or what is expected of you as a sponsor.
Like any relationship, it is flexible and fluid. But here's generally what you can expect:
Receive 2-3 letters per year from the child you sponsor
Send 2-3 letters per year to the child you sponsor (Christmas, birthday and one more)
Writing more often deepens the relational investment and increases the number of letters back and forth per year
Don't know what to write? We regularly post letter writing tips, prompts and even templates on our blog.
Additionally, you can send financial gifts to your sponsored child over and above your regular child sponsorship donation. With the exception of Christmas gifts (which are handled differently to ensure every child in Compassion's program receives a Christmas gift), gift funds are sent directly to your sponsored child's Compassion centre, where a staff member will help them determine the best way to use the money.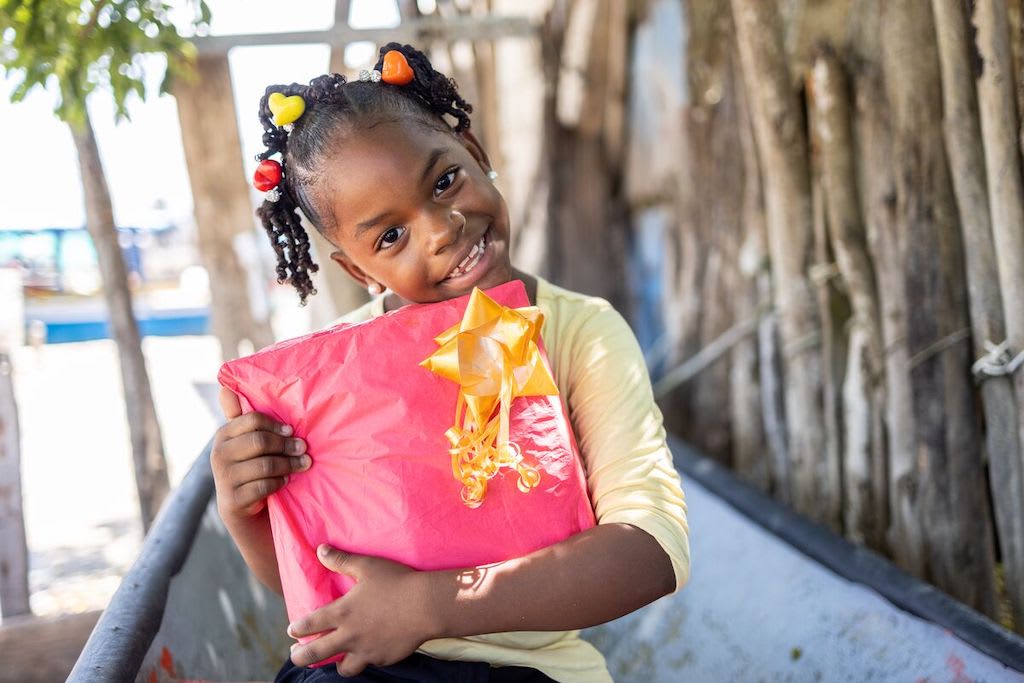 Here are the types of gifts you can send:
Birthday gift: A gift that provides your sponsored child with a special age-appropriate present that will be identified by their family and Compassion centre staff. We recommend a monetary gift of $15 to $125 for birthdays.
Child gift: A gift used to meet specific needs that will be identified by your sponsored child's family and Compassion centre staff. A child gift of $15 to $125 can be given once per year.
Family gift: A gift used to meet specific needs of the whole family, including your sponsored child's siblings. A gift of $40 to $1,200 can be given once per year.
Centre gift: A gift that helps your sponsored child's Compassion child development centre provide a greater experience for all the children they serve. A gift of $150 to $4,500 can be given once per year.
Final graduation gift: A one-time gift of $25 to $2,500 intended to show your sponsored child how proud you are of them and their accomplishments.
Christmas gift fund: This gift provides a Christmas gift to your sponsored child and every child in Compassion's care. We recommend a gift of $25 per sponsored child.
Sending monetary gifts is efficient and ensures the right gift can be purchased locally. Another amazing gift you can give the child you sponsor is your presence, through visiting either virtually or in-person…
4. Visiting your child
This isn't a part of every child sponsorship journey (though every sponsor is invited!), but when it is, it is an unforgettable experience for both sponsor and child.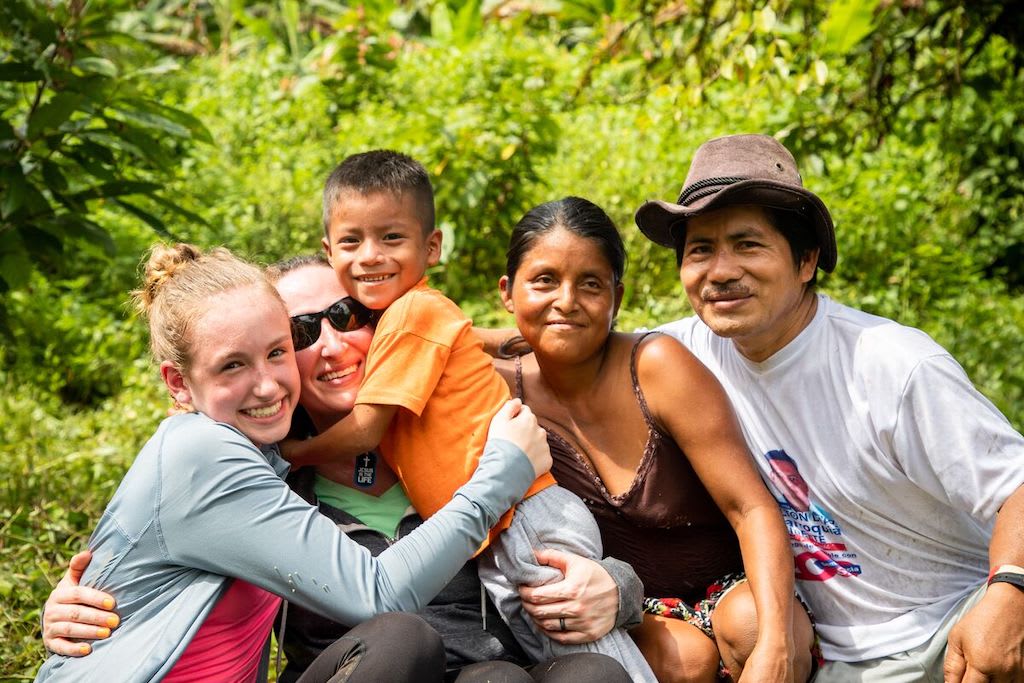 Compassion provides several ways to visit your sponsored child:
Group trips: Travel with a group of other sponsors on a trip organized by Compassion to see Compassion's ministry first-hand and meet the child you sponsor.
Custom visits: Set aside a day or two on a trip you are planning personally in order to visit your sponsored child and their community.
Virtual connections: This new way to "visit" brings you and your sponsored child together through the power of technology, on a video call organized by our team.
There's nothing quite like looking your sponsored child in the eyes to tell them all the things you've shared through letters: I love you, I believe in you and I know God has good things for your life.
It's those affirmations and encouragements that make all the difference when your sponsored child's time in the Compassion program comes to an end…
5. Exit/graduation
All good things come to an end. And so many endings are just the beginning! More times than not, we celebrate when a child's time in the Compassion program comes to a close—it means they are well on their way towards a future free from poverty, thanks to the faithfulness of Compassion centre staff, family, community members and you, their sponsor.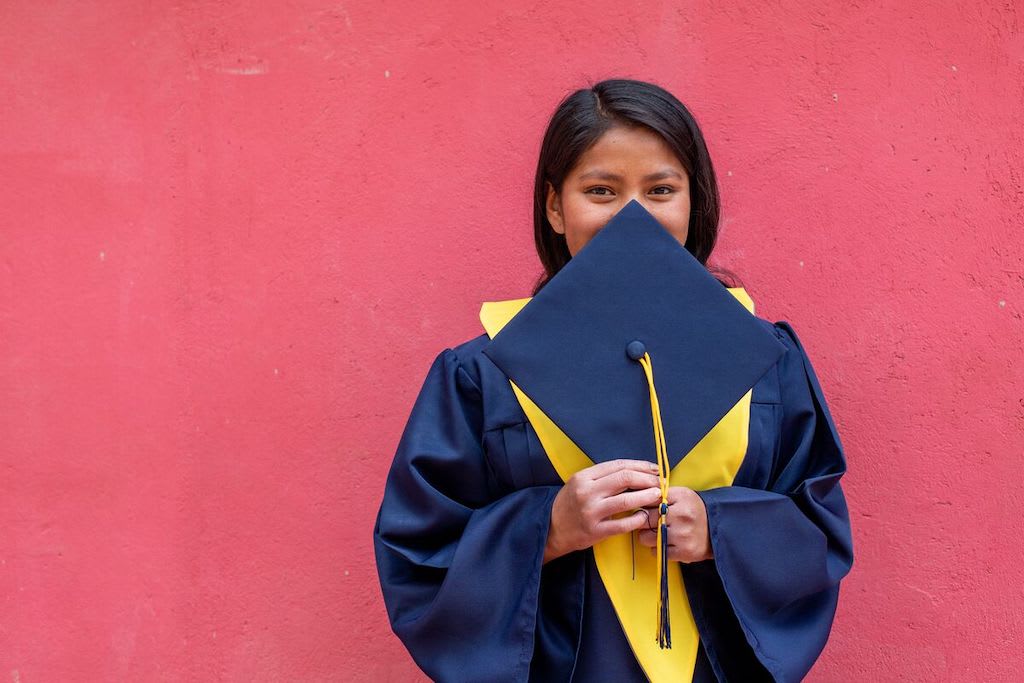 There are three main scenarios when a sponsorship comes to a close:
The sponsor can't continue: In this case, the child isn't exiting the Compassion program, but the sponsor needs to end their sponsorship commitment. When this happens, we immediately start looking for a new sponsor for the child. In the meantime, Compassion supplements with other funds so the child's progress isn't interrupted.
The child can't continue: You might be surprised to learn that it's actually quite common for children and youth to leave the Compassion program early, before their planned graduation. Sometimes, it's for a really good reason: their parents got a better job and feel they don't need Compassion's support anymore, or a youth/young adult has chosen to leave the Compassion program early because they are going to further education or found a job. Sometimes, it's not as clearly positive: a child's family is forced to move to a community where there isn't a Compassion centre, or a parent/caregiver chooses to remove the child from Compassion's program. No matter the reason, here's what we know: any amount of time a child spends in Compassion's program is impactful, giving them the tools for a fulfilled future filled with promise and potential. That is worth celebrating.
The child graduates: In most cases, this happens between the age of 18 and 22, and it is cause for celebration. The child you sponsor, now a young adult, has completed the Compassion program and is stepping into a future free from poverty. You can see your sponsored child's expected graduation date in My Compassion to help you plan towards this meaningful moment in your sponsorship journey.
When a sponsorship ends, you will always have the opportunity to write a final letter, and Compassion staff will do their best to ensure that letter is delivered. You can also choose to have Compassion pass on your personal information to your sponsored child, and it will be up to them if they would like to reach out to you beyond the bounds of the Compassion program.
It's also a time for you to consider what's next: Are you ready to sponsor another child? Is it time to consider another way for you to make a difference, perhaps through another one of Compassion's initiatives? These are important questions, and our friendly team is always happy to help you explore your options!
We hope this roadmap has given you valuable insight into the life-changing journey of child sponsorship… and we can't wait for you to experience it first-hand!
____
Ready to start your child sponsorship journey?
If only you knew the impact your decision will make.