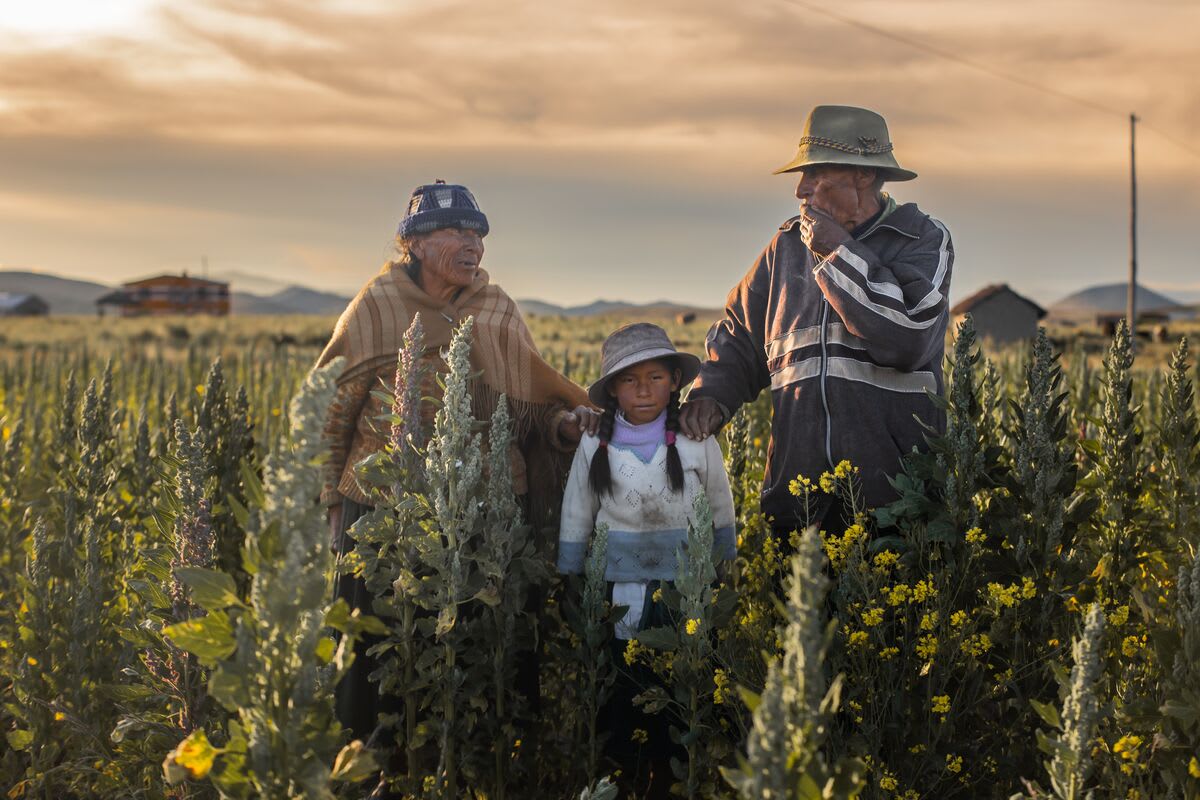 In South America, it's common to find children raised by their grandparents. It could be because parents are working in another city, have migrated to another country, passed away or decided to abandon their children. Yet, despite the challenges, grandparents do their best to care for their grandchildren and inspire wisdom and faith in them for their future.
Travel through South America with us and hear from five grandparents as they share the lessons they have learned while raising their grandchildren. No matter where they are from, one thing remains consistent: love.
 "We can do it all with God's help." – Natividad, Peru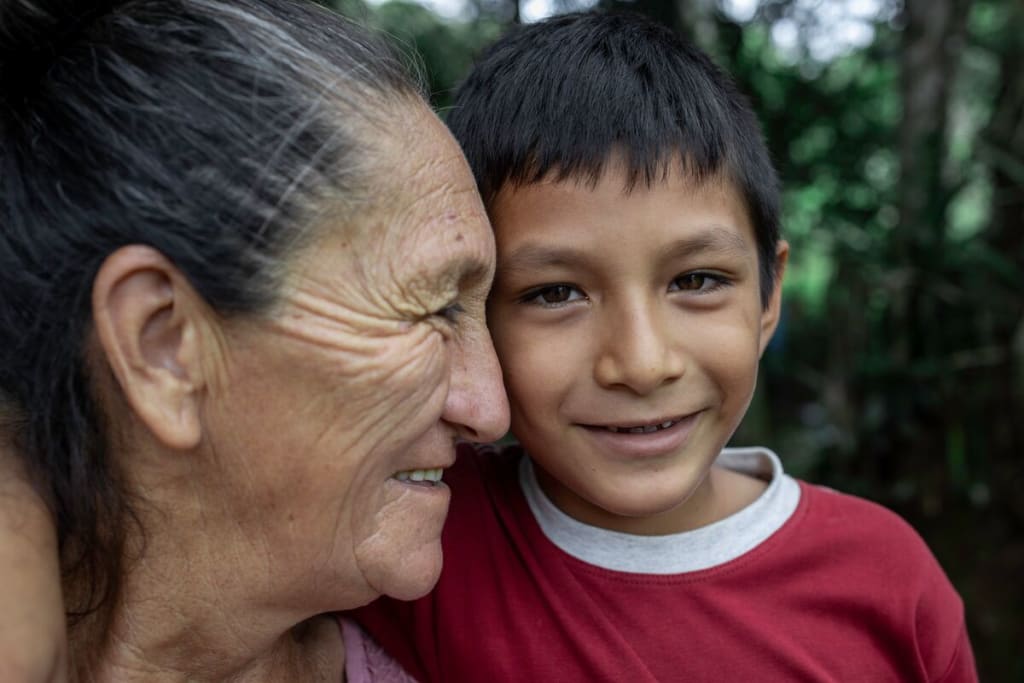 When Natividad held her youngest grandson, Angel, for the first time, he was just shy of one year old. His mother had left and his father had to move to Peru's capital city to find a job. Natividad decided to help look after Angel. It was then that their journey of faith and endurance had begun.
"It's a blessing from God! Angel is seven years old now, and we keep each other company. He's very intelligent. He's a good and sweet boy. I'm happy to care for my grandson," she says.
Natividad is no stranger to walking by faith and enduring life's difficulties. She had to raise four children by herself and now has four grandchildren. "I've cried a lot, and I've gone through so much in life, but God is always good, and my faith in Him hasn't changed," she says.
Natividad wouldn't have been able to make it this far with Angel without God and Compassion's church partner's help.
"I decided to register my grandson in [Compassion's] children's program as they were going to help us, and Angel would have a sponsor. We're grateful for all the food baskets they always bring us so that we've always had something to eat. They even give my grandson birthday and Christmas presents. We've never felt alone," says Natividad.
Angel's favourite activities are picking fruit, playing with his pets and cooking. "My grandma taught me how to cook, and I like it. I like spaghetti and fries! I love my grandma. We read the Bible together. I thank her for taking care of me. Sometimes I wonder what will happen to me when she's gone," says Angel.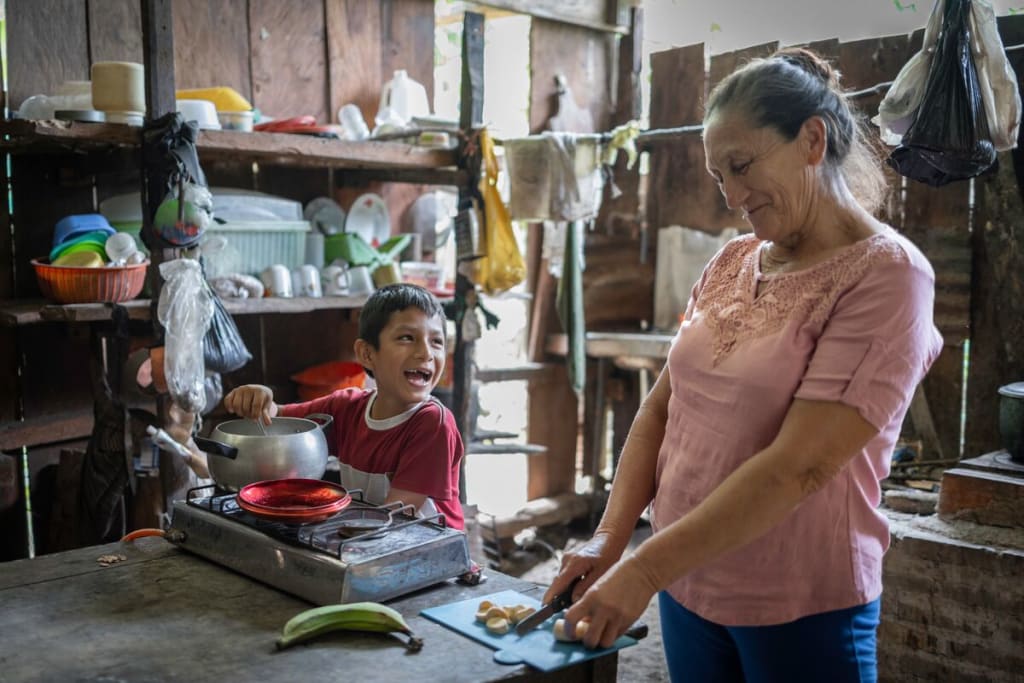 But Natividad always reminds Angel that God will never leave him, even when she must leave his side.
"I want my grandson to trust God, be obedient and know His Word. I pray God lets me live until he's a young man. We pray together on our knees," says Natividad with tears in her eyes.
Natividad knows she's not alone and thanks God every day for the people He placed in her life, helping her raise her grandson.
"It's been almost three years since my boy started attending the Compassion centre. It's a huge help—a blessing! I have confidence the centre will keep helping us. I don't want my boy to drift away from God's ways, as we can do it all with God's help," says Natividad.
"Family comes first."- Maria, Ecuador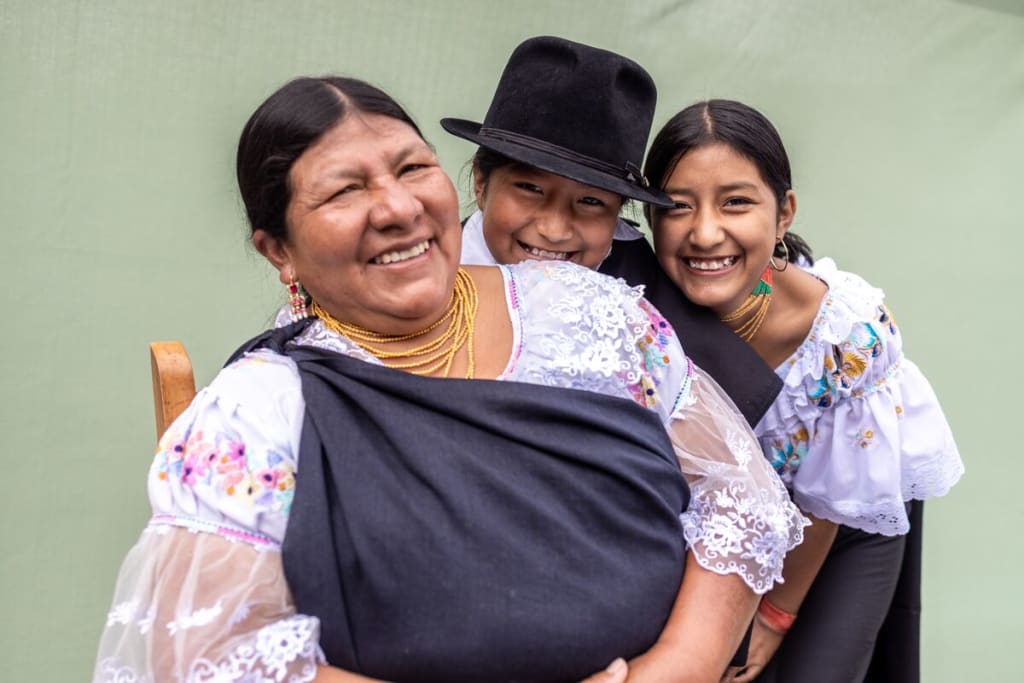 When they were younger, Toa and Elkin's parents migrated to the south of the continent to seek work and a better life. They never came back. Their grandmother, Maria, is the one who takes care of them daily. Maria has welcomed them like her own children, providing them with food, education and above all, love.
"My grandchildren don't have anyone else in their life. That's why I will take care of them and protect them with all my strength," Maria says.
Toa and Elkin live in an indigenous agricultural area in the north of Ecuador. They frequently accompany their grandmother in her daily tasks, such as growing vegetables and feeding animals. Maria, at 66 years old, still works in the field. Her goal is to guide her grandchildren by giving them responsibilities and teaching them the value of work as a family unit.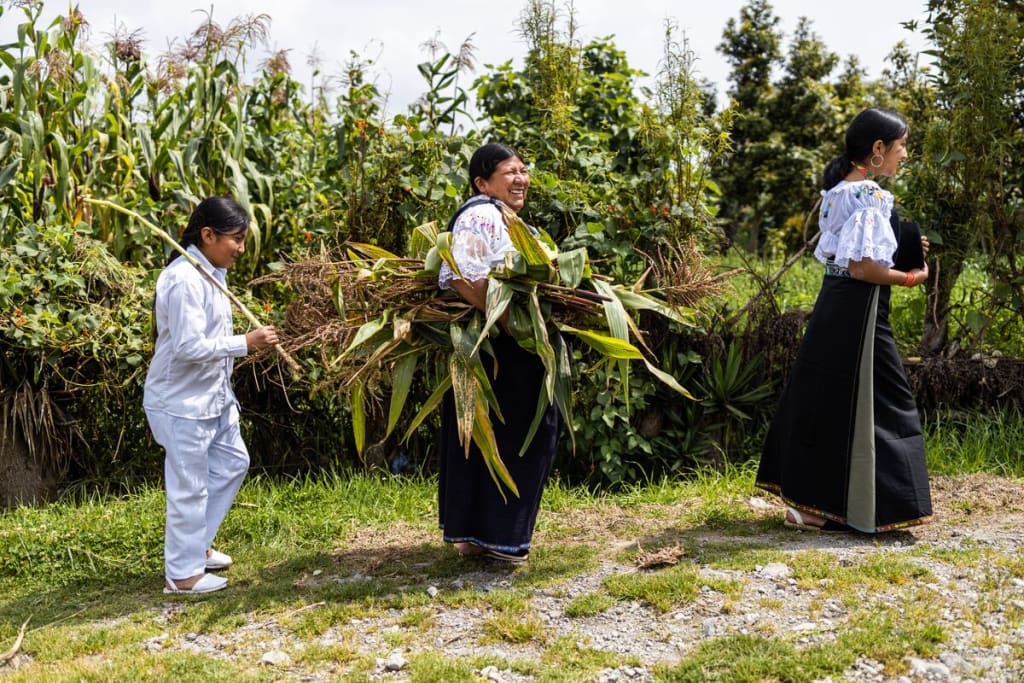 "My grandmother is my greatest example to follow. She is a brave and strong woman, and I want to be like her," Toa says.
During the week, when the children attend school, Maria gives them breakfast, combs their hair and urges them to arrive at school on time. In the afternoon, Maria gives them lunch and supervises them while doing their homework. During weekends, the routine changes. Very early in the morning, Maria walks to the field accompanied by Toa and Elkin, who want to learn about the work.
During the long walks, Maria shares her experiences, learnings and anecdotes with her grandchildren to teach them important life lessons.
Maria makes sure that Toa learns to perform community tasks and encourages her to study hard and pursue her dreams. She is firm with her expectations for her grandchildren, but her mother-like love is never lacking at home.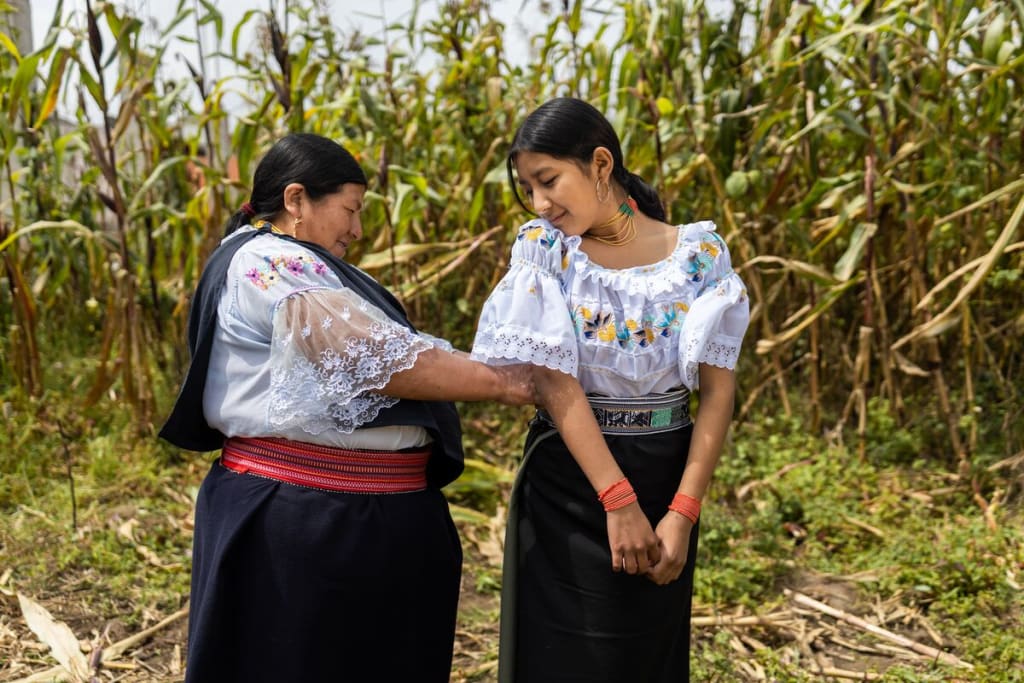 "I have to be strict because I want them to become professional and good people. I love them with all my heart, and I want the best for them," Maria says.
Maria is affectionate and loving with her grandchildren. She teaches them to be responsible and hardworking. Family comes first is the motto that Maria constantly repeats to her grandchildren to keep them united and protective of each other.
"My grandmother is my mother, my guide and my adviser. I am deeply grateful to God for putting her by my side," Toa says.
"Never stray from the path of God."- Maria, Brazil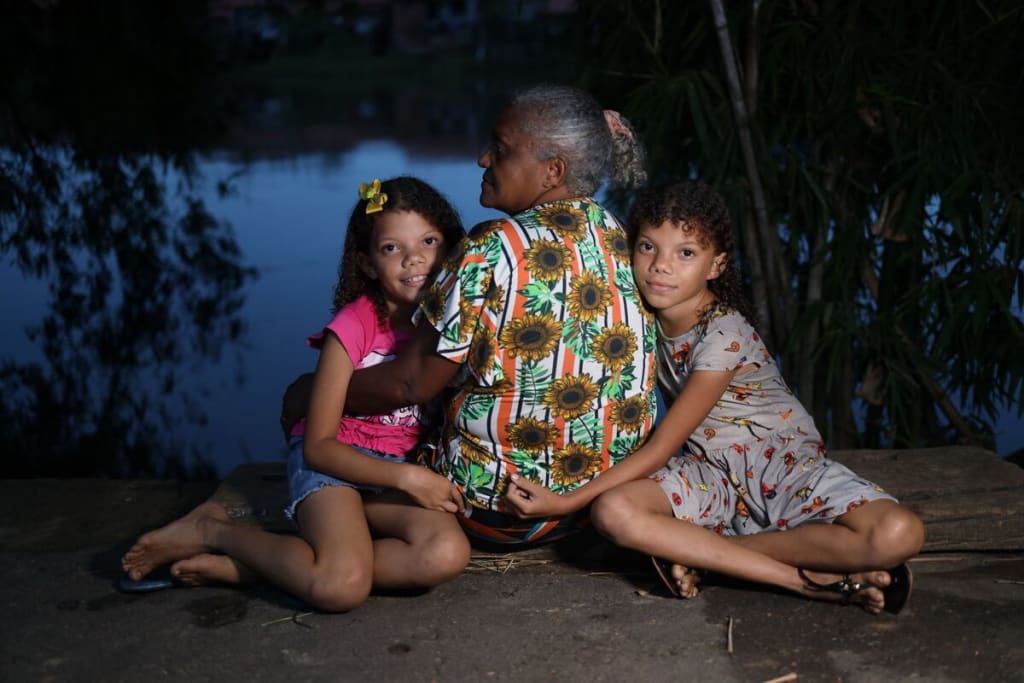 It was love and compassion that moved Maria's heart to make a decision that would change her life and the lives of two children.
When Juliana and Julia's birth mother found out she was pregnant with twins, she decided not to stay with her children. As soon as she gave birth, she abandoned her babies and left for another city in Brazil.
Maria, who already had other older children, had compassion for the twins and decided to become their adoptive mother.
"I was already 50 years old when I decided to adopt the girls, and I already had children. Today I am 60 years old, my body is getting more tired, but I have never regretted my decision," says Maria.
Despite Julia and Juliana knowing that Maria is not the woman who carried them in her belly, the twins can only see in Maria the truest meaning of the word "mother," which is what they call her every day.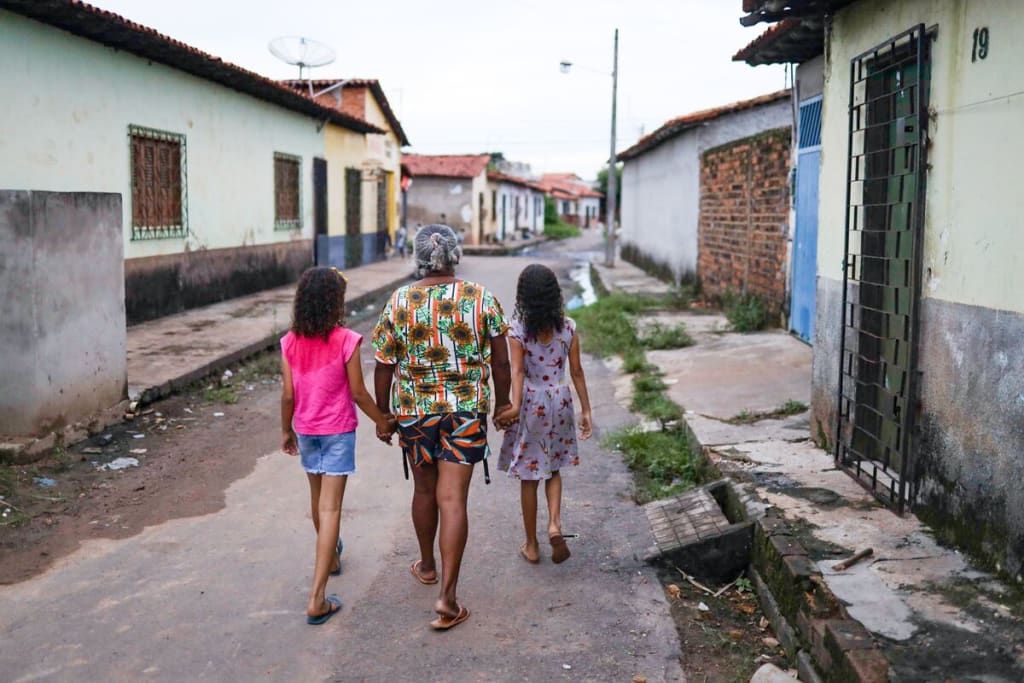 "I love my mother very much. She makes us delicious food every morning. She's the person I like most in the world," says Julia.
Maria survives with the government assistance program support and the income from a small grocery store in her home. Despite the difficulties, Julia and Juliana are a breath of life for Maria in her old age.
"The girls are the joy of my life. When I had depression a few years ago, they were the ones who motivated me to wake up every day. They cheered me up in the morning. They gave me the will to live," says Maria.
One of Maria's biggest fears is leaving this world and her daughters without support. That's why the Compassion centre has been so important in their lives.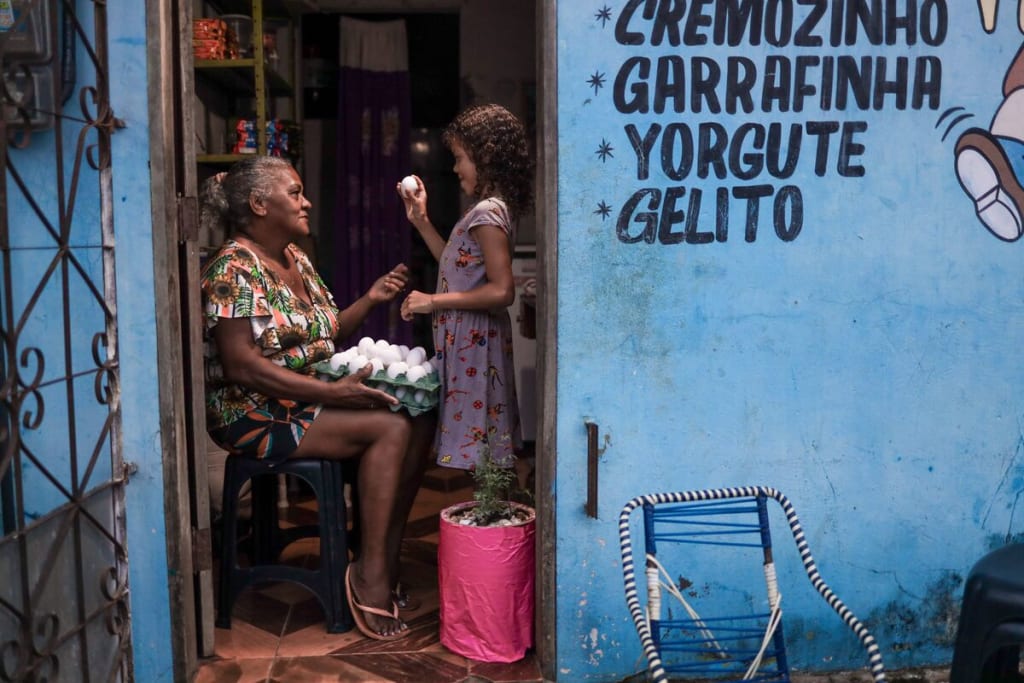 "My daughters only have me. I wish I could leave something for them before I die, but I don't have much. It worries me. But now I know that the centre's volunteers also care about them, which makes me feel more relieved. My inheritance is just my advice and teachings. That's why every day I always say that they should study hard and listen to the elderly, so they never stray from the path of good. This is my main advice: never stray from the path of good," says Maria.
Even when time passes and Maria's hands get weaker, the bond of love that connects them will only get stronger.
"Do what pleases God." – Agripina, Colombia
Sheyla was three months old when her mother left her in Agripina's hands. "Sheyla's mother abandoned her baby. It was sad," shared Agripina.
At 71, diabetes has affected Agripina's quality of life, and raising Sheyla has been challenging. Agripina's son— Sheyla's father—works in another town and spends months away. Providing for the family expenses is hard for this grandmother. She sells fried food on the streets of San Onofre, Colombia, when her health allows her to. For her, the most significant source of support has been the Compassion centre.
"I registered Sheyla at the centre because it is a good and respectable place, and Sheyla has learned good things. The food and help we receive at the centre arrive at moments when there is nothing. I can endure the need and hunger as an adult, but a child cannot, especially attending school without eating," she says.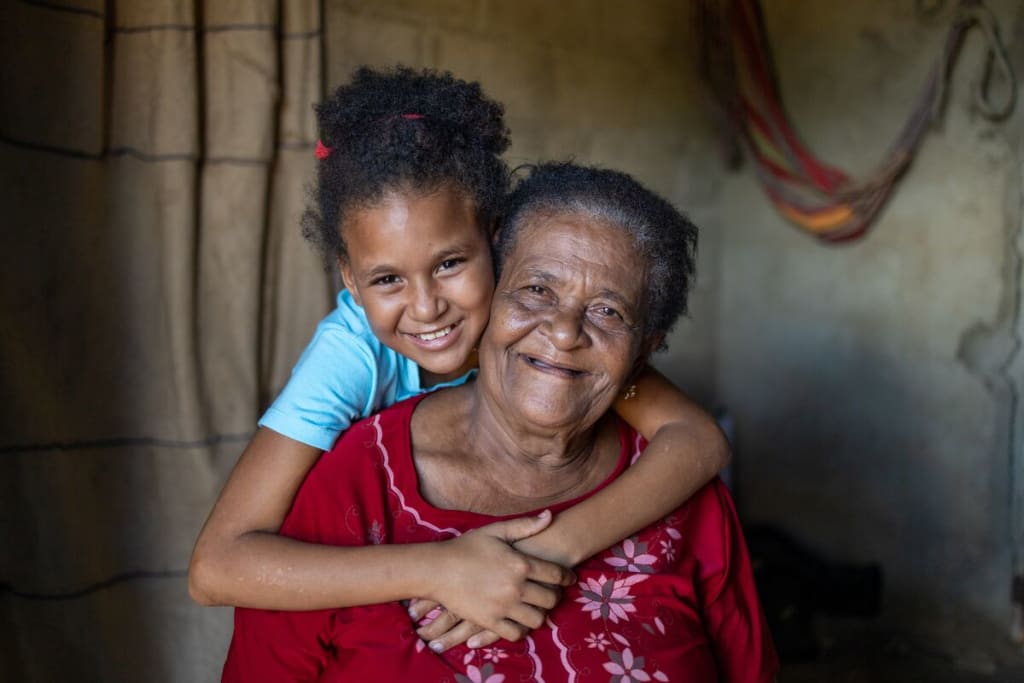 Sheyla is ten years old. Her grandma describes her as an obedient and respectful child. Every day, when Sheyla arrives home from school, she sits next to her grandmother in front of their house to do her homework and receive the most important inheritance from her grandmother, her advice.
"I advise her to respect people and not follow others' bad behaviour. 'Yes, grandma,' she tells me, 'I can't do bad things because it doesn't please God.' I have a house, and if I die, my family knows it is also her heritage. But I also want Sheyla to grow up and say, 'I am a good woman because my grandmother raised me well,'" shared Agripina.
Raising her child, Agripina learned more about patience. "We should raise children with patience so that they will listen to our advice. That is how I teach Sheyla to be obedient and respectful. She tells me, 'Grandma, I can become a teacher or a doctor if I continue studying.' May God bless her to reach it."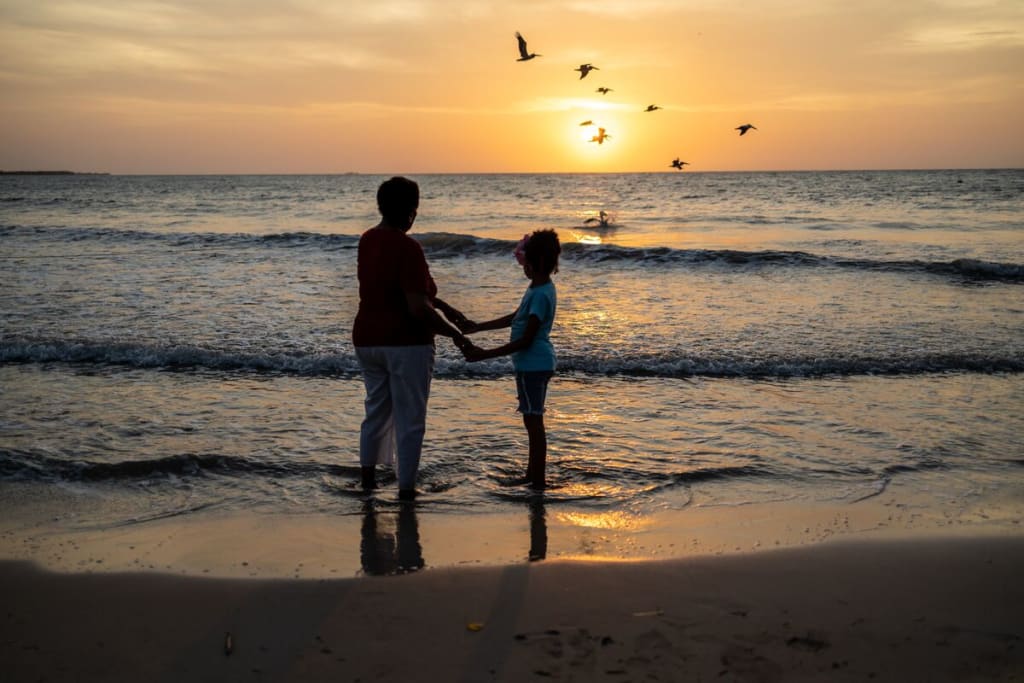 Sheyla is full of love and gratitude for Agripina. "I love my grandmother," she shares.  "I want to be a doctor, and I will cure my grandmother and give her medicines. I have always loved her. I told God I wanted to be obedient to my grandmother, as she raised me and has always done me good. I will never abandon her!"
"Material things aren't forever." – Esperanza, Bolivia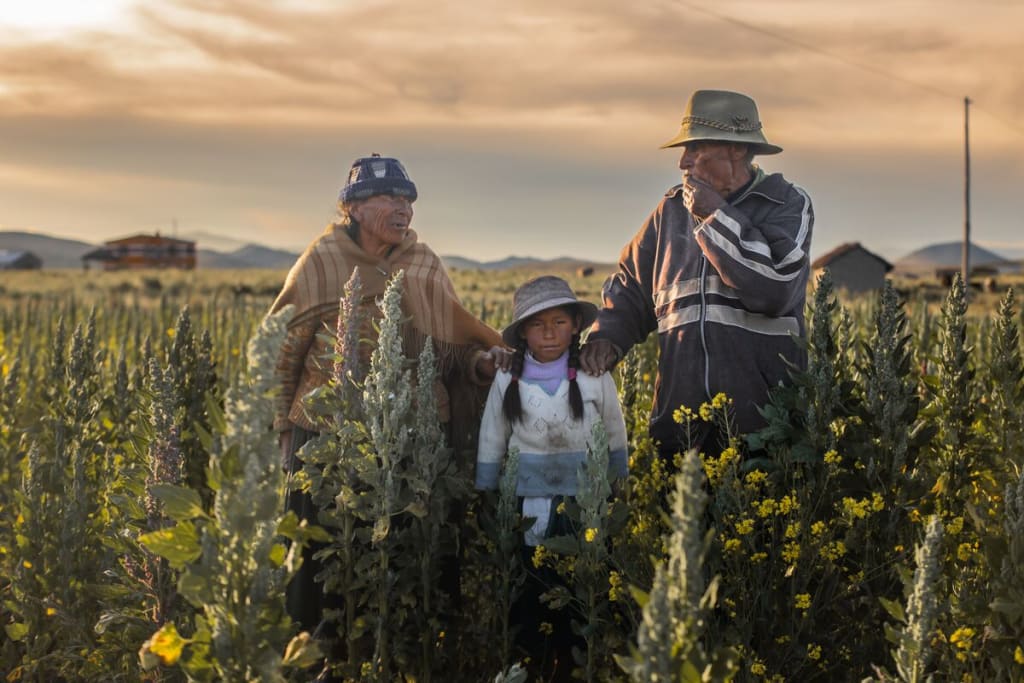 In the rural high plateau of Bolivia, 79-year-old Damaso and Esperanza never imagined they would have to raise a baby.
Hilda and her older brother were abandoned by their parents, and this elderly couple assumed the challenge of becoming parents again.
Seven years later, they recall the experience with joy.
"We were in charge of a baby. I had to carry Hilda everywhere. We learned how to be patient. We don't scold or punish her. It hasn't been easy, mainly the economic part. We had to sell our sheep and cow's milk to provide. Now we receive support from the centre. They give us monthly food baskets, hygiene kits and school supplies," says Esperanza.
However, what Esperanza values the most is the spiritual and cognitive guidance Hilda receives. "I like that at the centre, they teach Hilda the Word of God. Graduates from the program became professionals, so I thought Hilda would one day become one; that's why I registered her," she says.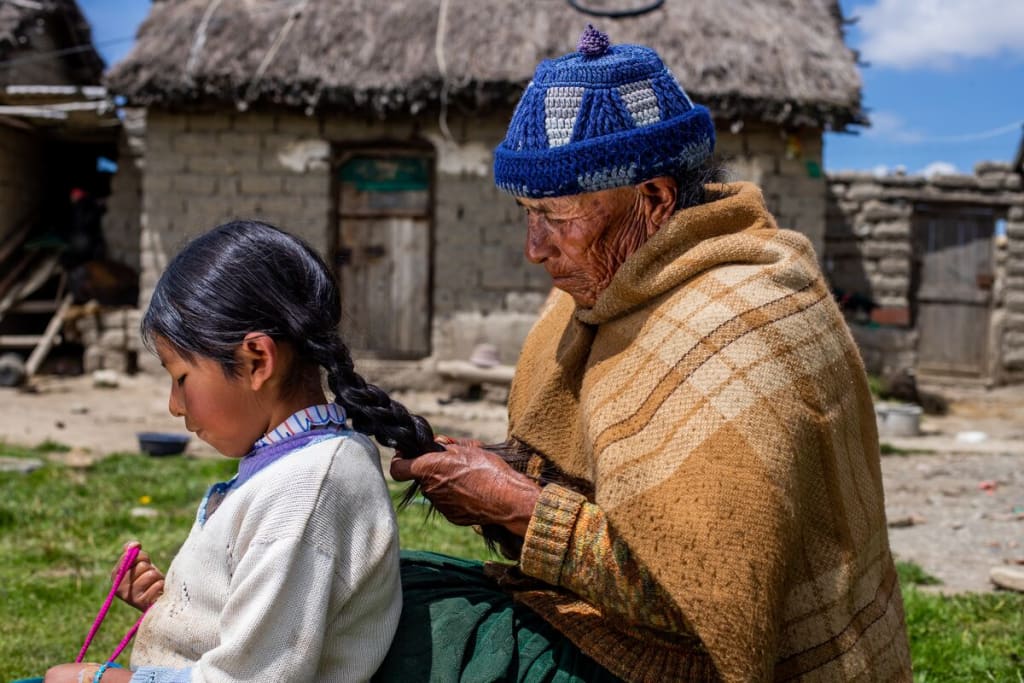 These grandparents enjoy their time with their grandchildren and want to leave them a good heritage.
"Material things aren't forever, so what I want the most is that Hilda could be thankful to the Lord, know Him and obey His word. That she could cherish the Bible verses in her heart. I also want her to study and become a professional," says Esperanza.
Hilda values all her grandparents' advice, and she understands that being good is essential. "My grandmother taught me to cook, and I like to do it. My grandmother guides me. My grandparents also teach me how to take care of animals and plants. I help them graze the cows and sheep," she says.
"My grandparents pray for me, and we also pray together. They are good with me and tell me I have to be a good girl. My grandmother is a good person, and I would like to be like her. She never gets mad at me."
It wasn't easy for Esperanza to look after two children at an advanced age. But after this experience, she has also learned that her love couldn't be greater.
"Hilda brings joy and happiness to our home. I love my granddaughter even more than I expected or loved a child before," says Esperanza.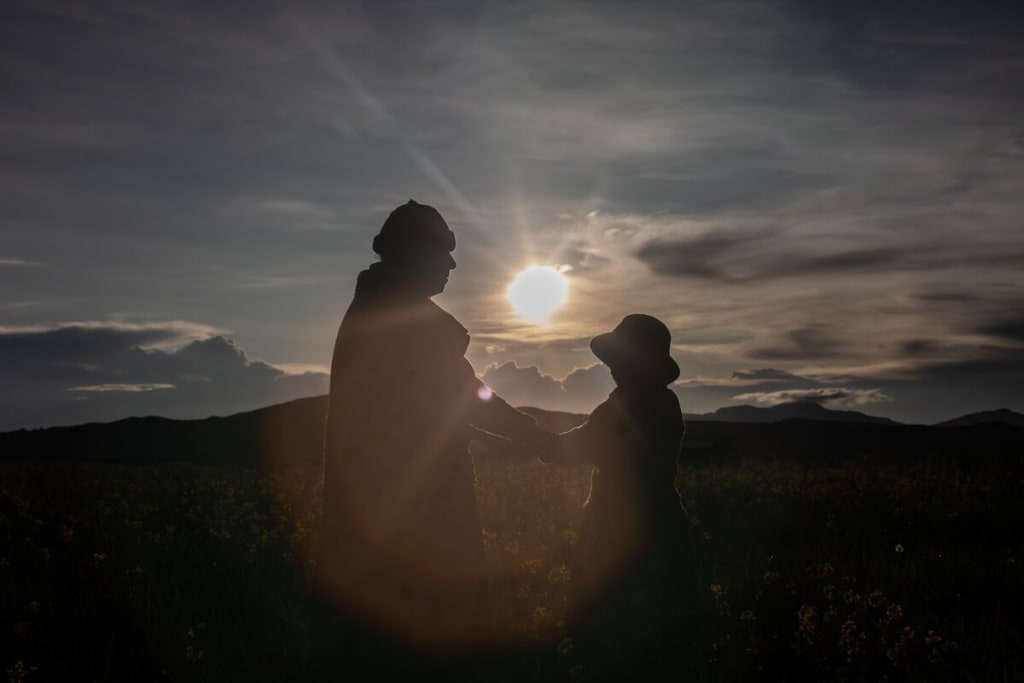 ____
Sponsorship changes the lives of children and their caregivers by interrupting poverty with hope.
Help families break the cycle of poverty.